Those who start a migraine diet are often surprised to find their meal replacements and protein shakes have to go out the window. What makes these protein powders a potential migraine trigger? And what is the best protein powder for migraine sufferers? Well, the answer is kind of tricky.
Some people will tell you protein powder is filled with MSG and that's not entirely accurate. What makes this so confusing is migraine brains tend of be sensitive to glutamate in general, whether it is MSG (which is processed) or naturally occurring glutamate, like in mushrooms.
Even if a protein powder doesn't contain sugar substitutes or additives and is in a natural form, some people might find they still have issues with migraine attacks.
Jump to:
Whey Protein and Migraines
For people following a migraine diet like Heal Your Headache, there are certain forms of glutamate that should be avoided during the elimination period. Often these names come with "protein" or "isolate" at the end of them.
For instance, you'll see these in many common protein powders and diet shakes:
Whey protein can actually trigger migraine attacks in some people. This is because the processed versions of these items are high in glutamate and act similar to MSG in the brain of someone who is sensitive, like people with certain neurological disorders.
Sensitivity to glutamate can vary from person to person. Some find they are able to tolerate natural items higher in glutamate, like mushrooms or tomatoes, but not anything processed, like protein isolates.
Others find they're sensitive to almost everything higher in glutamate. If you find yourself reacting to foods naturally high in glutamate, you may even have an issue with some of the items below. Reading labels and checking glutamic acid content can help.
What About Collagen Powder?
There are some forms of protein that fall into a bit of a grey area with migraine diets, like collagen powder.
A few years ago, I used Vital Proteins collagen powder daily because it was extremely trendy and I had heard amazing things about it helping with joints and skin. When I checked the ingredients, all seemed to be ok. All it contained was collagen powder in the ingredients.
I didn't noticed that it triggered my symptoms initially, but this was also in my process of eliminating foods so I was still dizzy everyday. As I learned more about the migraine and glutamate connection, I took note of the amino acid panel on the back of the collagen peptides label and realized it contained a high amount of glutamic acid - around 2,200 mg. At that point, I realized it was probably best for me test out eliminating this item from my diet to see if it helped.
Now I did this combined with other treatments, but I noticed my migraine threshold increased after I stopped using collagen peptides. I no longer had that mild dizziness after starting each morning with it in my smoothie.
If you're in a state of chronic migraine or get attacks frequently, I recommend avoiding collagen peptides unless it's prescribed by a physician. It's always something you can re-introduce at a later date to see if you have any sort of reaction.
Pea Protein and Migraine
Pea protein is found in a lot of protein powders as well as some milk alternatives, like Ripple. If you're just starting a migraine diet, it should be eliminated in the initial phase.
While shelled peas are allowed on a migraine diet (except pods, like snow peas), peas are naturally higher in glutamate like mushrooms, walnuts, malted barley, and aged cheese and meat.
They're also on the higher end of tyramine levels. Again, if you find yourself sensitive to these fresh foods at the very basic level, having a processed version could be what lowers your threshold enough for attacks to occur. This is especially important if you're consuming daily!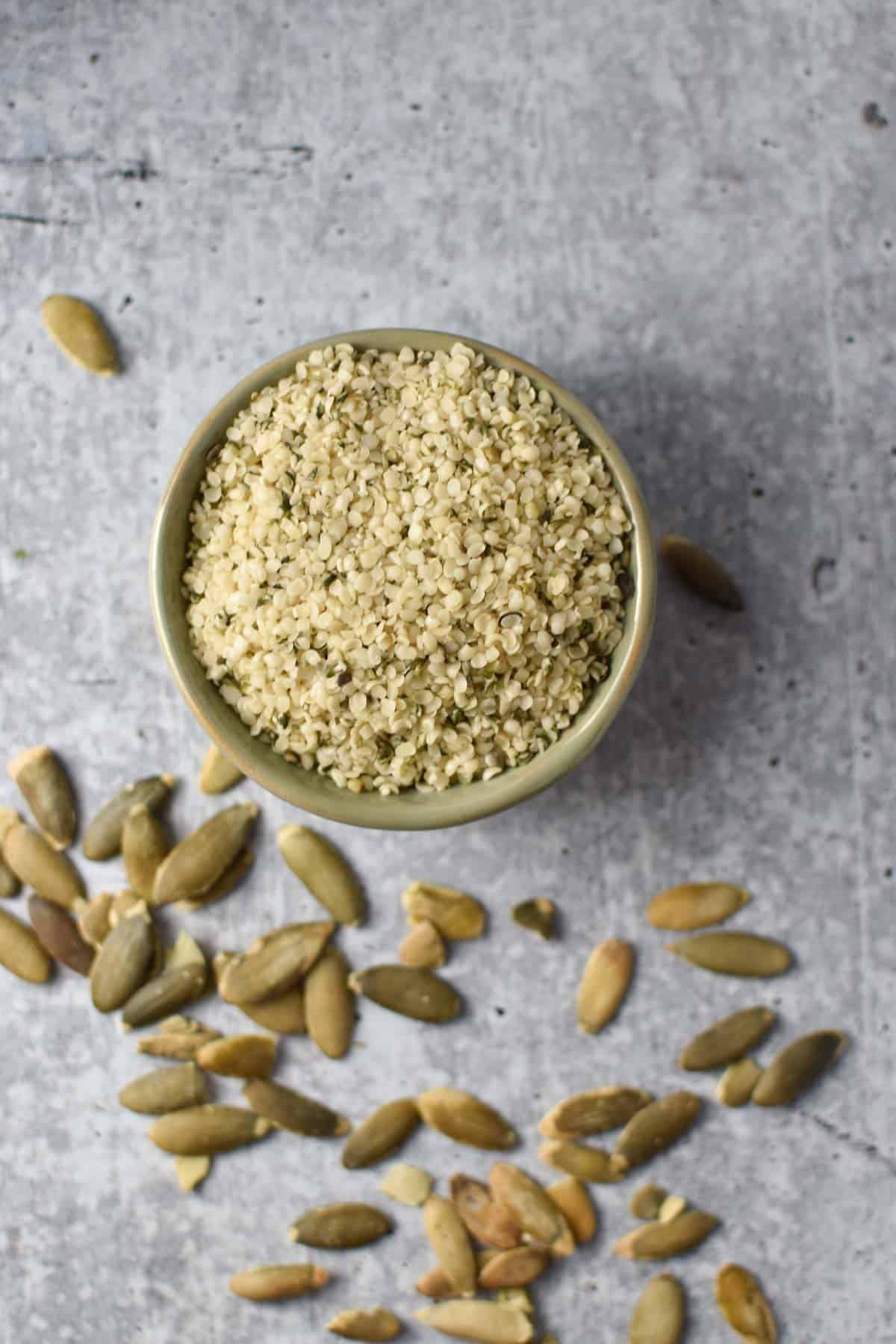 Protein Powder Alternatives for Migraine Diets
We know that managing blood sugar fluctuations can play a major factor when it comes to migraine. Avoiding spikes and drops can help us to avoid triggering an attack.
While smoothies are extremely easy to consume, especially on high pain days, the amount of sugar in the fruit alone can cause a spike in blood sugar. Therefore it's recommended to pair consumption with a good amount of protein and fat to balance out any fluctuations.
You'll notice I like to add sunflower seed butter, cottage cheese, and hemp seeds to a lot of my smoothie recipes. This is exactly why I do it!
Homemade Hemp Milk
Even making your own hemp milk can increase the amount of protein to your smoothies. I set out to create my own hemp milk and I never realized how easy it actually is. This works great if you own a high speed blender like a Vitamix.
My recipe for hemp milk is:
• ½ cup shelled, raw hemp seeds
• 3 cups filtered water
• 1tsp lucuma powder and vanilla to sweeten
Blend on high for about a minute and chill. No need to strain!
Protein Amounts in Seeds
There's really no rule that says you have to get protein from a powder and if you're mixing in with smoothies, chia pudding, or overnight oats, the below are great ways to make them more substantial.
Also don't miss my vegetarian protein chart for amounts from vegetables, beans, and more.
Protein Powders for Migraine Sufferers
The below seem to be the best protein powders for migraine sufferers.
Finally, my recommendations can only go so far. It does take a little bit of trial and error to find out what works best with your body, but hopefully this gives you some ideas for added protein!
Other Options for Protein
A lot of us get really hung up on protein powders because they're an easy and fast way to get it in, but they're not the only way.
High Protein Recipes
These high protein breakfast recipes are made with and without protein powders for a delicious way to start the day.