A vegetarian migraine diet can be challenging to follow, especially if going through an elimination. However, with some support and really delicious recipes, it's totally possible to enjoy food and still avoid meat.
This post will cover some wonderful options that are migraine-friendly ways to get in vegetarian and vegan protein options, as well as a full meal plan to get you started.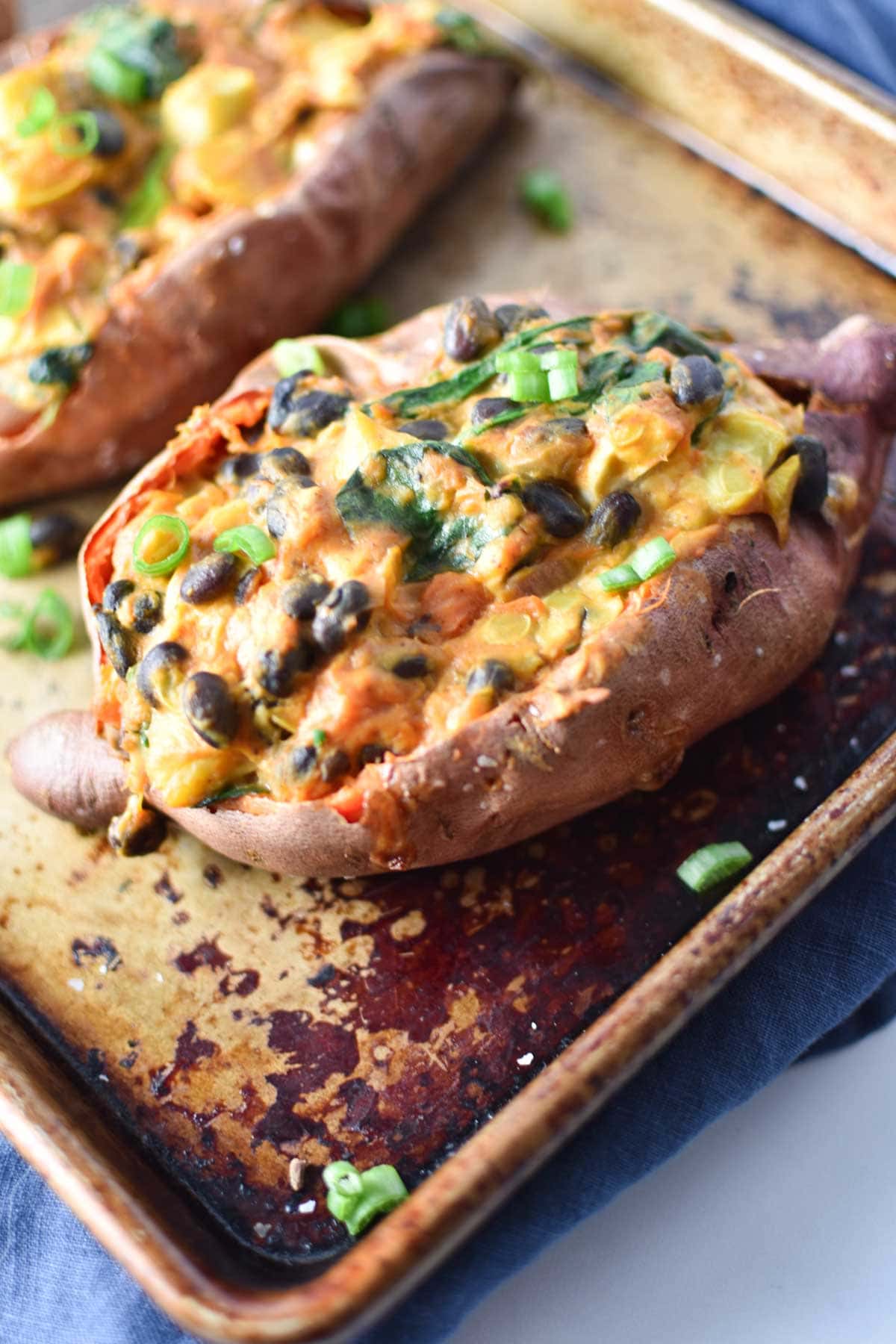 Many of the suggestions in this post are from a long-time reader, Mandy Behe. Mandy tried the Heal Your Headache diet to help with her migraine days and was able to follow it successfully with these tips for more than 8 months!
Mandy's biggest hurdle was to get protein from vegetarian and vegan sources, so she created a handy protein chart that you can print and keep on hand for ideas. Her hope is that others don't have to feel limited, and can actually see how many great options are available.
Can Eating A Vegetarian Diet Cause Headaches?
Often the struggle that I see people on a vegan or vegetarian diet have are a lot of foods that are marketed as cheese or meat replacements can actually trigger headaches or migraine attacks. Beyond meat and vegan cheese often contains lots of additives and flavorings, most notably hidden, or very obvious, MSG.
With items like soy protein isolate, nutritional yeast, natural flavoring and more, these hidden sources of high glutamate can be an issue for those who are sensitive. And if you're eating a large amount of it, it definitely can cause issues.
The key with following a migraine diet as a vegetarian is to work on decreasing these highly processed foods and focus on adding more protein in very basic, wholesome ways.
A Vegetarian Diet for Migraine

Image v Gemma Correll
Can a vegetarian succeed on a migraine diet? Absolutely. I've been doing it for 8 months and it just keeps getting better. Diagnosed with chronic intractable migraine without aura in 1998, over 20 years, I've tried multiple treatments/medications that have never worked. Unlike Alicia, I was well aware of what my diagnosis meant. My father is a migraineur so I had seen the debilitating condition first hand throughout my entire childhood.
Luckily, I stumbled across Heal Your Headache in December 2017 and it changed my life. With the help of The Dizzy Cook's recipes, I've gone from 23 (Jan 2018) headache days to 4 headache days (Aug 2018). I was able to join a gym, become more physically active, and feel great for the first time in 20 years.
I food prep on Sundays to make my life easier. Either I will make all 5 days of food at once, or if I am using fresher ingredients, then I prep twice a week. In the beginning it was overwhelming, so I would make oven baked potatoes on Sunday to warm up through the week, served with butter, a side of cottage cheese, and a vegetable. It was very quick and did not require any thought after a long day of work.
Favorite Vegetarian Recipes
Here are a few of Mandy's go-to recipes for breakfast, lunch, and dinner.
5 Minute Hummus - For this recipe I just omit the lemon juice.
Honey Mustard Dressing
Italian and Basic Salad Dressing
Hearty South African-Inspired Stew
Vegan Mexican Sweet Potatoes
Puerto Rican Beans Sub olive oil for coconut, sub leeks for onions, sub white vinegar for red wine. I use Pomi Tomatoes when they say "tomato sauce". I serve the beans with Lundberg Brown Rice. This is so good that my husband makes me double the recipe so he can have it!
For lunches, I'll do an easy sandwich with lots of vegetables and soup.
Breakfast
Swiss Water Processed Decaf - I love this with Half and Half. Make sure you read your labels, only a few brands are made with just milk and cream.
Apples with Sunflower Seed Butter
Potato Breakfast Hash - I substitute dried chives for the onion powder.
Vegan Buckwheat Pancakes
For a pizza craving I like to use Trader Joes cauliflower crust topped with Cadia pizza sauce and top that with mozzarella cheese and fresh basil. It's a wonderful dinner!
Vegetarian Protein Sources
The following is an easy charge for migraine diet protein sources that are vegan and vegetarian. These foods help migraines because many of them are rich in Omega-3 fatty acids, antioxidants, and vitamins that are beneficial for brain health.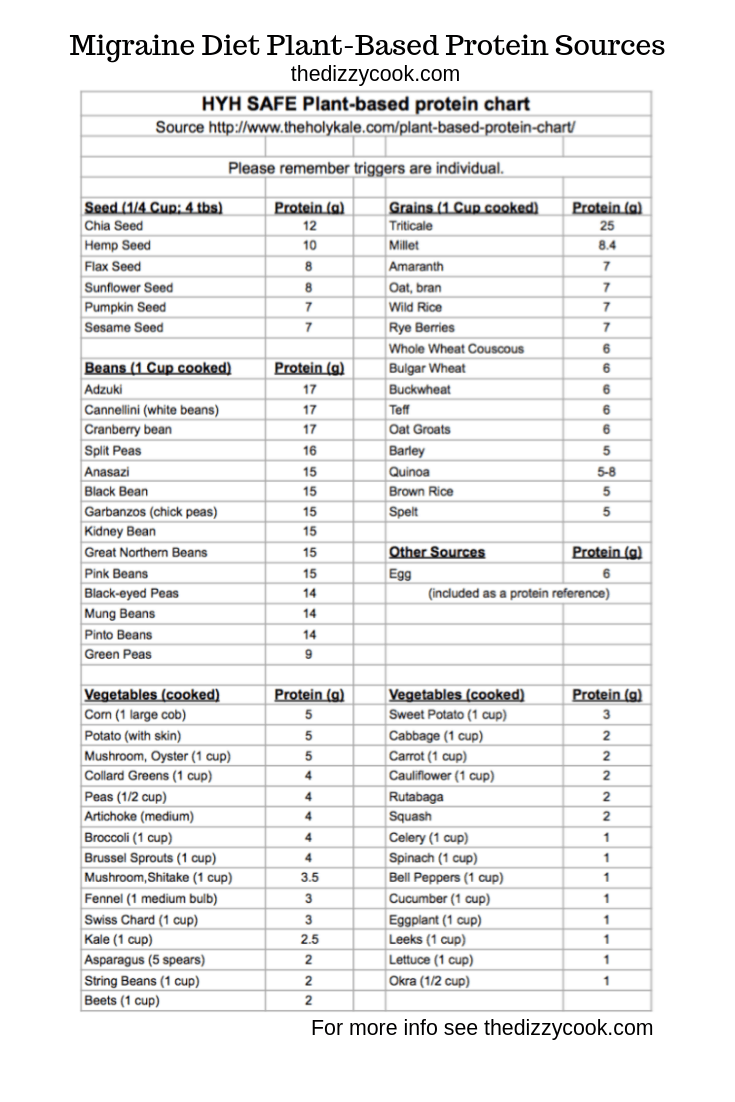 For a great resource on some vegetarian and vegan protein powders, don't miss out on my post on some migraine-friendly options!
Vegan Diet and Migraine
If you find yourself already on a vegan diet and experiencing a lot of migraine attacks, you may be running into the same issue covered above. Vegan food substitutes tend to contain a lot of common trigger items - they are high glutamate and can be high tyramine, or also contain a lot of soy.
Overall trying to combine a vegan diet with a migraine diet is much more challenging than vegetarian. With a vegetarian diet you can often rely on cheese and sometimes eggs, which can offer a more varied diet with a lot of great nutrition and protein.
The biggest struggle I see with people who are vegan is that they are eating so much of these substitutes and when they cut it all out, they're not getting enough nutrition. Following a migraine diet is not worth restrictive eating. If this is something that still interests you, I highly recommend working with a registered dietician or doing a modified migraine diet where you still include certain things like tofu, but limit the amount of highly processed foods.
Vegetarian Migraine Diet Meal Plan
I have so many great recipes that are easily adaptable or automatically vegetarian and migraine friendly. You can find them linked under my vegetarian and vegan category. Here are a few examples.
Don't feel like cooking a new meal every night? These recipes can be doubled and make great leftovers.
Vegetarian Fried Quinoa
Adapted from The Dizzy Cook's Chicken and Vegetable Stir Fry with Spicy Sesame Sauce. Perfect for a delicious weeknight meal.
Print
Pin
Rate
Ingredients
Stir Fry
1

cup

dry quinoa

2

cups

vegetable broth

1

teaspoon

sesame oil

2

Japanese eggplants, chopped

2

zucchini, wash and chopped into ½" pieces

5

carrots, chopped

1

red pepper, chopped

6

oz

mushrooms

1

bunch

of green onions, trimmed at the ends and chopped
Sesame Sauce
1

cup

coconut aminos

6

tablespoon

tahini

2

teaspoon

distilled white vinegar

2

teaspoon

toasted sesame oil

4

cloves garlic, peeled and minced

4

teaspoon

ground mustard

2

teaspoon

fresh ginger, peeled and grated

kosher salt and pepper to taste
Instructions
For the sauce - Add all the ingredients to a food processor and blend till combined. Set aside.

Cook quinoa according to package with vegetable broth. I use Bob's Red Mill because it is already rinsed. Most others need to be rinsed first.

Add sesame oil to a skillet or wok on high heat. Add all the veggies except for 2 green onion and toss. The veggies should take about 3-4 minutes to cook. You still want them a little crisp. (I use Japanese eggplant because it doesn't need to be peeled, has less seeds, is less bitter and a little creamier, but any eggplant will work)

Add the cooked quinoa to the skillet and toss everything together with the sauce. Serve and top with the 2 chopped green onions.