Everyday I'm more surprised at the lengths some people are willing to go to for their chronic illness. For me, it seemed like starting a migraine diet and giving up some of my favorite foods was the worst thing ever. Then I realized I would have given my right arm to go one day without that constant, floaty dizziness. I'm so impressed when vegetarians and vegans decide to give this diet a try. It's not impossible if you are willing to get creative with some of your food choices.
Mandy Behe, has been doing the Heal Your Headache diet as a vegetarian for 8 months now. She helped me out with a few ideas for those that might be thinking about starting this journey, but feel limited. It was wonderful to know that I can still get a lot of protein from vegetarian sources. I hope you'll enjoy her article about her typical meals on a vegetarian migraine diet. I'll be following up with a 5 day vegetarian HYH meal plan similar to this one after Thanksgiving.


Image from Gemma Correll
Can a vegetarian succeed on the HYH diet? Absolutely. I've been doing it for 8 months and it just keeps getting better. Diagnosed with chronic intractable migraine without aura in 1998, over 20 years, I've tried multiple treatments/medications that have never worked. Unlike Alicia, I was well aware of what my diagnosis meant. My father is a migraineur so I had seen the debilitating condition first hand throughout my entire childhood.
Luckily, I stumbled across Heal Your Headache by Dr. David Buchholz in December 2017 and it changed my life. With the help of The Dizzy Cook, I've gone from 23 (Jan 2018) headache days to 4 headache days (Aug 2018). I was able to join a gym, become more physically active, and feel great for the first time in 20 years.
I food prep on Sundays to make my life easier. Either I will make all 5 days of food at once, or if I am using fresher ingredients, then I prep twice a week. In the beginning it was overwhelming, so I would make oven baked potatoes on Sunday to warm up through the week, served with butter, a side of cottage cheese, and a vegetable. It was very quick and did not require any thought after a long day of work.
Some of my favorite recipes:
Moroccan Vegetable Stew Swap leeks for onions and omit raisins
5 Minute Hummus Omit the lemon
Honey Mustard Dressing
Italian and Basic Salad Dressing
Mediterranean Baked Sweet Potatoes Omit the lemon
Vegan Mexican Sweet Potatoes
Puerto Rican Beans Sub olive oil for coconut, sub leeks for onions, sub white vinegar for red wine. I use Pomi Tomatoes when they say "Tomato Sauce". I serve with Lundberg Brown Rice. This is so good that my husband makes me double the recipe so he can have it!
Breakfast
Swiss Water Processed Decaf with Half & Half – make sure you read your labels, only a few brands are made with just milk and cream.
Apples with Sunbutter
Potato Breakfast Hash sub dried chives for onion powder
Vegan Buckwheat Pancakes
Overnight Blueberry Oatmeal:
¼ cup Bobs Red Mill Gluten Free Rolled Oats,
¼ cup Tempt Hemp Milk
1 teaspoon chia seeds
1 teaspoon pure maple syrup
½ cup blueberries (fresh or frozen)
1 teaspoon cinnamon
1 teaspoon nonalcoholic vanilla
Pizza Craving
Trader Joes Cauliflower Crust
Cadia Pizza Sauce
Fresh Mozzarella Cheese
If you're interested in learning more about migraine safe protein sources - see Mandy's chart below or download the Vegetarian HYH Chart.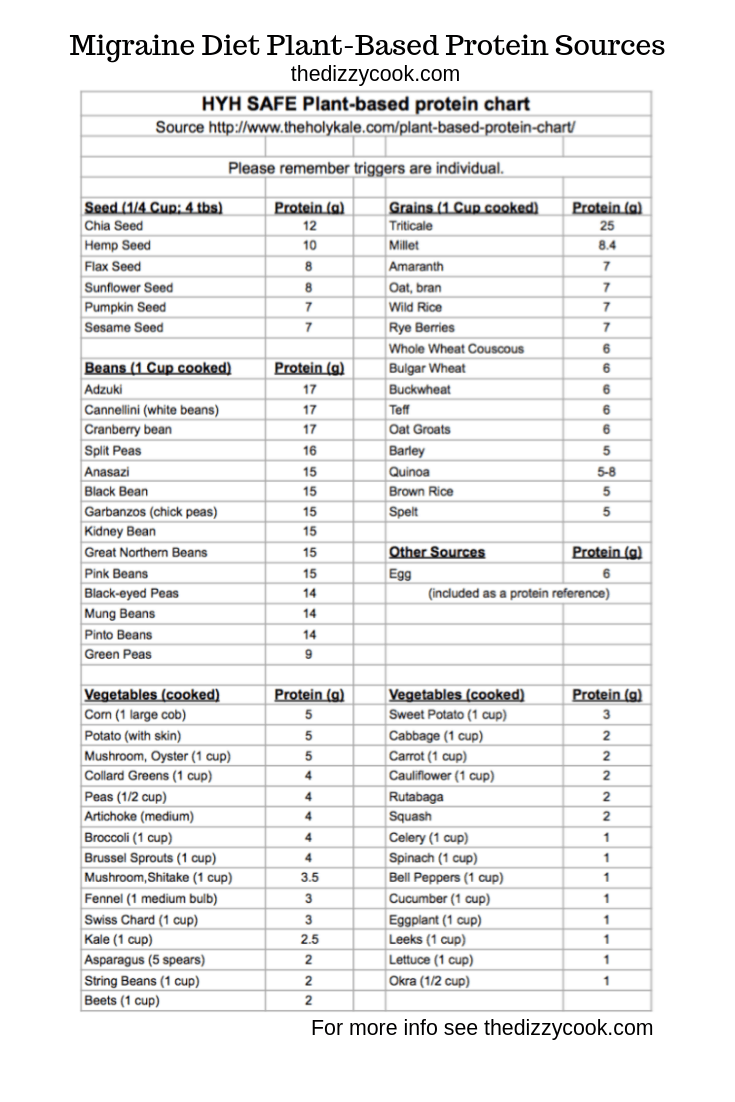 Vegetarian Fried Quinoa
Adapted from The Dizzy Cook's Chicken and Vegetable Stir Fry with Spicy Sesame Sauce. Perfect for a delicious weeknight meal.
Print
Pin
Rate
Ingredients
Stir Fry
1

cup

dry quinoa

2

cups

vegetable broth

1

teaspoon

sesame oil

2

Japanese eggplants, chopped

2

zucchini, wash and chopped into ½" pieces

5

carrots, chopped

1

red pepper, chopped

6

oz

mushrooms

1

bunch

of green onions, trimmed at the ends and chopped
Sesame Sauce
1

cup

coconut aminos

6

tablespoon

tahini

2

teaspoon

distilled white vinegar

2

teaspoon

toasted sesame oil

4

cloves garlic, peeled and minced

4

teaspoon

ground mustard

2

teaspoon

fresh ginger, peeled and grated

kosher salt and pepper to taste
Instructions
For the sauce - Add all the ingredients to a food processor and blend till combined. Set aside.

Cook quinoa according to package with vegetable broth. I use Bob's Red Mill because it is already rinsed. Most others need to be rinsed first.

Add sesame oil to a skillet or wok on high heat. Add all the veggies except for 2 green onion and toss. The veggies should take about 3-4 minutes to cook. You still want them a little crisp. (I use Japanese eggplant because it doesn't need to be peeled, has less seeds, is less bitter and a little creamier, but any eggplant will work)

Add the cooked quinoa to the skillet and toss everything together with the sauce. Serve and top with the 2 chopped green onions.