This gluten free Pad Thai is one of my favorite recipes and so delicious. It's incredibly allergy friendly, also being peanut and soy-free, but with the same tangy sauce that you love with the traditional recipe. It's been a favorite in my cooking classes, and I'm excited to finally share it here with you.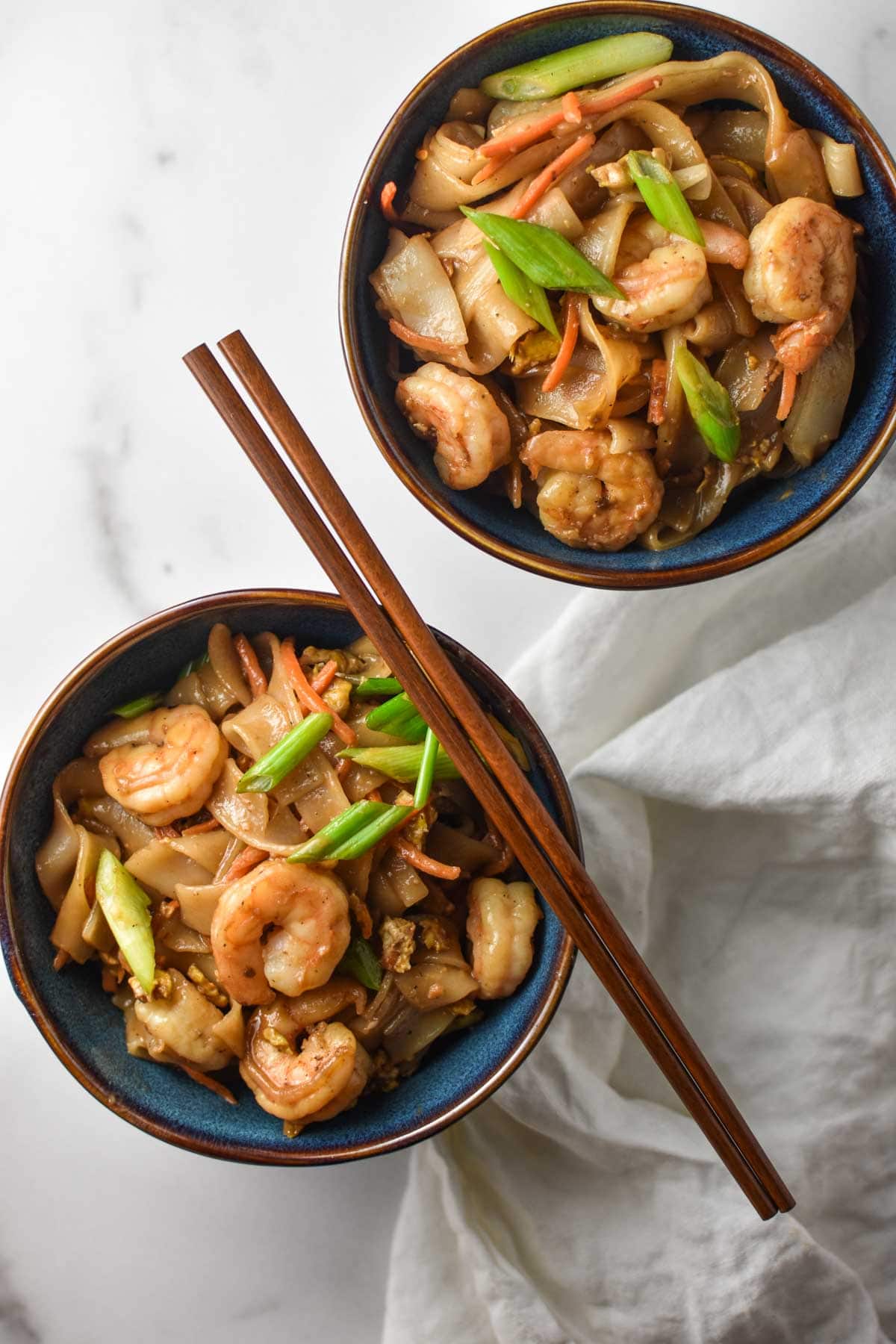 Jump to:
Why Gluten Free Pad Thai?
There are a number of reasons to make pad thai gluten free, and it's not just because of a gluten sensitivity. Most soy sauce varieties contain gluten as they are typically made from soybeans, wheat, salt and water. A lot of recipes will substitute tamari, but traditional versions still contain wheat. Both are also very high in sodium and glutamate.
Fish sauce, another common addition, can also sometimes contain gluten. This is made from fermented anchovies, and is also very high in sodium. For people following a migraine diet, this can be a challenge because of the tyramine content. This is the best Pad Thai without fish sauce you'll find!
My challenge was to make a recipe just as flavorful, but without a lot of these factors. This way readers could enjoy a classic takeout dinner without having to worry about extremely high sodium, gluten, peanuts, and fermented ingredients.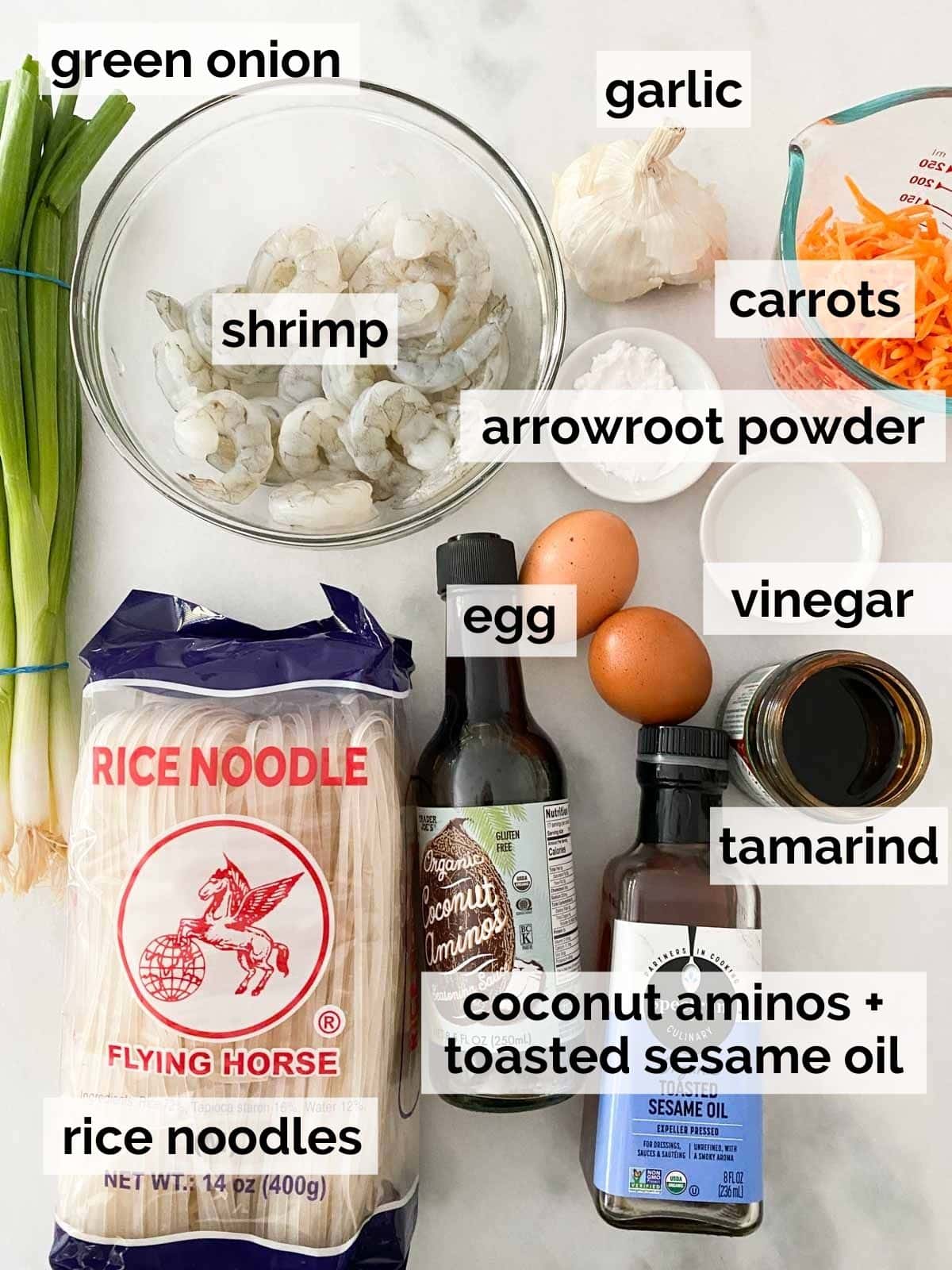 Ingredients
Most of these ingredients are pantry staples, and then you can just add vegetables in the fridge or frozen shrimp to make this Pad Thai your own.
Rice noodles - Sometimes these are actually sold labeled "pad thai noodles" and other times they'll be labeled "rice noodles". I used the "M" size because that is what my grocery store had available. I recommend sticking around that size and not going too wide. Rice noodles are naturally gluten free.
Coconut aminos - Made from the sap of a coconut blossom, this is a great gluten free substitute for soy sauce. It also contains much less sodium compared to tamari or soy. It has a little bit of sweetness to it, so the addition of sesame oil and sunflower seed butter is needed to balance it. This can be found at most grocery stores or health food stores, as well as online.
Toasted sesame oil - This is a necessary addition to the sauce to create a depth of flavor that we need without the addition of fish sauce.
Sunflower seed butter - I highly recommend an unsweetened version, or you can use tahini, which is sesame seed butter.
Vegetable broth - I like to use homemade or Trader Joe's hearty vegetable broth. Chicken broth would also work!
Arrowroot powder or cornstarch - This is needed to thicken the sauce and help it coat the noodles well. If not looking for a gluten free option, regular flour will also work.
Tamarind paste - This gives that reddish color and tangy flavor to traditional Pad Thai. It can be a little tricky to find in some places, so if you can't locate it and just want to make this recipe, it is fine to omit. Generally Asian food stores or well-stocked grocery stores with a large ethnic section will have it. I believe Whole Foods sometimes carries it as well.
Add ins - I recommend shredded carrots, shallots, eggs, and green onion to start. For this version I added in some frozen and defrosted shrimp, but chicken would also work. I've also added red bell pepper!
Step by Step Instructions
Pad Thai is super easy and fast to make! It can be ready in about 30 minutes total.
Step 1: Cook rice noodles. Cook these according to the package directions, although I recommend to NOT boil them. They're best when soaked in warm water for about 7-10 minutes. Typically boiling makes them too mushy, especially when stir fried later on.
Sticky Noodle Tip - Use a colander to strain out the water from the noodles, but keep the warm water handy. If the noodles start to stick together before you're ready to use them, just dunk them back into the warm water quickly and they should separate easily!
Step 2: Blend the sauce. Combine all the ingredients for the sauce into a blender or food processor and blend till smooth. Set aside.
Step 3: Stir fry vegetables and meat (if using). Add about a tablespoon of mild oil to a large pan and warm over medium high heat. Toss in carrots, chicken or shrimp, and any other additional vegetables. Once the vegetables have softened and meat has cooked through, push it to the side of the pan. Add in 2-3 whisked eggs, letting them sit in the pan for about 1 minute to cook through, like an omelette. Once firming up, use a spatula to scrape up the egg and chop into pieces.
Step 4: Add the sauce to the vegetables and meat. Pour the sauce into the hot pan, which should bubble and start to thicken. Sprinkle in green onion and stir everything to combine.
Step 5: Add in noodles. Toss the noodles together with the vegetables, sauce, and any other additions you like. Tongs work well to move the noodles around and make sure they get evenly coated with the sauce.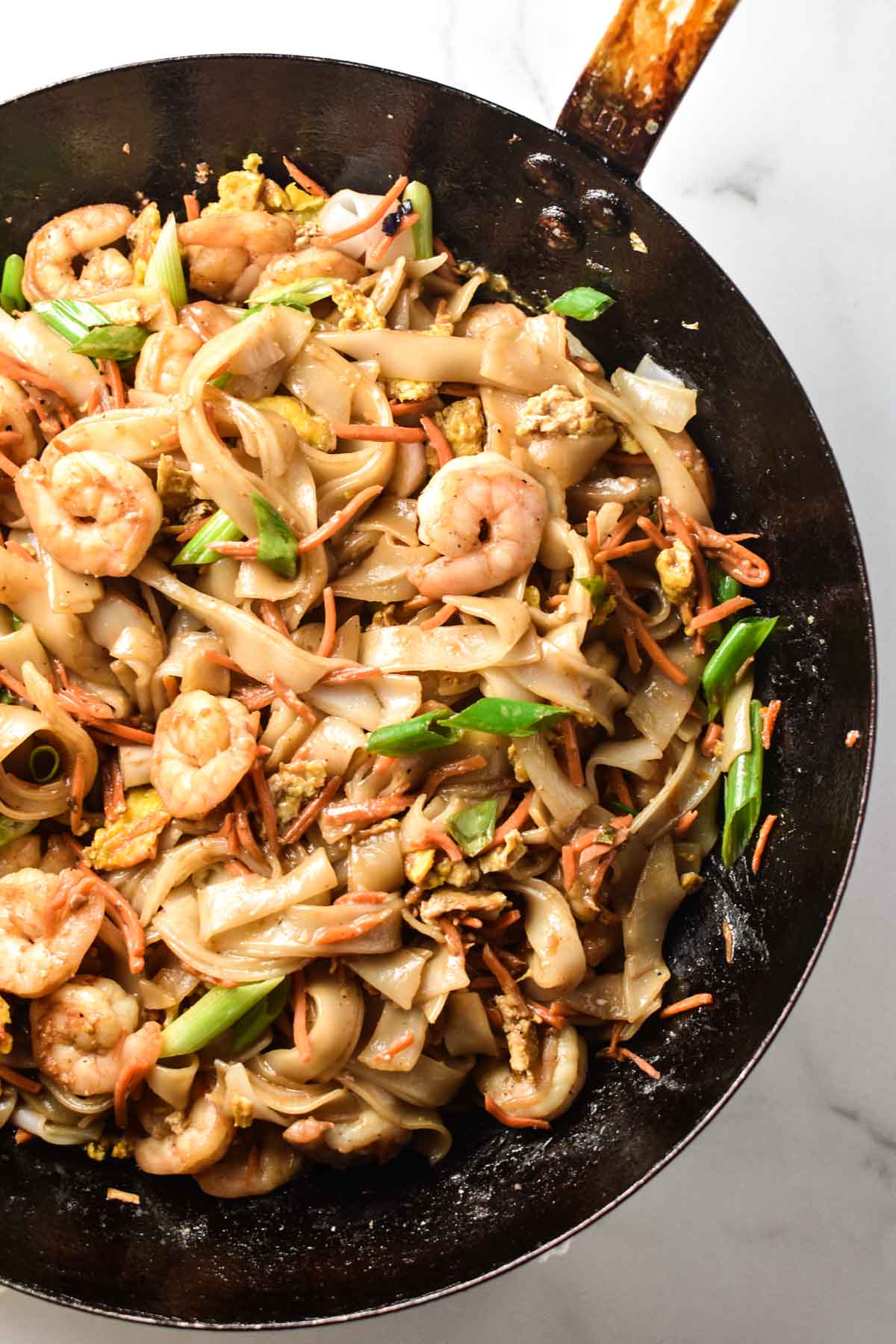 Pad Thai Add Ins
This Pad Thai without peanuts is so versatile and you can customize it to your own preferences. A few of my favorite suggestions which can be added at the beginning with the other vegetables.
Shrimp (used here)
Chicken or beef
Red or yellow bell pepper
Broccoli
Chopped bok choy
Extra green onion
Fresh cilantro or basil
If you miss crushed peanuts, I recommend roughly chopping toasted sunflower seeds for the same crunch!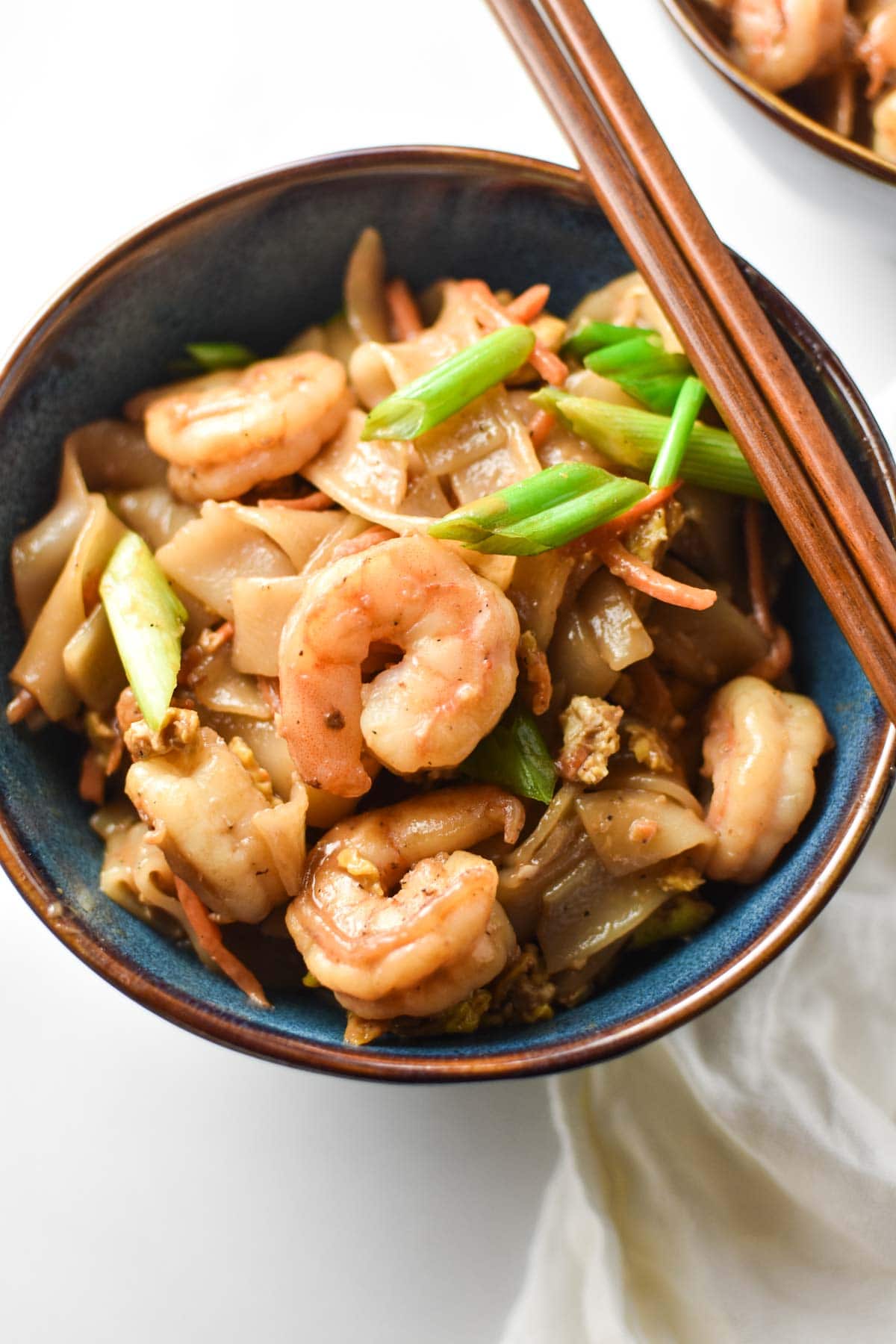 Side Dish Ideas
Generally this is a full meal so you don't really need to add a side dish, however if you're looking for some ideas to pair with this soy free Pad Thai I would recommend one of these!
Storage Notes
Like the takeout version, this recipe stores incredibly well, although I don't recommend freezing it. This will keep an airtight container for 3 days in the refrigerator.
To reheat - Place a paper towel over the noodles and microwave on high in 30 second intervals, stirring between each session. Or place the noodles in a pan over medium low heat with about 1 tablespoon of water, stirring till cooked through. The water helps make it more saucy when being reheated.
Frequently Asked Questions
Is Pad Thai gluten and dairy free?
Typically Pad Thai is not gluten free, but is dairy free. Generally Pad Thai uses soy and fish sauce, or some recipes call of oyster sauce, all of which have the potential to contain gluten. For those sensitive, this Pad Thai recipe is perfect and no risk!
Do I have to use tamarind?
No! I've had great results leaving tamarind out of Pad Thai and it's still very flavorful. But if you want that traditional, tangy flavor, I highly recommend seeking it out. Generally I'll find it at Whole Foods or specialty grocery stores.
Can I make this Pad Thai vegan?
Of course! To make this Pad Thai vegan all you have to do is leave out the meat component and eggs. I recommend adding a few more vegetables to bulk it up. Sautéed bok choy is a great addition.
I hate coconut aminos. Do you have another option?
If coconut aminos aren't your thing or you don't tolerate them well, I suggest the recipe that's in the post for my Healthy Egg Roll Bowl that combines molasses with broth. It's definitely not the same and you have to adjust some flavors to your preference, but it would work here!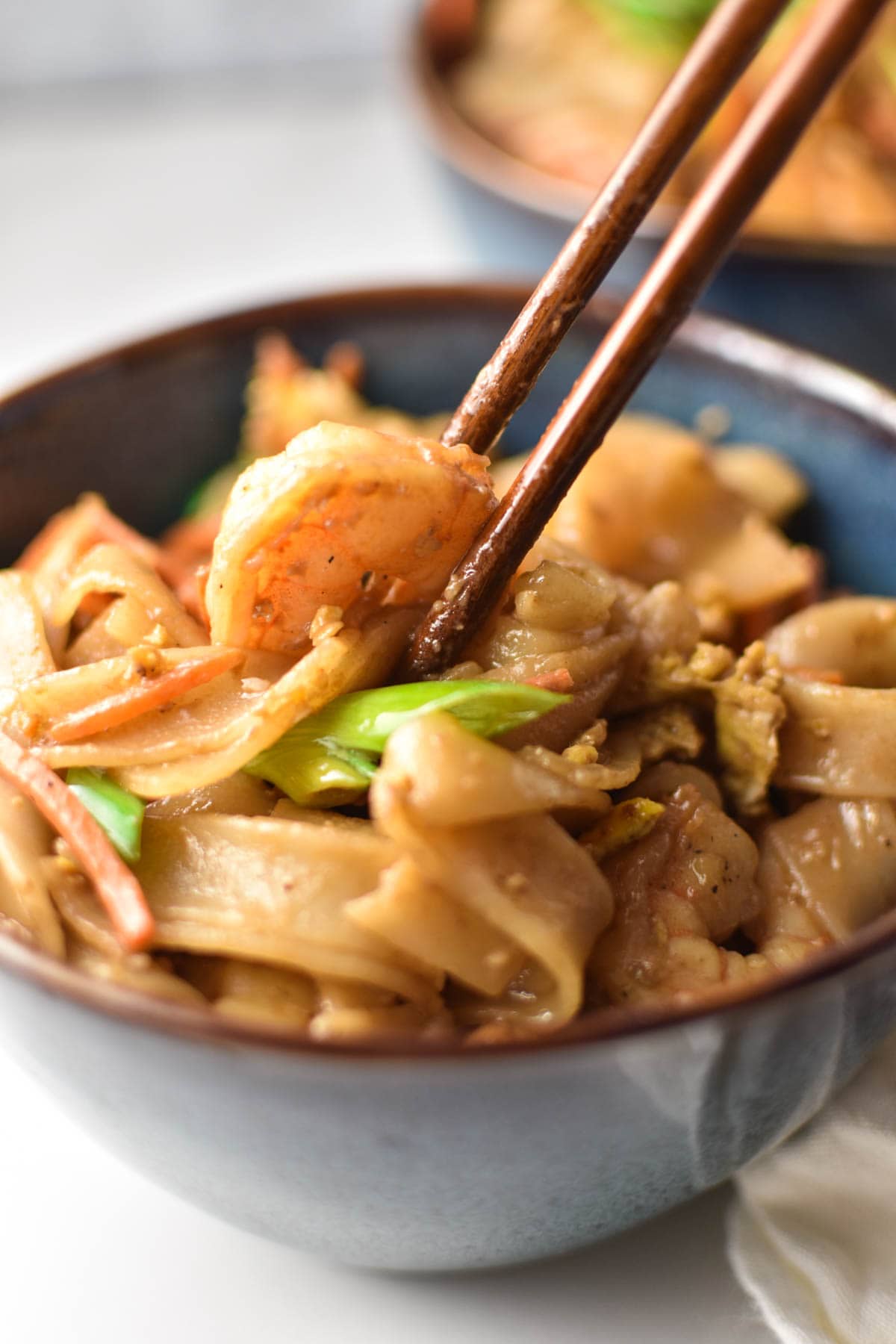 Gluten Free Asian Recipes
For more recipes like this Pad Thai that are also gluten free friendly, check out these posts.
If you make this, tag me #thedizzycook or @thedizzycook on Facebook and Instagram. And if you love the recipe, please leave a review below! Follow along on my Pinterest for more great recipes.
Gluten Free Pad Thai
Safe for those with a sensitivity, this gluten free Pad Thai has all the flavor without soy, fish sauce, or peanuts!
Print
Pin
Rate
Ingredients
Sauce
½

cup

coconut aminos

1

tablespoon

distilled white vinegar

2

tablespoons

unsweetened sunflower seed butter or tahini

2

large

garlic cloves, peeled

1

teaspoon

toasted sesame oil

3

tablespoons

low sodium vegetable broth

1

teaspoon

arrowroot powder or cornstarch

1

tablespoon

tamarind paste (or more to taste)

kosher salt
Pad Thai
8oz

package

Pad Thai rice noodles

1

tablespoon

toasted sesame oil

3-4

shallots, sliced thin

¾

cup

shredded carrots

3

large

eggs, whisked

3-4

green onions, sliced on a bias

Optional: 1 pound of chicken or shrimp
Instructions
Set a large pot of water on the stove and turn to high heat to bring to a boil. Cook rice noodles according to package directions. Meanwhile, combine all the ingredients for the sauce in a small food processor or blender and blend till smooth. Taste and adjust any seasonings, adding salt as needed. Set aside.

In a large pan, add toasted sesame oil over medium heat. Toss in sliced shallots and carrots (and meat, if using), stirring with a wood spoon till softened and fragrant - about 3-4 minutes.

If the pan is large enough, push everything to one side and add in the whisked eggs, leaving them to cook without stirring until they begin to firm up, like an omelette. Once firm, use a spoon or spatula to break into smaller pieces. Add in the sliced green onion.

Pour in the sauce and bring to a simmer till it starts to thicken and coat the vegetables and eggs, about 4-5 minutes. Add in the noodles, tossing till well coated with the sauce.
Notes
If using a protein like shrimp, chicken, or beef, add with the shallot and carrot and stir till cooked through. If it is pre-cooked, add at the end when tossing the noodles with the sauce.
For vegan, omit the eggs.
Tamarind is optional, but gives it the classic flavor! Start with 1 tablespoon and add more to taste.
See post for a soy free coconut aminos alternative.
If not using chicken, shrimp or extra veggies, you may have more sauce than needed. Pour in ¾ of the sauce, reserving the rest to add later if needed.
If you find the noodles to be too mushy, they are overcooked. This is best avoided by soaking in warm water till pliable, before stir frying till softened. See the post for more tips.
Nutrition
Calories:
405
kcal
|
Carbohydrates:
62
g
|
Protein:
9
g
|
Fat:
12
g
|
Saturated Fat:
2
g
|
Polyunsaturated Fat:
3
g
|
Monounsaturated Fat:
3
g
|
Trans Fat:
1
g
|
Cholesterol:
140
mg
|
Sodium:
750
mg
|
Potassium:
197
mg
|
Fiber:
2
g
|
Sugar:
3
g
|
Vitamin A:
4217
IU
|
Vitamin C:
3
mg
|
Calcium:
46
mg
|
Iron:
2
mg