This healthy egg roll bowl is super easy to make and cooks in one pan for a quick (and soy free) weeknight dinner. Getting a pre-packaged slaw mix, like from Trader Joe's, will cut down on any prep time. Leave out the crispy wontons to make this dish Whole30 or gluten free.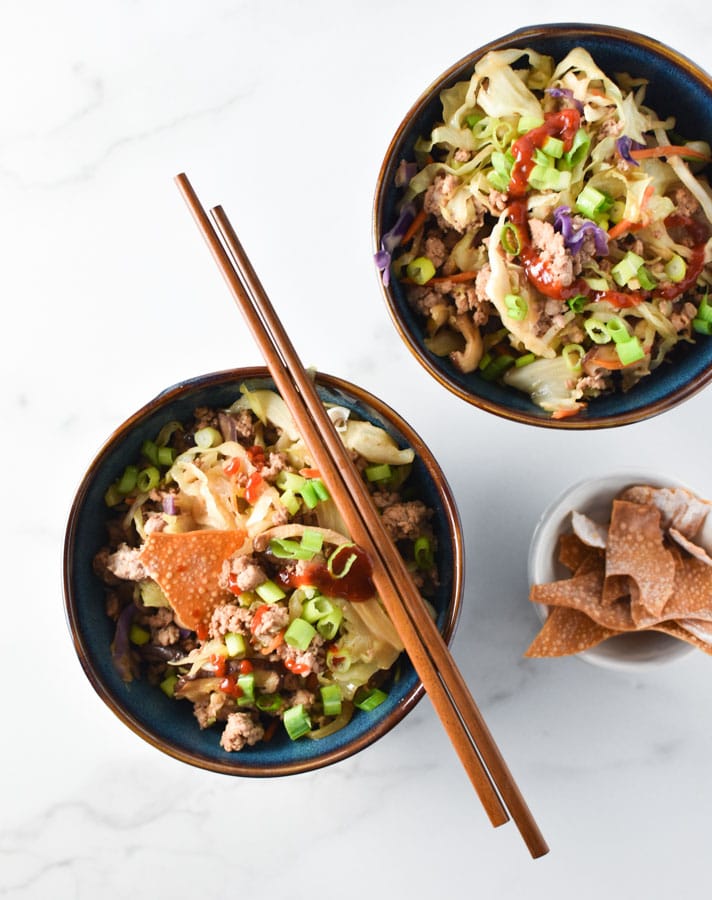 Egg Roll in a Bowl
Every once in a while I'll be scrolling through Facebook or Pinterest and I can't help but notice the cheesiest recipes. And I don't mean cheesy in the literal sense! I suppose the better word is "gimmicky". You know what I mean - the "buffalo chicken" this and the "mac and cheese" that. Don't even get me started on all the avocado toasts with "Everything but the Bagel" seasoning. I usually just scroll right past most of them, but for some reason "Egg Roll in a Bowl" stopped me. Of course most of these recipes contain a hefty amount of soy or sugar, so I wanted to take the idea and make it a little more healthy and migraine-friendly by eliminating the soy sauce and other fermented ingredients.
I can't say it was the prettiest dinner I've ever eaten, but the flavor is really good and the whole thing is so easy to make. It's really great for those of us who have been missing Chinese take out for months now. Plus it takes about 15-20 minutes from start to finish. You can also customize this to make it fit your diet restrictions.
The best part of this dinner is how easy it is. Minimal ingredients are sautéed together and topped with a spicy sriracha sauce for a little extra flavor. You can easily substitute ground chicken, beef, or turkey for pork. Or if you're following a vegan diet, use tofu instead (although not totally HYH safe). If I'm ever feeling overly tired or it's an attack day, this is my go-to meal.
Soy Sauce Substitutes
I've talked a lot about coconut aminos on here and how they seem to be ok for most, but are still a migraine trigger for some. I can usually get away with Trader Joe's brand of coconut aminos, but if you're sensitive to fermentation, this brand is not fermented. The only issue there is it does contain apple cider vinegar. Perhaps if you're more sensitive to one than the other, you can pick which coconut amino brand is best for you.
For those who want to avoid coconut and soy, I came across this recipe from Petite Allergy Treats for a substitute that has molasses instead - 2 cups broth, 2 teaspoon blackstrap molasses, 1 garlic clove smashed, ½ teaspoon salt, and ½ teaspoon white vinegar. Simmer all ingredients, uncovered, for 15 minutes until slightly reduced.
How to Bake Crispy Wonton Strips
As for the wonton chips, I found these in the frozen food section of my grocery store, and allowed them to defrost at room temperature for about 30 minutes. The ingredients for these are usually migraine-friendly, but do a double check before you buy. You can either bake these whole as "chips" or cut into strips for a crunchy topping.
Defrost wonton strips and lay them flat on a baking sheet
Brush both sides with vegetable or olive oil
Bake at 400 degrees F till brown and crispy
Allow to cool - they'll crisp more as they cool
Tortillas are an easy substitute in a pinch. You can brush them with olive oil and put them in the oven at 400 degrees to toast them the same way. You could even use these like chips and put the filling on top to make Egg Roll Bowl Nachos! Now THAT's a Pinterest recipe, right?!
Modifications for Whole30, Paleo, & Gluten Free
If you are gluten free, paleo, or Whole30, simply leave out the wonton chips. I suppose you could do cassava strips, but you may find it delicious without anything at all! I hope you all enjoy these healthy egg roll bowls as much as we do!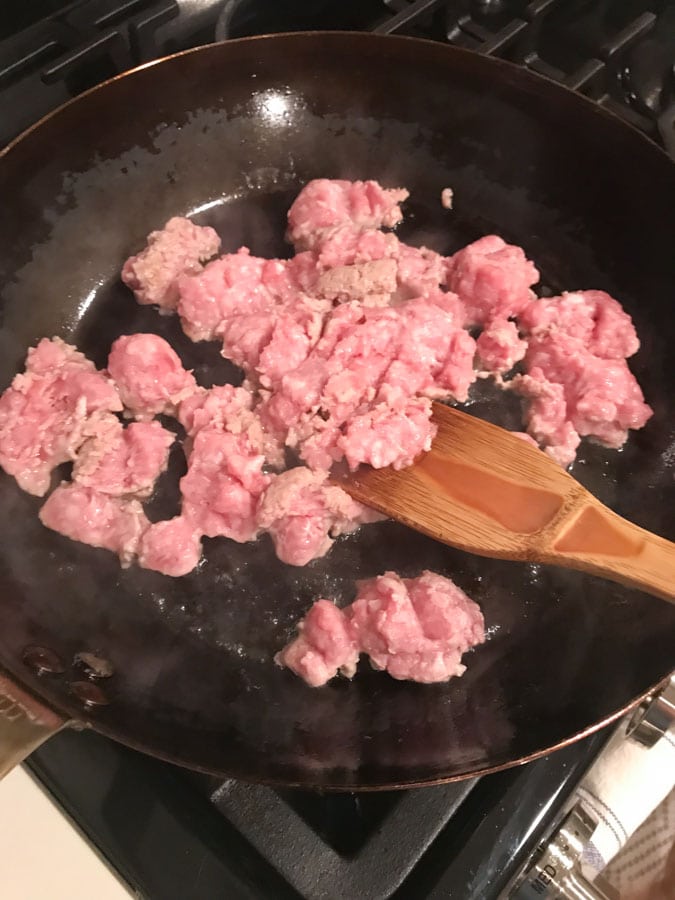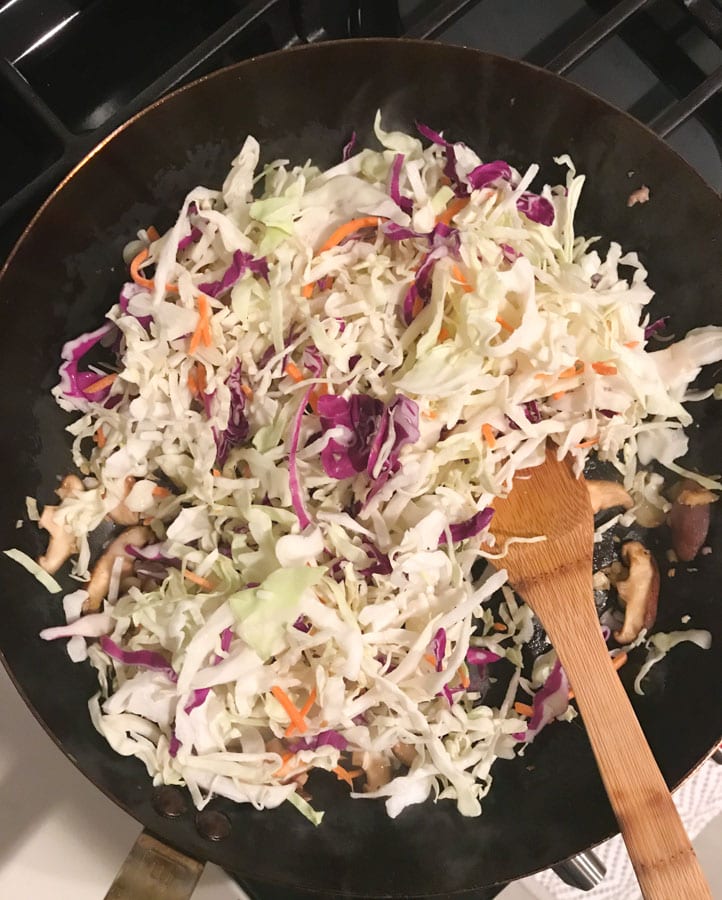 Quick Weeknight Dinners
For more quick weeknight dinners like this healthy egg roll bowl, check out these recipes.
Mediterranean Baked Halibut
Honey Garlic Chicken
Creamy Rosemary Chicken
Pumpkin Sage Pasta
Marinara Spaghetti Squash Pasta
Grilled Italian Shrimp
This post was updated with new pictures and improved recipe instructions on October 17th, 2019. It contains affiliate links.
Healthy Egg Roll Bowls
A simple, delicious, and easy migraine friendly weeknight meal you can put together in under 20 minutes. This soy-free meal can be made paleo, Whole30, and gluten free.
Print
Pin
Rate
Ingredients
1

package of defrosted egg roll wrappers OR tortillas

olive oil

1.5

lbs

ground pork

*

3

small cloves of garlic, minced

2

teaspoon

fresh ginger, peeled and minced

½

cup

vegetable or chicken broth

⅓

cup

coconut aminos

*

1.5

teaspoon

toasted sesame oil

1

9oz package

pre-shredded cabbage and carrot slaw

*

3-4

green onions, chopped

sriracha sauce
Instructions
Make sure your egg roll wrappers are defrosted before you begin this recipe. I forgot and ending up pulling them apart in pieces...but it was still good! Preheat the oven to 400 degrees F. Cut your wrappers or tortillas into roughly ½" x 3" pieces, place them on a baking sheet, and brush them with a little olive oil. I used about 3 wrappers total, but you can make more or less as you'd like. You can also cook them full size as wonton "chips". Bake them in the oven for about 5 minutes until golden brown, but watch carefully.

In a large pan, heat 1 tablespoon of oil over medium-high heat. Add raw meat and cook for about 4-5 minutes until no pink remains, breaking up with a wooden spoon. If there's any excess juice in the pan, drain or pat with a paper towel.

Turn heat to medium and add garlic and ginger, cooking for about a minute, stirring often. Add cabbage slaw mix and most of the green onions (save a bit for garnigh) and cook for around 3 minutes until softened. Then add broth, coconut aminos (or soy substitute), and sesame oil, stirring to combine everything.

Place all the ingredients in a bowl and top with toasted egg roll wrappers, sriracha and green onions. Eat immediately
Notes
Ground pork can be substituted for ground chicken (I like chicken thighs), ground turkey, or tofu (although not HYH-friendly).
See the post for a coconut amino substitute
I bought Trader Joe's or Whole Foods pre-shredded cabbage and carrot slaw...cause I'm lazy like that.
For Whole30, Paleo, and Gluten free, simply leave out the wonton chips or sub cassava strips.
Nutrition
Serving:
4
people
|
Calories:
500
kcal
|
Carbohydrates:
8
g
|
Protein:
29
g
|
Fat:
38
g
|
Saturated Fat:
14
g
|
Cholesterol:
123
mg
|
Sodium:
685
mg
|
Potassium:
522
mg
|
Fiber:
1
g
|
Sugar:
1
g
|
Vitamin A:
152
IU
|
Vitamin C:
4
mg
|
Calcium:
34
mg
|
Iron:
2
mg