This recipe for spaghetti squash marinara is so easy, it really shouldn't even be considered a recipe. In fact, we made this last night after I got home from a workout at 7:30pm. If I have more time, I'll roast a spaghetti squash, but if I need something a little bit faster I'll just boil a pot of pasta. But everyone loves a warm and filling meal that can be customized to fit anyone in the family.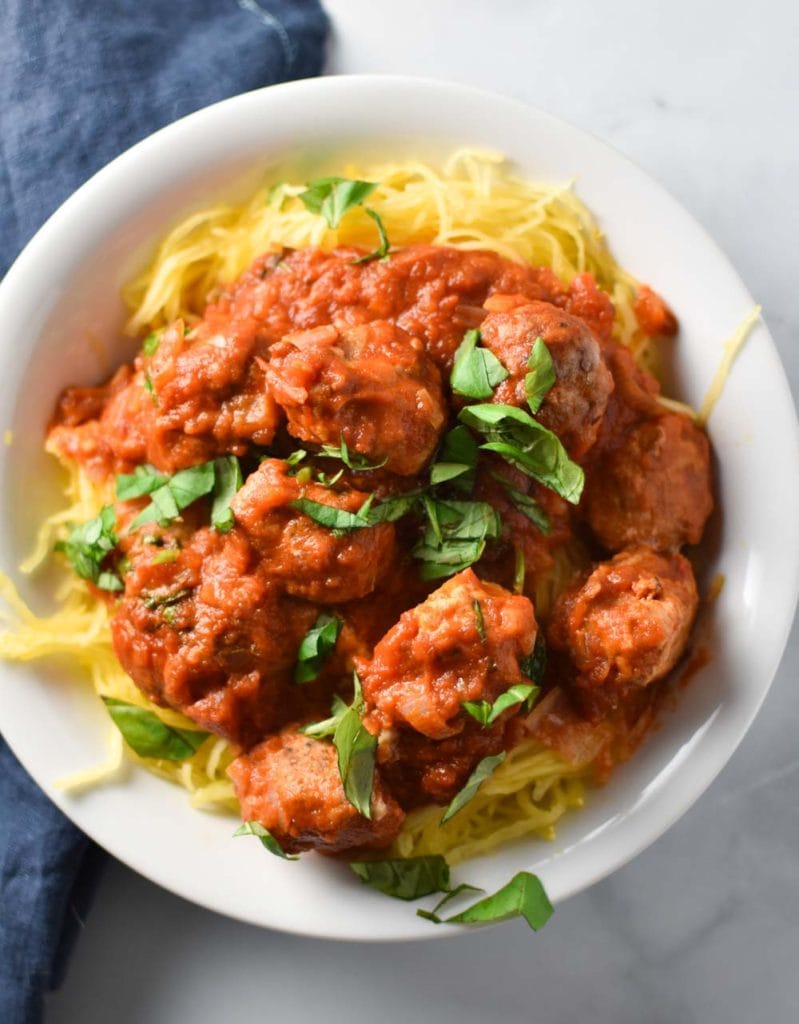 Clean Marinara Sauce
My pantry staples for the Heal Your Headache diet always seem to include either a spaghetti squash or gluten free pasta, a jar of Rao's Sensitive Marinara or Cucina Antica Garlic Marinara, and Boursin cheese.
Both sauces do not contain onions, and Rao's sensitive doesn't even contain garlic. By keeping some of these things on hand, you can avoid any diet cheating that you might do if you order takeout. We all have those nights we just don't feel like cooking and this is probably the best meal you can throw together that actually seems like you spent a lot more time on it.
Rao's Sensitive Marinara
Cucina Antica Garlic Marinara
Spaghetti Squash Marinara or Pasta?
The spaghetti squash takes about 50 minutes to roast and about 5 minutes to prep. The good news is it's all hands off time so you can focus on heating your sauce and removing your cheese from the fridge - tough stuff, I know. If you find you have trouble cutting your spaghetti squash in half, just poke some holes in it with a fork and microwave for a minute or two. It should be easier to cut when warmed.
On the flip side you could use any kind of favorite pasta you like. If you have a gas oven though, this can mean that you spend 20 minutes just getting you water to boil.
Protein Options for Vegetarians and Meat Eaters
If you love meatballs, you can take the meatballs from this meal prep post and keep them in the freezer to reheat as needed. For my vegetarian friends, try a chickpea pasta that will stay with you longer than your typical gluten free pasta. I love Olo foods because they don't get mushy like some other chickpea pastas and the flavor is great. It only takes 5 minutes to boil! I actually prefer it to the Trader Joe's Quinoa Pasta I was faithful to for years.
You can also use this great recipe for the easiest basic paleo meatballs!
Tomatoes on A Migraine Diet
Some people who are highly sensitive to glutamate and histamine find that tomatoes can be a trigger for them. If that's the case, try this pumpkin sage pasta that may be a better fit for you and is still super easy. If you're looking for a "nomato" sauce, this recipe looks quite good. Make sure you sub out the onions for leeks or shallots.
Easy Spaghetti Squash Marinara
Make this meal your own by adding meatballs or ground beef, leaving it vegetarian, adding cheese or leaving it out, and even subbing out the spaghetti squash for pasta. All gluten free and migraine diet safe for Heal Your Headache.
Print
Pin
Rate
Ingredients
1

3-4lb

spaghetti squash or pasta

1

jar

Rao's Sensitive or Cucina Antica Garlic Marinara

1

package

Boursin garlic and herb cheese

Extra virgin olive oil

Kosher salt and pepper

Optional: meatballs or ground beef

Optional: fresh basil
Instructions
Preheat oven to 425 degrees and cut the spaghetti squash in half. Scoop out the seeds from the middle and place on a baking sheet. Rub the cut side with olive oil and sprinkle with kosher salt and pepper. Place cut side down on the baking sheet and bake for roughly 50 minutes.

While the spaghetti squash is cooking, either make or heat the meatballs or ground beef. If you're going vegetarian, just sit back and enjoy all this free time you have. In a medium saucepan, heat the marinara sauce over medium heat. Sometimes I like to jazz up my sauce with a shallot or oregano, but this isn't required. If you're using meatballs, add them here and simmer them till everything is warmed together.


When the spaghetti squash is finished. Allow to cool and bit and scrape the inside with a fork to produce the "strands". Place into individual bowls, top with heated sauce. If using, sprinkle a little bit of boursin on top (however much you'd like) and fresh basil. Enjoy!
Nutrition
Calories:
41
kcal
|
Carbohydrates:
9
g
|
Protein:
2
g
|
Fat:
1
g
|
Saturated Fat:
1
g
|
Sodium:
891
mg
|
Potassium:
563
mg
|
Fiber:
3
g
|
Sugar:
7
g
|
Vitamin A:
736
IU
|
Vitamin C:
12
mg
|
Calcium:
22
mg
|
Iron:
2
mg