These meatballs without breadcrumbs are a traditional recipe with a twist! Garlic, oregano, and parsley combine with ground sunflower seeds for a nut free, low carb alternative that's delicious, tender, and flavorful.
You don't need to use breadcrumbs or nut flours for the perfect meatball. Made with just 6 main ingredients, these cook in under 20 minutes and are one of the easiest recipes you can make. They're perfect for paleo and whole30 diets, as well as low carb or keto.
Best of all, these meatballs without breadcrumbs pack some extra health benefits. With added plant-based iron and some potential anti-inflammatory benefits, this is a great recipe that the whole family will love.
Serve these meatballs in many different ways - with a Spaghetti Squash Marinara, Roasted Mashed Cauliflower, or a salad with Homemade Ranch Dressing.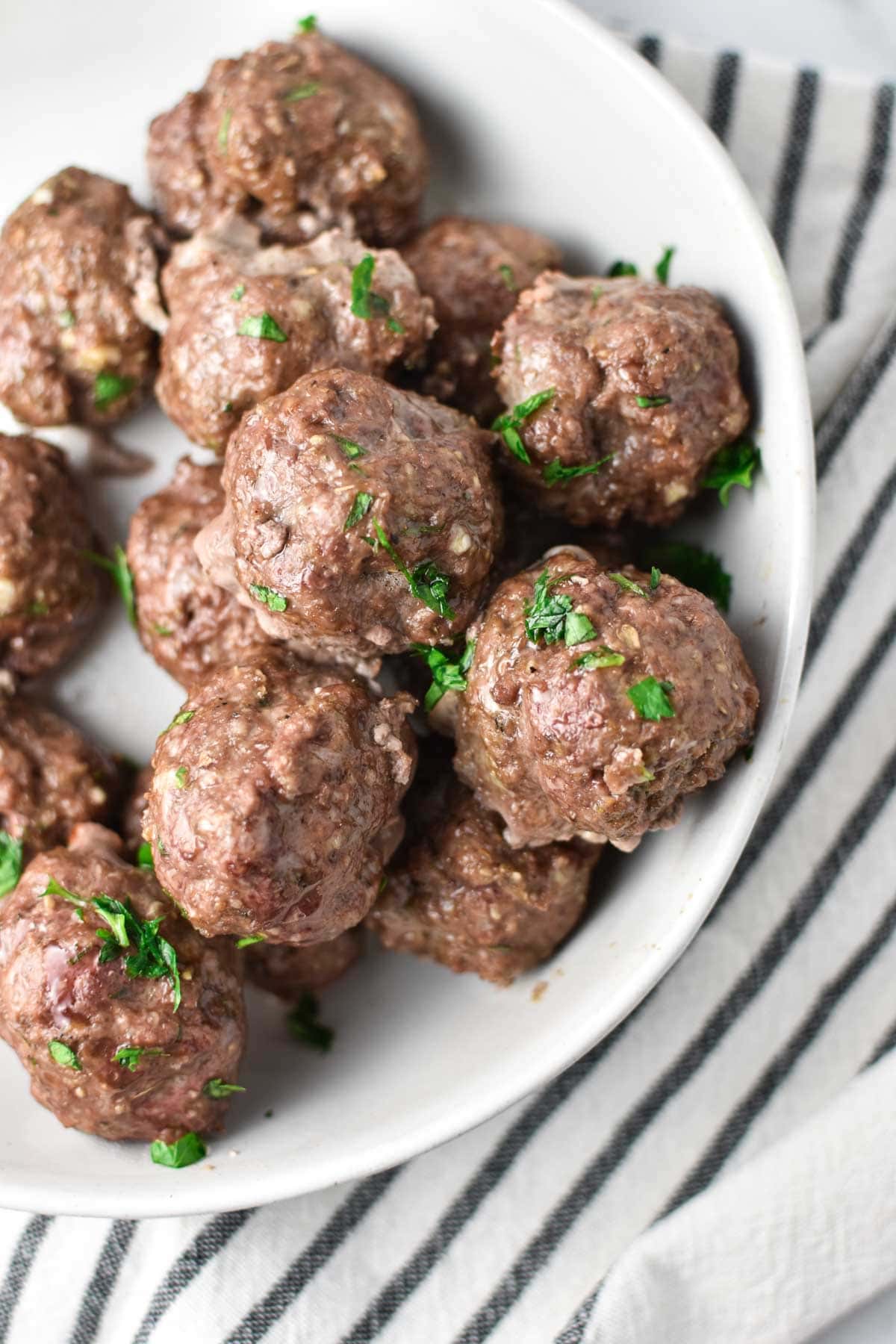 Jump to:
The Best Meatballs without Breadcrumbs
For this recipe, I wanted it to appeal to everyone. And while most recipes that make meatballs without breadcrumbs either just omit them entirely or they use almond flour, I found myself not liking either option.
Omitting breadcrumbs entirely does change the texture and forming the meatballs takes a little more effort. While using nut flours can pose an issue for a lot of people with nut allergies, as well as those on a low tyramine diet. Personally almond flour is a big migraine trigger for me.
If you don't want to use sunflower seeds, toasted pepita seeds will also work here! They each bring a different flavor that works well with the ground beef.
Ingredients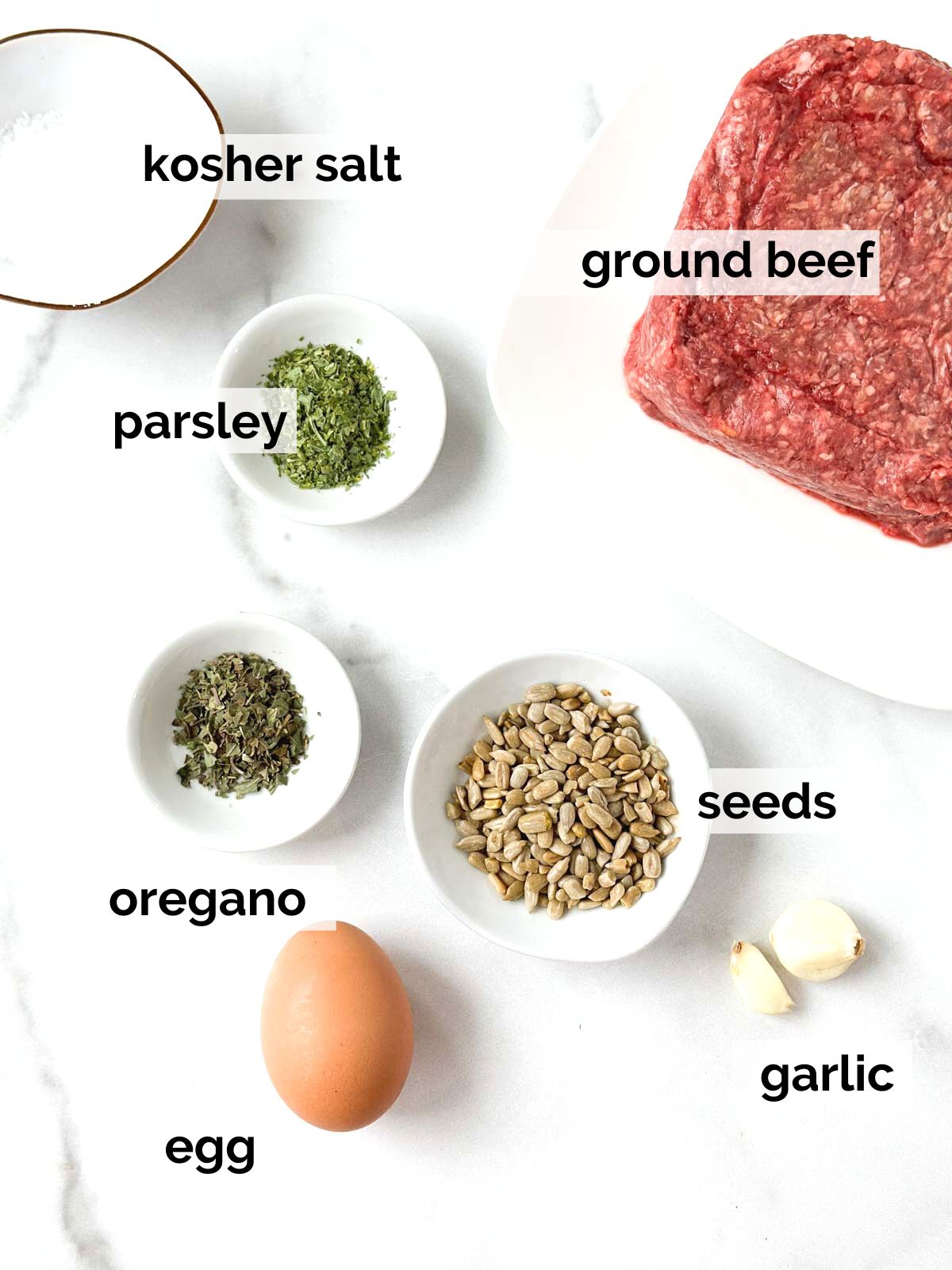 The six ingredients in these meatballs without breadcrumbs are pretty basic but here are some helpful notes I found during recipe testing. The full ingredient list will be in the recipe card.
Ground beef - For the best flavor and texture, I prefer to use a higher fat content. Either 85/15 or 90/10, but never above that. You could also use ground chicken or turkey for this recipe as well, just follow the same rule!
Sunflower seeds or pepitas - Buy these pre-roasted and unsalted to skip roasting them at home. Then just grind these in a food processor!
Spices - Keep these simple so the meatballs are versatile for any dish. Oregano, garlic, and parsley provide some flavor but pair well in many meatball dishes.
Egg - A large egg helps bind everything together while providing some moisture.
Recipe Substitutions
Eggs - While you can leave the egg out, the texture will be a little more dense. Use an egg substitute that works best for you.
Meat - I have also made this recipe with ground lamb if I want to put it over a greek salad. It's very delicious! Chicken or ground turkey can also be substituted.
Seeds - If nuts aren't an issue for you, feel free to use almond flour or you can also use ground oats.
Equipment Needed
If you're using seeds as the filler, it's ideal to get a small food processor to make seed flour if you don't already own a large one.
I have this Cuisinart mini food processor that's under $40, but they can be found as cheap as $15. A mini food processor is so nice to make salad dressings and sauces in, or just chop up vegetables when you're too tired to use a knife.
Step-by-Step Instructions
This baked meatball method is best for preparing a lot of meatballs at one time!
Step 1: Process the seeds
Place whatever seeds you're using in a food processor and process till it forms a fine, crumbly texture.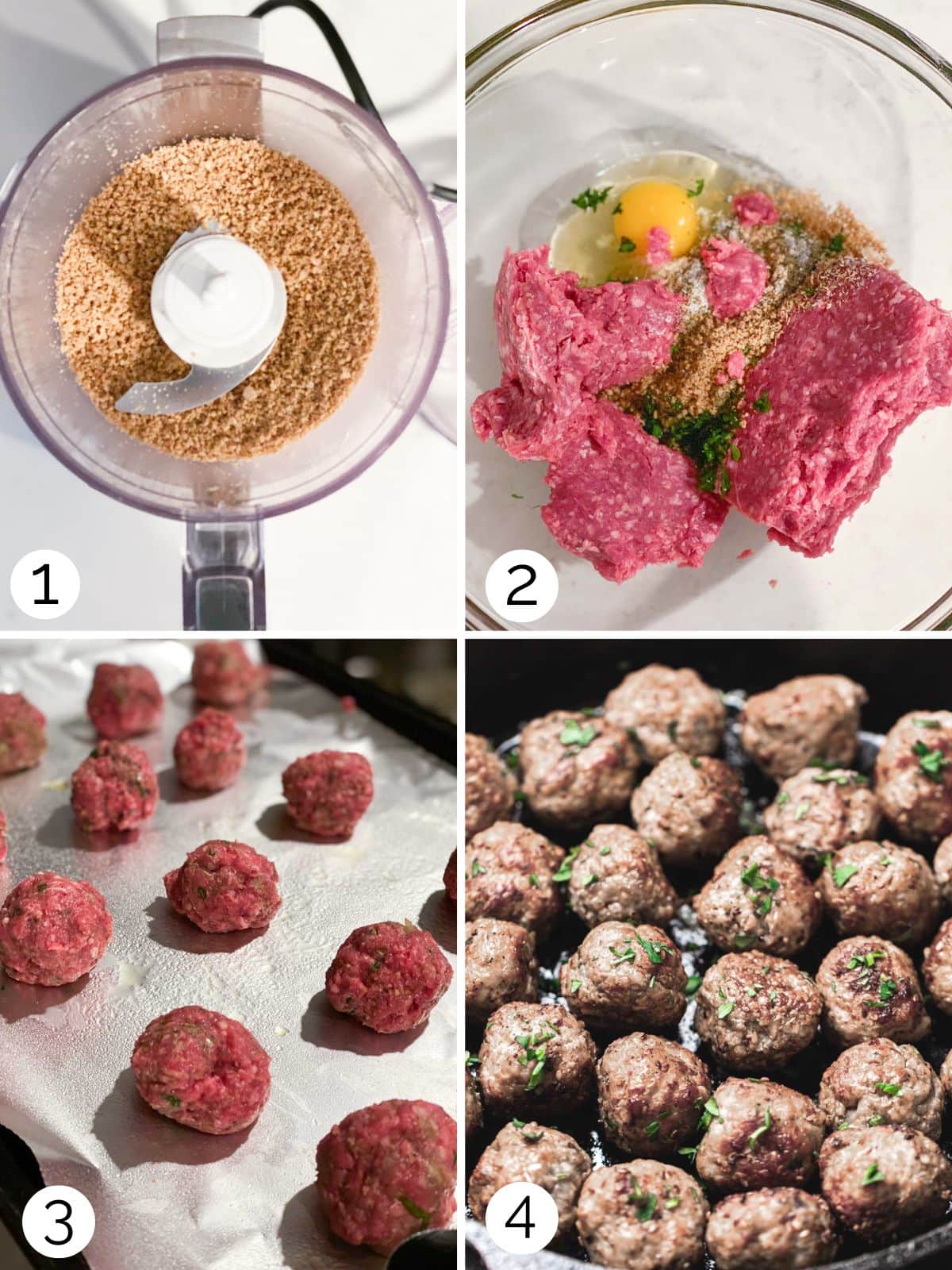 Step 2: Combine the ingredients
In a large bowl, combine the meat, seed flour, spices, salt and pepper. Use your hands to mix everything together till well-combined. Just don't overwork the meat! Scoop with a spoon or cookie scoop and roll into 2 inch balls, placing them on a sheet pan with either foil or parchment.
Step 3: Bake or Pan-Sear Meatballs
Baking meatballs is best for large batches, but pan-searing before baking can provide a better flavor and texture. It's totally up to you!
To bake - Cook at 425 degrees Fahrenheit for about 15-17 minutes, or until cooked through. (Photo 3)
To pan-sear - Preheat oven to 400 degrees Fahrenheit. In a cast iron pan over medium heat, add oil. Once warm, add meatballs and sear till just brown on all sides. Remove from the pan as they brown - they should not be cooked through. Return all the meatballs to the pan and bake for about 7-10 minutes, or until cooked through. (Photo 4)
Can You Make These Meatballs in an Air Fryer?
Absolutely! If you have an air fryer here is an easy way to cook them. As you can see you have multiple methods for making these meatballs with no breadcrumbs.
To make in the air fryer: Place the meatballs in an air fryer basket that has been coated or sprayed with oil. Cook at 400 degrees Fahrenheit for about 10-11 minutes, or until cooked through to your liking. Halfway through turn the meatballs to make sure they cook evenly.
Recipe Tips
For the best flavor and texture, use a higher fat content for meat.
Before rolling the meatballs, lightly wet your hands (or use oil!) to prevent the mixture from sticking.
For perfectly cooked meatballs, use a meat thermometer! For beef, it should be 160 degrees Fahrenheit and for chicken or turkey it should be 165 degrees.
Serving Suggestions
These meatballs without breadcrumbs are so versatile, they work well for so many recipes. Here are a few of my favorites.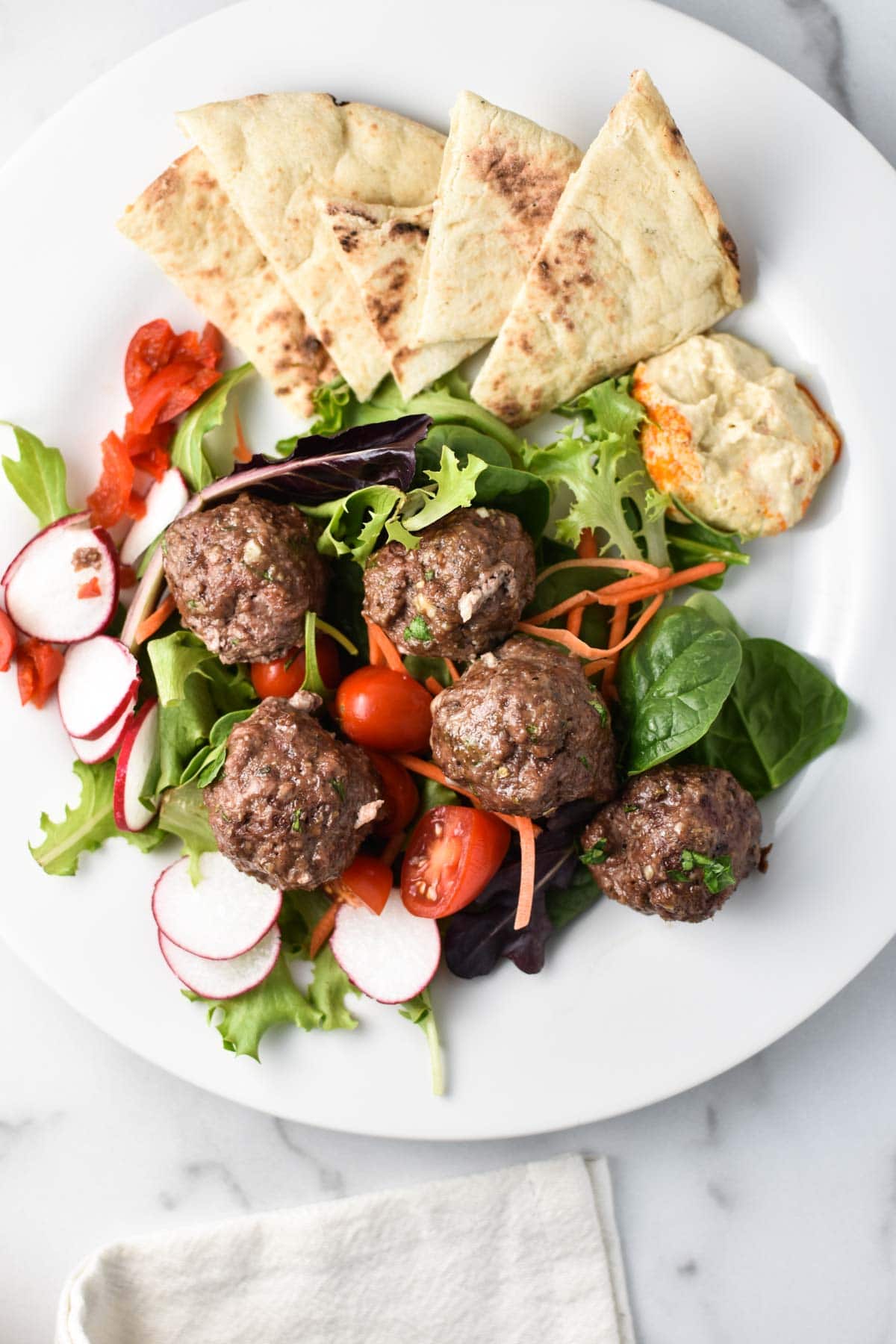 Storage and Freezing
Refrigerator - These meatballs will store well in the fridge for up to 3 days. Just cool before packing them in an air-tight container.
Freezer - If you're planning to freeze, let the meatballs cool and then add them to a ziplock bag or glass container (if you have more room in your freezer) in a single layer. To reheat from frozen, place on a sheet pan and cover with foil. Reheat at 300 degrees F for about 20 minutes until warmed through.
Frequently Asked Questions
What can be used instead of breadcrumbs for meatballs?
This recipe that substitutes seed flour for breadcrumbs is the perfect way to get tender and flavorful meatballs without using breadcrumbs. However, there are more options! Ground oats or nut flours can also be used as a replacement.
Why do I need a substitute for breadcrumbs?
Technically you don't, you could just roll the meat into balls without using anything added to fill the mixture. However, this can create meatballs that are a little more tough to form and may fall apart. Adding a substitute provides a binder and also a nice texture.
How do I adjust seasoning for meatballs?
This is a tough one because you can't taste raw meat! In this case, I recommend cooking a small piece in a pan to taste and adjust the seasonings as needed. I tend to go light on seasoning the raw meat and add a lot of the flavor to the sauces I pair the meatballs with.
Ground Meat Recipes
For another fantastic recipe like these meatballs without breadcrumbs, check out my Mediterranean Meatballs.
If you make this, tag me #thedizzycook or @thedizzycook on Facebook and Instagram. And if you love the recipe, please leave a review below! Follow along on my Pinterest for more great recipes.
Meatballs without Breadcrumbs
This simple meatball recipe can be transformed for several different dinners, whether you're having Italian, Greek, or just a quick meal. Freeze them and reheat on days you don't feel like cooking!
Print
Pin
Rate
Ingredients
⅓

cup

roasted & unsalted sunflower seeds or pepitas

1

pound

ground beef

*see notes for other suggestions

1

large egg

*see notes for omitting egg

2

cloves garlic, minced

1

teaspoon

dried oregano

2

teaspoons

fresh parsley, finely chopped (plus more for garnish)

½

teaspoon

kosher salt

fresh black pepper to taste

oil to grease the baking sheet
Instructions
Preheat oven to 425 degrees Fahrenheit. In a small food processor, grind the seeds into a fine crumbles. Add them to a large bowl along with ground meat, egg, garlic, oregano, parsley, and salt (and black pepper if you'd like). Mix together with your hands until thoroughly combined.

Use a spoon or scoop to scoop into 2 inch balls, rolling with your hands, and place onto a greased baking sheet.

To bake (for large batches): Bake for 15-17 minutes at 425°F until cooked through. Serve warm.

To pan-sear: Preheat oven to 400 degrees Fahrenheit. In a cast iron pan over medium heat, add oil. Once warm, add meatballs and sear till just brown on all sides. Remove from the pan as they brown - they should not be cooked through. Return all the meatballs to the pan and bake for about 7-10 minutes, or until cooked through.
Notes
Substitute ground beef with lamb, chicken, or turkey.
Seeds can be substituted for rolled oats or other suggestions from the post.
Lightly coat your hands with a little water or olive oil before rolling to prevent sticking.
Baking is best for large batches. Pan-searing is best for smaller dinners!
Switch up the spices depending on the final dish. The spices used work well with pasta, in pita bread, on top of salads, or as a basic high protein snack.
Nutrition
Serving:
4
meatballs
|
Calories:
92.35
kcal
|
Carbohydrates:
0.87
g
|
Protein:
5.76
g
|
Fat:
7.27
g
|
Saturated Fat:
2.4
g
|
Cholesterol:
30.36
mg
|
Sodium:
105.49
mg
|
Potassium:
103.01
mg
|
Fiber:
0.29
g
|
Sugar:
0.09
g
|
Vitamin A:
14.85
IU
|
Vitamin C:
0.12
mg
|
Calcium:
11.19
mg
|
Iron:
0.75
mg