These paleo and whole30 meatballs are completely nut-free and gluten free, but still tender and delicious. Made with just 6 main ingredients, they cook in under 20 minutes and are one of the easiest recipes you can make. The key ingredient? Toasted sunflower seeds!
What are Whole30 Meatballs?
If you've heard of Whole30 you'll know it's a very intense 30 day elimination diet, and much harder than Heal Your Headache (in my personal opinion). This diet doesn't allow sugar, dairy, or grains, similar to the paleo diet. Although this migraine diet allows all of those things, a few people find they still have sensitivities to dairy and gluten. For this recipe, I wanted it to appeal to everyone. This means I had to mash up a few different diets and combine that with migraine-friendly ingredients. It's really tough to find meatballs without onion!
Most Whole30 meatballs use almond flour, which is considered a migraine trigger and it's personally a big one for me. This gave me an idea to try out using ground seeds. I first made this recipe with pepitas, but absolutely loved it with toasted, unsalted sunflower seeds. It gives it a great flavor without being too noticeable. My favorite is to use the unsalted, roasted sunflower seeds from Trader Joe's.
A Meatball for Every Occasion
Meatballs are one of my favorite things to make during the week because:
They only dirty two dishes - one bowl and one pan.
They take like 20 minutes to make.
You can easily freeze them and reheat for nights you don't feel like cooking.
They are super versatile!
Lately I've been gravitating to easy but comforting recipes and these healthy meatballs fit the bill. I love how you can use them across a range of different cuisines like Italian and Greek just by pairing them with certain items.

Whole30 & Paleo Meatball Recipes
You could use these in a few different dishes like:
This Spaghetti Squash Marinara
On top of a Greek Salad
Alongside Homemade Hummus and pita bread (because sometimes you just need some carbs.)
With these Chipotle Sweet Potatoes
Meatball Recipe Substitutions
Eggs - I know a few of my readers have sensitivities to eggs. Often people tend to do better with them baked into things, but if you're one of those who can't tolerate them at all, you can still make this recipe by leaving them out. The texture just won't be as tender as it is with the egg. The meatballs will be a little more dense.
Meat - I have also made this recipe with ground lamb, especially if I want to put it over a greek salad. It's still very delicious. For chicken or ground turkey, this recipe is still my go-to favorite, but you can easily substitute it out here as well.
How to Make Whole30 Meatballs
Using a small food processor will help you grind your toasted sunflower seeds into a "flour". I have this one from Cuisinart that's under $40, but they sell them as cheap as $15 and it's so nice to make salad dressings and sauces in. After those are ground, literally dump all of your ingredients in a bowl and roll into 2 inch balls.
I bake these in the oven instead of in a pan on the stove. This is mainly because I love how much easier it is to clean up and I can also avoid any oil splatter all over my stovetop.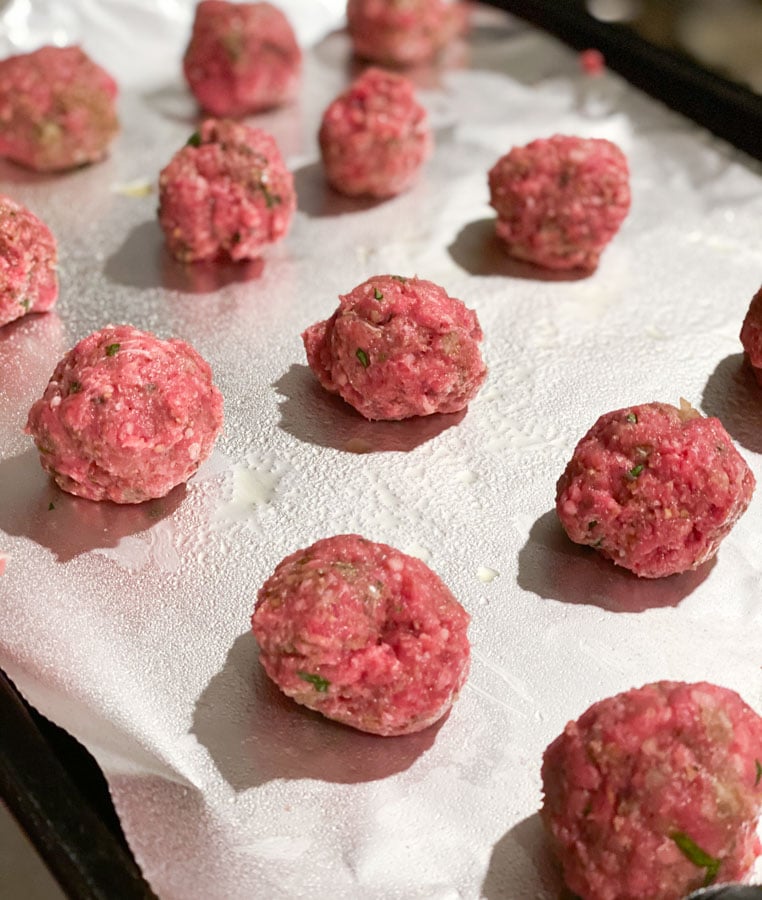 These bake for about 15-17 minutes and then you can serve them immediately. If you're planning to freeze, let them cool and then add them to a ziplock bag or glass container (if you have more room in your freezer). Place on a sheet pan and cover with foil. Reheat at 300 degrees for about 20 minutes until warmed through.
Other Easy Meals Include:
Chicken and Rice Soup
One Pan Sausage, Arugula, and Potato Salad
Chipotle Chicken Sandwiches
Creamy Rosemary Chicken
Vegan Tortilla Soup
Easy Meatballs (Whole30, Paleo, and Nut-Free)
This simple meatball recipe can be transformed for several different dinners, whether you're having Italian, Greek, or just a quick meal. Freeze them and reheat on days you don't feel like cooking!
Print
Pin
Rate
Ingredients
⅓

cup

roasted & unsalted sunflower seeds

1

pound

ground beef

*see notes for other suggestions

1

large egg

*see notes for omitting egg

2

cloves garlic, minced

1

teaspoon

dried oregano

2

teaspoons

fresh parsley, finely chopped (plus more for garnish)

½

teaspoon

kosher salt

oil to grease the baking sheet
Instructions
Preheat oven to 425 degrees F. In a small food processor, grind the sunflower seeds into a fine crumbles. Add them to a large bowl along with ground meat, egg, garlic, oregano, parsley, and salt (and pepper if you'd like). Mix together with your hands until thoroughly combined.

Roll into 2 inch balls and place onto a greased baking sheet. Bake for 15-17 minutes at 425°F until cooked through. Serve warm.
Notes
Substitute ground beef with lamb, chicken, or turkey.
Make sure your sunflower seeds are unsalted.
You can omit the egg in this recipe if not well-tolerated, however the texture will be much more dense.
See post for complete dinner suggestions.
Nutrition
Serving:
4
meatballs
|
Calories:
92.35
kcal
|
Carbohydrates:
0.87
g
|
Protein:
5.76
g
|
Fat:
7.27
g
|
Saturated Fat:
2.4
g
|
Cholesterol:
30.36
mg
|
Sodium:
105.49
mg
|
Potassium:
103.01
mg
|
Fiber:
0.29
g
|
Sugar:
0.09
g
|
Vitamin A:
14.85
IU
|
Vitamin C:
0.12
mg
|
Calcium:
11.19
mg
|
Iron:
0.75
mg