This Southwest Beef Protein Bowl is so delicious, low carb friendly, and inexpensive to put together with seasoned ground beef, eggs, spinach, cauliflower rice, and zucchini. It's healthy for a filling breakfast, lunch, or dinner.
What Makes This a Protein Bowl
Protein is a macronutrient that is essential for building muscle and also helps to keep us feeling fuller for longer. Studies have also shown it can help you lose weight while also increasing strength.
Protein can be incredibly important for people with a migraine disorder because it will help with:
Maintaining a stable blood sugar.
Keep you from snacking on unhealthy foods and leave you feeling more satisfied after eating.
Help you stay more alert and energized - especially during an attack.
This bowl has over 30 grams of protein, lots of vegetables, and fits a low carb or keto diet. It's important to balance high protein meals with some complex carbohydrates, vegetables, and healthy fats.
Ingredients
Eggs - Eggs, including egg whites are filled with protein. A single egg has 6 grams of protein.
Lean Beef - Beef is high in protein as well as iron and B12. A pound of ground beef has around 65 grams of protein and also contains a good amount of Iron, B6 and Magnesium.
Cauliflower Rice - Low carb and easy to cook, one cup of cauliflower contains 2 grams of protein and only around 25 calories. It's a great way to have a filling meal while also getting more vegetables in.
Spinach - While not incredibly high in protein, spinach is anti-inflammatory and contains a good amount of vitamin C, as well as magnesium.
Spices - With so much healthy proteins and vegetables, we need to bump up the flavor with lots of seasonings. This taco seasoned beef is one of my favorites and so versatile. You can blend this seasoning in larger batches and keep on hand for taco night or this protein bowl.
Ways to Add Even More Protein
This protein bowl is already great as is, but if you want to add even more, here are a few options:
Ground Chicken
Beans, like kidney or black beans
Quinoa or Millet
Collard Greens
Broccoli
Hemp Seeds (or other seeds)
Fish
Steak
Shrimp
How to Make a Protein Bowl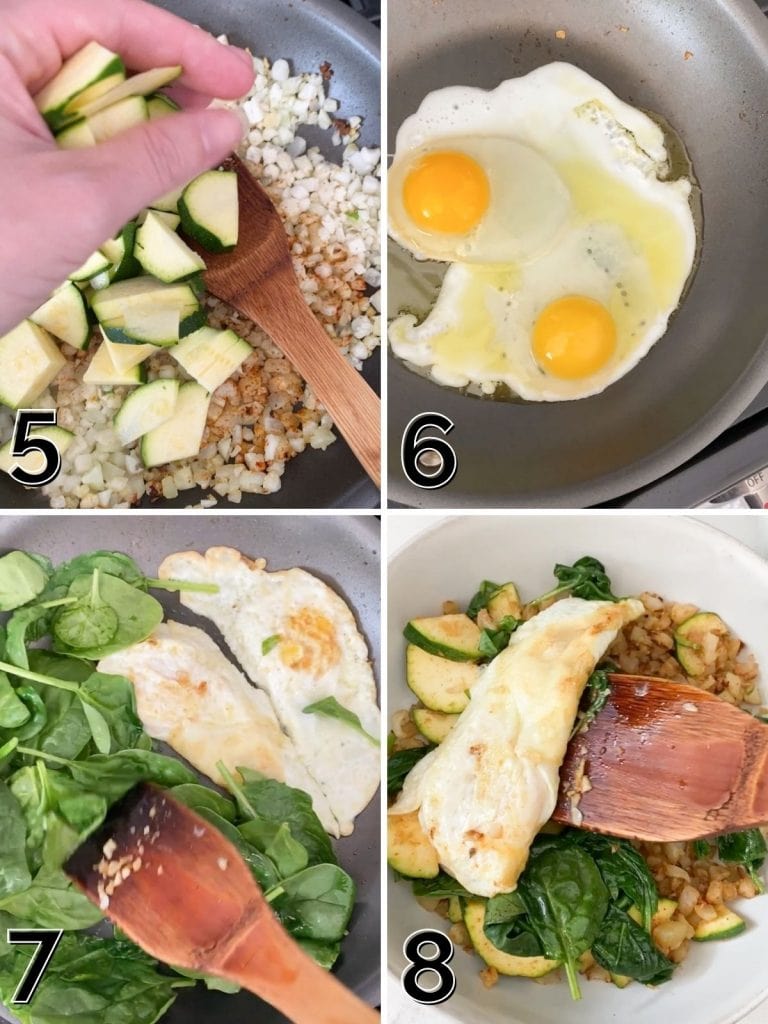 Start by browning the ground beef in a large nonstick pan over medium heat and mix in the spices. Once cooked through, remove from heat and set aside. (Steps 1-2)
In the same pan, cook the cauliflower rice over medium heat and add the spices. Mix in chopped zucchini and stir, until everything is just starting to soften (around 4 minutes total). Remove from the heat and set aside. (Steps 3-5)
Finally, add a little bit of oil to your pan and turn to medium high heat. Crack the eggs and gently put the egg into the pan. Fry for about 1-2 minutes, until the white becomes opaque, and flip the egg. Pan fry another minute - you want the yolk still runny but the whites fully cooked. (Step 6)
Meanwhile, add spinach to the pan on the other side of the eggs. This will allow the spinach to wilt down slightly, but not completely shrink up. You just want it softened. (Step 7)
Layer the cauliflower and zucchini in the bottom of your bowl, top with ground beef, eggs, and spinach. (Step 8)
Salsa verde goes great on top of this and is one of my favorites, but any salsa will be delicious.
Recipe Tips
This recipe is easy to customize to make it work for you. Feel free to substitute cauliflower rice with quinoa, or zucchini with broccoli. Hate eggs or are allergic? Just leave them out.
This is a wonderful meal prep option and will last in the fridge for 2-3 days.
If following a migraine diet, you want to avoid tyramine build up which happens in protein-rich foods. To do this, you can freeze the cooked beef and defrost later to build your bowl. The vegetables will not have the same tyramine build up as quickly as beef.
Eggs are best cooked the day of, so slide those on once you're ready to eat.
This recipe is automatically gluten and dairy free, plus migraine diet friendly.
Other High Protein Recipes
For more healthy meals that are packed with protein, check out these posts.
If you make any of my recipes, don't forget to tag me #thedizzycook or @thedizzycook on Facebook and Instagram. And please leave a review below!
Southwest Protein Bowl
This beef protein bowl is packed with over 30 grams of protein in one serving. It's healthy, flavorful, and low carb for a great lunch, breakfast or dinner.
Print
Pin
Rate
Ingredients
1

pound

ground beef

kosher salt and black pepper

olive oil

8

oz

cauliflower rice

½

teaspoon

chili powder

½

teaspoon

cumin

½

teaspoon

smoked paprika

2

zucchini squash, cut into cubes

1

cup

spinach

2

large eggs

2

green onion, chopped

salsa verde or any salsa
Instructions
In a large non stick pan, cook ground beef over medium high heat, stirring frequently, till cooked through and crumbly - about 5-6 minutes total. Season with a pinch of salt and pepper, then remove from the pan and set aside.

In the same pan, add a teaspoon of olive oil and cauliflower rice, along with the chili powder, cumin, and smoked paprika. Cook for 1-2 minutes over medium heat, then add the zucchini, cooking another 2-3 minutes till just barely softened. Add ¼ teaspoon of kosher salt and a pinch of fresh pepper and set aside.

Carefully wipe out the pan with a paper towel and add another teaspoon of olive oil over medium high heat. Crack the eggs and carefully lay them into the pan so the yolk doesn't break apart. Allow the egg to cook till the whites are set, then flip and cook another 20-40 seconds for an over easy/medium egg. Meanwhile, use the other side of pan to wilt the spinach just slightly.

In a bowl, add the cauliflower rice and zucchini, top with the ground beef, then add the eggs and spinach. Taste and adjust any seasonings and then add your favorite salsa and top with chopped green onions.
Notes
This is my favorite salsa verde, but I really like Tacodeli's Salsa Verde for a store-bought option (found at Whole Foods).
I used Trader Joe's fresh cauliflower rice for this recipe and used ½ a bag, approximately 8oz.
For extra flavor, also season your beef using this ground beef taco seasoning recipe.
If you're not following a migraine diet or have reintroduced foods, sliced avocado is a wonderful addition, as well as a little bit of lime juice on top.
Nutrition
Calories:
485
kcal
|
Carbohydrates:
11
g
|
Protein:
34
g
|
Fat:
34
g
|
Saturated Fat:
13
g
|
Polyunsaturated Fat:
2
g
|
Monounsaturated Fat:
14
g
|
Trans Fat:
2
g
|
Cholesterol:
216
mg
|
Sodium:
203
mg
|
Potassium:
1227
mg
|
Fiber:
4
g
|
Sugar:
6
g
|
Vitamin A:
1704
IU
|
Vitamin C:
82
mg
|
Calcium:
110
mg
|
Iron:
5
mg