With a massive winter storm that hit most of the US, many of us are stuck indoors and getting cabin fever – enter this delicious spiced apple honey bundt cake! This recipe from Jennifer Bragdon is a different approach to the traditional apple cake, using warm spices like cinnamon, ginger, nutmeg, and cloves to highlight the sweetness of the honeycrisp apples. Your whole family will love this one, and no one will even guess that it's also migraine safe!
Don't you just love the beginning of a new year? When the stress of the holidays are behind you and there is a buzz of hopefulness in the air. The new year brings a fresh start, a do over with so much potential for new opportunity. It's the time of year we really focus on what we want for ourselves and set goals or steps of action to work towards them to become our best.
When you're living with a chronic illness, goals can feel like heavy burdens and at times, make it a bit harder to achieve them. But, don't let that stop you – really don't! Creating a short list of achievable goals can fill you with motivation, give you a sense of purpose, and suppress feelings of despair. Achieving our goals can show us tangible proof that we're making progress and always moving forward. Think about what you want for yourself and break it down into small, specific, reachable steps.
Want to have more money in savings? Vow to save $25 a week.
Want to eat healthy? Set a goal to eliminate processed food or eat at least two veggies a day.
This year, I set a variety of goals for myself. Some are personal, or illness related. Others are professional, financial, family or home related. I like to keep my list realistic, not too long, and in a place I can see it everyday to keep me on task. I'm currently in the mist of a no online spending challenge – bleh! My guy and I agreed not to shop online for one month. It's not necessarily a no spending challenge, because we've agreed to go to the brick & mortar store if we really want to purchase something. We spend less money when we have to let go of it live and in person. 25 days to go! I can do it. I can do it.
Here are a few of my heath related goals this year…
Learning something new about vestibular migraine
Attend The Migraine World Summit.
Help others that are newly diagnosed.
Take or create opportunities to increase vestibular migraine awareness.
Practice deep breathing upon waking each day.
Be mindful of posture especially when working on the computer.
Set aside 20 minutes each day to stretch, strengthen balance, take a walk, swim or engage in any form of movement or exercise.
Another goal could be to make this spiced apple honey cake for a loved one or neighbor that may be going through a rough time.
I still need to work on breaking them down into achievable action steps, but it's a start! What are your goals in 2019? I'd love to hear about them. Wishing you a year filled with happiness and healthy days.
You can purchase the bundt pan Jennifer uses here.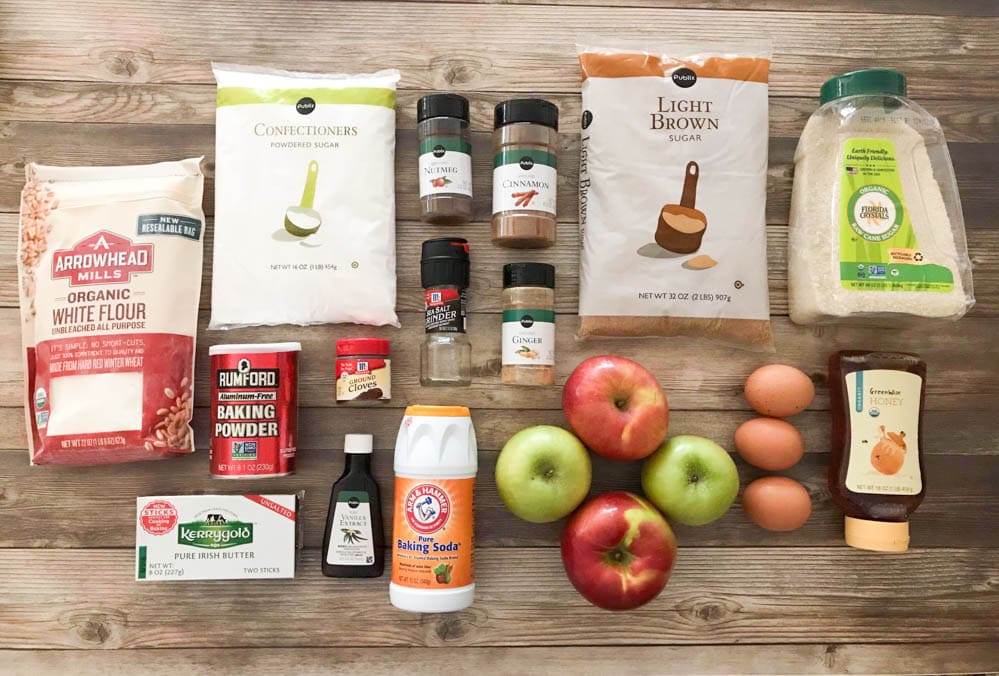 Spiced Honey Apple Cake
Cinnamon, nutmeg, and ginger highlight sweetness of the apples for this twist on honey apple bundt cake.
Keyword:
Apple Bundt Cake, Honey, Spiced
Ingredients
3

cups

all purpose flour

1/2

cup

white sugar

1/4

cup

light brown sugar

3/4

cup

honey

1

tsp

baking powder

1

tsp

baking soda

2

tsp

cinnamon

1/2

tsp

ground nutmeg

1/4

tsp

ground cloves

2

tsp

ground ginger

3/4

tsp

salt

1

cup

melted butter

1.5

tsp

vanilla extract

3

large eggs

2

cups

granny smith or honeycrisp apples (peeled, cored, and shredded or minced)

1/4

cup (or 1 single serving cup)

natural apple sauce

* check for additives

powdered sugar optional for decoration
Instructions
Preheat oven to 350 degrees F. Grease your bundt cake pan. Take your time to evenly coat the entire inner surface. I used canola oil. Peel, core and shred or mince about 3 apples and set aside.

In a large mixing bowl, add flour, sugars, baking powder, baking soda, cinnamon, salt, and spices. Mix together with a fork.

Add honey, melted butter, eggs and vanilla and mix on medium with an electric mixer until well combined. You can do this step in a separate bowl if you'd like but I find it works well in the same bowl. Fold the apple sauce and shredded apples into the batter and continue mixing on medium until well combined.

Pour your batter into the pan until it's about ¾ full. Gently push the batter to the outside of the pan, pushing very slightly up the walls of the pan. Tap the pan to help get rid of any air pockets that might interfere with seeing the pretty details of the pan once baking is complete.

Bake cake at 350 degrees F for 75 minutes. When the edges darken and pull fully away from the sides of the pan and the cake browns looks slightly browned it's done. You can be sure by inserting a toothpick into the thickest part of the cake. If it comes out clean, it's done. It's a very moist cake so be sure not to undercook it.

Let the cake cool for just 10 minutes, then invert it onto a wire cooling rack. Tap the Bundt pan gently to release the cake. If your cake sticks, use a butter knife to carefully loosen the cake around the edges and center tube. If pan was properly greased it should easily drop right out.

Continue to cool on wire rack another 10 minutes. Then lightly shower your cake with powdered sugar before serving.