This recipe for Pumpkin Cornbread Muffins combines pumpkin puree with fall spices and pairs well with a bowl of Texas Chili. A few optional recipe edits are also included to make these vegan - without eggs or dairy and refined sugar free.
A Great Fall Cornbread Recipe
I love having cornbread with chili, so it was no surprise that I was dying to update my gluten free cornbread recipe with a fall-flavored version that contained pumpkin. How basic of me! However this time I wasn't set on making it gluten free, but trying out versions to make it egg-free and dairy-free instead. Unfortunately I never got around to testing gluten free at the moment. If you try it, you'll have to let me know how it goes. Currently as it stands I have a freezer filled with different versions of pumpkin cornbread muffins...I can't stuff anymore in there guys!
Thankfully I loved how both versions turned out. The ones with eggs are a little more light and fluffy while the ones with applesauce are a little more dense and sweet. Both types are incredibly moist and delicious though - my family couldn't pick a favorite.
Are Eggs and Dairy Migraine Triggers?
For those following this particular migraine diet, being dairy free or egg free isn't required. Some find that eliminating dairy helps control their migraine attack days, but typically those people have sensitivities or allergies to dairy. If you don't have a sensitivity or allergy to dairy, feel free to use regular milk as much as you want while following your migraine diet.
The same goes with eggs. Some people find them to trigger migraine attacks, while others can tolerate them well baked into things. My advice is to not worry about eliminating any extras until you can tell what is and isn't working for you. Migraine triggers are extremely personal so don't feel like you have to conform to what others tell you about their own triggers.
Refined Sugar-Free
I'm not a fan of dumping ½ cup to a full cup of sugar in my cornbread like I know many other recipes do. If you use good quality cornmeal it should already have a little sweetness to it anyway. For this recipe, I loved the idea of pairing maple syrup with pumpkin to contribute to highlight the fall flavors a little more.
If you don't have maple syrup you can easily use honey instead. I ended up running out of maple syrup during one of my cornbread muffin testings and both versions came out delicious.
For those making the vegan version, the apple sauce provides a bit more sweetness than the original recipe.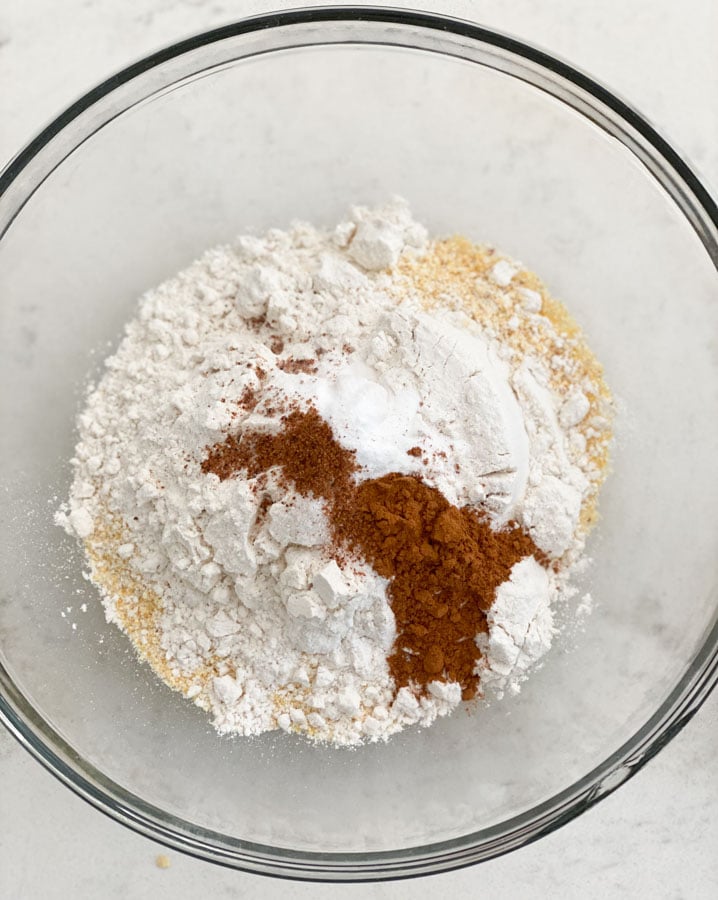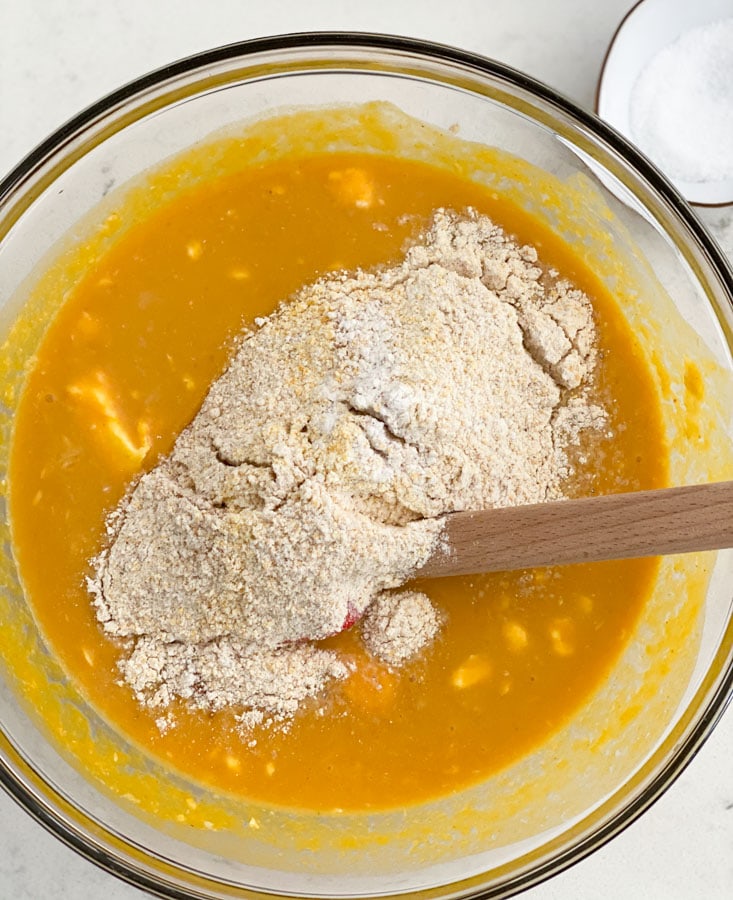 How to Make & Serve
The fantastic thing about cornbread is it's such a simple "bread" recipe to make. Pumpkin cornbread muffins aren't really any different. It truly just contains a few more spices, like cinnamon and nutmeg, as well as a can of pumpkin puree.
All the dry ingredients get mixed together and all the wet ingredients are mixed together till you finally combine the two. The batter is then spooned into a paper cup lined muffin tin and put in the oven to bake at 400 degrees Fahrenheit for 23-27 minutes. I find the vegan version needs to cook a little longer than the ones with eggs.
Cornbread muffins are actually my favorite way to bake cornbread because there's no cutting involved. Everything is perfectly portioned for a serving and you can just grab and go whenever you make chili.
It also lends itself to being frozen so much easier than traditional cornbread. I have a big batch of these just waiting in my freezer any night we make this chili. Or this chili. But really, you don't have to eat these with chili. I've had them for an easy and quick breakfast too.
Pumpkin Cornbread Muffins
These simple cornbread muffins are slightly sweet with a hint of fall spices like cinnamon and nutmeg. Serve with chili on a cozy fall night or warm up for a quick breakfast on the go. See my notes for making these vegan.
Print
Pin
Rate
Ingredients
1

15oz can

pumpkin puree, unflavored

¾

cup

milk*

2

large eggs*

2

tablespoons

butter, melted*

⅓

cup

maple syrup or honey

1 ¼

cups

cornmeal, medium grind

¾

cup

all purpose flour

2

teaspoons

aluminum-free baking powder

1

teaspoon

ground cinnamon

¼

teaspoon

ground nutmeg

½

teaspoon

kosher salt
Instructions
Preheat oven to 400 degrees F. Line a 12 piece muffin tin with paper cups. In a large bowl, combine pumpkin puree, milk, eggs, melted butter, and sweetener of choice. Mix till smooth and combined. (For vegan - combine the pumpkin puree, applesauce, melted coconut oil, and maple syrup.)

In a medium bowl combine cornmeal, flour, baking powder, cinnamon, nutmeg, and salt. Stir till combined. Slowly add the dry ingredients to the wet, stirring with a spatula or wooden spoon until everything is incorporated and smooth.

Using a ¼ cup scoop, fill the muffin cups to almost the top until evenly dispersed. Bake for 23-27 minutes or until a toothpick inserted in the center comes out almost clean. Serve warm or allow to cool at room temperature and place in the freezer to reheat for later use.
Notes
To make this recipe vegan, dairy-free or egg free:

Substitute the eggs for ½ cup plain applesauce, no sugar added.
Substitute the butter for melted coconut oil.
Use oat milk instead of cow's milk.

The vegan version is a little more dense than the egg version and won't dome quite as much, but they are still very moist and delicious inside! It will also be slightly sweeter.
I prefer aluminum-free baking powder for this so you don't taste any kind of metallic flavor, however, you can use whatever you have on hand.
Store these in the freezer for 2-3 months and defrost them in the oven or microwave for quick serving.
Nutrition
Serving:
1
muffin
|
Calories:
154
kcal
|
Carbohydrates:
25
g
|
Protein:
4
g
|
Fat:
4
g
|
Saturated Fat:
2
g
|
Cholesterol:
34
mg
|
Sodium:
133
mg
|
Potassium:
179
mg
|
Fiber:
2
g
|
Sugar:
6
g
|
Vitamin A:
136
IU
|
Calcium:
64
mg
|
Iron:
1
mg