This nut free granola recipe is slightly sweet, salty, and super crunchy. Made without oats and full of seeds, it's perfect for those following a paleo or vegan diet or who can't eat nuts!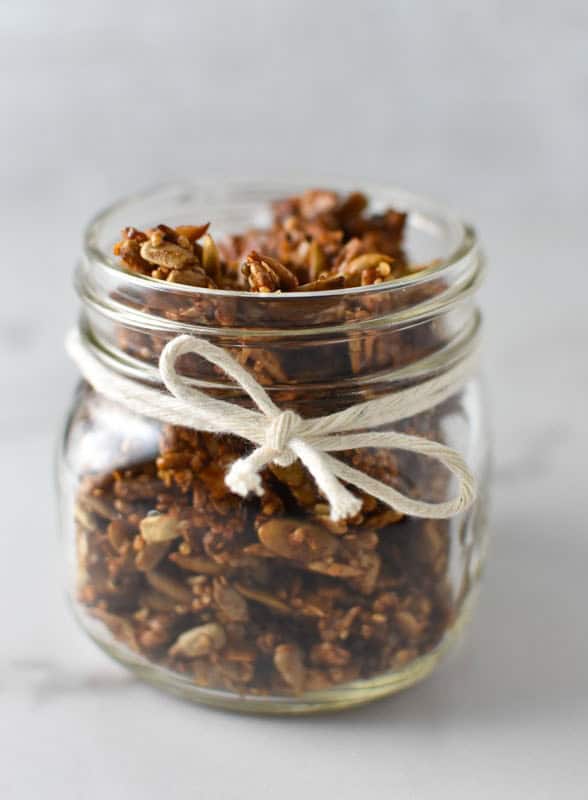 Nuts & Migraine
Many people are surprised to find out that nuts are on the list of common migraine triggers. This is due to tyramine content. A lot of migraine elimination diets like Heal Your Headache will have avoid nuts for a certain amount of time until your attack days are under control. After that, you can reintroduce them as you're ready. The interesting part to this is that even seeds are higher in tyramine, yet they're still allowed on many migraine diets. This could be because they possibly have a lower content of tyramine, or don't seem to be as triggering as nuts.
I found this to be true for myself. While I tolerate seeds incredibly well, most nuts tend to trigger vestibular migraine symptoms for me. Walnuts, pecans, and almond milk seem to be particularly bad. This was shocking to me because before I began a migraine elimination diet, I ate nuts all the time. They're such a healthy staple and I enjoyed making breakfasts with almond milk. It wasn't until I cut them out completely that I noticed they were contributing to my dizziness symptoms.
There are some migraine elimination diets that completely eliminate nuts and seeds, like the Charleston diet. If you find you're particularly sensitive to tyramine, this could be a good diet to check out. Another option to try is to cut back on seeds only if you are not making any progress within 3-4 months of following Heal Your Headache.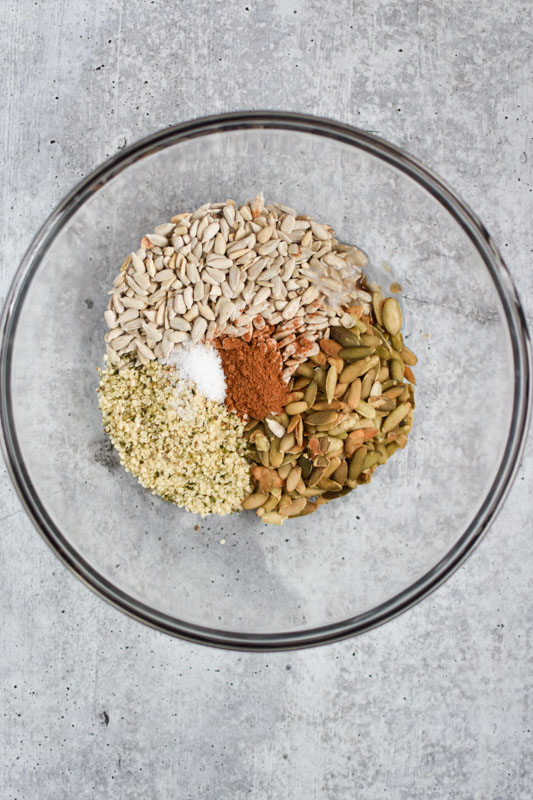 Nut Free & Grain Free
One of my favorite nut free granola recipes is this buckwheat granola but it contains both buckwheat groats and oats. Although it can be made gluten free with certified GF oats, I do have some readers who mentioned they had trouble eating oat-heavy breakfasts. We tend to rely on oats more for this diet, but this particular recipe is packed with protein and makes a great snack or breakfast.
I like to use sunflower, pumpkin (or pepita) and hemp seeds in this recipe. The flavors of all three mix very well, and at a low baking temperature, none of them cook much faster than the others.
Seed Granola Tips
Low and slow is the key! You want to bake this at 325 degrees Fahrenheit so the smaller seeds don't burn.
Mix throughout. Mixing every 10 minutes can help to evenly brown all the little pieces and cook the granola evenly.
Let it cool. When you pull the granola out of oven it will still be kind of "wet". Allowing it to cool for about 30 minutes gets everything to crisp up nicely.
I like to use coconut oil for this recipe, but if you have an allergy you could sub this with butter or ghee, although then it won't be vegan.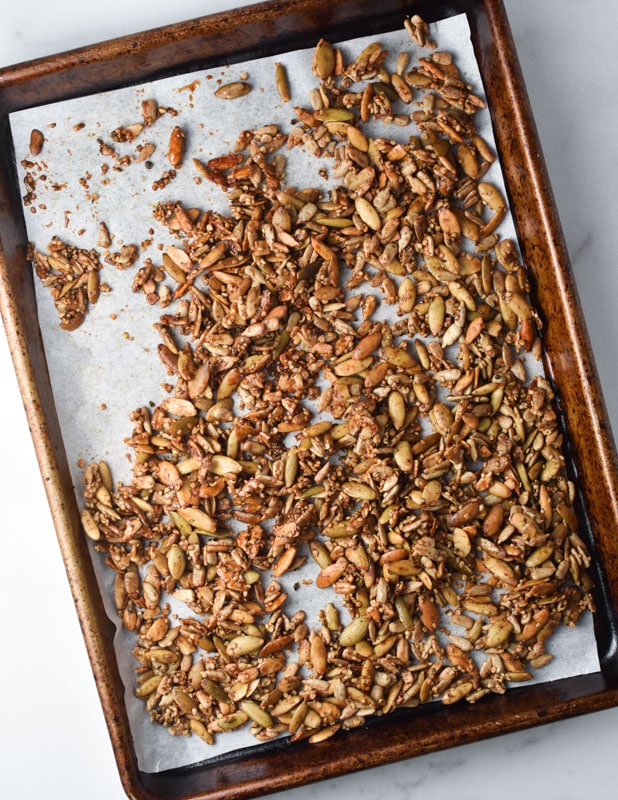 How to Use Nut Free Granola
My favorite way to eat this paleo granola is as a snack or a quick and light breakfast on the go. You can also use it on top of this Acai Bowl or Vanilla Chia Seed Pudding. I also have another recipe coming for you soon - a migraine-friendly Mango Lassi! It's my current, favorite way to use this grain free granola. Also don't hesitate to switch it up and use it on top of ice cream for dessert. Putting this granola on top of my buttered pear dessert would be amazing.
I hope you enjoy this recipe and if you end up making this, please tag me on instagram @thedizzycook or share your photo in our Dizzy Cook Recipe Chat.
For more migraine-friendly breakfasts check out these posts.
Blueberry Smoothie
Cherry Vanilla Smoothie
Herbed Toasts
Gluten Free Blueberry Muffins
Chia Seed Pudding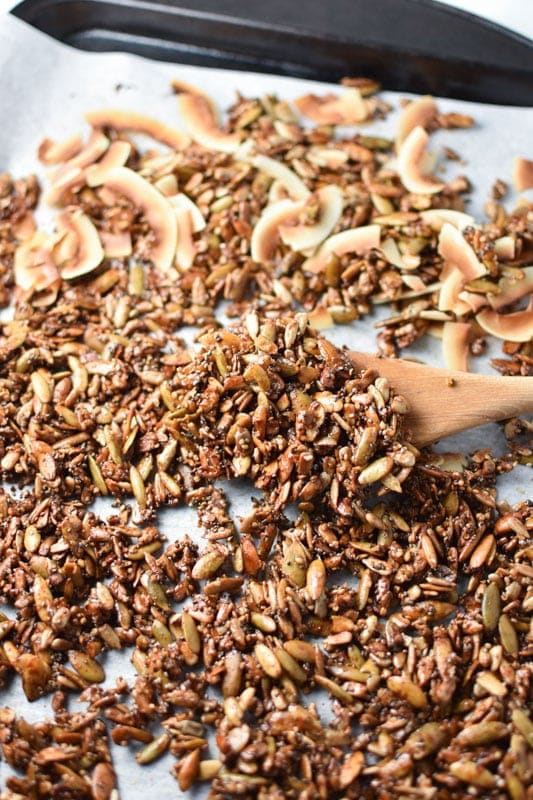 Nut Free Granola
A little salty and sweet with a great crunch, this grain free granola is packed with seeds and is totally nut-free. A great vegan option for those on a paleo diet.
Print
Pin
Rate
Ingredients
1

cup

raw pumpkin seeds (pepitas), unsalted

1

cup

raw sunflower seeds, unsalted

¼

cup

hemp seeds

3 ½

tablespoons

maple syrup

1

teaspoon

cinnamon

*See notes

2

tablespoons

coconut oil, melted

*See notes

1

teaspoon

vanilla extract

½

teaspoon

kosher salt

½

cup

OPTIONAL: coconut flakes

*Not advised in the elimination phase
Instructions
Preheat oven to 325 degrees F. Combine the pumpkin seeds, sunflower seeds, hemp seeds, maple syrup, cinnamon, coconut oil, vanilla extract, and kosher salt in a large bowl. Stir to combine.

Prepare a baking sheet with parchment paper and spread the seed mixture in an even layer on top. Place in the oven and check every 10 minutes (so 2 times total) to stir so that the granola browns evenly. If using coconut flakes, add them the final 10 minutes of cooking. Cook for 30 minutes total or until golden brown. Allow to cool on the baking sheet for at least 20-30 minutes. It will get crispy during this time.

If you like your seeds a little more crispy and brown, I kick up the temperature to 350 degrees F and bake for another 5 minutes.
Notes
In the fall, I love to switch out the cinnamon for pumpkin pie spice.
Feel free to substitute melted coconut oil for melted butter if one or the other is not tolerated.
For those that have reintroduced coconut or find it to not be an issue, you can add ½ cup if you'd like during the final 10 minutes of baking.
Nutrition
Calories:
235
kcal
|
Carbohydrates:
11
g
|
Protein:
8
g
|
Fat:
19
g
|
Saturated Fat:
5
g
|
Sodium:
148
mg
|
Potassium:
192
mg
|
Fiber:
2
g
|
Sugar:
6
g
|
Vitamin A:
41
IU
|
Vitamin C:
1
mg
|
Calcium:
37
mg
|
Iron:
2
mg