I was cooking dinner for my mom's birthday about a month ago when I realized I didn't get anything for dessert. I'm not a huge dessert person, it always seemed like one more thing to cook, but I realize I'm probably the only person in the world that thinks that. I looked through my fridge and found some of the Harry and David pears my mother-in-law sent for Valentine's day, the buckwheat granola I had made for breakfast, and a pint of McConnell's ice cream. Oh my gosh, y'all, this dessert has it all – slightly sweet, savory, and crunchy. And it makes you feel not so guilty eating it because it's got fruit. Fruit desserts don't count, right?
Let's talk about ice cream real quick. Put down that Halo Top. You might think it's really good cause it's fewer calories and protein, but in reality it's overly processed with gums and faux sweeteners. Time has an interesting article here, where they explore how some people might think this is the best ice cream, but it comes down to what ingredients are healthy in your mind. My personal goal is to eat as clean as possible with minimal ingredients. I'm not looking to cut calories or add protein, I only want items that you can pronounce. I've gathered a few options for you.
On the lowest end of the price range you have Haagen Dazs Vanilla Bean Ice Cream, with all 6 ingredients that you would expect in ice cream. No gums, carrageenan, whey, or faux sweeteners in this one.
If you're dairy free, look into Luna and Larry's Coconut Bliss Vanilla Ice Cream. This is one of the cleaner, dairy free ice creams you can find. It does contain guar gum, but it's tough to find a coconut milk without it. I found a lot of great vegan ice creams on this list, but again many have added artificial ingredients or other migraine triggers.
Now to the fancy ice creams. You can find McConnell's, a staple in Santa Barbara, at specialty grocery stores or online. Their Sweet Cream and Vanilla Bean ice creams are Heal Your Headache safe. At $12 a pop, it's not cheap, but you do get what you pay for as far as clean ingredients. You can read the ingredients on their ice creams here.
Jeni's ice cream can be found at Whole Foods and specialty stores. I'm a big fan of their Brambleberry Crisp, a combination of blackberries and blackcurrants in vanilla ice cream. They're also $12 for a pint, so it's a splurge every once in a while type ice cream.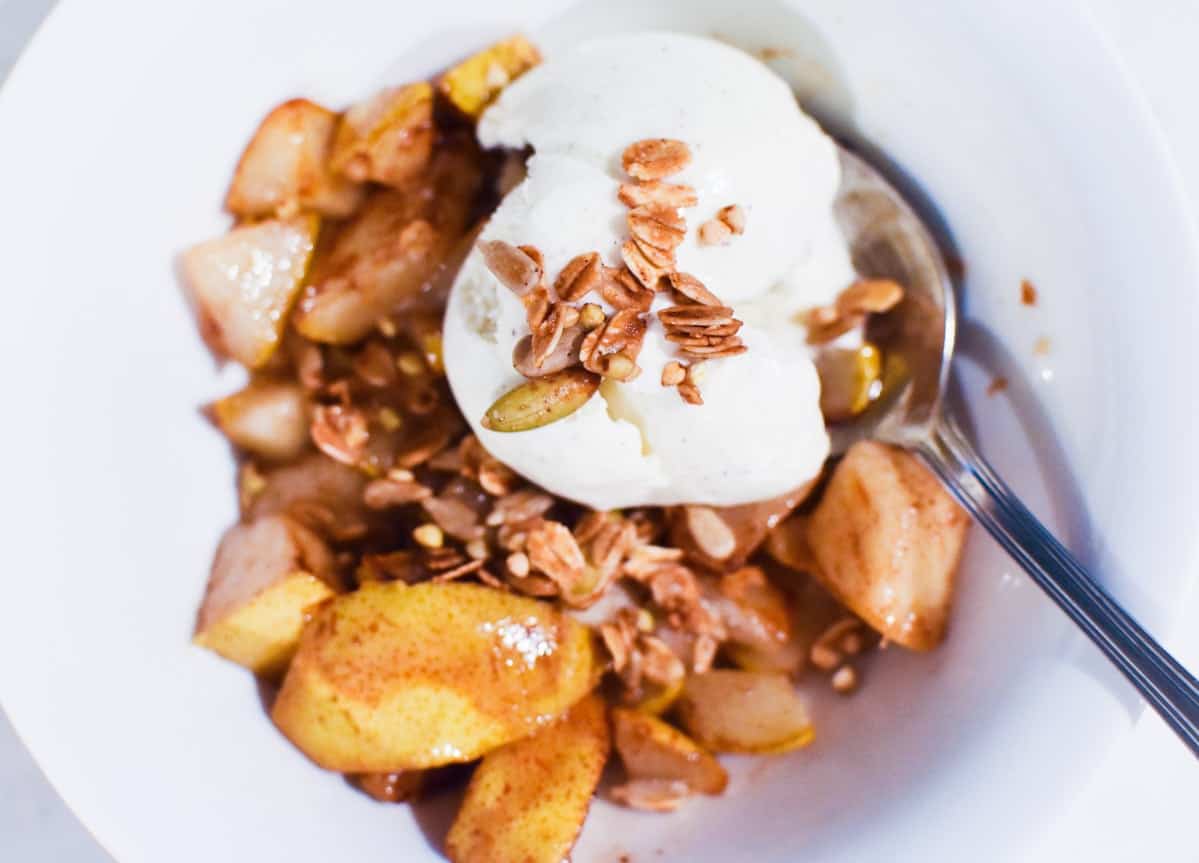 Cinnamon Pears with Ice Cream
Ingredients
1

Comice pear, chopped

1

tbsp

unsalted butter

I used Kerrygold

1/4

tsp

cinnamon

1/4

cup

buckwheat granola

from The Dizzy Cook's recipe

2

scoops

vanilla ice cream
Instructions
Melt butter in a small sauté pan over medium heat and add chopped pears. Cook until softened and browning, about 3-4 minutes, raising heat as needed. Once finished, toss with cinnamon. Meanwhile, scoop ice cream into bowls. Top with warm pears and buckwheat granola.