This pear clafouti is so delicious and easy to make. Adapted from Ina Garten's recipe to be alcohol-free.
Ina Garten's Clafouti
As stated previously I am a huge Ina Garten fan. I even have my own "Ina voice" when I read passages from her books out loud that actually sounds nothing like her, and has a partial English accent. Of course all the passages I read aloud in my Ina voice involve some memory of her and Jeffery sharing a traditional French dessert or some brie on a picnic by the Seine. Ideally we would all love to have a massive house in the Hamptons and an apartment in Paris to share with our own Jeffery's, but that's not always feasible. Instead I bring you a Heal Your Headache safe version of her pear clafouti recipe for a special night at home or if you're trying to impress company.
My mother in law is incredibly thoughtful and sent us a batch of Harry & David pears for Valentine's Day this year. Isn't this such a cute idea for someone with migraine who cannot have chocolate? I started thinking of different ways I could use them up the second the box arrived. It was like that scene in Forrest Gump where Bubba is naming off all the ways you can eat shrimp…a pear cobbler, pear salad, roasted pears, pear clafouti.
Date Night Dessert
I settled on pear clafouti for Valentine's Day dinner because it's an easy dish you can make ahead of time and it's really impressive. With only a few pantry staple ingredients, you create this beautiful and light custard dish. I did forget the dusting of powdered sugar as you can see in the picture, but honestly it's still pretty without it.
This Valentine's Day we decided to stay in, and I wanted to go all out by cooking a meal for my "Jeffery". We have been through so much together in such a short time. It was only a year into our marriage I first began having symptoms of vestibular migraine. Although my husband didn't quite understand what was going on, he faithfully drove me to all my doctors appointments and therapy sessions while we tried to figure it out. When my symptoms got to the point where I was incapacitated he started to join me at each appointment, giving him a better insight into exactly what was going on. It was also helpful for him to ask his own questions or step in when I had forgotten to ask something. I found that doctors would even be better at explaining things in depth when he was in the room. Since my husband has a sweet-tooth he desperately tries to hide, this was the perfect treat for him.
Ingredients
Clafouti is traditionally made with black cherries (with the pits still in!) but is wonderful with any in-season fruit. I used the Harry & David Royal Riviera Pears, but you could also use Bartlett as the recipe recommends.
Clafouti batter is like a pancake batter that becomes very custard-like once baked. The key is to let the batter sit before you cook it to avoid a tough, chewy consistency. Because there isn't much flour in this, you can easily make it gluten free by substituting the flour of your choice.
It can also be challenging to find heavy cream without carrageenan in it. Organic brands are usually better about not using it. I used Horizon Organic.
How to Serve
We served this pear clafouti with McConnell's vanilla ice cream but fresh whipped cream is also a great option. You can also sprinkle with powdered white sugar if you'd like.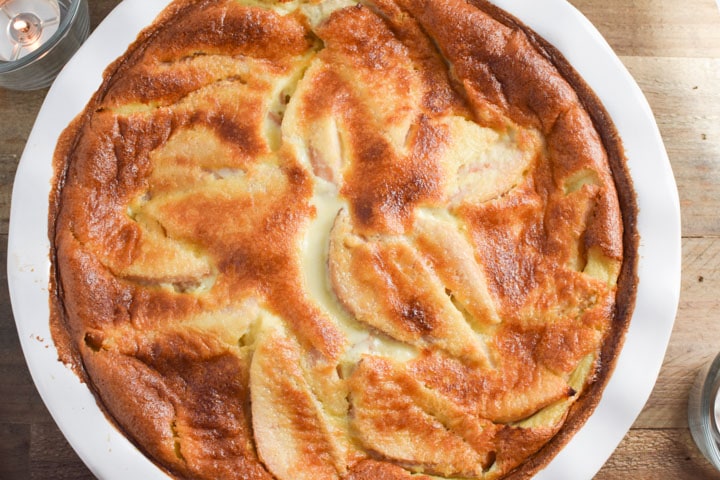 Other Pear Recipes
Pear and Arugula Salad with Maple Vinaigrette
Cinnamon Pears with Ice Cream
Pear Nojito Mocktail
If you make this recipe, don't forget to tag me #thedizzycook or @thedizzycook on Facebook and Instagram. Or leave a review below!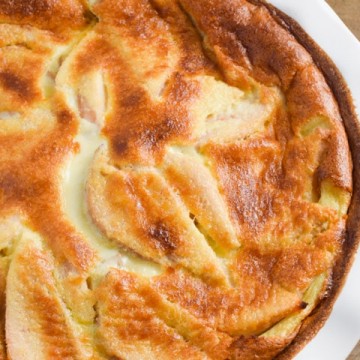 Pear Clafouti
Adapted from Ina Garten's Barefoot Contessa, this pear clafouti is alcohol-free and can be made gluten free as well.
Print
Pin
Rate
Ingredients
1

tbsp

unsalted butter at room temperature

I used Kerrygold

1/3

cup + 1tbsp

granulated sugar

3

extra large

large eggs at room temperature

6

tbsp

all-purpose flour

1-1/2

cups

heavy cream

2

tsp

pure vanilla extract

1/4

tsp

kosher salt

2

tbsp

pear juice

2-3

firm

Bartlett (or green) pears

Optional: powdered sugar or fresh whipped cream
Instructions
Preheat oven to 375 degrees. Butter a 10 inch round baking dish. You could also use a large cast iron pan or a pie dish here. Sprinkle the bottom and sides with the extra tbsp of granulated sugar.

Beat the eggs and the 1/3 cup of granulated sugar in the bowl of an electric mixer fitted with the paddle attachment on medium-high speed until light and fluffy, about 3 minutes. On low speed, mix in the flour, cream, vanilla extract, salt, and pear juice. Set aside for at least 10 minutes, but up to 30 minutes is ok.

Meanwhile, peel, quarter, core, and slice the pears. Arrange the slices in a single layer, slightly fanned out, in the baking dish. Pour the batter over the pears and bake until the top is golden brown and the custard is firm, 35 to 40 minutes. Mine took closer to 45 but I used a smaller, deep dish and had other things baking in the oven as well.

Serve warm or at room temperature, sprinkled with powdered sugar or whipped cream.
Notes
To make gluten free, sub 1:1 gluten free flour.
Nutrition
Calories:
165
kcal
|
Carbohydrates:
17
g
|
Protein:
4
g
|
Fat:
9
g
|
Saturated Fat:
5
g
|
Cholesterol:
102
mg
|
Sodium:
109
mg
|
Potassium:
51
mg
|
Fiber:
1
g
|
Sugar:
12
g
|
Vitamin A:
376
IU
|
Vitamin C:
1
mg
|
Calcium:
21
mg
|
Iron:
1
mg