This cherry vanilla smoothie is the perfect amount of sweet and filling for a breakfast smoothie or snack! Frozen cherries are mixed with seeds for a little extra protein.
This cherry smoothie recipe is completely nut-free and dairy free, but the perfect amount of sweetness mixed with a creamy texture.
You'll love this cherry vanilla smoothie for breakfast, hot summer days, or a quick pick me up snack.
Jump to:
The Best Cherry Smoothie
One of my favorite smoothie recipes of all time, I love the natural sweetness of this recipe. It's really easy to pick up the ingredients and have them stored in the pantry or freezer to make this cherry vanilla smoothie whenever you want. Best of all? The anti-inflammatory benefits of cherries.
While tart cherries offer wonderful properties as far as soothing muscle soreness and promoting sleep, sweet cherries have greater anti-inflammatory properties.
You'll love this smoothie because:
It takes 5 minutes to make.
No added sweeteners are needed!
It works for breakfast or a snack.
It's dairy free, gluten free, and nut free friendly, plus packed with some great brain foods!
A great cherry smoothie without yogurt or bananas!
Ingredients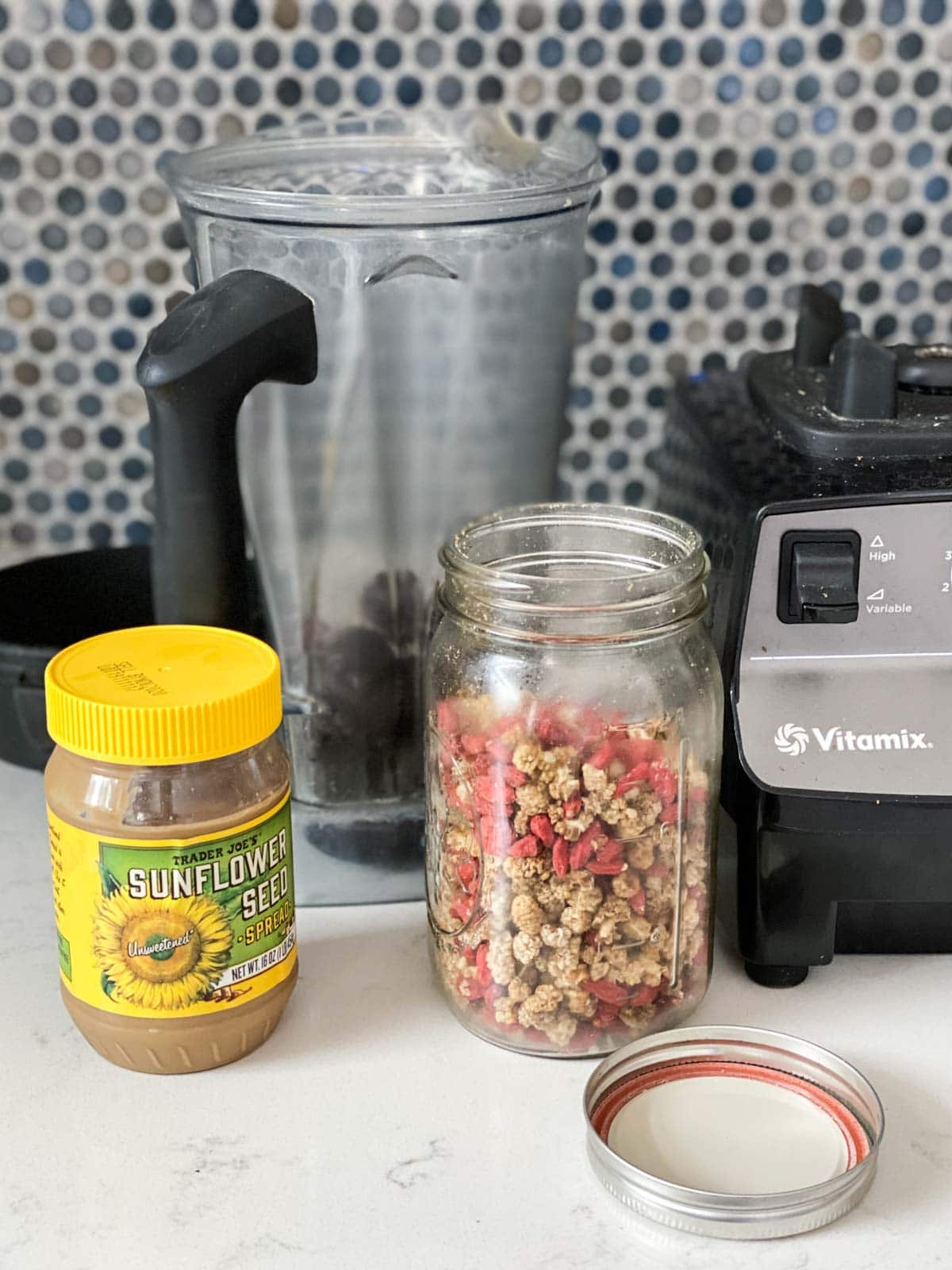 Frozen cherries - I use the frozen, pitted red cherries from Trader Joe's. Any dark sweet frozen cherries will work, just make sure they are pitted.
Dried mulberries - These are freeze dried and can be found online or at health food stores. These are a great way to add natural sweetness that's similar to a banana. I love using them as a substitute for banana. I actually combine these with goji berries and just scoop them out together, but I'd definitely reach for mulberries first if trying to decide between the two!
Sunflower seed butter - I've used both sunflower seed butter and pumpkin seed butter for this recipe. If you're not following a migraine diet or have re-introduced nuts successfully you can use your favorite almond butter.
Vanilla - Essentially for the vanilla part of the cherry vanilla smoothie! I prefer to use alcohol free in smoothies and get this at Trader Joe's as well.
Hemp seeds or chia seeds - I highly recommend adding these for extra protein and omega-3 content, which is great for brain health. You could also use hemp seed protein.
How to Make
Step 1: Add ingredients to a high powered blender
I recommend using a good quality blender like Vitamix, Ninja, Breville, or Nutribullet for best results. Add the frozen cherries and mulberries (if using), then scoop in the seeds, seed butter, and any other extras. Top with milk and begin blending on the lowest setting, slowly turning to high speed. Use a blender tamper as needed to push down the mixture so it gets blended evenly.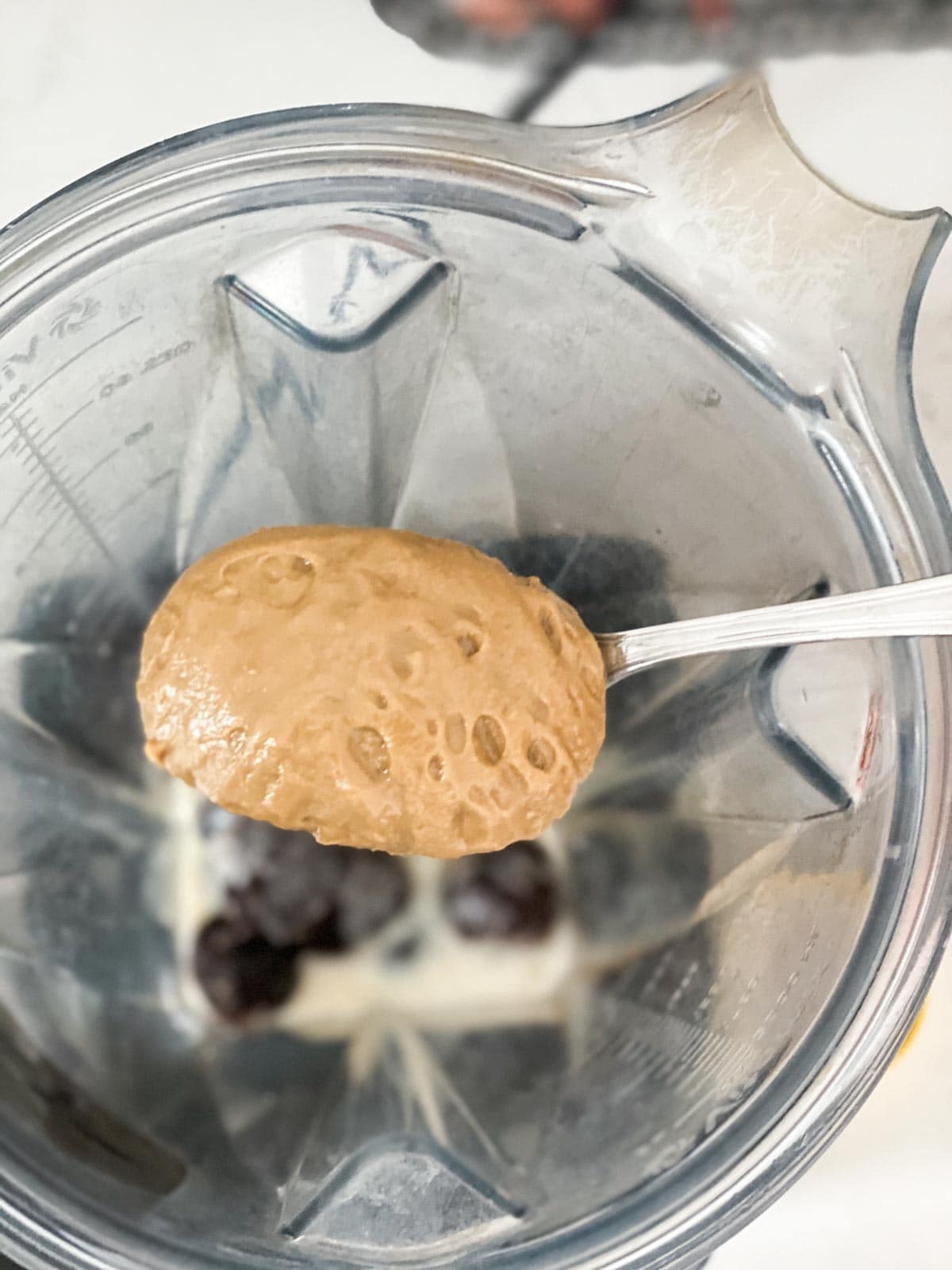 Step 2: Blend till Smooth
Add ice, if needed. Once it's blended till smooth, pour into a tall glass and serve immediately.
Protein Options
If you're following a migraine diet, it's important to choose your protein options for smoothies wisely. For this cherry vanilla smoothie, I love using seeds to add protein. The first is to add a little bit of fat and protein with sunflower seed butter. My personal favorite is the salted Sunflower Spread from Trader Joe's, but I know many prefer the sweetened kind in the blue bottle. Just add whatever your favorite is! Pumpkin seed butter would be another neutral option.
Hemp and chia seeds to boost the protein and fiber content, just be careful using too much hemp as it can overpower the flavor. For even more protein, I recommend substituting the raw seeds with a hemp or rice protein powder instead. Hemp milk, especially homemade, also offers and extra boost.
Tips for Making a Cherry Vanilla Smoothie
This recipe works well in all types of blenders, but I find I don't have to use as much liquid with a high speed blender like Vitamix.
Start with liquid first, then seeds and/or fruits and vegetables, and finish with ice.
Add more ice to thicken the smoothie (or frozen fruit) and more water or milk to thin it.
Limit the ice to about ½ cup otherwise the smoothie can become watery.
Seeds add lots of extra protein!
Use milk for a creamier smoothie and water for a lighter version.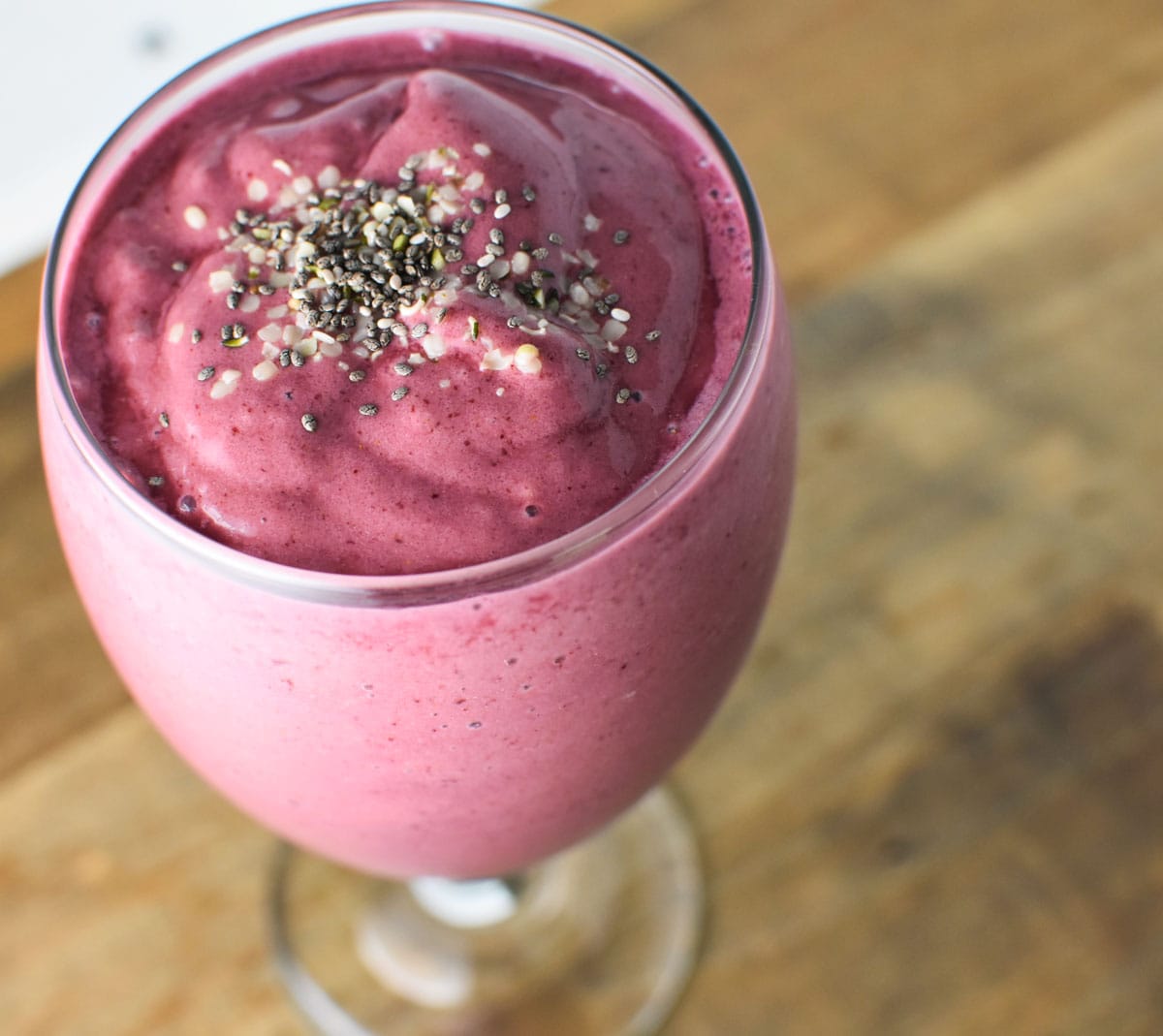 Frequently Asked Questions
Is vanilla extract good in smoothies?
Yes! Vanilla extract can be great in smoothies. It really highlights the other flavors and pairs extremely well with cherries. To cut out any bitterness and add a little sweetness, I prefer to use alcohol free vanilla for smoothies.
Are cherry smoothies healthy?
Cherries actually have a lower glycemic index compared to other fruits. They're high in potassium and contain antioxidants. Mulberries also have a low GI score. Be sure to read your ingredient labels as they can vary and be different than the generic counts below.
Do you need bananas for smoothies?
Bananas are mainly used in smoothies for both texture and sweetness. In this smoothie you can make up a lot of the creaminess that's missing by using milk or a milk substitute, and dried mulberries for sweetness. Mulberries are far lower in sugar than banana as well!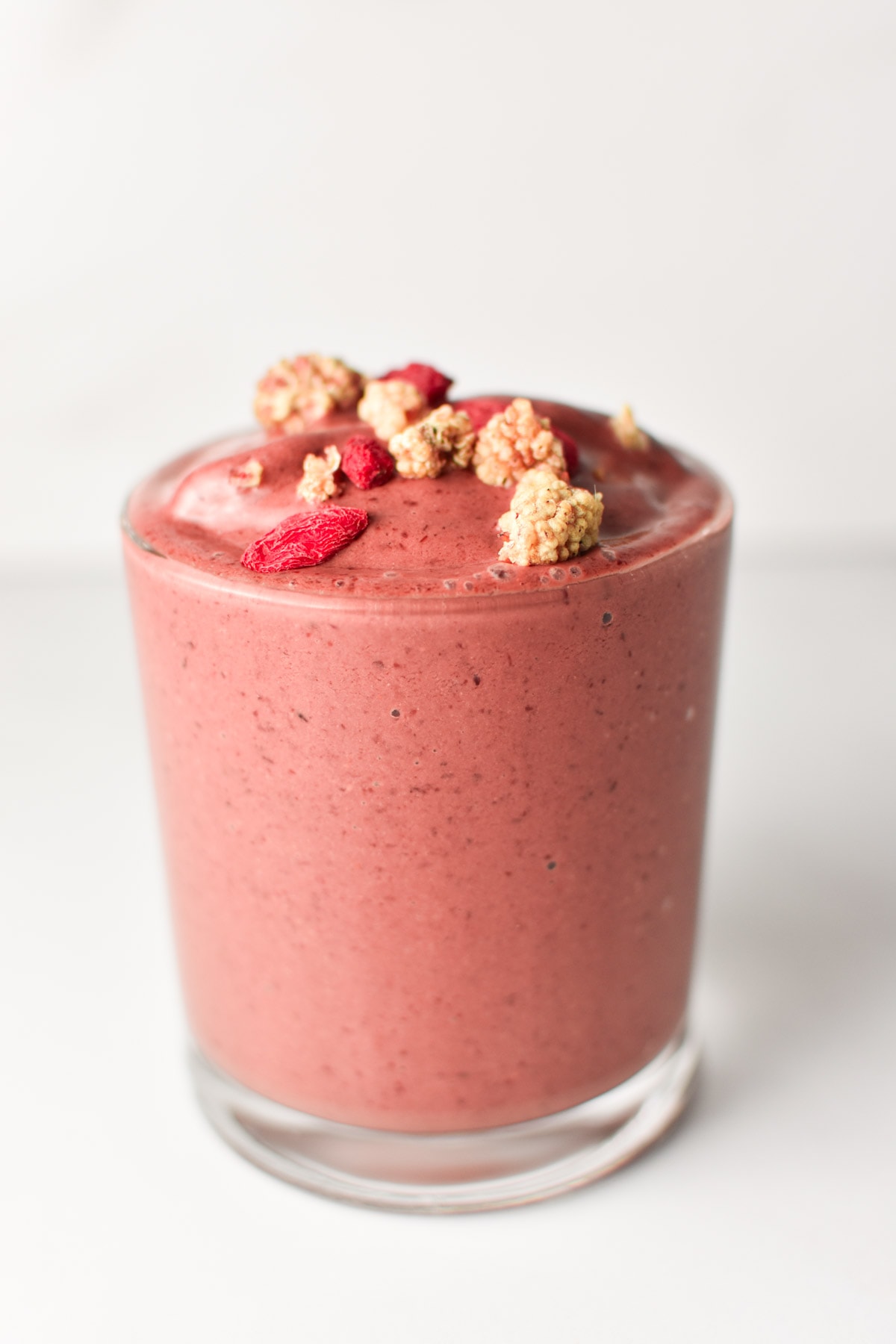 Smoothie Recipes
For more recipes like this vanilla cherry smoothie without bananas, see these posts.
If you make this, tag me #thedizzycook or @thedizzycook on Facebook and Instagram. And if you love the recipe, please leave a review below! Follow along on my Pinterest for more great recipes.
Cherry Vanilla Smoothie
Dairy free but super creamy and delicious, this cherry vanilla smoothie will be your new favorite breakfast!
Print
Pin
Rate
Ingredients
½

cup

water or milk of choice

½

teaspoon

vanilla

¾

cup

frozen dark cherries

1½

tablespoons

sunflower seed butter or pumpkin seed butter

1

tablespoon

hemp seeds or chia seeds or protein powder

¼

cup

dried white mulberries (optional, but highly recommended)

⅓-1/2

cup

ice
Instructions
Combine goji berries and mulberries (if using), vanilla, sunflower seed butter, and water. Blend to combine. Add frozen cherries and blend. (If you have a high speed blender like a vitamix, just dump everything in and blend it)

Add desired amount of ice to thicken. Serve immediately!
Notes
Milk will yield a creamier smoothie. I like to use oat milk or hemp seed milk.
Add more ice to thicken the smoothie (or frozen fruit) and more water or milk to thin it. Max out at ½ cup of ice or it may water down the smoothie.
Use seed or rice protein powder or hemp seeds to boost the protein content.
Mulberries can be substituted for ½ a frozen banana, however this is not migraine diet friendly and has a higher sugar content.
Nutrition
Serving:
1
cup
|
Calories:
291
kcal
|
Carbohydrates:
24
g
|
Protein:
11
g
|
Fat:
18
g
|
Saturated Fat:
2
g
|
Polyunsaturated Fat:
5
g
|
Monounsaturated Fat:
1
g
|
Sodium:
5
mg
|
Potassium:
247
mg
|
Fiber:
3
g
|
Sugar:
13
g
|
Vitamin A:
156
IU
|
Vitamin C:
8
mg
|
Calcium:
66
mg
|
Iron:
4
mg