This kale cauliflower salad with curry dressing has tons of flavor and is really easy to make for lunch or dinner. Simple roasted cauliflower is combined with a tangy curry dressing, pepitas, and dried cranberries for the least boring salad I've ever had.
Roasted Cauliflower and Kale Salad
If you've been following me for any amount of time, you know that I absolutely love to travel. Instead of giving each other gifts at Christmas or birthdays, we like to gift experiences or trips. This took a bit hit for us when I was first diagnosed with vestibular migraine, but now I feel as though we were making up for all the time we lost to me not feeling well enough to travel.
However, this year I was spending my birthday giving myself 3 shots a day for our first IVF cycle - not fun! My first cookbook was about to come out, and I had some trips planned as a part of a "book tour" so I knew life was about to go from painful to busy. I told my husband that once our egg retrieval was finished, I needed (mentally) to get away for a bit. So we looked around for deals and decided to go to Big Sur for the weekend.
I love Big Sur! It's the perfect mix of casual, relaxing and outdoorsy, but also there's lots of wine. And after you go through an IVF cycle, trust me, you need the wine.
Annnnd now I'm turning into one of those bloggers people complain about that won't just give you the (free) recipe and go on and on about their life. To sum it all up, this kale cauliflower salad recipe is one of the overpriced, insanely expensive but so delicious salads we had for a lunch at Sur House. The original one came with yogurt at the bottom, which happens to be one of my biggest migraine triggers. Thankfully they were able to leave it off for me, and it was still delicious! I knew I had to try to recreate it when I returned.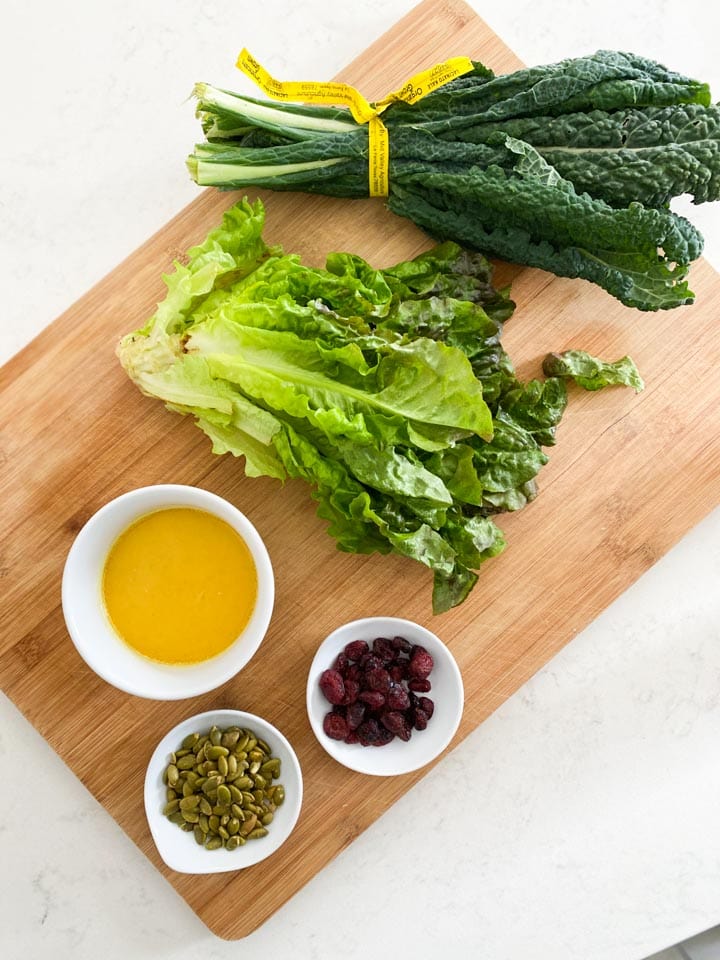 Curry Kale Salad Ingredients
The original kale cauliflower salad had quinoa and golden raisins, but you can customize it to what you have on hand.
Usually I always store dried cranberries and pepitas in my fridge to have on hand for salads. If you're following a migraine diet, you want to look for sulfite-free cranberries. If you don't see it on the label or as part of the ingredients, they should be good to go. Sulfites are typically used to retain the color of dried fruit, so these may look a bit more dull. I get both my dried cranberries and pepitas at Trader Joe's - they're a good price! But you can also find them on Amazon.
Add Quinoa for Protein
If you're not going to add a protein to this dish like simply cooked chicken or shrimp, I highly recommend cooking some quinoa according to the package directions and adding that in here for some added protein. Sometimes I'll do this as a part of meal prep and just leave it in my fridge for the week.
Massaging Your Kale
So you may say "Alicia, I hate kale! It's tough, kinda rough to eat, and has a bitter taste to it.". Why yes, yes it does. But have you tried to give it a massage? Like most things that are massaged, myself included, kale tends to get less bitter and more tender. Bon Appetit has a great tutorial here. Basically you just removed the woody stems, chop into large pieces, add a tiny splash of vinegar and some kosher salt, and rub it down. You don't want to over-massage your kale, just enough to where it's just starting to wilt down.
You may say "Alicia, I don't have time for that!". In that case, just chop your kale into smaller pieces, OR allow it to sit in the curry dressing for a bit before tossing with the roasted cauliflower and toppings.
Lacinato Kale - A Kale with Many Names
My preference for this recipe is to use lacinato, also called "dinosaur" or "Tuscan" kale. Why it has so many names, I have no idea. Maybe it's running from the law.
Lacinato has more flat stems as opposed to the curly kale you see everywhere. It's darker too. I think the flavor is better - a bit less kale-y. The flavor is a little more muted and not as bitter to me. You can usually find this bundled in the vegetable section of most grocery stores, but if not, regular kale will work too.
Creamy Curry Dressing
This creamy curry dressing is from one of my previous posts, but it was basically intended for this salad. However you can use it easily in a chicken salad mix or even as a dip. I think the curry dressing compliments the kale well, and works wonderfully with the sweetness of the dried cranberries.
I hope you enjoy this salad as much as I do! It reminds me of being on vacation every time. And good grief, we could all use a vacation right about now.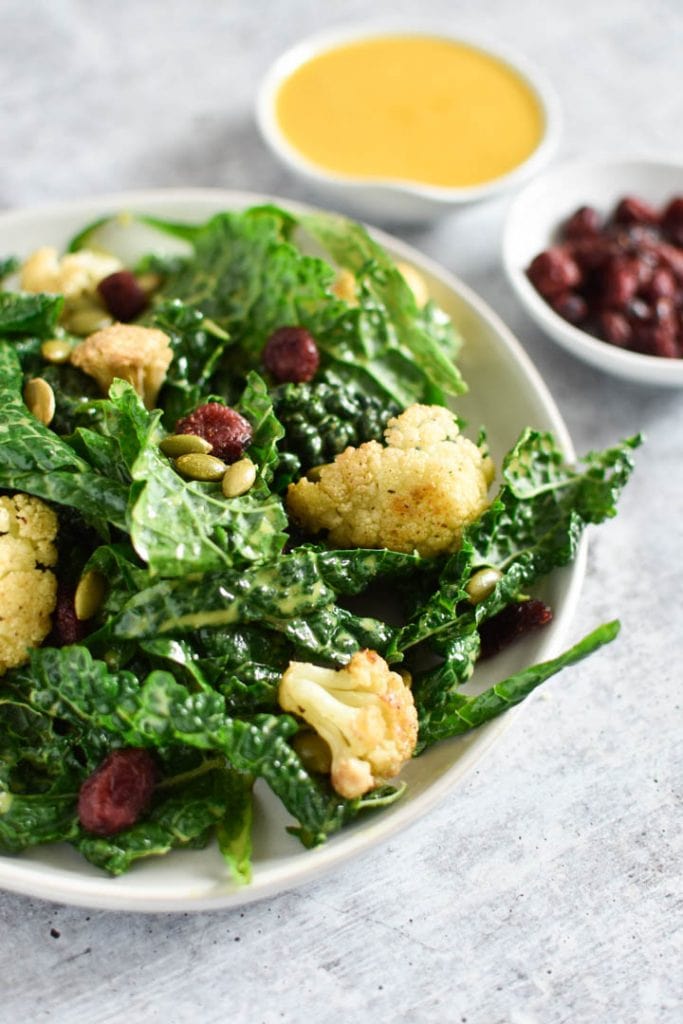 For more salad recipes:
Pear Arugula Salad with Maple Vinaigrette
Steak Salad with Peaches and Goat Cheese
Roasted Vegetable Salad
Strawberry Salad with Basil Vinaigrette
Banh Mi Inspired Burger Salad
Kale Cauliflower Salad
This kale salad with roasted cauliflower and creamy curry dressing is the perfect lunch or dinner. Add any protein you like, such as roasted chicken, grilled shrimp, or quinoa. Can be made vegan, if desired.
Print
Pin
Rate
Ingredients
1

tablespoon

olive oil

10

oz

cauliflower florets

kosher salt and pepper

1

bunch

lacinato kale

½

teaspoon

distilled white vinegar

⅓

cup

pepitas, toasted

¼

cup

dried cranberries
Instructions
Preheat oven to 450 degrees F. On a sheet pan, add cauliflower florets and toss with olive oil and a sprinkle of salt and pepper. Roast for 20 minutes, until browned in spots and softened.

Meanwhile, remove the thick rib and massage kale with vinegar and a pinch of kosher salt until slightly wilted (or use other tips from the post). Toss with pepitas, cranberries, creamy curry dressing, and cauliflower.
Notes
Massaging your kale (rubbing the leaves between your hands) can soften them if you find them a little to tough or chewy to enjoy. I find letting it soak in the dressing for 10-15 minutes can also help!
Nutrition
Calories:
270
kcal
|
Carbohydrates:
32
g
|
Protein:
12
g
|
Fat:
14
g
|
Saturated Fat:
2
g
|
Sodium:
95
mg
|
Potassium:
1173
mg
|
Fiber:
4
g
|
Sugar:
13
g
|
Vitamin A:
13487
IU
|
Vitamin C:
230
mg
|
Calcium:
234
mg
|
Iron:
4
mg