This Banh-Mi Inspired Burger Salad is healthy and delicious for a twist on regular burgers. Served with tons of vegetables and finished with a spicy mayo, you'll love this paleo and gluten free weeknight meal.
Banh mi is basically the Vietnamese word for "bread", so essentially I should probably call this Lemongrass Herb Burger with Pickled Vegetables, but banh mi is just way more fun and people will know exactly what kind of flavors I'm talking about. If you've ever had a banh mi sandwich, it's pretty much like you've died and gone to carb heaven. Typically I like to be mindful of how much bread we're consuming during the week because I like to eat a whole fresh baguette by myself on weekends for health reasons. This means a lot of our burgers are eaten on giant salads with lots of fresh veggies.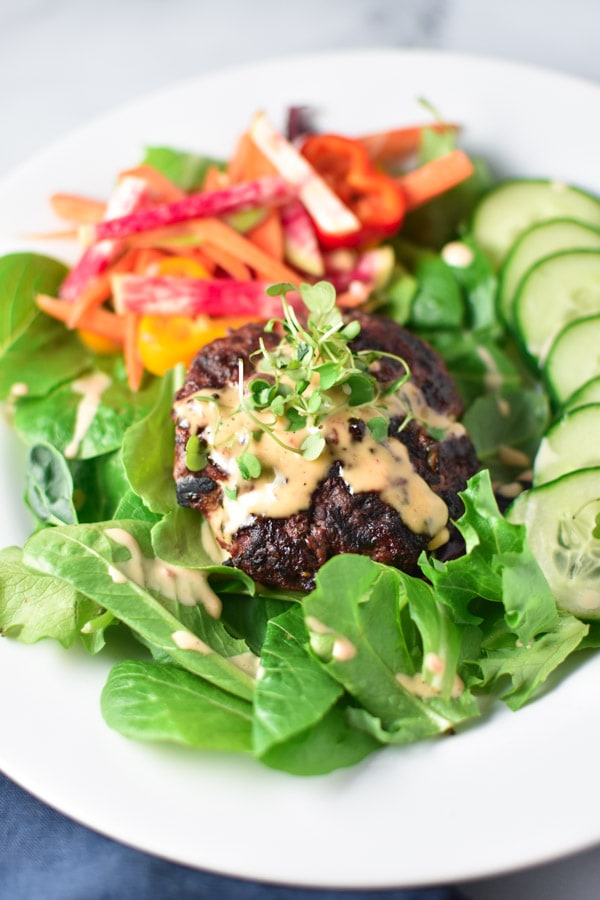 I've done a version of this recipe with other forms of protein the past, but never thought to do it as a burger. When I recently saw this recipe on The Defined Dish, I knew I wanted to adapt it to be migraine diet friendly. The tricky part with most Asian flavors is their umami-ness comes from fermentation and high levels of tyramine or glutamate. I'll be the first to admit that I missed takeout for a long time while I was on an elimination diet. But you can actually achieve a lot of that flavor through herbs like lemongrass, lime leaves, basil and cilantro. If you ever feel like your dishes are getting bland, don't hesitate to try new herbs you may not have used before.
Sriracha, Lemongrass, and Coconut Aminos
I typically use Lingham's Sriracha which does not contain sulfites. For more options, you can check out this post. You can find Coconut Aminos here or at stores like Trader Joe's and Whole Foods. Lemongrass is typically found with other herbs around the vegetable section.
Here's my Heal Your Headache safe version that's still just as tasty. And if you're looking for more paleo + migraine safe recipes - see these old ones!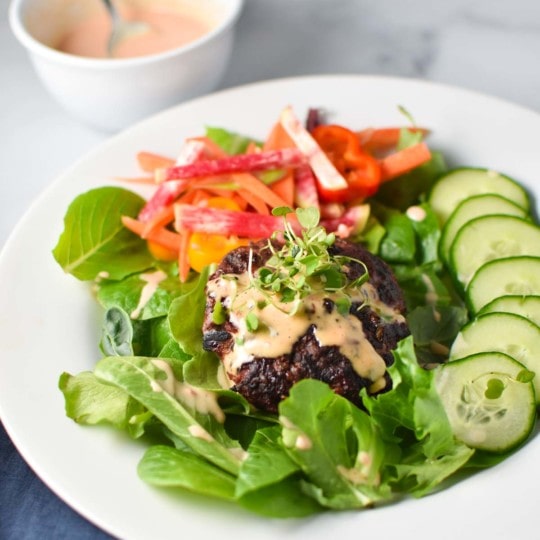 Banh Mi Burger Salad with Spicy Mayo
Lemongrass, mint, garlic and cilantro all blend together for the perfect update on a burger. Gluten free, paleo, and dairy free, these make a great healthy weeknight meal.
Print
Pin
Rate
Ingredients
Burgers
1

pound

ground beef

1

clove

garlic, minced

1

tablespoon

fresh basil, chopped

1

tablespoon

fresh mint, chopped

1

tablespoon

fresh cilantro, chopped

2

teaspoons

fresh lemongrass, minced

* Google videos on how to do this if you don't know!

salt and pepper
Salad
1

head

butter lettuce

1

cup

carrots, sliced thin

1

watermelon radish, sliced thin or 3-4 red radishes

½

seedless cucumber, sliced

2-3

assorted sweet peppers

1

small shallot, thinly sliced

¼

cup

distilled white vinegar

1

tablespoon

coconut aminos

1

teaspoon

toasted sesame oil
Spicy Mayo
¼

cup

mayonnaise

1

tablespoon

sriracha

* I like Shark brand (no sulfites/additives)
Instructions
Preheat your grill to high or start your coals. Mix all the burger ingredients together in a bowl except for the salt and pepper. Form into 2 large patties and set aside.

In another bowl, combine your vinegar, sesame oil, and coconut aminos. Add sliced carrots, radish, peppers, and shallot. Toss everything together and refrigerate. In a small bowl, combine the mayo and sriracha and set aside in the fridge as well.

Season burgers with a little kosher salt and pepper right before sticking on the grill. Grill burger patties until cooked to your liking - we typically grill ours 3 minutes on the first side, then flip and cook another 5-6 minutes for medium.

Place butter lettuce leaves on each plate, top with pickled veggies, cucumber, and any herbs you may have leftover. Put your patty on top and spoon spicy mayo over it.