This recipe for cream cheese toast is so easy for a quick breakfast. Topped with fresh herbs like basil and chives, you can mix and match your favorites. It's a great substitute for avocado toast!
A "French" Toast
I thought I'd start this week with a beautiful tour of the French countryside. I talked about my favorite summer salad in the Beaune post, which was one of the first stops on our trip around Burgundy. Here are a few snaps from our trip if you'd like to see...
Inspired by the rolling green hills and laid back atmosphere, I thought I'd bring you my version of "French toast" which is essentially fancy cream cheese toast that's made so delicious with fresh herbs.
Ingredients
Organic fresh herbs are key here, as they bring the fresh pop of flavor to this snack, breakfast, or appetizer. I've been buying a seedsation bread from a local, gluten free bakery lately, but this will work well with any bread. I think breads are always best if bought from a local bakery and wait a day to consume (if yeast is an issue on your migraine diet).
You'll typically find the fewest ingredients in them and you can trust where they come from. Many also have luck with Pepperidge Farm 100% Wheat, Dave's Killer Bread, and Rudi's despite some smaller, potential triggers at the end of their lists.
Cream Cheese Toast Appetizers
You can easily make this recipe into little appetizers as well that are quite beautiful. To do this, just use your favorite crackers with the cream cheese and herb mix.
I really like Crunchmaster's sea salt crisps for gluten free crackers, but you could put these on Triscuit style crackers (I like these) as well for an appetizer.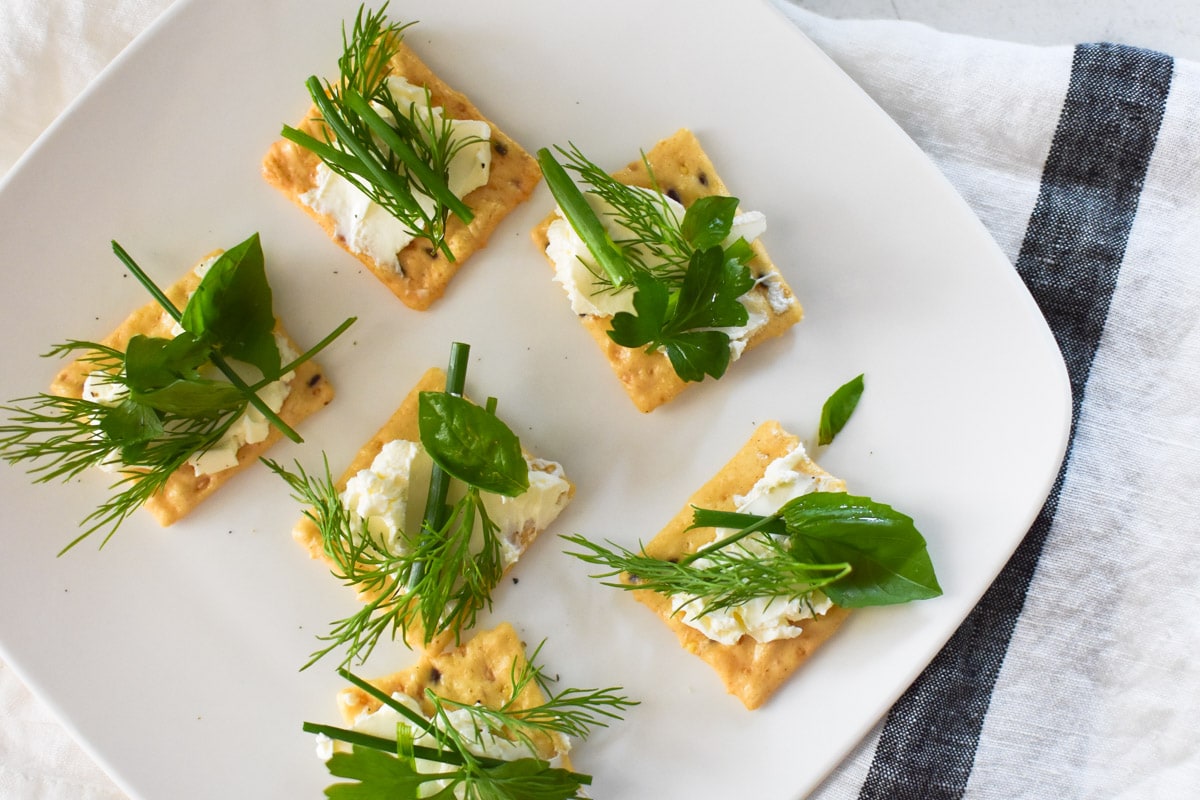 This post was originally written in 2018 and has been updated on March 7, 2020 with new images, title, and information on the recipe.
Cream Cheese Toast with Fresh Herbs
For breakfast, put together with your favorite toasted sandwich bread. For an appetizer or snack, use your favorite cracker for an easy appetizer.
Print
Pin
Rate
Ingredients
1

bunch

fresh dill

1

bunch

fresh flat leaf parsley

1

bunch

fresh chives

1

bunch

fresh basil

favorite sandwich bread or crackers

cream cheese

*I used plain Philadelphia

fresh cracked pepper and fleur de sel or kosher salt
Instructions
Wash and dry herbs and toast bread (if using). Apply cream cheese to crackers or bread, and top each slice with fresh herbs. Seriously too easy - bon appetit!
Notes
For migraine friendly brand suggestions for bread and crackers, see the post. My favorites are Triscuits or Back to Nature crackers. Crunchmasters Sea Salt for gluten free. Philadelphia Cream Cheese (the block style) does not have carrageenan.