I thought I'd start this week with a beautiful tour of the French countryside and some "French toast". I don't know about you, but last week was a pretty lame week. I could use some chateaux and good food to cheer me up. I talked about my favorite summer salad in the Beaune post, which was one of the first stops on our trip around Burgundy. I thought I could pick up where we left off, and the story begins with some epic drama!
Apparently there's this rule in France that you can do whatever the heck you want when you make a left turn from the side road. In America, this is NOT ok. But in France? C'est la vie! We had narrowly avoided an accident in the middle of Beaune when a massive truck decided he would just turn left in front of us, even though we were on the main road. When we asked our hotel about this, they replied "oh yeahhhh" and tried to explain the details to us. Naturally I was terrified of any car on a side road now, so when I gasped because I thought one was pulling out, my husband hit a curb and blew out our tire. There we were in the middle of a vineyard with a flat tire and no one to help. But my husband, being the studmuffin he is, changed his first tire after about $500 in international AT&T charges from watching youtube videos. If only we had known that we could walk about 100 yards and hit up 5 different wine tasting rooms, the incident might have been a little more fun.
We hopped back in the car and headed to a small town just north of Beaune called Sainte Sabine. St. Sabine caught our attention because it was on the way back to Paris and you could just stay in a freaking chateau for a really reasonable price. Because of our little incident, we ended up having to return our car in Dijon, so we didn't have much time to spend here. A visit to Châteauneuf en Auxois, a fortified village on top of a hill, was on our must-see list. It was cloudy with some rain, so we wandered through the empty, narrow streets before deciding to take a free tour of the well-preserved chateau. Normally rain bothers my vestibular symptoms, particularly in Texas, but here I didn't notice it one bit. Perhaps the beautiful medieval architecture had something to do with it. This whole part of the trip made me feel like I was living in Beauty and the Beast. Too bad my dishes didn't start breaking out in song and dancing around the table.
From there we headed to Chablis, which was far more country than I expected. Rolling green hills, miles and miles of vineyards, and massive wind turbines speckled throughout. You would be driving down a dirt road and all of a sudden a village would appear, then it would be gone again as quickly as it came. We stayed in a smaller chateau that seemed to be in the middle of nowhere. The food in Chablis was different from our experience in Beaune. Much more laid back and less formal, our dishes were simple but fresh, with tons of flavor. There were only 3 or 4 courses instead of 10, and we welcomed the short break from heavy meals. To quote our waiter in Beaune when I asked about there not being any salads on any menu, "salad is what our food in Bourgogne eats".
We got up really early the next morning to hit up the weekend market in Chablis before the crowd began. I am incredibly jealous of French markets. It inspired me to visit our farmer's market a little more, but there's just not quite the selection you get in France.
We then made our way to Chitry to visit a winery we discovered from a local, biodynamic wine shop while we were in Paris. I've done incredibly well with biodynamic wines since I conquered my fear of them on a birthday trip to Santa Barbara. Sometimes I can even tolerate reds on a good day if it's biodynamic. What we didn't realize is that this winery was basically run out of a basement in this guys house, who hardly spoke English. Their golden retrievers and mini goats greeted us as soon as we parked our car, which was unbelievably refreshing after being around posh dogs who never misbehave in Paris. Just like ours at home, the golden's ate tons of junk in the yard as they guided us to the door of the winery. We viewed the wine cave and listened to the vintner discuss his wine in French. Luckily we were on the tour with a nice man who was happy to translate for us, along with the town wine critic, who also served as the town sheriff.
Inspired by the rolling green hills and laid back atmosphere, I thought I'd bring you my version of "French toast". Organic fresh herbs are key here, as they bring the fresh pop of flavor to this snack, breakfast, or appetizer. I've been buying a seedsation bread from a local, gluten free bakery lately, but this will work well with any HYH safe bread. I think breads are always best if bought from a local bakery and wait a day to consume (if yeast is an issue). You'll typically find the fewest ingredients in them and you can trust where they come from. Many also have luck with Pepperidge Farm 100% Wheat, Dave's Killer Bread, and Rudi's despite some smaller, potential triggers at the end of their lists. I really like Crunchmaster's sea salt crisps for gluten free crackers, but you could put these on Triscuit style crackers (I like these) as well for an appetizer.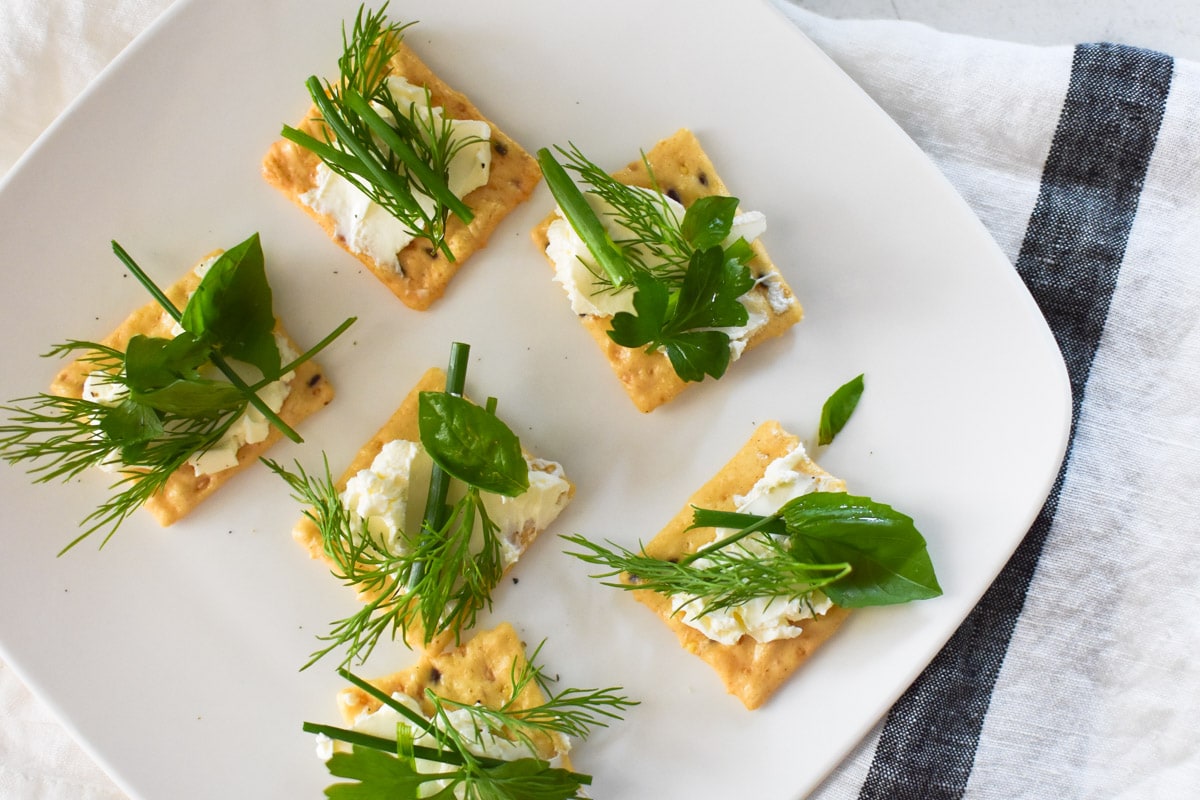 French Toasts with Fresh Herbs
For breakfast, put together with your favorite toasted sandwich bread. For an appetizer or snack, use your favorite cracker for an easy, fresh starter.
Course:
Appetizer, Breakfast, Snack
Cuisine:
American, French
Keyword:
Easy Appetizer, French Toast, Fresh herbs
Ingredients
1

bunch

fresh dill

1

bunch

fresh flat leaf parsley

1

bunch

fresh chives

1

bunch

fresh basil

favorite sandwich bread or crackers

*see notes in post

additive-free cream cheese

*I used Arla

fresh cracked pepper and fleur de sel or kosher salt
Instructions
Wash and dry herbs and toast bread (if using). Apply cream cheese to crackers or bread, and top each slice with fresh herbs. Seriously too easy - bon appetit!