I saw someone in one of my migraine groups had been looking for a Heal Your Headache safe enchilada sauce and all the suggestions either had flat out MSG, or things like xanthan gum, citric acid, and apple cider vinegar. For people who are really sensitive to MSG, xanthan gum and citric acid are considered alternate names for it because they create the same reaction you might get from MSG. Apple cider vinegar is usually avoided because it's fermented, a big trigger for those with migraine.
I found this sauce recipe in the Cookie and Kate cookbook, Love Real Food. She even mentions she developed this recipe because her mom had migraines and could not eat any of the canned enchilada sauces. I thought about trying to create my own, but Kate really hits the nail on the head with this one. The proportions of flour to liquid and spices is perfect. And here's another positive - there's no added sugar.
For those that have trouble with tomato paste, she mentioned she had tried it before by leaving it out. It's not the same taste you would expect with enchiladas, but she says it's still pretty good. She gives several vegetarian options, one being sweet potato and black bean, but I can't get too many vegetarian recipes past my husband or he might "starve". The point is you can add whatever kind of filling you like or have on hand. I used ground beef for this one. If you happen to be gluten free or paleo, you could find tortillas that are compliant, or just make this as a bowl with the meat and sauce on a bed of lettuce or a sweet potato.
I used micro greens here because they were leftover from Valentine's Day and I think they look pretty, but they are in no way necessary to add. I also ran out of cilantro. Feel free to use cilantro instead. Also if you ever have any recipes you'd like to see, don't hesitate to reach out. I'll be trying out a faux peanut sauce with soba noodles tonight!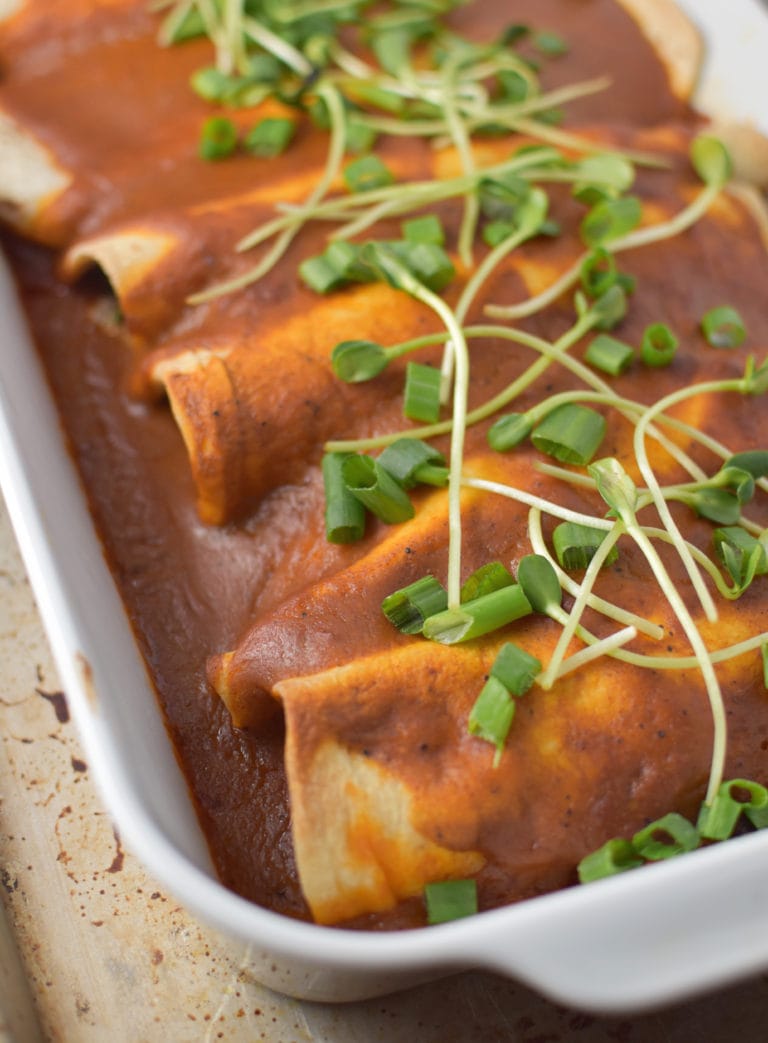 Did anyone watch the women's skeleton racing in the Winter Olympics last night? I had the TV on as I was cooking and I stopped to watch these incredible athletes dive head first down the ice, sometimes reaching up to 90mph. I was in awe of Lizzy Yarnold from the UK when I heard the commentators mention she suffered from a vestibular disorder and almost didn't compete. From then on I was cheering for Lizzy the whole night.
As someone who also has a vestibular disorder, I know how difficult it can be to just go about daily life. Sometimes I have to cancel dinners with friends or trips to the grocery store because I feel terrible and disoriented. Even the weather today has caused my head to feel heavy and my eyes are having a harder time focusing. I was so inspired to see this girl push through her vestibular disorder to win the gold that it motivated me to push through and create this post about enchiladas. Ok so it's not quite the same thing (although these are realllllly good), but I think it's a good reminder to all of us to try the best we can to not let these illnesses get us down. Sometimes really great things can happen, whether it is winning an Olympic gold medal or just cooking a dinner.
Ingredients
3

tbsp

all purpose flour

Can use gluten free

1

tbsp

chili powder

I used Morton & Bassett

1

tsp

smoked paprika

1

tsp

ground cumin

½

tsp

garlic powder

¼

tsp

kosher salt

pinch of ground cinnamon

1-½

tbsp

tomato paste

Can leave this out if you react to it

2

cups

HYH safe broth or stock of your choice

I used vegetable broth

3

tbsp

extra virgin olive oil

1

teaspon

distilled white vinegar

fresh ground black pepper
Instructions
Measure out the dry ingredients (spices, salt, flour) in a small bowl and set it near the stove along with the tomato paste and stock or broth of your choice.

In a saucepan, warm the oil over medium heat until it's hot and you get a sizzle with a sprinkle of the spice mixture. Once hot, pour in the flour/spice mixture and stir constantly with a whisk. It will clump up, don't worry. Cook until fragrant about 1 min.

Whisk the tomato paste into the mixture and then slowly add the broth a little at at time, whisking constantly to combine. It will clump at first but the more broth you add, it should smooth out.

Increase heat to medium high and bring the mixture to a simmer, then reduce the heat so the mixture maintains a gentle simmer. Cook 5-7 minutes, whisking often. It should thicken enough to where it will give some resistance when stirred and coat the whisk. Don't worry if it seems a little thin, it will thicken even more as it cools.

Remove the sauce from heat and whisk in vinegar and freshly ground pepper. Taste and add any extra salt as needed.
Ingredients
1

lb

ground beef

I used organic, grass-fed

1

tbsp

olive oil

1

large shallot, chopped

10-12

oz

fresh spinach or arugula

4

oz

cream cheese (no additives)

* I like Arla or Organic Valley

6 or more

tortillas (check ingredients)

I used Central Market's fresh flour tortillas. Tortillaland has good ones as well. Look in the refrigerated sections of grocery stores

MSG Free Enchilada Sauce from same post

Optional toppings: cilantro, green onion, cottage cheese
Instructions
Preheat oven to 400 degrees. Add olive oil to a large pan and heat on medium heat. Add shallots and sauté about 1 minute. Add ground beef and stir till cooked through, about 5 minutes.

Add spinach or arugula and wilt slightly, about 2 minutes. Lower heat and add cream cheese, stirring till combined.

Pour ¼ cup of the enchilada sauce in the bottom of a 9x13 inch pan, making sure it covers the whole bottom. Spoon the beef mixture into your tortillas. You may need more than 6 depending on the size of them. Roll them snuggly and place seam side down in the pan. Once all have been placed in the pan, pour the remaining sauce over the top, avoiding the edges of the tortillas.

Bake uncovered on the middle rack for 20 minutes. If the top is not brown enough to your liking, you can bake on the top rack another 3-5 minutes.

Remove the enchiladas from the oven and allow to rest for a few minutes. Top with any desired toppings you like.