One of my favorite weeknight meals is a grilled steak, and that is usually because it means 1. very few dishes 2. my husband does half the work. As summer comes to an end, there seems to be an abundance of peaches at the farmers market right now. Grilling them brings out such a wonderful sweetness that you just can't beat.
My wonderful in laws came to town for Labor Day weekend and we were running around quite a bit, which left me pretty tired this week. Often little things like having a lot of people over or going out to a noisy restaurant, remind me that I still struggle with a vestibular disorder.
In a way I'm thankful because I remember the first date night my husband and I tried to have after I got sick. I could barely make it through dinner. The noise from other conversations around me was excruciating. Even the flicker of the candles would bother my sensitive eyes. I can't count how many times I've asked my husband to switch me seats. Now I can tolerate most of these things, but in low amounts. I think when it stacks up every day, it leaves me worn out, as if I just put myself through a bunch of vestibular therapy.
Even conversations can get to me. Sometimes I'll find myself feeling my dizziness creep back in if I've been having a talk with someone for a long time. Often I hope they don't think I'm bored! I wonder if doing these things more and more is, in fact, like vestibular therapy. If my brain will eventually fully compensate for the loud conversations, background noise, or flickering candles.
For now, I relish my quiet dinners at home. It's easy to do with a delicious and simple dinner like this one.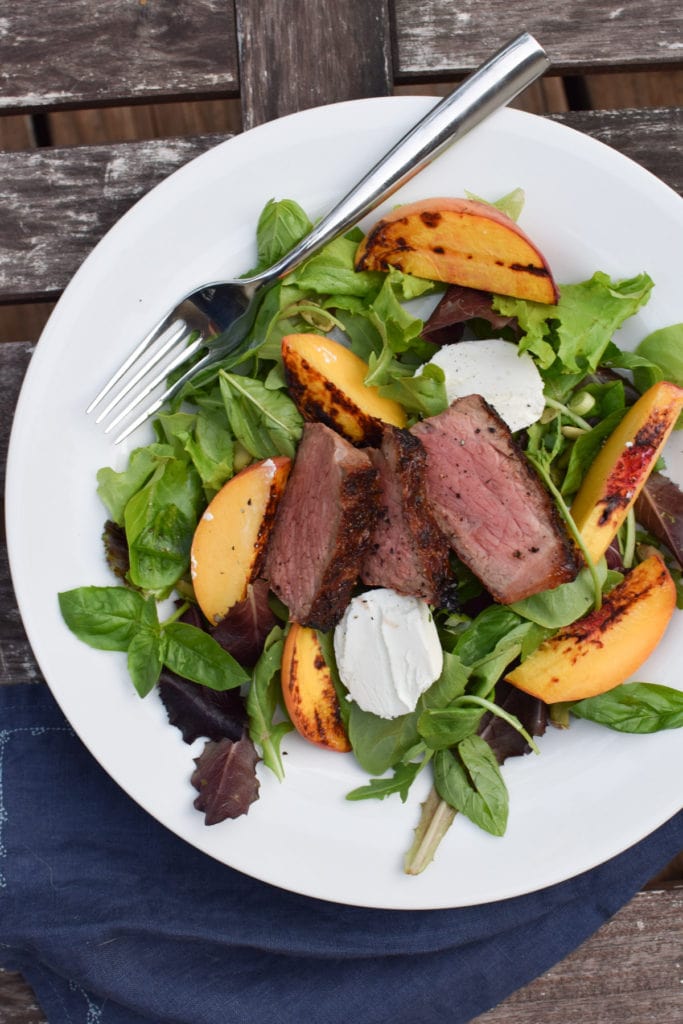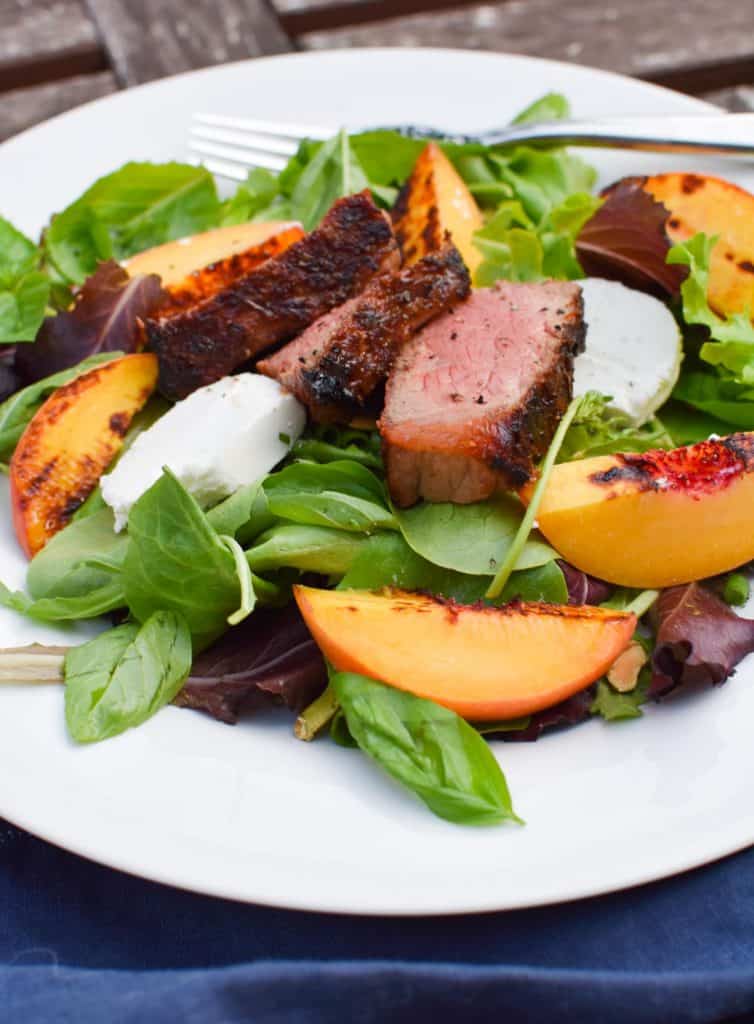 Grilled Steak Salad with Peaches
This steak salad is wonderful with your favorite cut, although I prefer mine with New York Strip. Fresh summer peaches add a hint of sweetness and goat cheese adds the perfect creaminess. An easy dijon dressing tops it all off!
Print
Pin
Rate
Ingredients
Salad
1

lb

steak like New York Strip, around 1" thick

2

small peaches, cut in halves and pits removed

¼

cup

toasted pumpkin seeds (pepitas)

¼

cup

crumbled goat cheese

⅓

cup

loosely packed basil leaves

1

green onion, chopped

14-16

oz

mixed greens

1

tbsp

extra virgin olive oil
Dijon Dressing
¼

cup

extra virgin olive oil

2

tbsp

white vinegar

1

tbsp

dijon

1.5

tsp

grainy mustard

* If you cannot find a safe brand, just leave out

2

tsp

honey

½

garlic clove, minced

2

tsp

fresh chives, chopped
Instructions
Remove your steaks from the fridge at least 30 minutes before you intend to grill them. Preheat your grill to high heat. Season them with kosher salt and pepper, and brush them with a little bit of olive oil.

While you're waiting for everything to heat up. Chop your salad ingredients, toast your pepitas, and brush both halves of the peaches with olive oil. Assemble all your salad dressing ingredients in a small bowl and whisk till combined.

Grill the steaks about 5 minutes on the first side, then flip and grill another 5-8 minutes on the second (for medium). If you can arrange your peaches on the grill at the same time with medium heat, grill cut side down for 5 minutes or until grill marks appear. I don't flip these a second time because I like them to be firmer.

Remove steaks and peaches from the grill. Cover you steak with tin foil and allow the steak to rest for at least 10 minutes before you cut it into slices.