These drop biscuits with maple cream, inspired by Chrissy Teigen's biscuits and gravy recipe, are so unbelievably easy to make and don't require buttermilk. The maple glaze gives these buttery biscuits the perfect amount of sweetness to balance out the salty-savory flavor.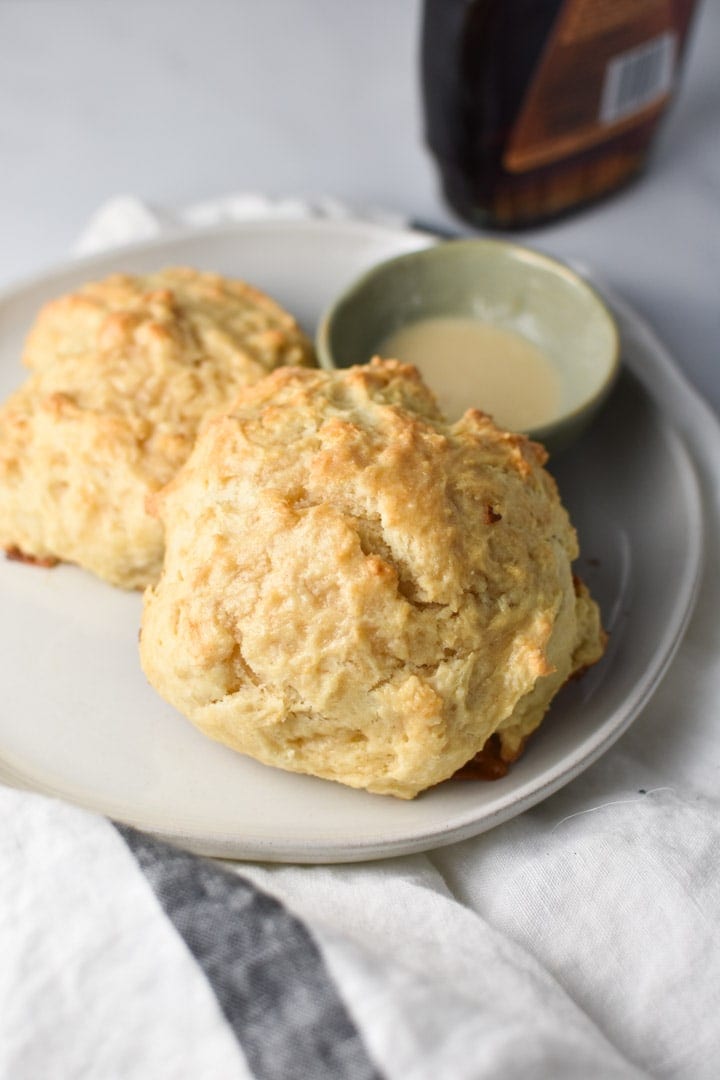 Biscuits without Buttermilk
Often it's difficult to find really good biscuit recipes without buttermilk. Buttermilk, which is basically cultured milk is often on migraine diet lists for the fermentation factor. If you're sensitive to yogurt, like I am, you could also find that buttermilk is trigger. This is probably why a biscuit recipe was the most requested recipe when I did my online book tour! It's also one of the recipes I wanted to do for my cookbook, but it always seemed like one of those things that could never be done.
Buttermilk is often used in biscuits for its acidity, which helps the dough rise when combined with a leavener. This is why you often see it combined with baking soda and baking powder in recipes. It also adds a distinct flavor.
My method of replacement in this recipe is nothing new, but an old substitution used by people for years. 1 cup of milk combined with 1 tablespoon of distilled white vinegar allows you to achieve this acidity and the flavor (somewhat) but still migraine-friendly.
What is a Drop Biscuit?
A big reason why I loved these is they didn't require any rolling out or cutting them into perfect rounds, which is a big benefit to drop biscuits. You basically just scoop the dough out and drop it on a baking sheet.
The way Chrissy Teigen makes them in Cravings, you arrange them close together so that they're almost touching, this way when they bake they puff up and form a "pull-apart" biscuit. I ended up separating mine a little bit more so they didn't quite run into each other, making them more like drop biscuits. The only difference is I wanted these a little bit larger than what I had a scoop for, so I spread it on a board dusted with flour and tried to cut into fairly even squares. But feel free to use a large scoop and just do it straight from the bowl.
Drop biscuits are basically for people who want their biscuits now now now (aren't we all this way early in the morning?) without all that rolling and cutting. They're kinda crunchy on the outside and soft on the inside.
Technically you don't have to mix it out like this…only if you want them to be in large, even pieces and don't have a large scoop to do it OR if you want to use Chrissy's pull apart method.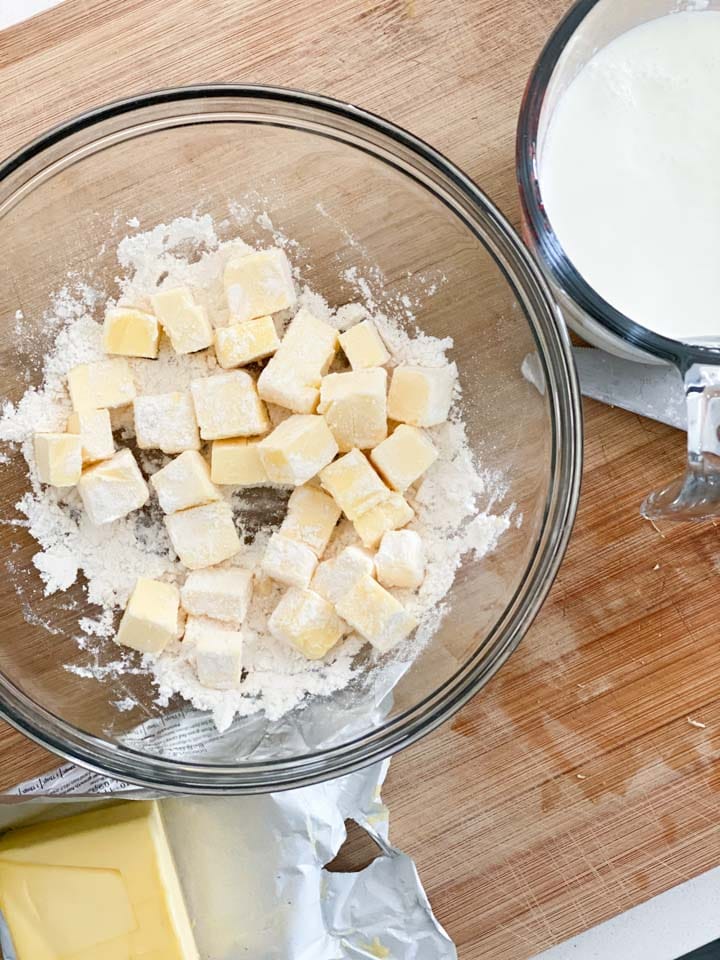 Some Tips for Drop Biscuits
Cold Butter is Very Important – Cold butter is what makes the biscuits really fluffy and allows those glorious pockets of air within the biscuit. One tip I learned from Cravings was to give my butter an extra chill in the freezer, between chopping into small pieces and cutting it into the flour
Don't Overmix – I feel like this is the golden rule of baking. Overmixing can leave breads tough and chewy, which we don't want! We want little fluffy, buttery pillows from heaven
Don't Skip the Maple Cream – I know it seems overly decadent, but the maple mixed with cream was a glorious compliment to the salty, savory biscuit. If you have some leftover (which you will), just use it as a dipping sauce.
A Food Processor Isn't Necessary – but it makes life a lot easier. You can also use a pastry cutter. You just want the flour to have pea-size pieces of butter flecked throughout.
Gluten Free or Vegan Drop Biscuit Options
I haven't personally tried this recipe gluten free, but I bet it would work ok with a 1:1 gluten free baking flour sub with 2 teaspoons of sugar added. I compared this recipe to other gluten free recipes and they were pretty similar.
Here's a recipe that is both gluten free and can be made vegan as well. At this time, I cannot recommend a migraine-friendly vegan alternative to butter. All contain natural flavoring, which can be a form of MSG considering it's a savory flavor you're creating. That being said, I know some that have a favorite that they can tolerate well.
Other Breakfast Options
Cherry Vanilla Smoothie
Vanilla Chia Pudding
Mango Lassi
Seed Granola and Buckwheat Granola
Vegan Buckwheat Pancakes
Acai Bowl
Drop Biscuits (without Buttermilk)
These quick drop biscuits with maple cream, inspired by Chrissy Teigen's biscuits and gravy recipe, are so unbelievably easy to make and don't require buttermilk.
Keyword:
Biscuits without buttermilk, Drop Biscuits
Ingredients
1

stick (4oz)

cold, unsalted butter cut into 1/2 cubes

3

cups + 2 tablespoons

all purpose flour

1

tablespoon

baking powder

1/2

teaspoon

baking soda

1

teaspoon

white sugar

3/4

teaspoon

kosher salt

1.5

cups

whole milk

1

tablespoon

distilled white vinegar
Maple Cream
3

tablespoons

heavy cream

1.5

tablespoons

maple syrup

1

pinch

kosher salt
Instructions
Preheat the oven to 425 degrees F. Put the butter in a small bowl and toss it with 2 tablespoons of flour, then transfer to the freezer for at least 5 minutes. In a food processor (or large bowl if you only have a pastry cutter), combine the 3 cups of flour with the baking powder, soda, sugar, and salt and pulse till mixed.

While waiting for the butter to chill, mix 1 tablespoon of distilled white vinegar into the milk and allow it to curdle.

Add in the pieces of very cold freezer butter and pulse at least 15 times till the butter is broken up and evenly incorporated into small pieces throughout the flour.

Transfer from the food processor to a large bowl and stir in the milk/vinegar mixture. Stir with a spatula until the dough is just combined - don't overmix here.

Place parchment paper on a baking sheet and either scoop out 9 even biscuits with a large scoop or place on a floured surface and score the dough into 9 even squares. Drop the biscuits on the baking sheet. Bake for 20 minutes at 425.

Meanwhile combine the heavy cream with maple syrup and pinch of salt. When the biscuits are done, remove them from the oven, brush them with a little of the maple cream, and return them to bake 1 more minute. Biscuits should be golden brown when done.

Serve warm with any leftover maple cream for dipping.
Recipe Notes
Make sure butter is very cold! I used Kerrygold unsalted.
Don't overmix!
The maple cream isn't necessary, but it is really, really good.
See the full post for suggestions on gluten free and vegan options
Nutrition Facts
Drop Biscuits (without Buttermilk)
Amount Per Serving (1 biscuit)
Calories 354
Calories from Fat 36
% Daily Value*
Fat 4g6%
Cholesterol 11mg4%
Sodium 281mg12%
Potassium 284mg8%
Carbohydrates 68g23%
Protein 10g20%
Vitamin A 139IU3%
Calcium 123mg12%
Iron 4mg22%
* Percent Daily Values are based on a 2000 calorie diet.