This Chili Without Tomatoes is a Texas-style chili and has the perfect amount of heat and tender chunks of beef chuck roast. This famous chili cook-off winning recipe has won multiple contests for readers, including a Texas chili cook-off!
This is the kind of no tomato chili you make when you want something really filling and hearty. Using beef chuck roast takes this to the next level, and really does taste so much more flavorful than ground beef chili. It is made in one-pot and also fits gluten free and paleo diets, as well as Whole30. It's flavorful, but not too spicy. Served with some warm cornbread or tortilla chips, it's the perfect recipe for a cool, fall night. It would also be perfect over roasted sweet potatoes or fritos, for frito chili pie.
You can't get more Texan than a bowl of chili. It's the official state dish and many people here have recipes that have been in their family for years. But there's one thing that remains consistent - there are no beans in Texas chili. Also, true Texas chili has no tomatoes - take it from an actual Texan. Usually the sauce is made of dried chili peppers, but here we take a short cut with spices.
This chili without tomatoes will become a new family favorite, and maybe you could even win a chili cook off with it!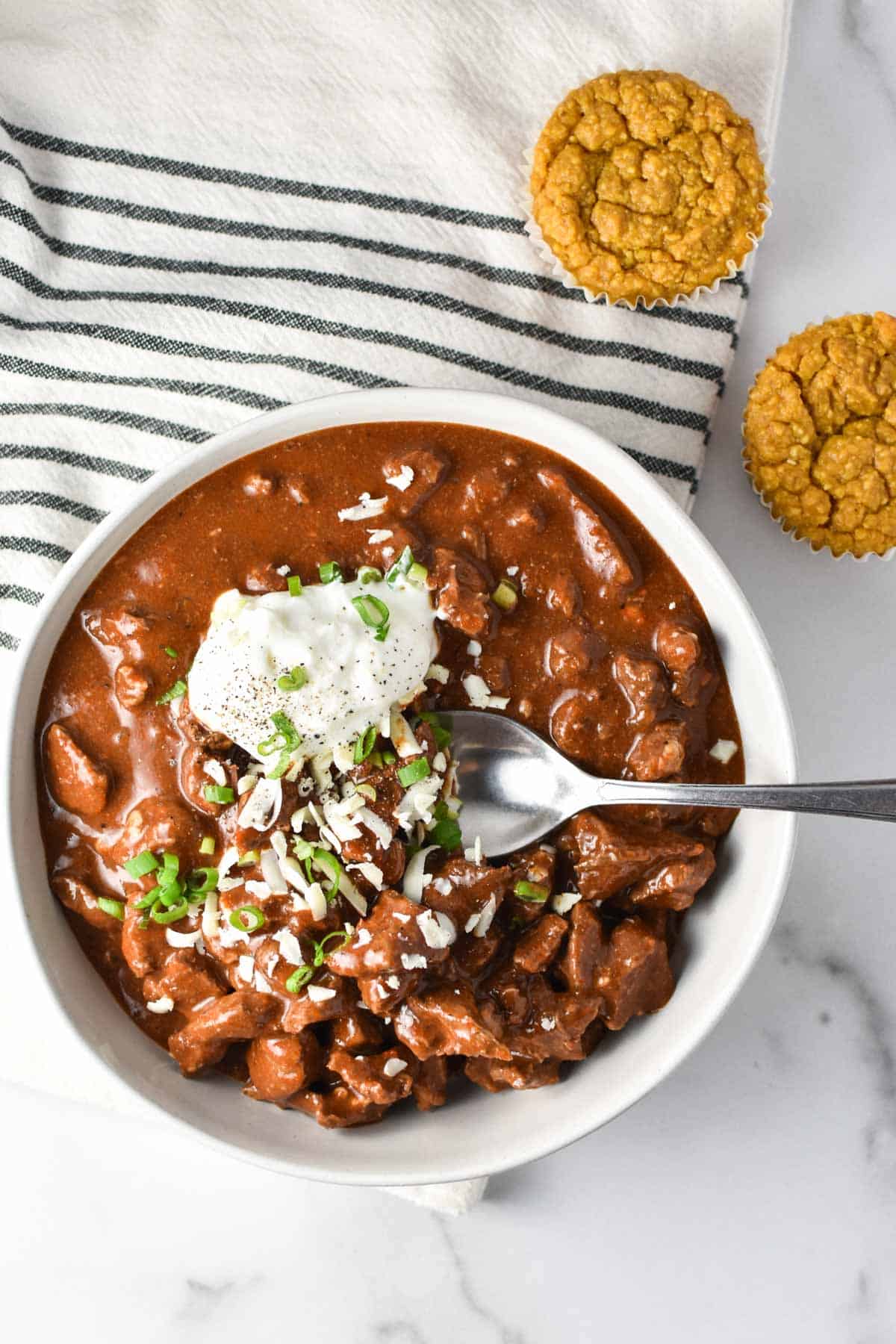 Jump to:
Chili without Tomatoes
As a Texan, we take chili season very seriously. And once you've had true Texas chili without tomatoes or beans, with tender chuck roast instead of ground beef, and a deeply spiced broth, it's really tough to go back.
I also find a fair amount of my readers are sensitive to tomatoes and some beans, so this recipe is one that I love to share. Tomatoes naturally contain a higher glutamate content as well as histamine. Sometimes there are ways to decrease this by the type and how you cut them, but it's hard to do when chili recipes require canned tomatoes.
You'll love this chili without tomatoes because:
Easy - Just sear the beef and add everything to the pot! Then let time do the rest of the work for you.
Healthy - No sugar added, this recipe fits lots of different diets - gluten free, paleo, Whole30.
Low carb - This is a naturally low carb chili! Would fit a keto diet as well.
Flavorful - This chili doesn't rely on lots of things added to it like beans or tomatoes. It focuses on the tender meat and spices for all it's flavor.
Chili cook-off winner - I've had at least 5 readers email me with their awards by using this recipe for local chili cookoffs and one was a large one in Texas!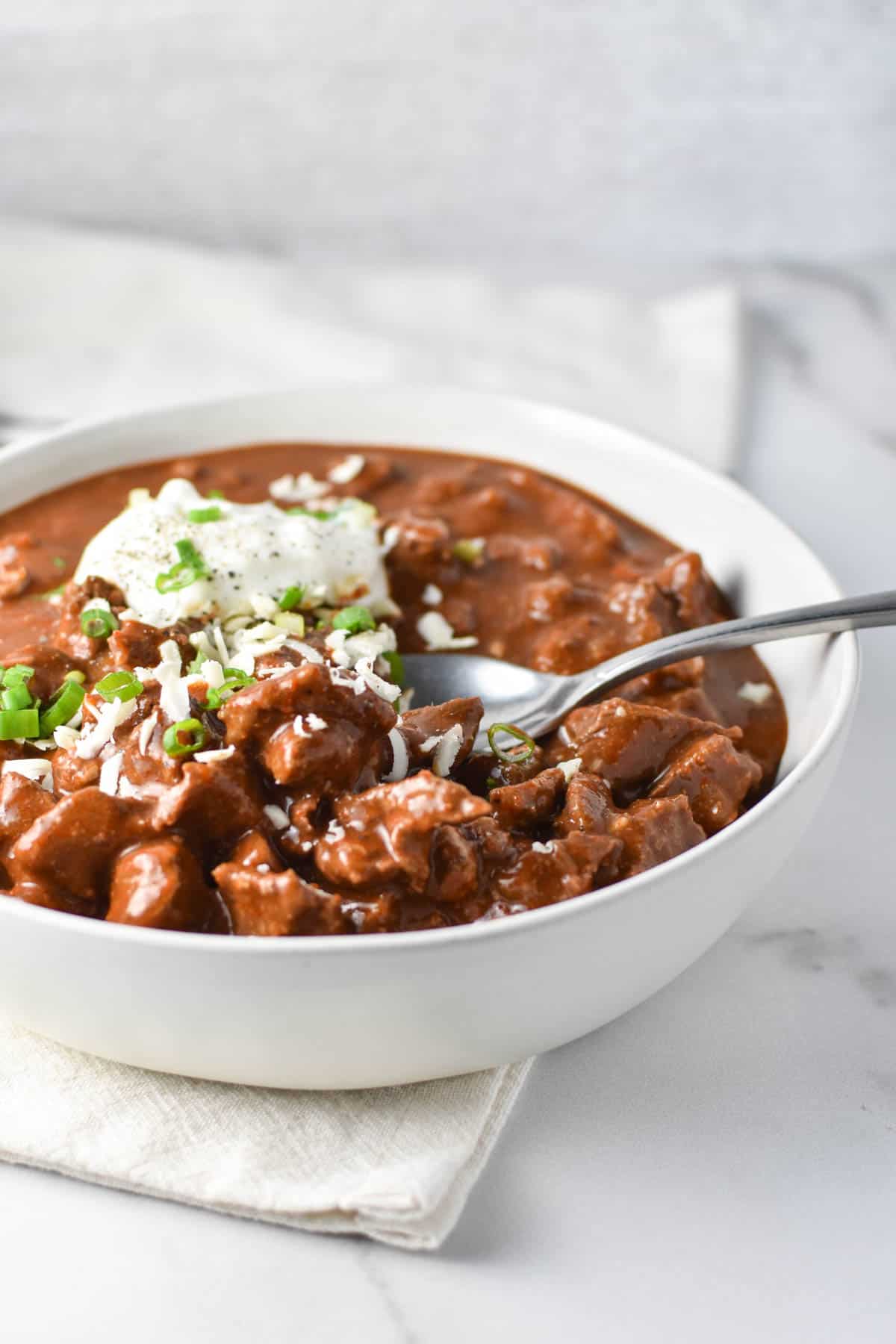 Ingredients
A few pantry ingredients make this easy tomato free chili recipe delicious!
Boneless Chuck Roast - Buy this in a whole 3 pound piece and trim the excess fat while chopping into bite-sized pieces. Sometimes the butcher will also chop this for you, but using chuck roast meat will be much more flavorful and tender than pre-packaged stew meat.
Chili Powder - Many Texas chili recipes require you use an assortment of dried chilis that you grind up yourself, but I don't know many of us that have time for that. I Morton and Bassett Natural Chili Powder. This chili powder doesn't contain onion powder or cocoa powder. Frontier is also another recommended brand.
Shallots - These have a softer flavor than onion and don't overpower the meat and spices.
Spices - Garlic, paprika, cinnamon and cumin round out the flavors.
Broth or Stock - I typically use homemade chicken stock or vegetable broth. Beef broth would work here as well - whatever you have on hand.
Butter or Ghee - Butter, ghee, or Earth Balance Pressed Oil will work for dairy free. I prefer the richness of butter or ghee. Another option is to use duck fat, which gives a bacon-like flavor to the dish.
Step-by-Step Process
Searing the Beef
Trim the excess fat from the meat and cut into ½ inch cubes. Over medium high heat, melt fat in a large dutch oven. Add meat, seasoning with salt and pepper, then flipping after a few minutes so all sides get brown. You can do this in batches depending on what size dutch oven you have. It helps to keep everything in one layer.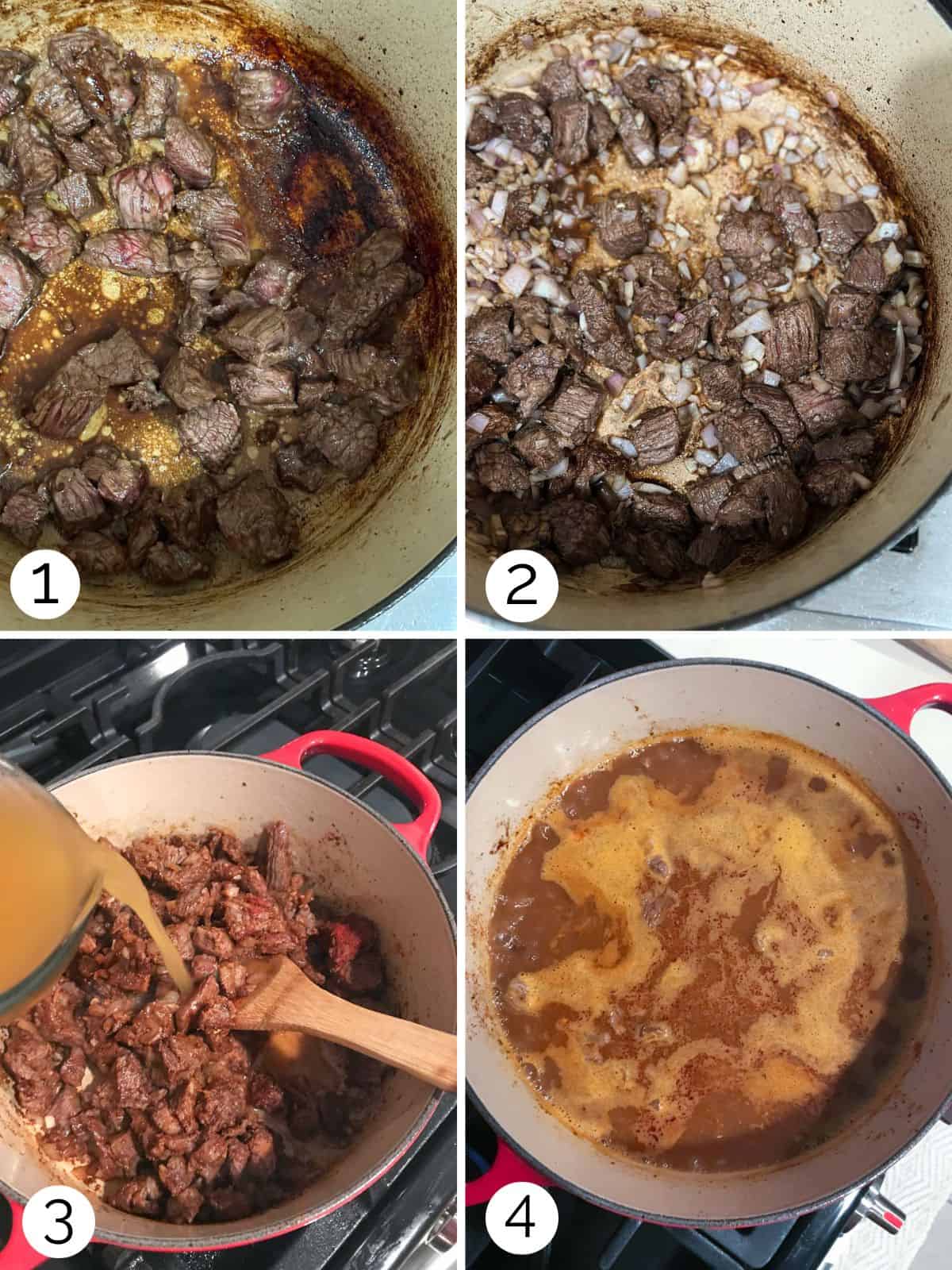 Making the Broth
Add shallots and garlic, stirring for 1 minute, then add broth, scraping up any brown bits from the bottom of the pot. The meat should barely be covered by the broth.
Add chili powder, paprika, and cinnamon and stir to combine. Do NOT add the cumin here, it will come later (this is because cumin can become bitter if cooked at high heat for a long time). Bring all ingredients to a boil, cover with a tight fitting lid, and turn down the heat to simmer on low.
Simmer the Chili
Simmer for 1 hour covered. If there's an excess of liquid after 1 hour, continue to simmer uncovered for another 30 minutes. If there's not enough liquid, add more broth. Add cumin here and continue to simmer another 30 minutes, or until desired thickness is reached. The sauce also thickens as it cools. Taste and adjust any seasonings.
Cooking Tips
Get a large piece of meat - Keep in mind that even though it seems like a lot of meat, you'll lose a big chunk of that in the fat that is trimmed and discarded. I buy a 2.5lb boneless chuck roast, and it makes about 4 servings for us. If it's an especially fatty piece, you may want to get even more.
Double the recipe or get a larger chuck roast if you'd like to have leftovers or need to feed more than 4 adults. This recipe doubles extremely well and cooks within the same amount of time too.
Substitutions
For dairy free - Use olive oil or avocado oil.
Chili powder - Do not substitute chipotle chili powder for the full amount or this will be incredibly spicy. If you do want to add it, consider adding just a teaspoon and having the rest be regular chili powder.
Cinnamon - I have made this recipe so many times and I think the amount of cinnamon is perfect, but if you're sensitive to it, consider cutting it down or leaving it out.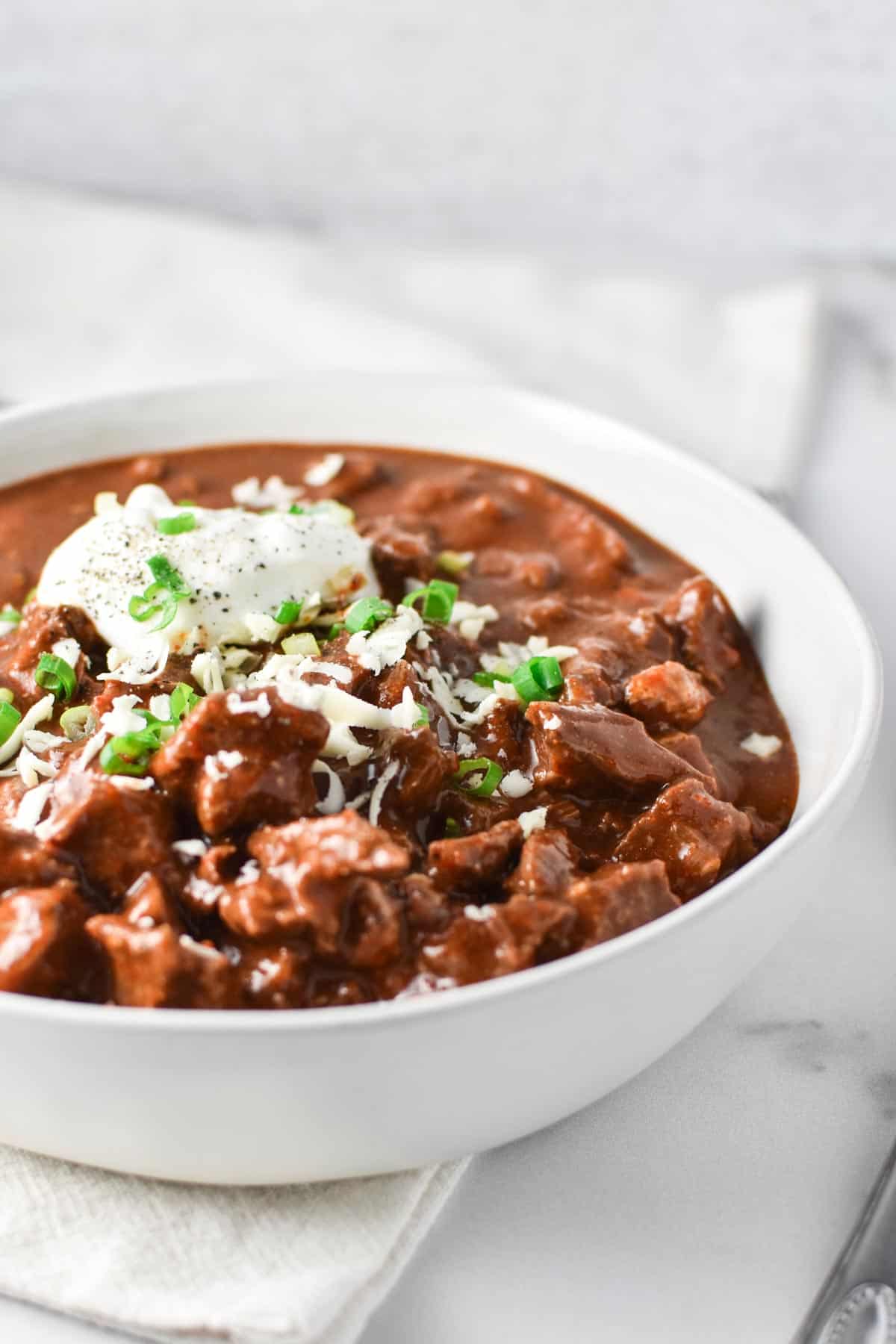 Storage and Freezing
This tomato-free chili is a great recipe to make ahead and freeze for those days when you just don't feel well or need a quick meal on hand. It will keep in the fridge for 3-4 days and it does taste better the next day!
To freeze - place in a large freezer bag or container and seal. Store for up to 5-6 months in the freezer.
To defrost - Place the chili in a microwave safe bowl and cover with a paper towel. Microwave it in 45 second increments, stirring every so often. Or add the chili to a covered pot with a little bit of broth and bring it to a simmer over low heat.
No Tomato Chili Toppings
There's so many wonderful toppings you can add to this Texas chili! A few of my favorite ones are:
Chopped green onions
Grated American Cheese - good quality ones are Andrew & Everett and Boar's Head.
Crushed tortilla chips
Chopped red radishes
Whipped cottage cheese - a great substitute for sour cream.
Serving Suggestions
This chili without tomatoes recipe pairs well with the pumpkin cornbread muffins I have pictured below! You'll want to pair something cool with this warm chili, so I would recommend a healthy coleslaw or basic salad with ranch dressing.
You could also serve this as a frito chili pie, either spooned into a bag of fritos or on top of them. This would be a great idea for tailgating!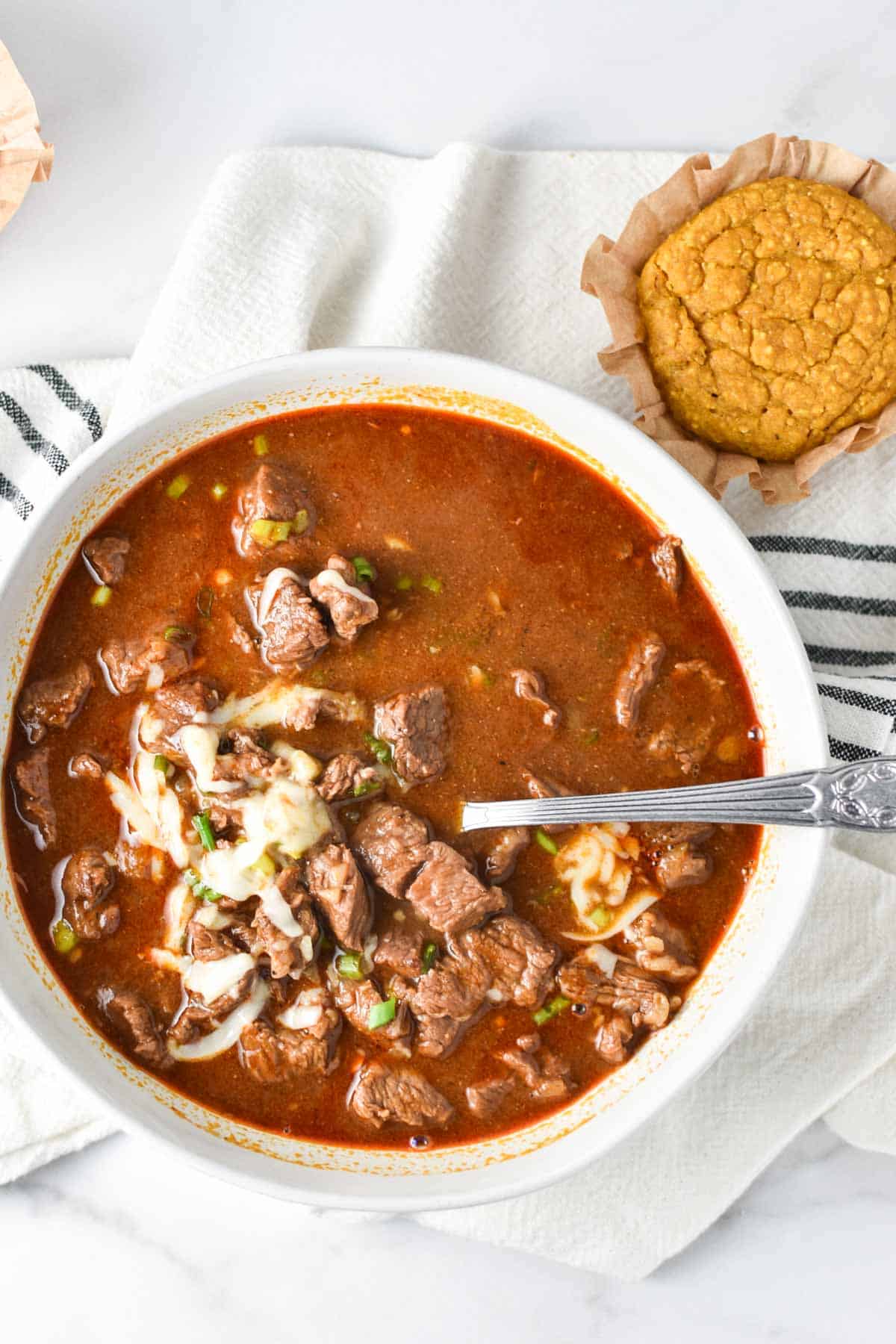 Recipe FAQ
Is this no tomato chili spicy?
The spice level of chili truly depends on the chili powder you use. I used Morton and Bassett and I don't think this is very spicy at all. Over the years, I've had some readers who are sensitive to heat cut back on the amount of chili powder they use, and others add jalapeños or pasilla peppers to the broth for simmering.
Do I need to simmer chili for a full hour?
Yes, simmering chili with beef chuck roast for an hour makes it super tender and it almost melts in your mouth when you eat it.
What makes a good substitute for tomatoes in chili?
My best advice is to not substitute tomatoes in chili, but just make a naturally tomato free chili like this recipe. This way you don't feel like the flavor or texture is lacking.
How is Texas Chili different from regular chili?
Traditional chili recipes usually contain ground beef, beans, and tomatoes or tomato sauce. Here in Texas, it's a common belief these things ruin the flavor of the spices and meat. I tend to agree - this type of chili is just much more flavorful and decadent.
Can I make chili without tomatoes in the crockpot?
This chili recipe can easily be transferred to the crockpot. Just sear the beef, then add in the shallots and garlic, stirring for 1-2 minutes until they're cooked. Transfer everything to a slow cooker and place on low heat for 7-8 hours. I would especially wait to add the cumin here so it doesn't develop a bitter flavor.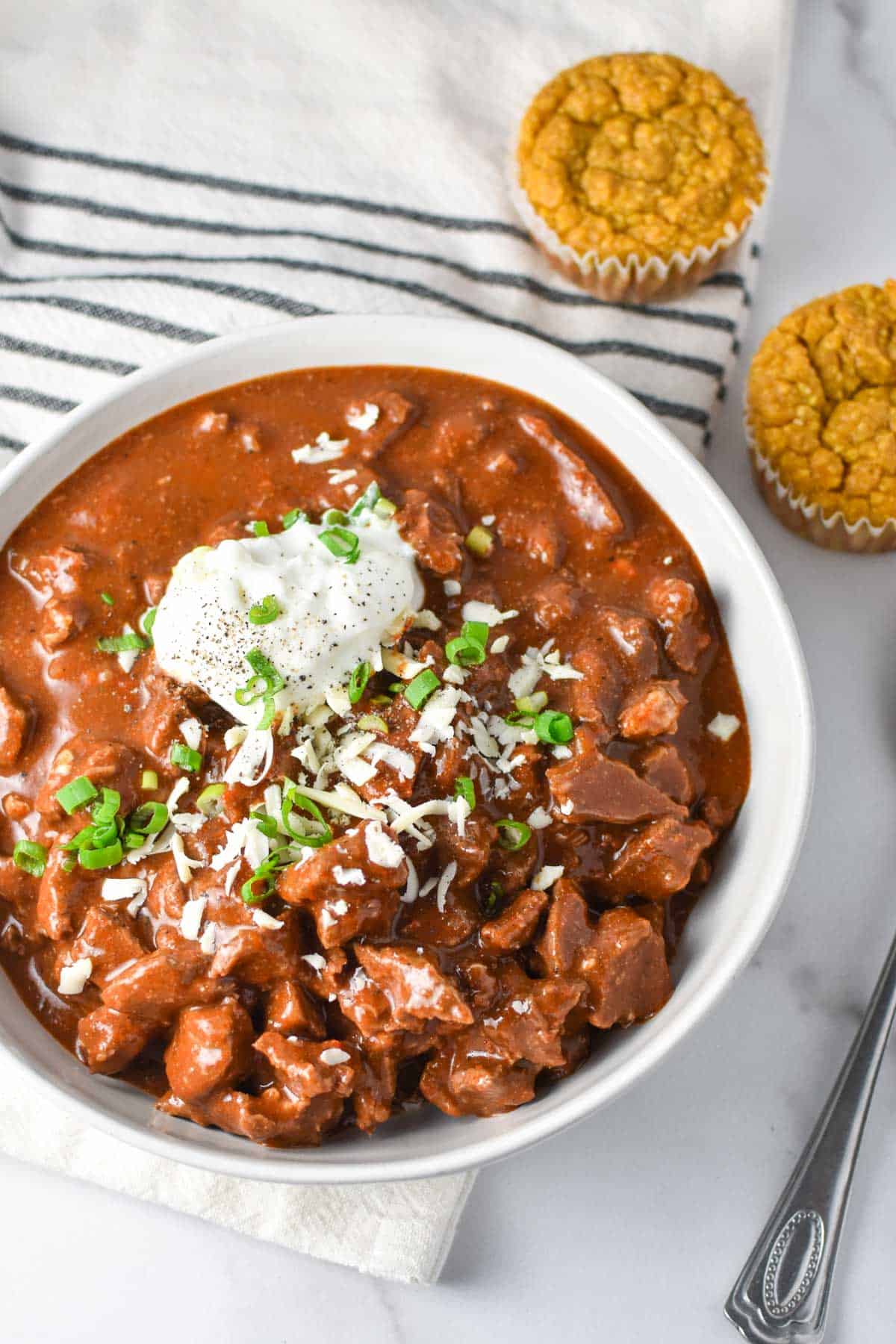 Cozy Beef Recipes
For more recipes like this award winning no tomato chili, check out these posts. And if you're someone who loves a ground beef chili, check out my Butternut Squash Chili (without beans)!
If you make this, tag me #thedizzycook or @thedizzycook on Facebook and Instagram. And if you love the recipe, please leave a review below! Follow along on my Pinterest for more great recipes.
No Tomato Chili
This recipe for Texas-style chili without beans or tomatoes is the perfect hearty beef chili that cooks in just one pot. It's gluten free and see my tips for making dairy-free/paleo.
Print
Pin
Rate
Ingredients
2-3

tablespoons

butter, ghee or olive oil

*see notes

3

lb

boneless chuck roast trimmed and cut into ½ inch cubes

1

teaspoon

kosher salt

⅓

cup

finely chopped shallots, about 2-3 small shallots

2

garlic cloves, minced

4

cups

broth or stock (can be chicken, beef, or vegetable)

1 ½

tablespoons

chili powder

1

tablespoon

paprika

I used ½ tablespoon regular and ½ tablespoon smoked paprika

½

teaspoon

cinnamon

1

teaspoon

cumin

Optional: cilantro, chives or green onions to garnish

kosher salt and pepper to taste
Instructions
Trim the fat from your chuck roast and cut into ½inch cubes.

Heat 1-2 tablespoons of ghee or butter on medium high in a large dutch oven. Cook meat till browned on both sides. I salt my meat with 1 teaspoon of kosher salt here, but if you're sodium sensitive you can wait till the very end to see if it needs any.

Add chopped shallots and minced garlic and stir for about a minute. Pour in all 4 cups of vegetable broth. Your meat should be barely covered by the broth.

Add chili powder, paprika, and cinnamon and stir to combine. Do NOT add the cumin here, it will come later. Bring all ingredients to a boil, cover and turn down the heat to simmer on low.

Simmer for 1 hour and check. If it looks like there's still too much liquid, remove the cover and allow to simmer for an extra 30 min uncovered. If there's not enough, you can add more broth. Add the cumin here and mix in. Simmer another 30 minutes.

Add salt, pepper, or any additional spices as you need. Serve warm or cool and add to ziplock bags to freeze and reheat at a later date.
Notes
Approximately ½ pound of the meat weight is lost when you trim the fat so keep that in mind for serving size
I prefer to use ½ smoked paprika and ½ regular paprika as I think it adds a great smokey flavor to the dish, but either one will do. The cumin is added towards the end as I find sometimes simmering at high heat for a long time can cause it to become bitter.
Store in the fridge once cooled - this chili is even better the next day!
Do not substitute chipotle chili powder for regular chili powder unless you prefer a super spicy chili.
The meat needs to be cooked for an hour for that melt-in-your-mouth texture and flavor. This can be done in a slow cooker on low for 7-8 hours once the meat has been seared.
To make this dairy free, you can use duck fat for the best flavor, or olive oil. The recipe is naturally gluten free.
Nutrition
Serving:
2
cups
|
Calories:
443
kcal
|
Carbohydrates:
7
g
|
Protein:
66
g
|
Fat:
46
g
|
Saturated Fat:
21
g
|
Cholesterol:
250
mg
|
Sodium:
1899
mg
|
Potassium:
1237
mg
|
Fiber:
2
g
|
Sugar:
2
g
|
Vitamin A:
2471
IU
|
Vitamin C:
1
mg
|
Calcium:
79
mg
|
Iron:
8
mg
This No Tomato Chili Recipe was first published October 10, 2019 and has been updated in September 2023 with new photographs, recipe substitutions and tips learned over the years.