These oven short ribs with creamy polenta are packed with deep flavor! Made without wine or alcohol, the short ribs are delicious and tender.
An easy recipe made in a dutch oven, the oven mainly does the work while your house smells delicious! While you wait for the ribs to cook, the creamy polenta can be made for a side dish that soaks up all the delicious sauce. These fall-off-the-bone short ribs are perfect for a date night in or for company since they are hard to screw up.
Oven short ribs without wine also pair well with this roasted mashed cauliflower for a lower carb option, and a light, crisp salad like this apple fennel salad.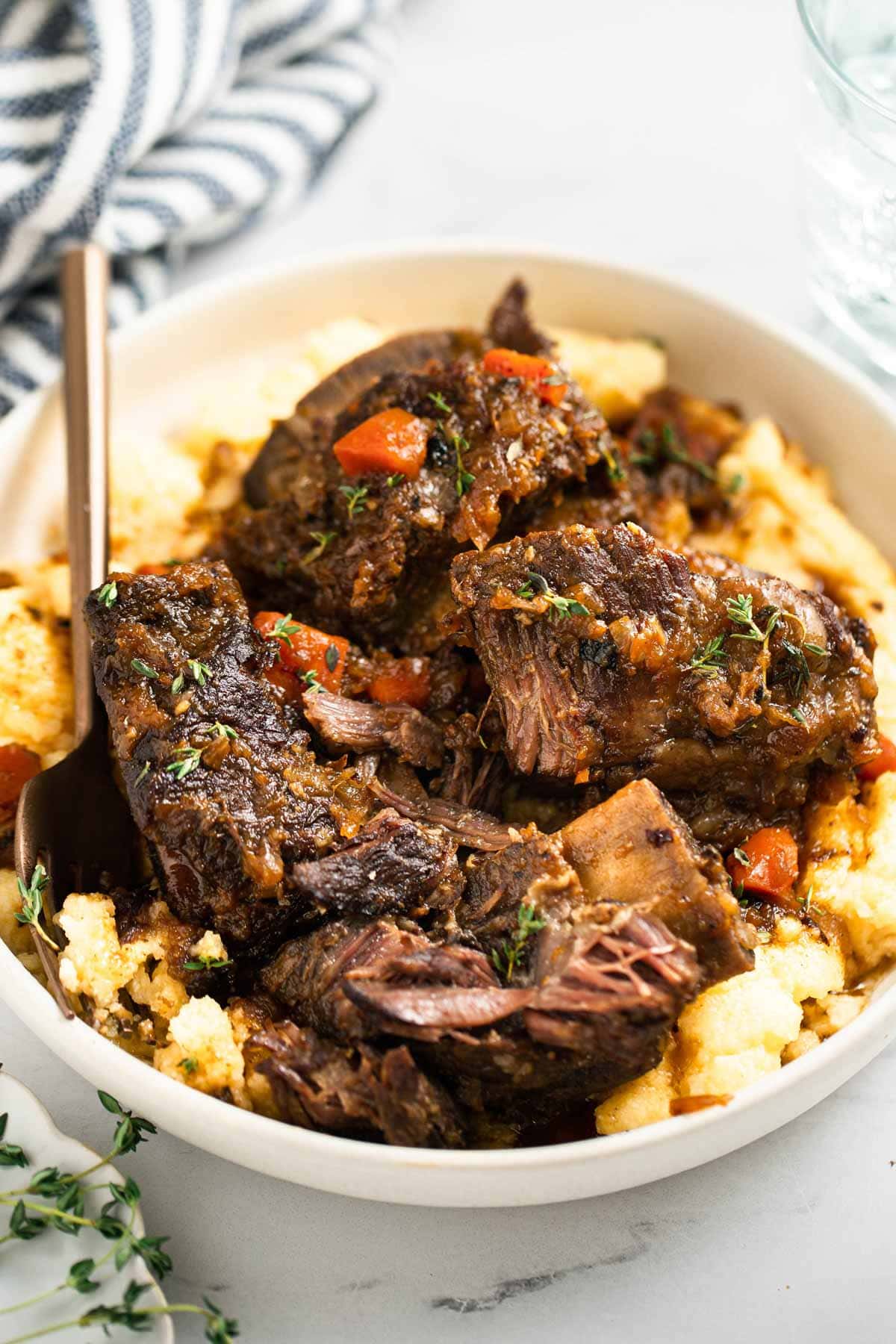 Jump to:
Short Ribs in the Oven
My favorite way to make short ribs is using a large dutch oven and then braising them. This happens over a lower heat (350 degrees Fahrenheit) for a long period of time, typically 2-3 hours. You can also cook these at a lower heat if you need more time.
You'll love this dish because:
Healthy - No BBQ sauces with additives! It's just herbs and vegetables with garlic.
Wine-free - You don't need red wine for these short ribs. The cooking process provides a deep flavor. Although it seems like the juice might make it sweet, it's not. It's just enough to balance the heaviness of the dish.
Special diet friendly - Whether you're following a migraine diet, gluten free, or dairy free, this recipe for oven baked short ribs can please everyone at the table.
Braised Short Ribs without Wine
"Braised" means to sear the short ribs quickly before baking slowly in the oven. Most braised short ribs contain red wine, so I set out to create one that didn't contain any alcohol. I've made these braised short ribs without wine using both apple juice and pear juice, which I know sounds really strange, but it turns out the flavors pair beautifully with the short ribs.
I actually find the sauce to be lighter, and the sweetness isn't noticeable, but it does cut the richness of the sauce and short ribs.
Equipment
To make these short ribs in the oven, you will need a dutch oven, which is a large, heavy pot with a tight fitting lid. This will allow you to cook the short ribs low and slow, taking a tough cut of meat to fall-off-the-bone tender.
I've found great deals on Le Creuset at discount stores (verify it's not a knockoff), online, and even yard sales! They truly do last forever. But for a less-expensive option, I highly recommend Lodge.
Ingredients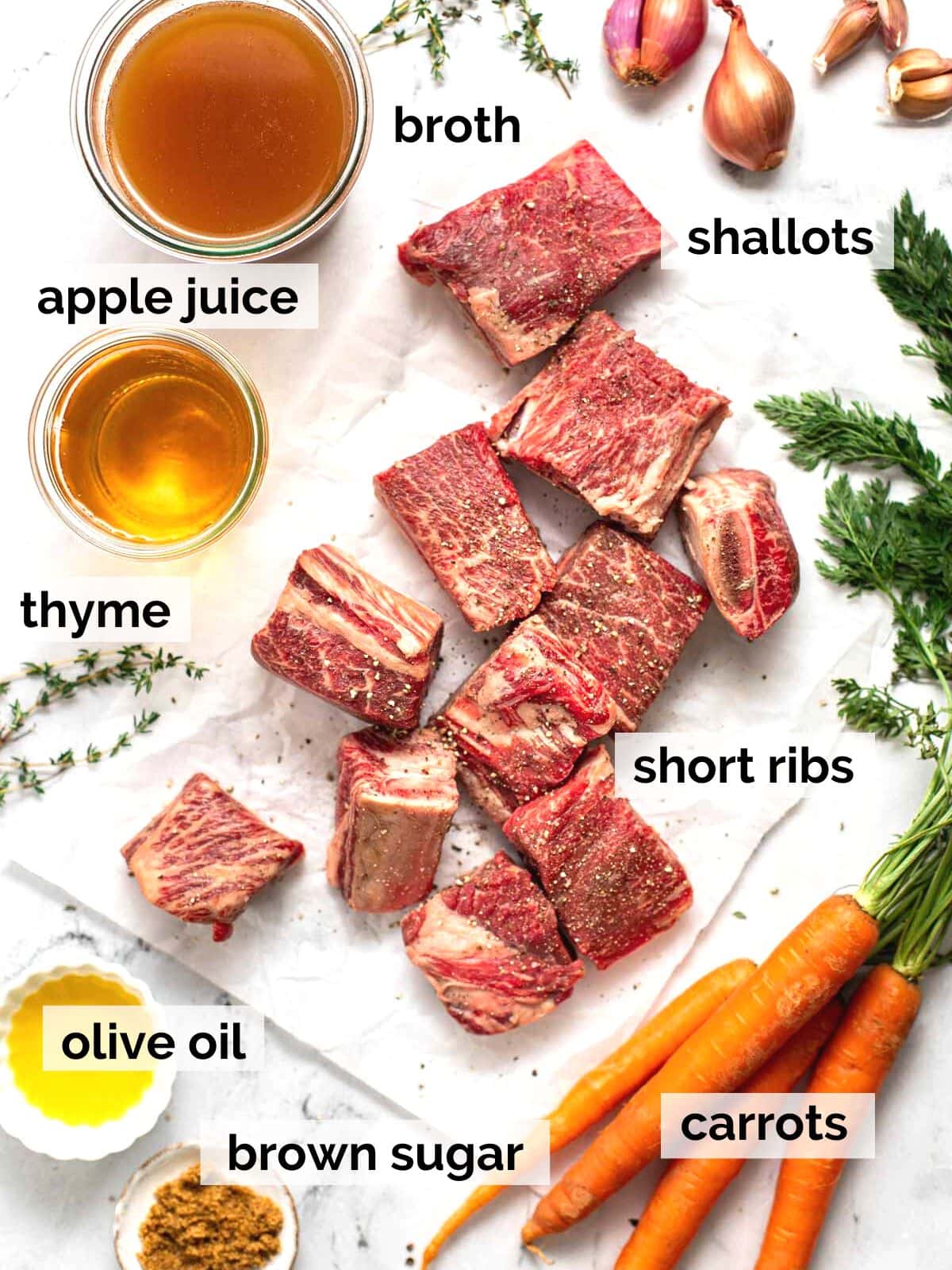 For the oven short ribs:
Bone-in short ribs - Get short ribs and not beef back ribs, which will have less fat and marbling. They're typically cut in square or rectangle shaped slabs and are tougher, but when cooked on low heat become very tender and flavorful.
Apple juice or pear juice - Use naturally sweetened for both.
Shallots - Don't substitute these with onion. The flavor is so much more elevated!
Carrots - Use large carrots or baby carrots - whatever you have on hand.
Garlic
Brown sugar or honey
Dried thyme
Broth - I prefer to use a lower sodium vegetable broth. For those on a migraine-diet, you can make your own broth, or find a semi-acceptable store-bought broth.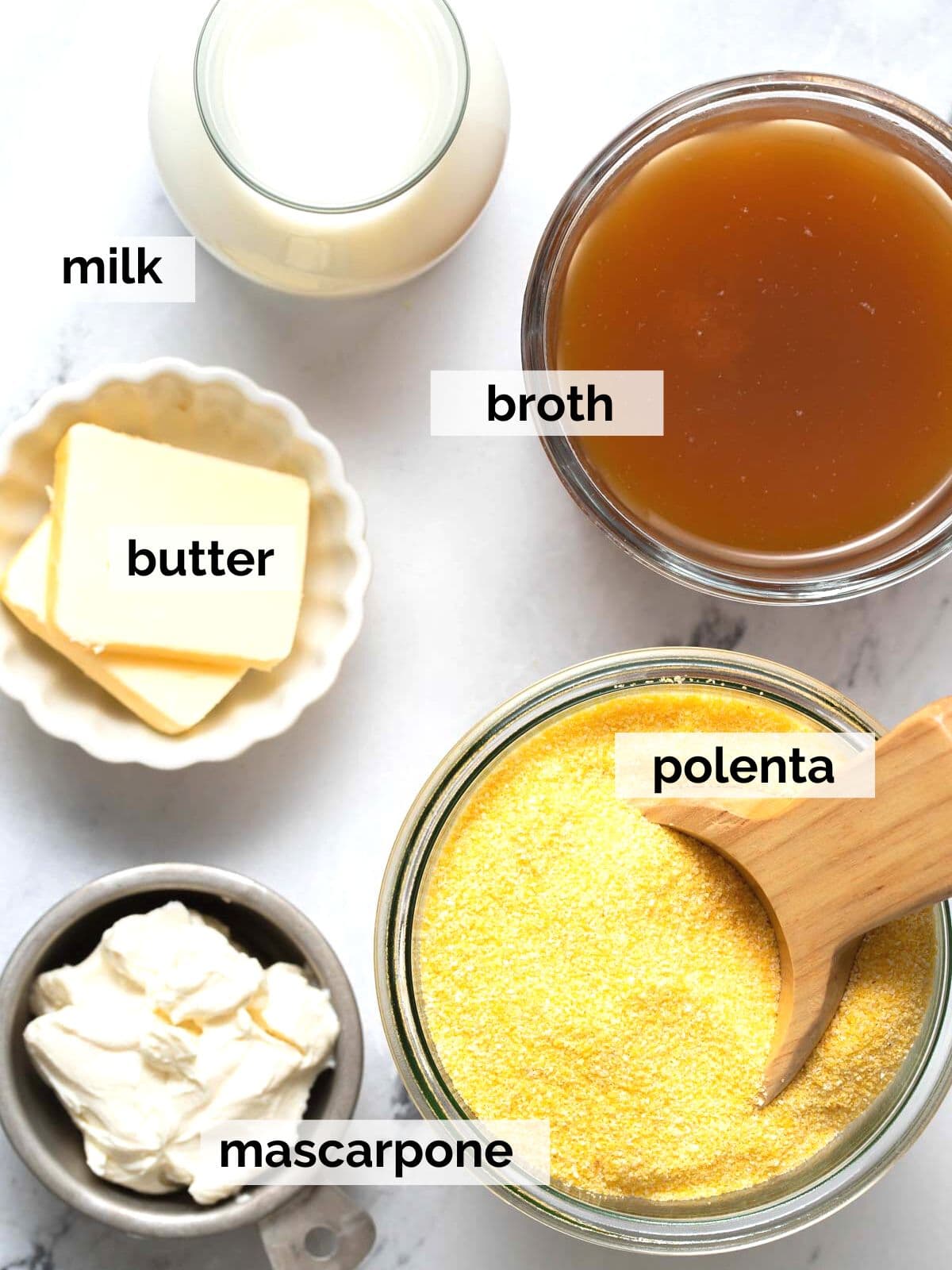 For the creamy polenta:
Polenta - The finer the grind, the faster it will cook, so medium or coarse will take longer to simmer than fine. You can also pre-soak the polenta in water to cut down on cooking time, although I haven't tried this method yet! The standard ratio is 4 cups of liquid to 1 cup of polenta.
Milk - I add this in for creaminess, but you can certainly use all water or broth.
Broth - Same recommendations as above. I highly recommend using broth for polenta, especially if you don't use the milk. It adds so much extra flavor.
Mascarpone Cheese - This can be substituted with cream cheese as well, although I love the light flavor of mascarpone with this dish.
Butter - I used Kerrygold unsalted.
How to Make in the Oven
Step 1: Sear short ribs
Preheat oven to 350 degrees Fahrenheit. Pull short ribs out of the fridge at least 15 minutes before you intend to cook them. Season generously with kosher salt and pepper on all sides.
Heat olive oil over medium heat in a large dutch oven. Add short ribs, working in batches so they don't crowd, searing till nicely browned on both sides. Set aside.
Pour out any excess oil so only 1 tablespoon remains, then add shallots and carrots, cooking for 2-3 minutes stirring regularly. Then add garlic, brown sugar, thyme.
Return the short ribs to the dutch oven and add the juice and broth. Cover with the heavy lid and place in the oven.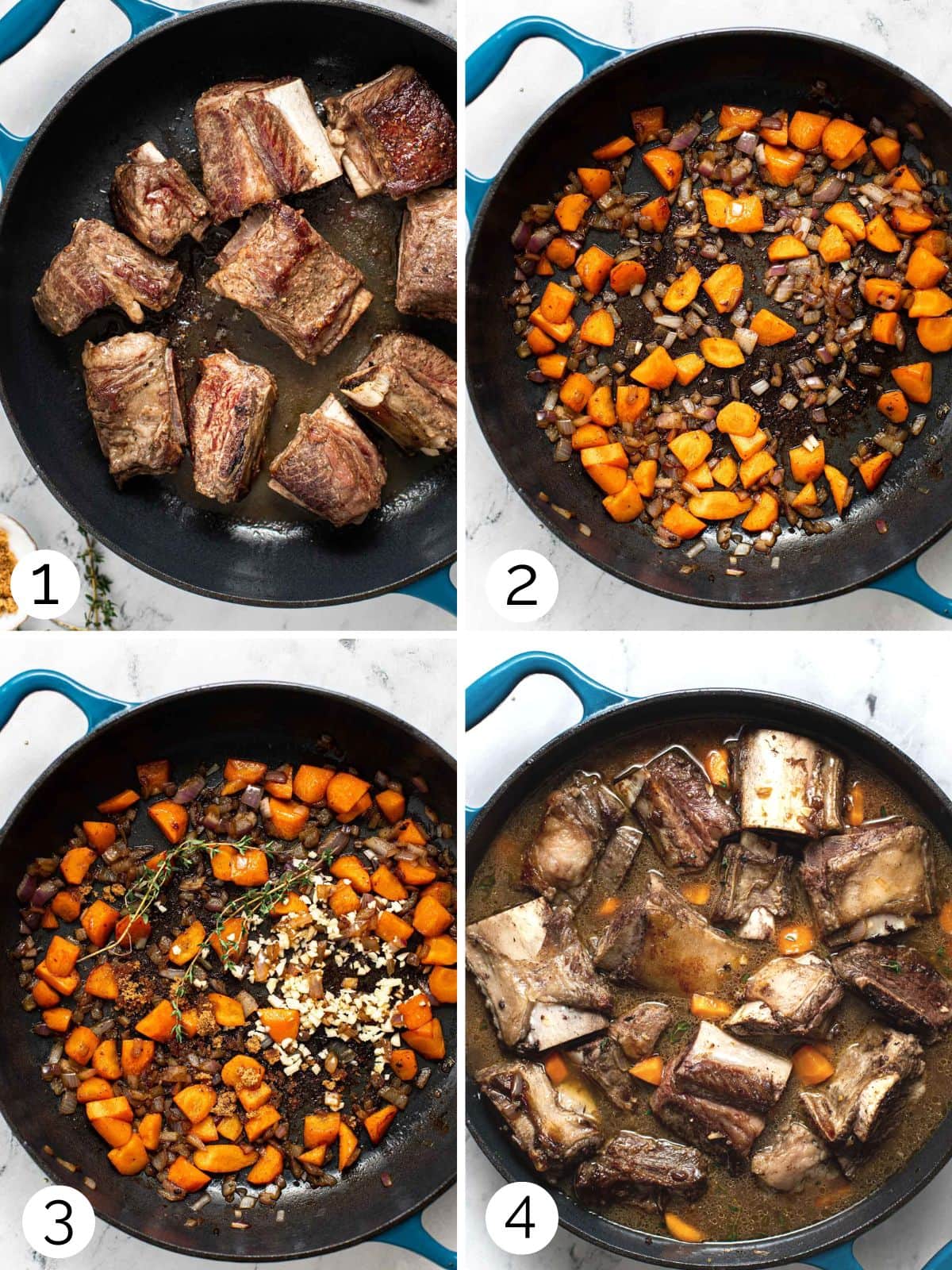 Step 2: Bake short ribs and make creamy polenta
Allow the short ribs to do their thing! Keep them on low heat and don't worry about it. When their cooking time is coming to an end, begin the polenta.
In a medium pot, bring milk and broth to a low boil over medium-high heat. Add in polenta a little bit at a time, whisking constantly. Continue whisking constantly as the mixture simmers and begins to thicken.
You want to maintain a heat that has a low simmer, not a rolling boil, so the polenta cooks slowly otherwise it may become gritty. This process can take about 20-30 minutes, so switch off with someone else to continue whisking or grab a stool!
Once the polenta has thickened, remove from heat and add in butter and cheese, stirring till combined. Season with kosher salt and black pepper to taste.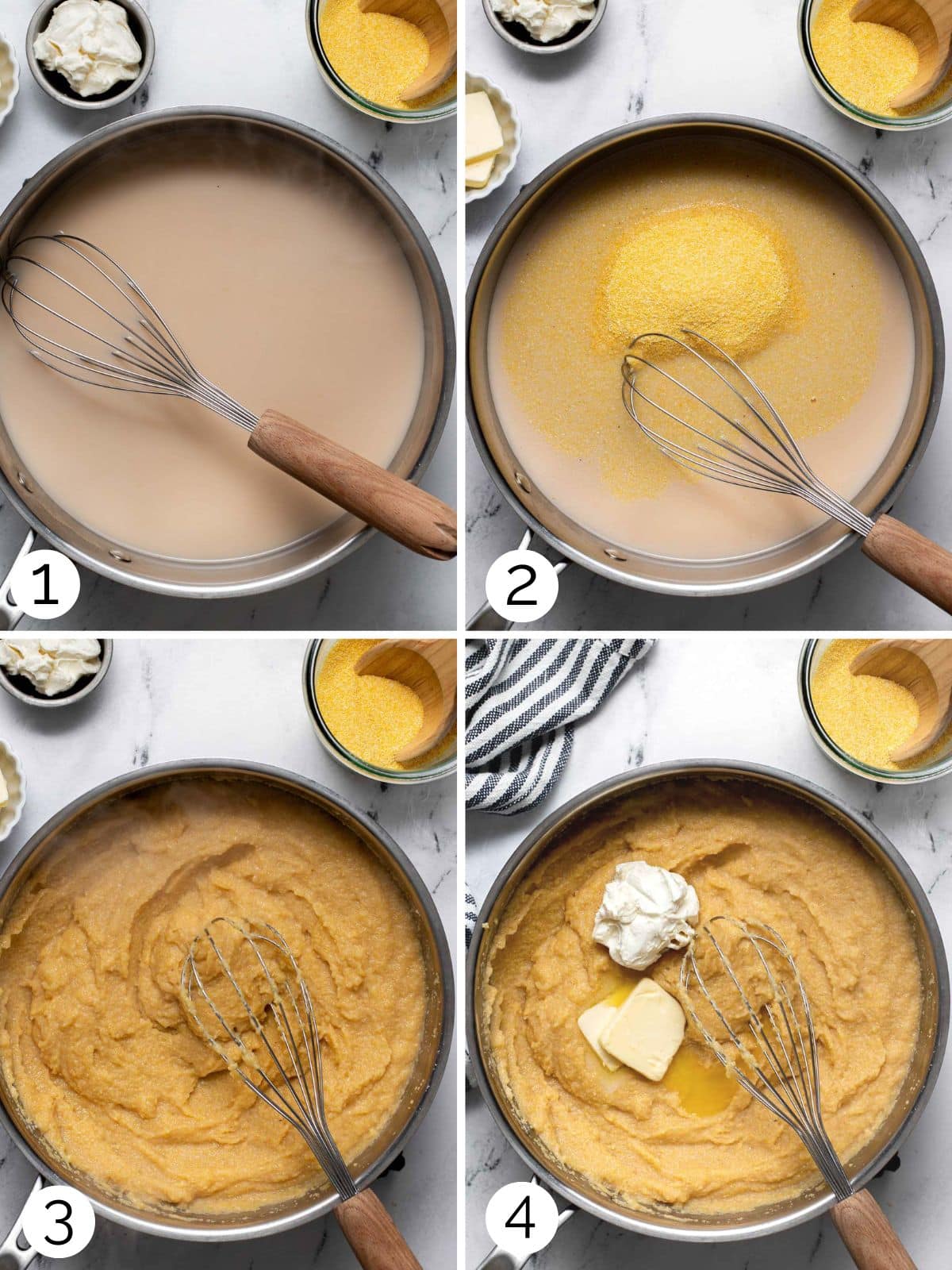 Step 3: Build the short ribs with creamy polenta
In large, shallow bowls, add the creamy polenta and place the oven short ribs over the top. Spoon any extra sauce over the top and season with more kosher salt and black pepper to taste.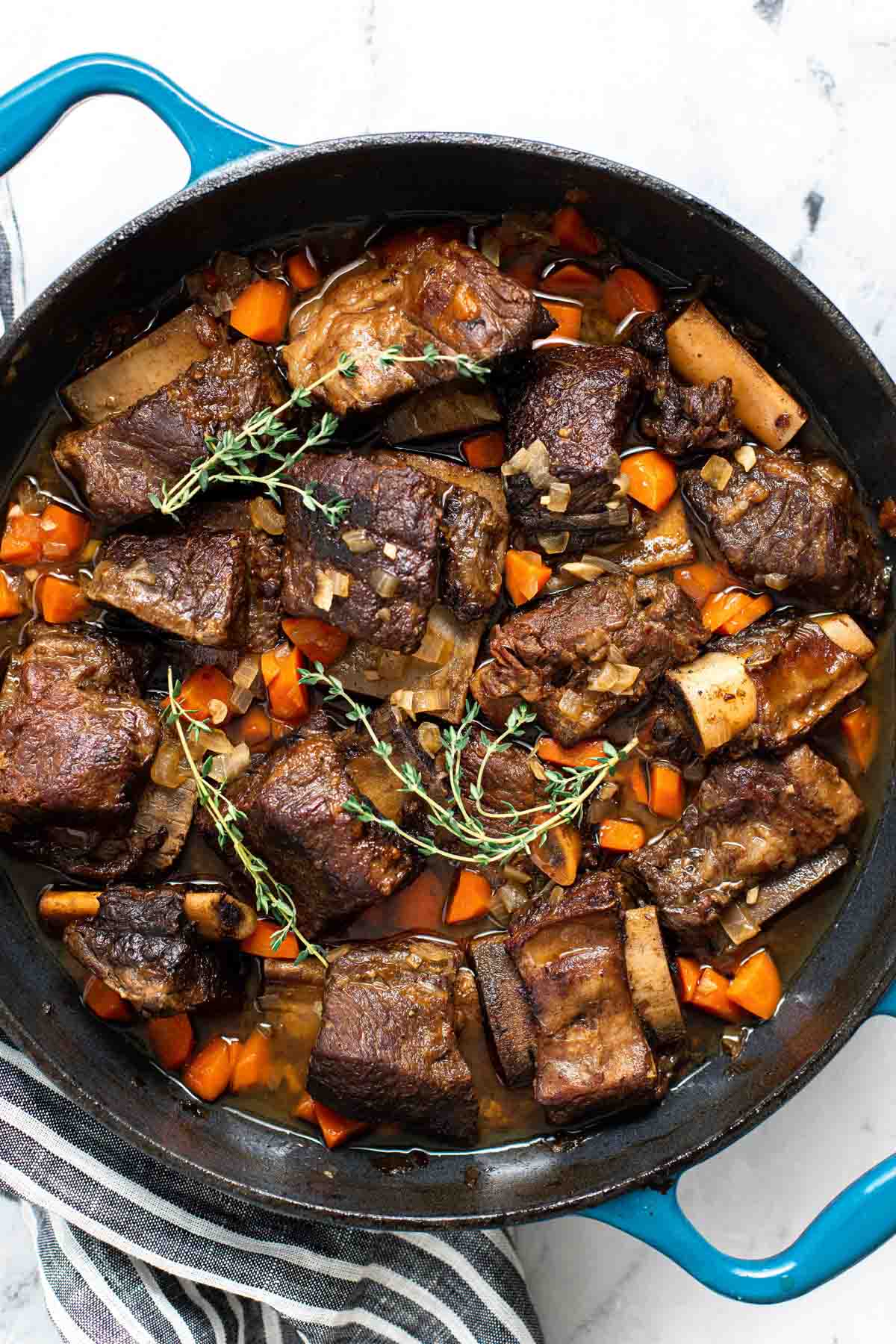 How to Make in a Slow Cooker
If you wanted to do these short ribs without wine in the crock pot you could sear them first and put them on high for 4-6 hours or low for 7-8 hours. I'd also add about 2 more cups of broth, just to make sure it's kept moist.
I am not a fan of doing short ribs in the instant pot, mainly because you can't achieve that fall off the bone, melt in your mouth texture that you can from braising them in the oven. Plus you're really only adding another hour to your cooking time and I promise the flavor is worth it.
Creamy Polenta
One of my favorite ways to serve short ribs is on top of creamy polenta, which is like a cornmeal porridge. It can be made with any kind of cornmeal, which is sold is finely ground, medium, or coarse. Generally medium and coarse take longer to cook but taste better overall. Coarse can also vary in texture.
Because the grind can vary, it's best to check cooking times on the back of the package to set expectations. Some can take up to an hour to cook (but are the best tasting!)
The trick is to cook it low and slow so the cornmeal softens and absorbs the liquid. Boiling and cooking too quickly can produce gritty results. If the mixture gets too thick, you can always whisk in more liquid as you're cooking.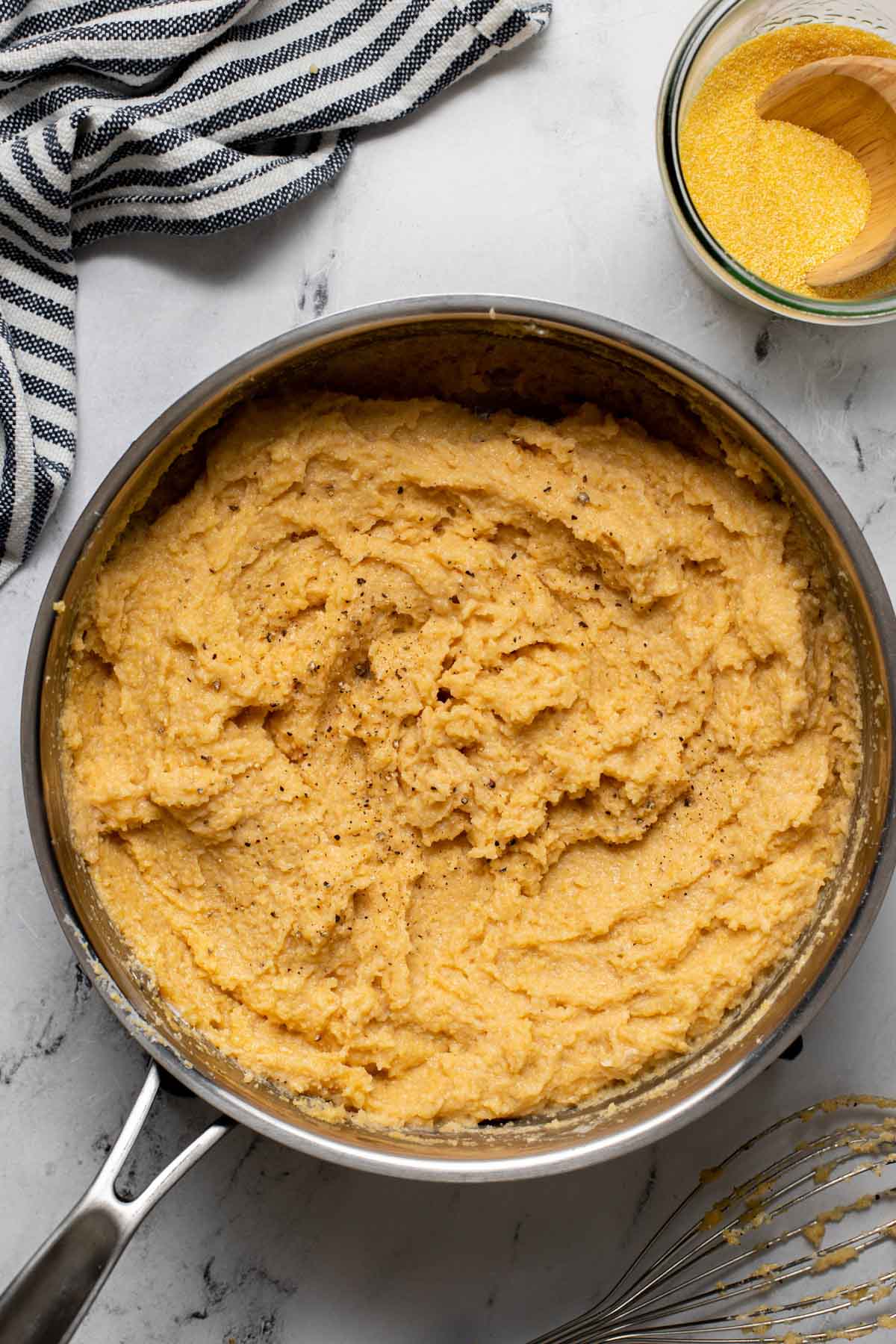 What to Serve with Short Ribs
If you make the creamy polenta along with the oven short ribs, you already have a great side dish. But here are some more options that I love aside from plain mashed potatoes.
Storage Suggestions
Refrigerator - Short ribs and polenta will keep for 2-3 days in the refrigerator in an air tight container.
To reheat - The short ribs heat well however you want to - microwave, oven, or in a covered pot with sauce/broth to keep it moist. Polenta will harden over time, but can be thinned out with a little bit of broth or milk over the stove, or by stirring and microwaving in short intervals.
Freezer - To freeze the short ribs, place in a freezer-safe container for up to 3-4 months. Defrost overnight in the fridge or quickly in warm water. I don't recommend freezing the polenta!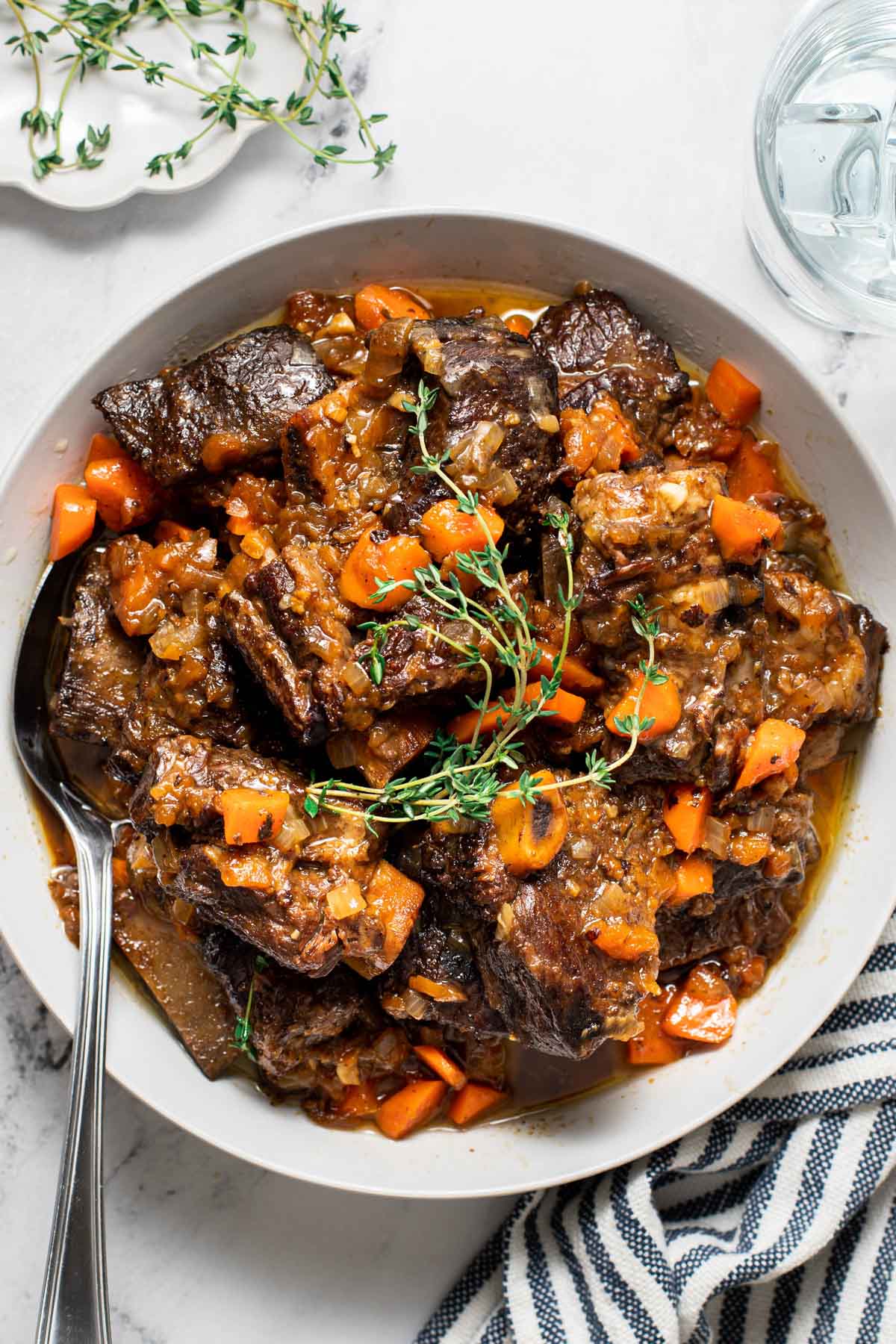 Frequently Asked Questions
Can I make this dairy free?
Yes! The oven short ribs by themselves are dairy free. For the creamy polenta, I would either try a simple mashed potato recipe, or substitute the milk with a very creamy milk sub (like a full fat oat milk). If you can tolerate MSG, use dairy-free substitutes for butter and cream cheese.
What else can I use besides a dutch oven?
For best results, I don't recommend making these short ribs without a dutch oven.
Can I use boneless beef short ribs?
You can, however I have not tested the recipe to know the best cooking times. The cooking time for boneless short ribs will be lower.
What can I use instead of wine for short ribs?
This is the perfect recipe for you! No wine added! This non-alcoholic version actually uses apple juice, but just trust me. It adds a wonderful flavor without making them sweet. It's delicious.
Hearty Beef Recipes
For more recipes like these oven beef short ribs with creamy polenta, check out these posts.
If you make any of my recipes, don't forget to tag me #thedizzycook or @thedizzycook on Facebook and Instagram. And please leave a review below!
Oven Short Ribs with Creamy Polenta
These braised short ribs without wine are tender and delicious with a beautiful sauce that pairs perfectly with creamy polenta.
Print
Pin
Rate
Equipment
1 Dutch oven between 7-9 quarts
Ingredients
Non-Alcoholic Short Ribs
3

lbs

bone-in beef short ribs

The butcher can cut these for you. If they're on the small or fatty side, I'd recommend getting more pieces

1

tablespoon

olive oil

2

large shallots, chopped (about ½ cup)

½

cup

carrots, chopped

4

cloves

garlic, minced

1

tablespoon

brown sugar or honey

1½

teaspoons

dried thyme

1

cup

unsweetened apple juice

2

cups

broth (beef or vegetable)

kosher salt and pepper to taste
Creamy Polenta
1

cups

milk

3

cups

vegetable broth

1

cup

polenta

I used Bob's Red Mill

¼

cup

mascarpone cheese

1

tablespoon

butter

kosher salt and pepper to taste
Instructions
Pull short ribs out at least 15 minutes before you intend to start cooking and season well on all sides with kosher salt and black pepper. Preheat oven to 350 degrees Fahrenheit.

In a large dutch oven, add 1 tablespoon of oil and heat on med-high for a minute or two. Sear about 1 minute per side on all sides of your short ribs, until they're nice and brown. You may need to do this in two batches to not crowd the pan. If you don't give them enough space, they won't brown properly.

Remove short ribs from dutch oven and set aside. Pour out any excess oil so only around 1 tablespoon remains. Add shallots and carrots, sautéing for 1-2 minutes, till soft and fragrant. Then add garlic, brown sugar, and thyme.

Return the short ribs to the pot and pour in apple juice and broth. Bring everything to a boil and cover with the lid. Place in the oven at 350F degrees for 2 to 2½ hours. These can also be left a little longer if needed, or until the meat is tender and falling off the bone.

Pull the short ribs out of the pot and skim any excess fat off the top of the leftover sauce. Simmer the sauce for 5-10 minutes until thickened, if it hasn't already thickened up. Return the short ribs to the pot and coat with sauce. Taste and adjust any seasonings.

FOR THE POLENTA: 10 minutes before you pull out the short ribs, bring the milk and broth for the polenta to a boil in a medium pan. Slowly whisk in the polenta a little bit at a time and continue whisking as it slowly thickens - about 30 minutes. Whisk consistently - so pull up a stool or chair if needed. It's important to find the right temperature (usually medium low heat) for a mild simmer while whisking (small bubbles on the outsides). It should NOT boil. Keep warm until ready to serve. If it gets too thick, you can add a little water, broth, or milk to thin out the polenta. You don't want the polenta to cook too quickly or it will not soften properly.

Stir the mascarpone and butter into the polenta and season with salt and pepper to taste. Serve the short ribs on top of the polenta with a little sauce.
Notes
Allowing the short ribs to sit at room temperature before searing will help them to sear better.
To make these short ribs Whole30 compliant, simply omit the sugar and honey.
Calorie count contains the polenta and short ribs together.
Polenta varies greatly and the type you buy can affect cooking time. For instance, quick cook or finely ground polenta will cook much faster than stone ground. I used Bob's Red Mill Yellow Corn Polenta which cooks in roughly 30 minutes. Check the package directions to compare cooking times and see how long yours will take.
If polenta gets too thick, make sure to turn down the heat and whisk in liquid till smooth.
I recommend using whole milk for best taste and texture, however you can substitute your favorite milk.
Migraine-friendly: For compliant store-bought broth suggestions.
Nutrition
Serving:
12
oz
|
Calories:
665
kcal
|
Carbohydrates:
44
g
|
Protein:
55
g
|
Fat:
30
g
|
Saturated Fat:
15
g
|
Polyunsaturated Fat:
1
g
|
Monounsaturated Fat:
12
g
|
Trans Fat:
0.2
g
|
Cholesterol:
148
mg
|
Sodium:
167
mg
|
Potassium:
1095
mg
|
Fiber:
3
g
|
Sugar:
5
g
|
Vitamin A:
3117
IU
|
Vitamin C:
2
mg
|
Calcium:
132
mg
|
Iron:
6
mg
This post was originally published as Braised Short Ribs without Wine October 3, 2019 and has been updated with new photographs, in-depth cooking tips, and storage suggestions.