The star of this pumpkin seed smoothie is, of course, pumpkin seed butter. Packed with nutrients and some extra protein, you'll love this easy breakfast recipe.
Using toasted pumpkin seed butter gives this low histamine smoothie a savory nutty flavor that mixes really well with the butterscotch sweetness of lucuma powder and dried mulberries. Chia seeds are added for a bit of fiber, protein, and Omega-3 fatty acids.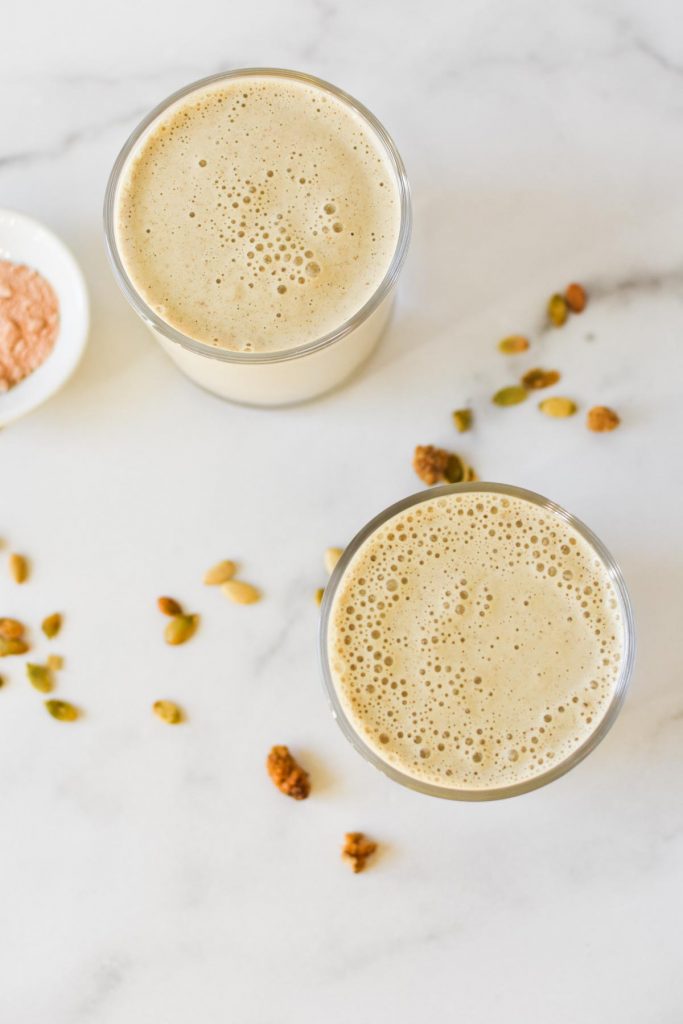 Lucuma Powder in Smoothies
Before you start grumbling about an odd ingredient in your smoothie, just hear me out. I love lucuma powder! It's a natural sweetener that I personally think is a great replacement for smoothies without bananas.
Native to South America, this fruit is described as having the flavor of roasted sweet potatoes or butterscotch. Lucuma is actually really nutritious as a natural sweetener as well. It contains a decent amount of fiber, is packed with vitamin C, and most of it's carbs are complex carbohydrates. This means that it's a great sweetener for those who need to watch blood sugar levels and spikes, like people with a migraine disorder.
It's fairly easy to find in most health food stores, like Whole Foods, but you can also order easily on Amazon as well. What else can you use it for? Essentially to sweeten any smoothie or even in some baked goods.
Pumpkin Seeds
Pumpkin seed butter used to be a little more difficult to find than sunflower seed butter, but it's become more widely available, with brands like 88 Acres and Sprouts now carrying this in stores and online. If you do order from 88 Acres, they give you 15% your first order with code DIZZY15.
For this particular recipe, I used 88 Acres Roasted Unsweetened Pumpkin Seed Butter. You can also used the sweetened kinds, I just think the lucuma and mulberries give enough sweetness.
Pumpkin seeds actually have numerous health benefits, especially for people with migraine disorders. Not only do they offer a little extra protein in smoothies, but they're high in magnesium which is a natural migraine preventative.
Natural antioxidants, like vitamin E, are really helpful at mitigating menstrual migraine attacks. So this could be a good smoothie to add in before the start of your cycle.
How to Make Your Own Pumpkin Seed Butter
It's also fairly easy to make your own pumpkin seed butter in a high powered blender or food processor. I recommend toasting them first in the oven, then blending 2-3 cups with about 1 teaspoon of mild oil. You want to pulse them at first to get it going, then start grinding continuously once they start to transform from grounds to a paste.
From there you can leave your blender or processor running, pausing every 2-3 minutes to scrape down the sides of the container. Total it should take about 15-20 minutes to transform into a smooth butter.
If you want, you can just blend shelled pumpkin seeds (otherwise known as pepitas) into your smoothie, but I do find pumpkin seed butter lends itself to a thicker smoothie while being much easier to blend smoothly.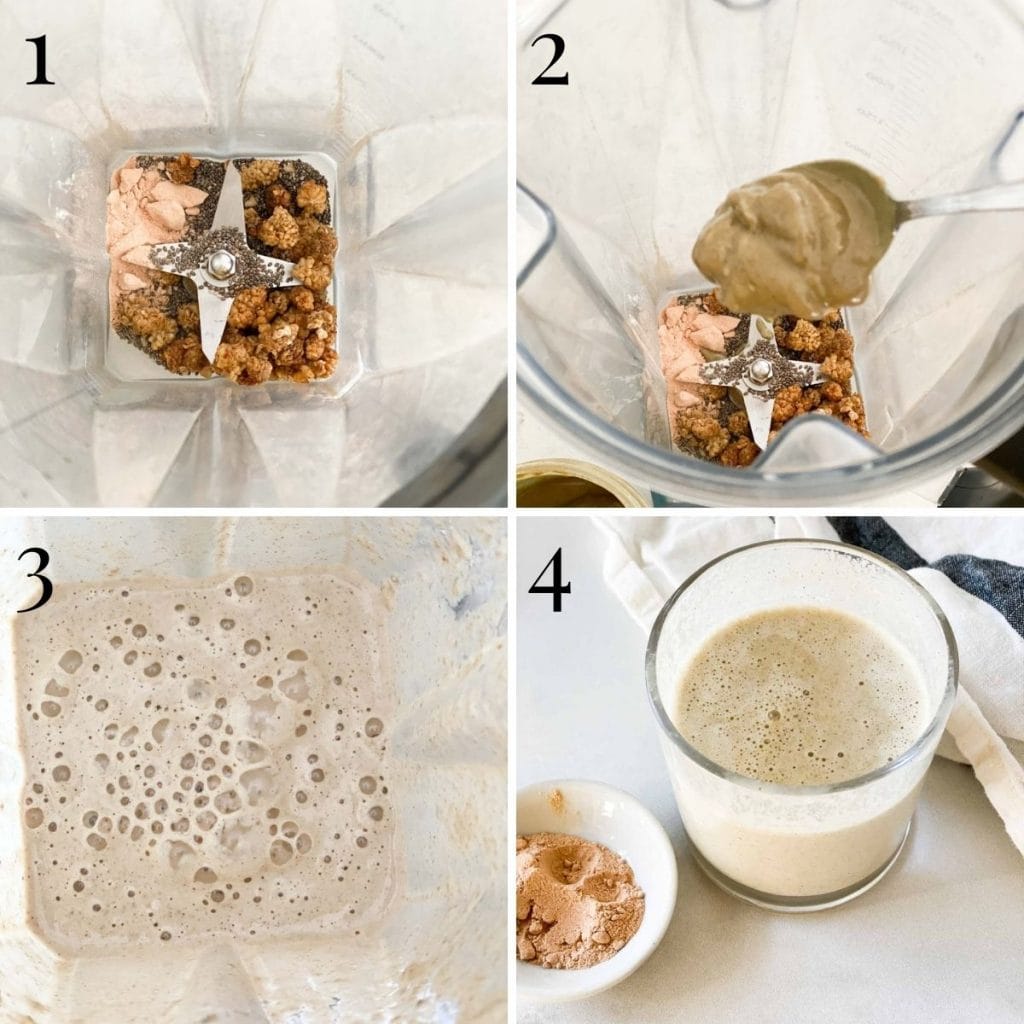 This smoothie is a little on the thin side, so using a good amount of ice helps to bulk it up a bit. Another option is to use frozen riced cauliflower, which just adds some creaminess and texture but the flavor is masked by the lucuma powder.
If you make this, tag me #thedizzycook or @thedizzycook on Facebook and Instagram. And if you love the recipe, please leave a review below! Follow along on my Pinterest for more great recipes.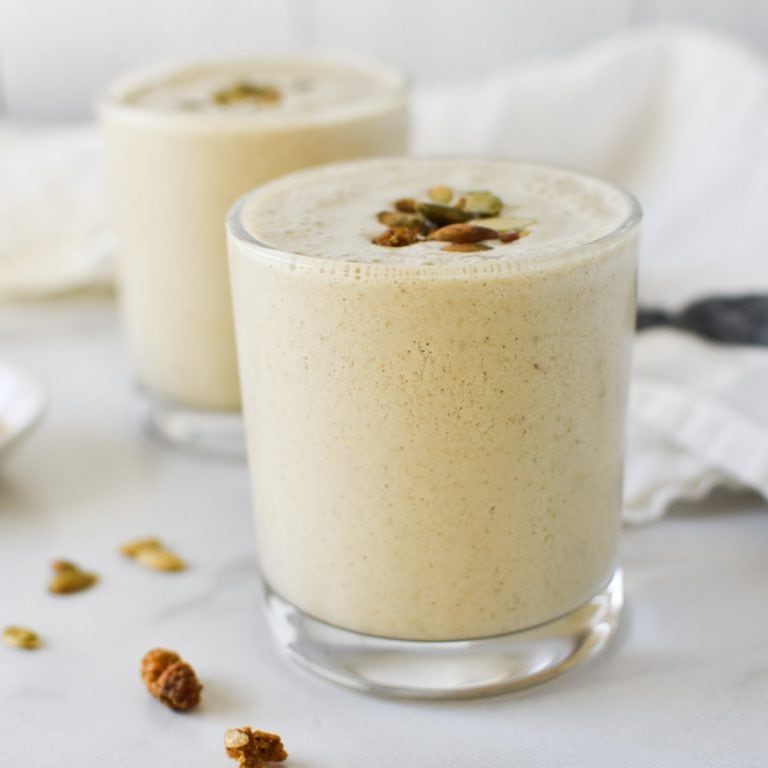 Pumpkin Seed Smoothie
An easy smoothie recipe with pumpkin seed butter for a toasted nut flavor and lucuma powder for a sweet, butterscotch-like highlight. This will be a new favorite breakfast that's filled with magnesium and Omega-3's!
Print
Pin
Rate
Ingredients
3

tablespoons

pumpkin seed butter

¼

cup

dried mulberries

1

tablespoon

lucuma powder

1

tablespoon

chia seeds

1

cup

oat milk (or any milk you like)

1½-2

cups

ice
Instructions
In a blender, combine the pumpkin seed butter, mulberries, lucuma powder, chia seeds, and oat milk. Blend until everything is smooth and creamy. Add ice and blend until smooth.
Notes
You can use toasted pumpkin seeds in this recipe instead of the pumpkin seed butter (you'll need to increase the amount by at least half), but I find the recipe to be most creamy and filling if you use pumpkin seed butter. My recommendations are making your own, 88 acres, or Sprouts.
For a thicker, creamy consistency, consider adding ¼ cup frozen riced cauliflower.
Nutrition
Calories:
429
kcal
|
Carbohydrates:
47
g
|
Protein:
15
g
|
Fat:
21
g
|
Saturated Fat:
3
g
|
Trans Fat:
1
g
|
Sodium:
139
mg
|
Potassium:
628
mg
|
Fiber:
14
g
|
Sugar:
25
g
|
Vitamin A:
512
IU
|
Vitamin C:
14
mg
|
Calcium:
459
mg
|
Iron:
6
mg