What happens when you find yourself in a fight to keep your career but also manage your health? Here's my story with navigating short term disability and FMLA with a migraine disorder, chronic illness workplace discrimination, and how I eventually ended up losing my job due to an unsupportive company.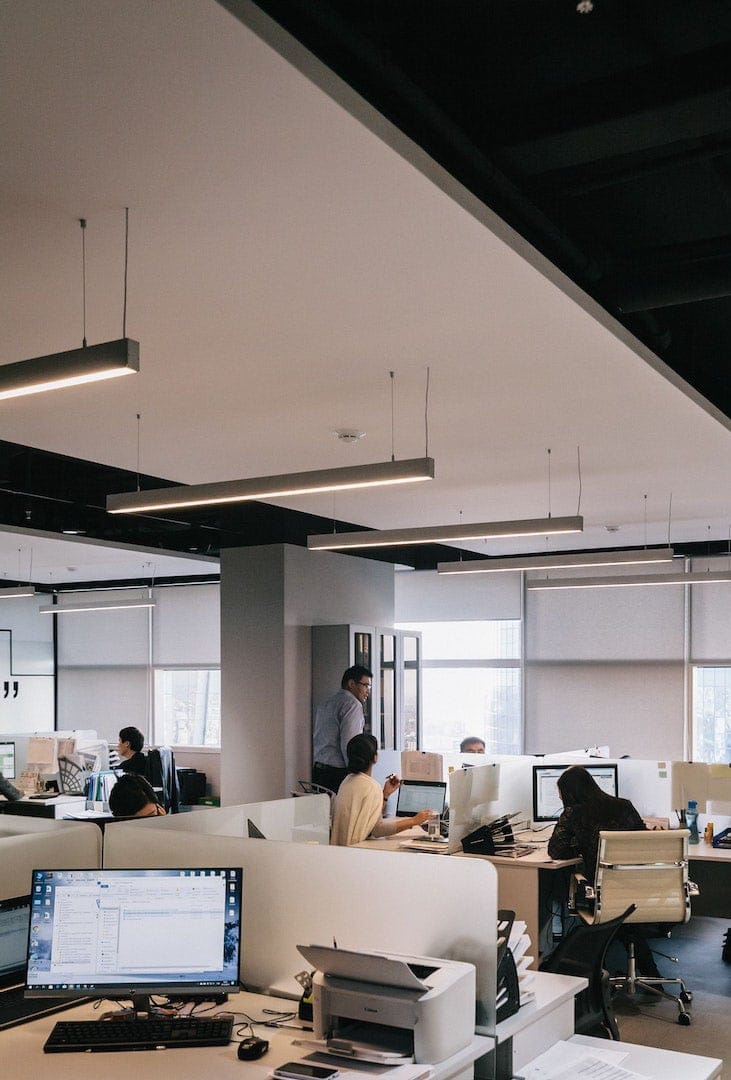 My Career in Fashion
I used to have the coolest job. Well, at least it sounded cool when I told people what I did. And my job was an awesome conversation starter at parties. Why? Because I feel like at one point in someone's life, they have owned a watch by my former company.
When I started out, it was my dream to work in fashion. To be in New York City. I found Project Runway super glamorous, but as a girl from the south, breaking into the fashion world wasn't easy. In fact, my first job in NYC canceled on me 2 weeks before I moved to the city. Apparently they were closing down the production of their house brand and decided to move fully to just being a boutique. Thankfully they gave me a list of names of brands they worked with and I made my way through each name, rejection after rejection.
The kind hiring manager at Tibi took pity on me and I was sent to their Soho shop to work in the sample room, making patterns and sample garments. It was rather glamorous. Not necessarily the work space, but the job in general. We had celebrities come in for fittings and I even worked on two of the dresses in the first Sex and the City movie. But regretfully I wasn't cut out for NYC. It all seems fun until you're walking down the street and wondering if the poop in the corner is from an animal or human. And I just wanted to ride the subway at rush hour without being pushed or rubbed up on. I missed my car, my personal space, and my own bathroom.
A Future in Watch Development
So I moved back to Texas where I found a job at a well-known watch company in Dallas during the recession. It wasn't without being super scrappy. I took the lowest level hourly job in e-commerce, which had nothing to do with what I studied. But it was a foot in the door. Eventually, after a year or two, I got hired into a salary job on product development for a brand that made diamond watches.
This was the dream…what girl wouldn't want to work with diamonds?! And I finally was back to being closer to the design world that I had left. I also had the dream team and we supported each other, with plenty of help when any of us needed it.
Corporate Changes
But eventually things changed. My company began laying people off and moving people around. Kate Spade was a newly acquired brand they wanted to impress, so my coworker (and friend) was moved to head up that team, leaving me alone on product except for our shared manager. This meant I not only had to manage watches, but all the strap sourcing and development that went along with it. It was a lot to handle, and I felt most days that I was barely keeping my head above water. The work was a load that 3 people used to handle, and now the majority fell on me.
I was overworked, underpaid, stressed out all the time, and generally miserable. There were a few months where I developed an ulcer due to the stress. My husband encouraged me to quit, but I had no idea where I would get hired that would be much different. There aren't many fashion jobs in Dallas. Plus I always felt like I was on the verge of being promoted to Senior Product Manager, which was all I could really think about. It felt silly to leave when I felt I was so close based upon the amount of work I was handling.
Migraine in the Workplace
But then it hit me like a ton of bricks – chronic vestibular migraine. Only I had no idea what it was. And because I was so stressed out over my job, a lot of doctors wanted to blame anxiety and stress for my feelings of dizziness and instability. They told me not to stress – but how on earth was I supposed to do that with the way my job was set up?
I had to leave often for doctors appointments, only for these doctors to give me the run around and send me off to another doctor who also had no idea. Thankfully my boss at the time, who I had worked with for years, was incredibly understanding. I worked from home for some days just cause a lot of my time was spent arguing with insurance, researching doctors, and calling constantly for appointment cancellations to get in earlier.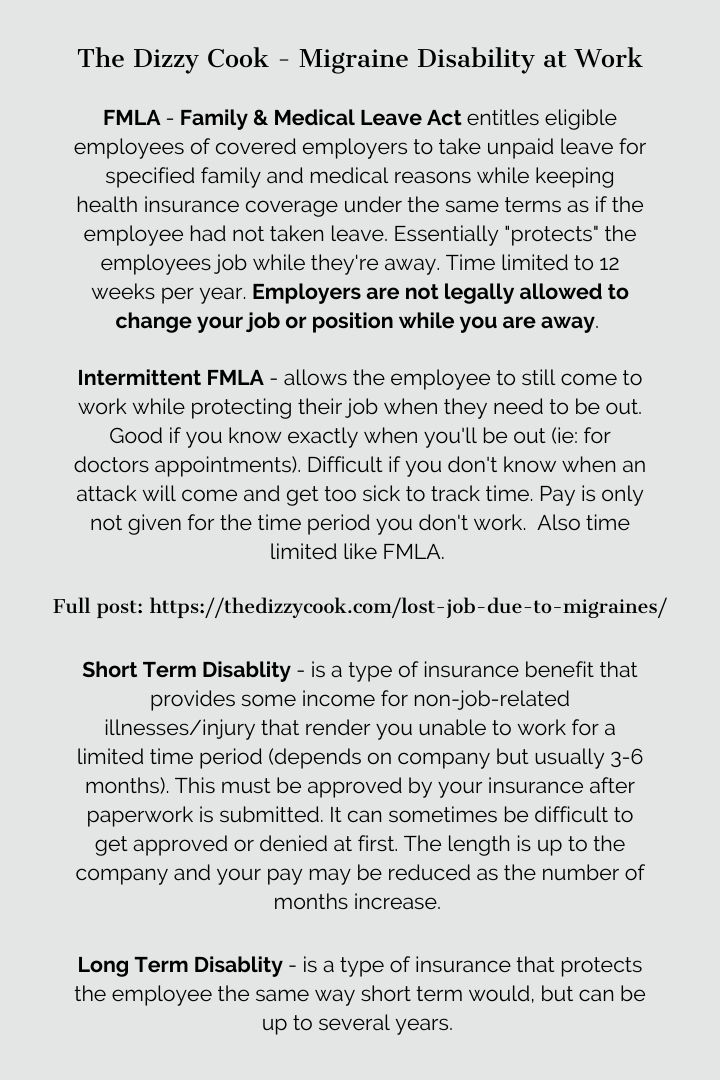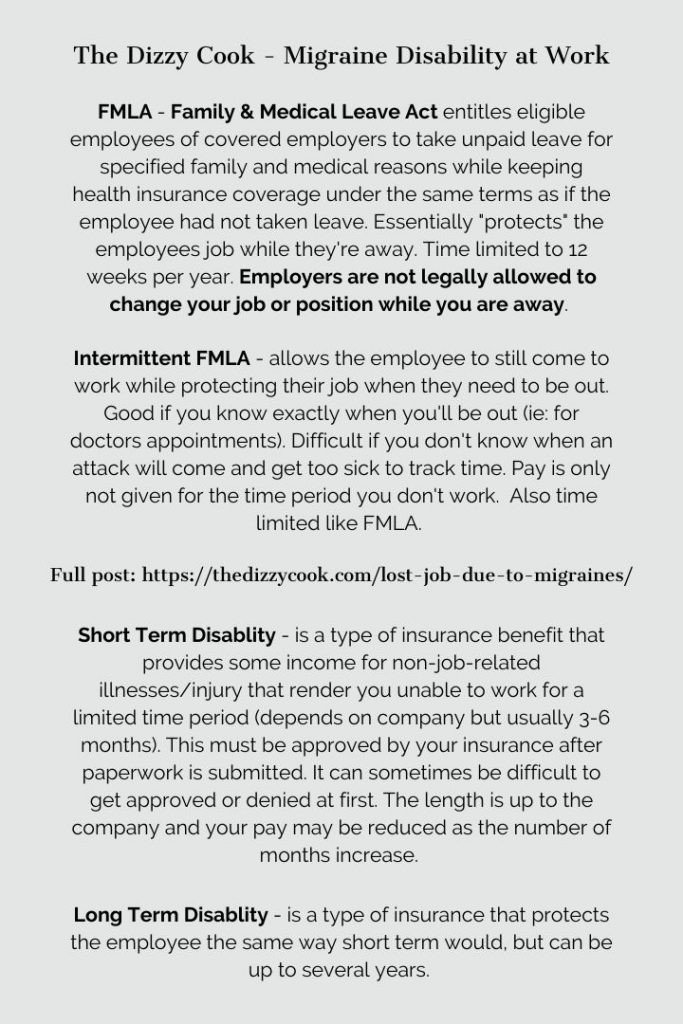 FMLA for Migraines
But as my symptoms got worse each day, I knew I had to stop driving. It was getting far too dangerous for me to be on the road, and I knew my husband couldn't take me in daily as we worked in total opposite locations of Dallas. Plus at this point, I could barely look at a screen without wanting to vomit, and all my work was done on a computer. I had to admit to myself that this wasn't just going to magically go away one night.
It was then I started looking into FMLA and finally got my HR department involved. FMLA is available to workers as a way to protect your job if you have any medical or family issues that come up. It's unpaid, but it's a guarantee that your work will hold your job for you while you go through a tough time.
FMLA Leave Approval
Getting approval on FMLA isn't very difficult, especially if you have a diagnosis. Unfortunately I didn't. My diagnosis was "stress, anxiety, potential MS, vestibular neuritis, possible perilymph fistula"…I got a new diagnosis any time I saw a different doctor.
This was my first issue with HR, but it wouldn't be my last. They needed a signed note from a doctor, stating why I couldn't come to work. This would all be dandy if I actually had a doctor that had a clue. And while I tried to explain this to HR, I could tell they were suspicious of me. What kind of person needs to take off work without a diagnosis? Or if they're just "stressed"?!
I had to beg and plead the ENT I was seeing to sign my papers so I could keep the FMLA, even though he had no idea what was wrong with me. I was also on a 6 month wait list for the only doctor in Dallas that had expertise in unexplained cases of dizziness, but couldn't be out of work for that long without a diagnosis.
Here's the thing about FMLA for migraines (of any type), is people will judge you. Since "migraine attacks" are often used as a quick excuse to take the day off, it's tough for people who don't experience it chronically to separate your debilitating symptoms from their occasional bad headache. And to them, why would anyone need FMLA for a bad headache?
The Challenge of Disability Approval
The worst part about dealing with FMLA and Short Term Disability is that so much of the work falls on the patient when they're already very ill. I had multiple calls with my insurance company and it became so confusing, I signed up for a free counselor that was offered through Cigna.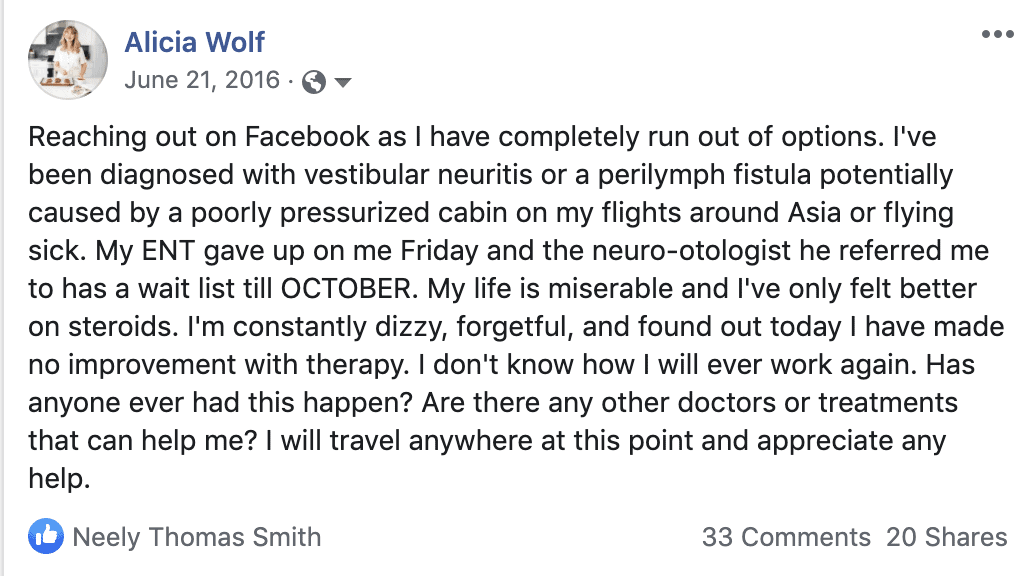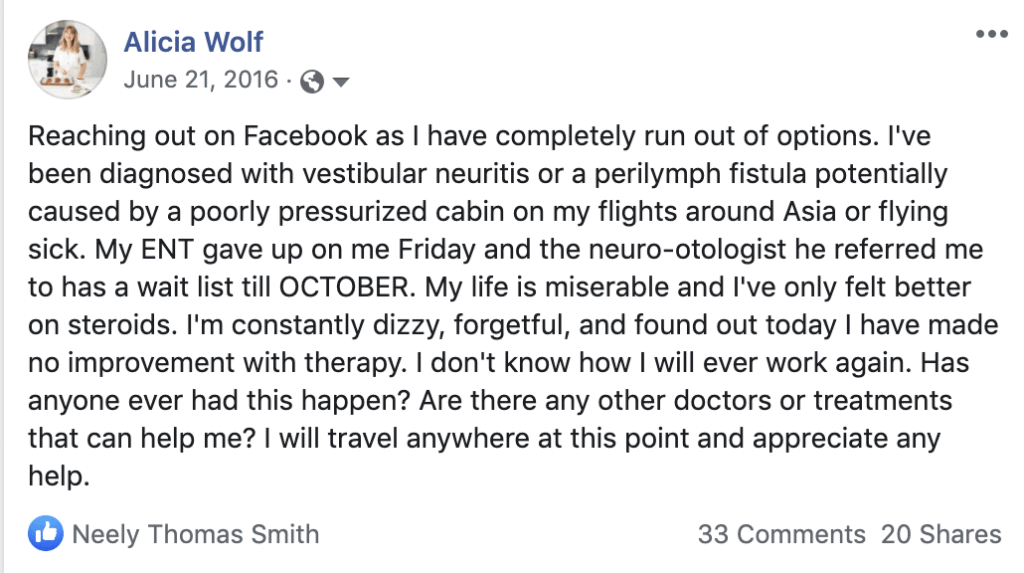 When I had reached the end of my rope trying to balance being out of work unpaid and still not having a diagnosis, I reached out to friends on facebook asking for help. One of my friends was able to connect me with a doctor at the Mayo clinic in Arizona, which I jumped at the chance for.
We had to drive 16 hours to make it happen as all the clueless doctors I had seen in Dallas recommended that I don't fly. The Mayo visit gave me an official, clear diagnosis. And just a few days later, another friend called to let me know that Dr. Beh, Assistant Professor of Neurology, Director, Vestibular and Neuro-Visual Disorders Clinic, University of Texas Southwestern Medical Center at Dallas (aka the one with the 6 month wait list), would squeeze me in.
I cannot emphasize how much easier life was with a diagnosis. UTSW had a whole department that managed these issues. They wrote me any letter I needed and got it signed by Dr. Beh almost immediately. This amazing institution was so used to coordinating with insurance and HR departments that I didn't have to call 5 times a day to check in that everyone had done their job, so I didn't lose mine.
Limited Pay with Lots of Medical Bills
Although first denied, my short term disability ended up being approved with the proper paperwork. So I was able to make a little bit of money while being out on disability, which helped pay some of my non-stop medical bills. Yet another downside of being out of work for an illness.
Short term disability is truly set up for maternity leave (and even then, it's not great for some), but not for anyone with long term health issues. You make a percentage of your salary, not even the full amount. And for someone who got hired during the recession and worked for 8 years to make less than $50,000 a year, it was nearly impossible to manage.
When Your Workplace Changes Everything
At this point, I was well underway with treatment, but I still was having daily symptoms. I knew that it was difficult on the people filling in for me, as I had been the only person. I knew that there was no way I was going to get that promotion to senior if I was out for months on end. Since I was already being passed up for promotions by people who were younger and had more help, I felt so much pressure to return quickly.
So instead of taking care of myself, I decided to return to work before I was ready. I was feeling ok at home, but didn't factor in all the things I would face in a workplace – florescent lights, smells, people, stress…
The moment I got back to work, I found out that my manager had been changed and my higher-end brand was no longer a separate entity, but would exist under the main mass-market brand. I was moving to an entirely different desk on a different floor and had a new team. But the new manager I was assigned was on sabbatical, so I basically had no one.
It should be noted here that it is totally illegal to make these kinds of changes to anyone on FMLA or Short Term Disability. Your workplace is supposed to keep your job exactly the same. But I didn't know this until I spoke with a lawyer after leaving the company.
When You Feel Unwanted Because of Your Illness
My new desk happened to be located right along a very busy walkway, under bright florescent lights, and my computer screen reflected a giant outdoor window. Literally no accommodations were made for me, but I also didn't know that I had the right to ask for them.
I kept my screen dim, tried to limit my screen time with bathroom breaks, and wore FL-41 lenses. A lot of people would walk by my desk, since it was so central, and laugh at me for wearing "sunglasses" inside.
The work I had missed for the past few weeks was never done because I had no real replacement, so I had to make up for my lost time along with managing a job I was already drowning in when I was healthy. I had multiple conversations with VP's, managers, Human Resources – literally everyone – about needing help, but no one ever made my needs a priority. They just kept telling me to wait, but months went by and nothing had changed. It became very clear that I was a burden, and they wanted me out.
All of this piled on top of this new illness I was trying to navigate was too much to handle. I began to slide back in my progress and feel worse. There will always been good days and bad days with migraine and vestibular disorders, but if you feel your progress sliding over the course of weeks, you really have to take a hard look at what changes you can make. My neurologist urged me to try Intermittent FMLA, which allows you to take time off as needed.
Chronic Migraine and Intermittent FMLA
The trouble with intermittent FMLA for migraine is you never really know when a severe attack is going to hit. And the last thing you think about when that attack hits is calling your insurance, and waiting on hold for 20 minutes just to tell them you're having an attack and had to step away.
There were many occurrences where I felt a severe attack coming on and had to leave work immediately to make sure I had time to drive home before it got too bad. There were some moments I didn't catch it in time. Often this lead to me forgetting the exact hours I had stepped away from my desk. Doctors appointments were no trouble to log, but these attacks were a different story.
One instance I remember was when I forgot to log my time precisely (I could only be sure of a general time) and I received a really nasty call from my HR department. Of course they always called, never emailed…that should have been a clue.
At this point, with pay being taken out for every missed hour at work, my pay became so small that I wondered if all of this effort was even worth it. However, my identity had been wrapped up in my work and the desire to be promoted for so long, I felt as though I couldn't leave.
Chronic Illness Workplace Discrimination
What made my chronic illness workplace discrimination completely obvious was I had another coworker who had been on a limited work schedule for almost 3 years. The first year was understandable, but it got to the point where we started realizing she was taking advantage of the system. It didn't affect me too much other than little annoying instances.
But when my turn for help came around, I was getting the book thrown at me with no special accommodations and no help. I'm seeing this other person who is probably paid double, if not triple, my salary have loads of accommodations and continue with full pay. When I brought this up to HR things went downhill fast. They knew I was on to them, and what they had done was not right.
Beware of Phone & In-Person Meetings
They started scheduling more in person meetings with me or would call me on my work phone, and they would never respond to my emails calling them out on different issues I was having.
One particularly stressful day when we got big news that certain watch movements were going away, I had a heated conversation with one of the VP's. Because they had moved my brand under this new tier, I was now working with people who didn't understand using high quality parts in watches, like Swiss movements. As I was trying to explain what this meant and why it was a big deal, I was called "stupid". This word is particularly hurtful to someone who is experiencing extreme brain fog and memory loss with their chronic illness.
The interaction upset me so much that I ended up with a horrible migrainous vertigo attack. I was in bed for days. When I returned to work, to everything that had been left for me to clean up, I walked straight up to HR and handed in my letter of resignation. I couldn't do it anymore. I was beaten, broken, defeated. They had won.
Life After Leaving a Toxic Work Environment
Obviously now, I look back and realize that I'm doing something so much greater. My salary is still low (ha!) but I'm my own boss now. And if anyone gets to call me stupid…it's me.
But this career was so hard to let go of. It was something I had wanted since I was a kid. I obviously never had dreams of being a chronic illness writer or advocate, but I do feel more fulfilled in one week than I ever did in years at my old job.
I feel appreciated and loved by my coworkers, which I consider to be you – my readers. They're kind, they're supportive, and they understand when I need to take a day off. I won't say that this is easy. I work about 10x harder now than I ever did at any old job. Answering questions and helping others on nights and weekends is the norm. And it doesn't come with the perks of overtime, or any pay at all. But to know you made a difference in someone's life, even just a bit, makes me feel validated.
An Improvement in Symptoms
I should also note that after I left my job, I had a huge improvement in my health. Lowering my stress and taking out the toxic people allowed for some of the other things I was doing, like diet, supplements, and medications, to really make a difference.
Stay tuned for my next article which will give you a much shorter version of the 5 things I learned from my experience with chronic illness workplace discrimination.
Resources:
FMLA for Migraines
American Migraine Foundation
Association of Migraine Disorders
Disability
Filing for Disablity
National Headache Foundation