Normally I don't discuss medications on this site, but on this World Brain Day which features the painful truth about Migraine, I wanted to share my very personal experience with timolol drops for migraine in case it may help others. I have been using timolol malate ophthalmic solution for the past three years as both a vestibular migraine preventive and, most recently, as an acute treatment.
When my doctor first prescribed this (like any curious patient) I took to the internet to search through everything I could about it. I checked all my migraine support groups, yet I could find nothing on timolol for migraines. It seemed like I was the only person in the world on this particular medication. Beta blockers in pill form, like propranolol, have been used for years to treat migraine disorders, yet this was a method that seemed to be rarely used.
At my next appointment with Dr. Beh, I asked him why he recommended it to me. He mentioned that there's a tendency for beta blockers to have greater side effects when in pill form, but as an eye drop it can be absorbed quickly into the blood stream, making a very small amount of medication highly effective. Used in this form, I could have faster relief but with lowered risk of side effects.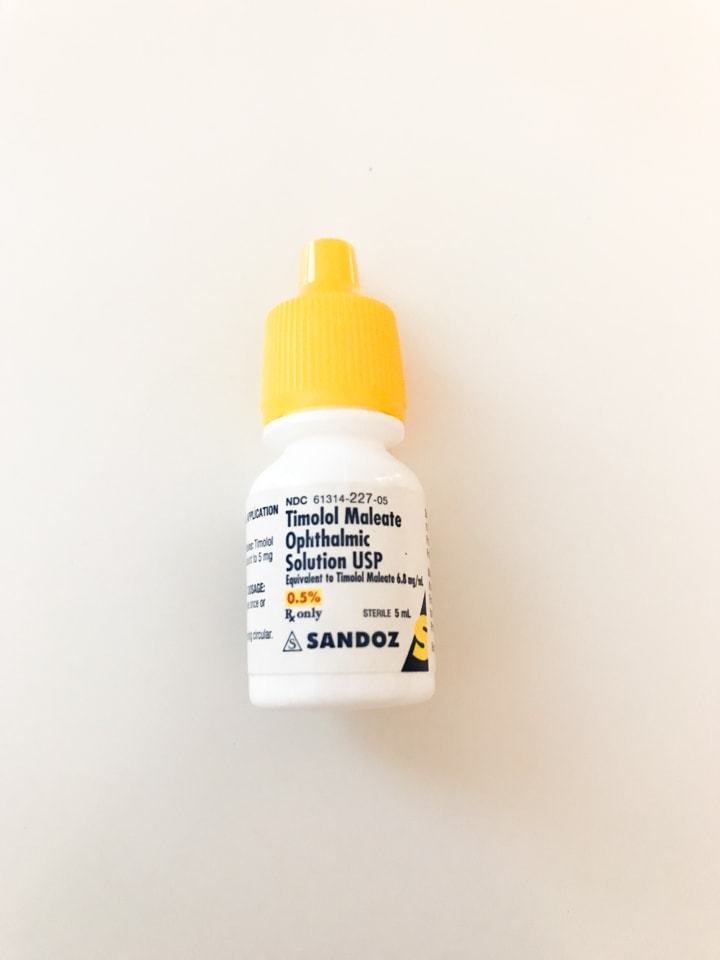 Timolol for Migraines
So why did it feel like I was the only person in the world on it? First of all there wasn't a ton of research on it, even though the research out there is positive, so a lot of the successful feedback came from Dr. Beh's own patients.
The other reason? Money. Pharmaceutical companies don't really want to invest in a drug that they cannot market. There's more money involved with all the new anti-CGRP treatments and Botox, which means more research. For a generic eye drop, it's not going to get a lot of attention or money invested into it. (If you check out this study, don't miss all the ads for anti-CGRP or Botox that surround it and you'll see what I mean.)
The Research for Timolol Malate
In studies, timolol has been found to be just as effective as propranolol in migraine prevention at 20-30mg a day. Yet with the oral dosage of beta blockers being the most popular prescription, it absorbs too slowly to be considered an acute treatment. Timolol received FDA approval in 1978 for the treatment of glaucoma, and when used as eye drops, patients would report the added benefit of a reduction in migraine attacks.
Ophthalmologists Hagen and Migliazzo put these observations together and published a study in 2014 in The Journal of the Missouri State Medical Association. Five out of their seven patients reported complete pain relief, while the other two reported a significant reduction in pain relief when used in their acute migraine attacks.
In 2018, a study of patients who met the International Headache Society's requirements for migraine received timolol maleate eye drops in 0.5% dosage, a single drop in each eye, at the onset of symptoms and once again 30 minutes after. The study took place over a 4 month period, where ten patients scaled their pain from 0 to 3, and rated the effectiveness of the drops when used for their attacks. Timolol was rated at a 2.4 in effectiveness when the placebo was rated at 1.4.
Four of the patients rated this treatment as highly effective and only one had an adverse reaction to the treatment. Of all the migraine attacks reported, 37 out of 55 had no symptoms to mild symptoms when the timolol treatment was used early.
Side Effects of Timolol Drops for Migraine
The current medications used in acute treatments, like NSAID's and triptans, come with a risk of rebound attacks when used too often. Since beta blockers are already used as a daily migraine preventative treatment, it's likely they wouldn't carry that same risk.
Side effects of traditional beta blockers can include lower blood pressure or an adverse effect on asthma. However, the dosages in pill forms are much higher than what can be taken in the eye drop form, meaning there would be a lowered risk of these potential side effects. Also, if taken as an abortive and not a preventative medication, some with low blood pressure find they can tolerate it well.
Since these drops are used often for glaucoma, it should come with little to no risk to the eyes, however a meeting with an ophthalmologist is always essential. In the beginning, I found the drops stung for a few seconds when first applied, yet it quickly went away.
Personal Experiences with Timolol for Migraine Treatment
I was prescribed the 0.5% solution with instructions to take it 2x a day, at night and in the morning. Then I could use it as needed for bad attacks. It did take a while for me to notice a reduction in symptoms, a couple of months at least. However, I was not the kind of patient who expected results overnight. I stayed the course and kept doing what I was supposed to. I think what helped me the most was combining these drops with other preventative measures, like the diet and supplements.
Now that my vestibular migraine is fairly well controlled, I use the timolol eye drops as an abortive or rescue medication. Just a drop in each eye when I feel my dizziness kick up seems to help ease my head a bit and lessen an attack. I find this is also true for my other friends with head pain associated with their migraine.
Eileen and Marina from Migraine Strong have been using them recently with a lot of success, especially when coupled with other abortive measures like ginger. Eileen says "I am excited to have the option of using Timolol because I haven't had a true abortive medication since my migrainous stroke in 2014. Timolol works to abort my attacks about 80+% of the time, including brain stem attacks. And it hasn't affected my low blood pressure which was a concern for my headache specialist when he prescribed it. I am super happy with Timolol as an acute medication."
Talking to Your Neurologist about Timolol Drops
If you're curious to try this treatment, I recommend printing out all the studies and approaching your neurologist about it. The feedback I typically hear is that they have either never heard of this, or the trials weren't large enough to prove anything significant. While that might be true, there are lots of treatments when it comes to migraine, especially vestibular migraine, that aren't backed by massive studies. I feel that it's these small, yet very positive, studies that can make a huge difference in some of our lives. It certainly did for me!

Referenced materials:
1. https://www.ncbi.nlm.nih.gov/pmc/articles/PMC6312165/
2. https://jamanetwork.com/journals/jamaneurology/article-abstract/2680666
3. https://headaches.org/2016/07/01/use-beta-blocker-ophthalmic-solution-treatment-migraine/
4. http://www.clevelandclinicmeded.com/medicalpubs/diseasemanagement/neurology/headache-syndromes/
5. https://www.ncbi.nlm.nih.gov/pubmed/2879629
6. https://www.neurologylive.com/clinical-focus/timolol-migraine-shows-efficacy-abortive-therapy