These cinnamon overnight oats are an easy basic recipe that is high in protein! Made with oats, cinnamon, chia, and cottage cheese, they're thick and filling with lots of fall-spiced flavor.
Overnight oats with cinnamon makes the perfect gluten free breakfast that's easy to meal prep! While overnight oats are one of my favorite recipes, they can get boring easily. With this recipe, it's not super complicated with a bunch of extra fruit, just a solid cinnamon overnight oats recipe.
This recipe contains omega-3's to boost brain health, protein to keep you full, and lots of delicious flavor, these cinnamon overnight oats are sure to become a weekday breakfast favorite.
And if you really love anything cinnamon-flavored, don't miss my Cinnamon Oat Muffins, Cinnamon Scones, or warm Cinnamon Milk.
Jump to:
Overnight Oats with Cinnamon
This recipe is my go to when I'm not feeling well or just need something easy and quick for breakfast or any meal, really. I struggle with nausea on some days and depending on the severity, overnight oats hit the spot. But sometimes I just want a simple recipe for overnight oats, and not one that's dressed up like a cinnamon bun.
That's where I love these cinnamon overnight oats. They have a great flavor and texture, but also can come with a few health benefits! Here's why you'll love overnight oats with cinnamon:
Super creamy - These overnight oats are thick and creamy, making them a little more substantial than plain oatmeal.
Easy to meal prep - A big batch of these can last all week in the fridge for a quick grab and go breakfast.
Customizable - This recipe is a great basic recipe that can be used with lots of different toppings.
Dairy free and gluten free - Perfect for those with additional dietary restrictions.
Brain healthy - Cinnamon supplementation has shown to reduce severity and frequency of migraine headaches. It's also anti-inflammatory!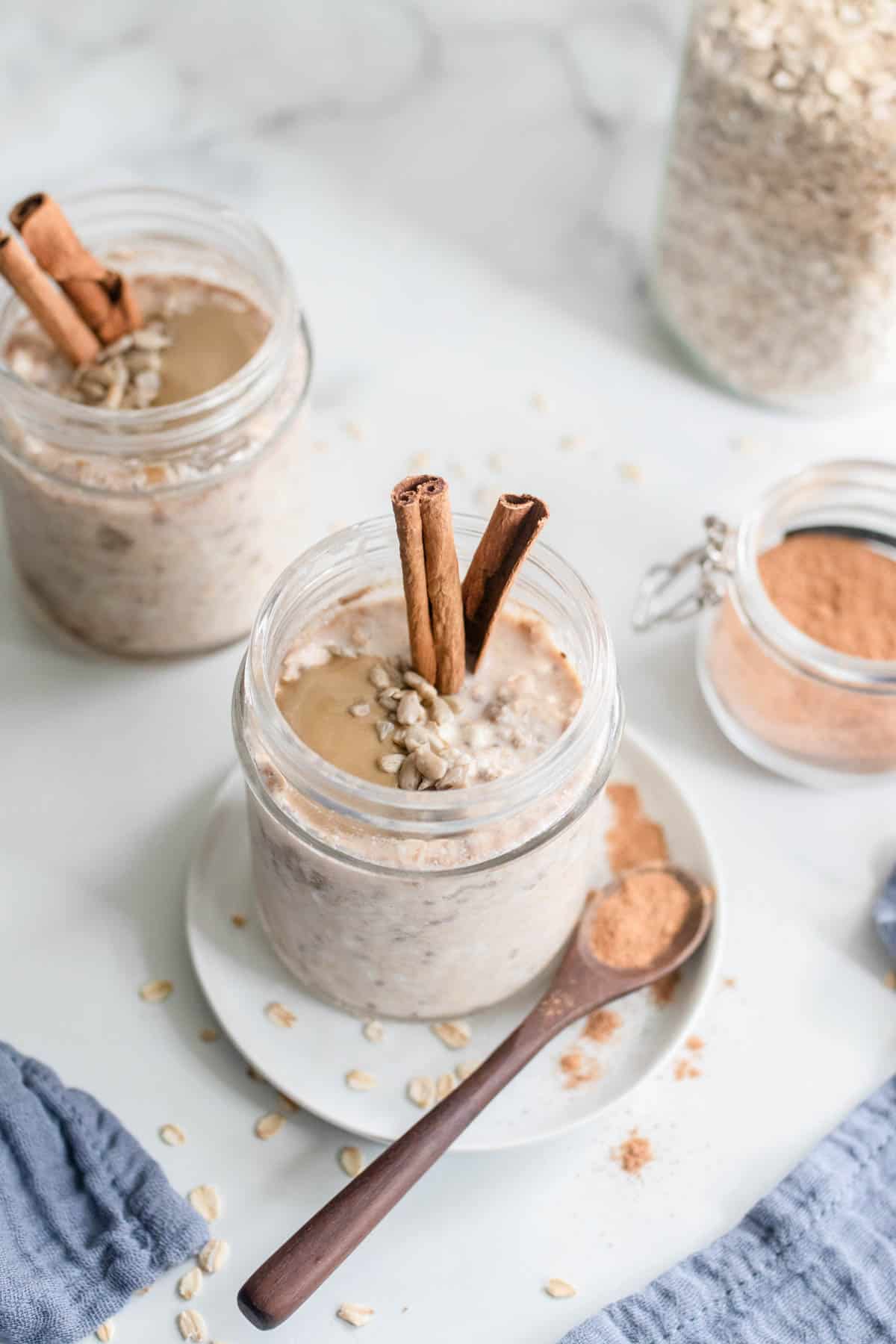 Cinnamon Options
If you're using cinnamon in overnight oats, there are two options. Both are harvested the same, beneath the bark on trees, but have different taste, smell, and properties.
Ceylon cinnamon - Native to Sri Lanka, this kind is very mild in flavor. It's believed to have an effect on blood sugar management and other health benefits. It would be great in these overnight oats!
Cassia cinnamon - This is the cinnamon you're probably most familiar with. It has a more intense flavor and can even vary by location - Indonesian being the most mild, Saigon being the most intense and fragrant.
It is not stated what type of cinnamon was used in the 2020 study on the effects on migraine attacks, but both types contain healing properties.
Ingredients
Rolled oats - These are just your basic oats you can get from Quaker or Bob's Red Mill. Do not use steel cut or quick cooking oats for this recipe.
Cinnamon - Use whatever you like best between Ceylon and Cassia. You could also substitute this with cardamom or pumpkin spice to mix it up!
Milk - Any type of milk will work - dairy milk, hemp milk, oat milk, seed milk.
Chia seeds or Flaxseed - These will thicken the overnight oats and also add some great benefits. Both contain omega-3's for brain health.
Cottage cheese - Needed for a super creamy texture and also adds protein!
Maple syrup - This adds some sweetness but is entirely optional. I would omit if your milks have any kind of added sweetener or if you use all oat milk. Choose whatever kind of maple syrup is your favorite.
Toppings - I like to use sunflower or pumpkin seeds, and sunflower seed or pumpkin seed butter. This granola would also be delicious.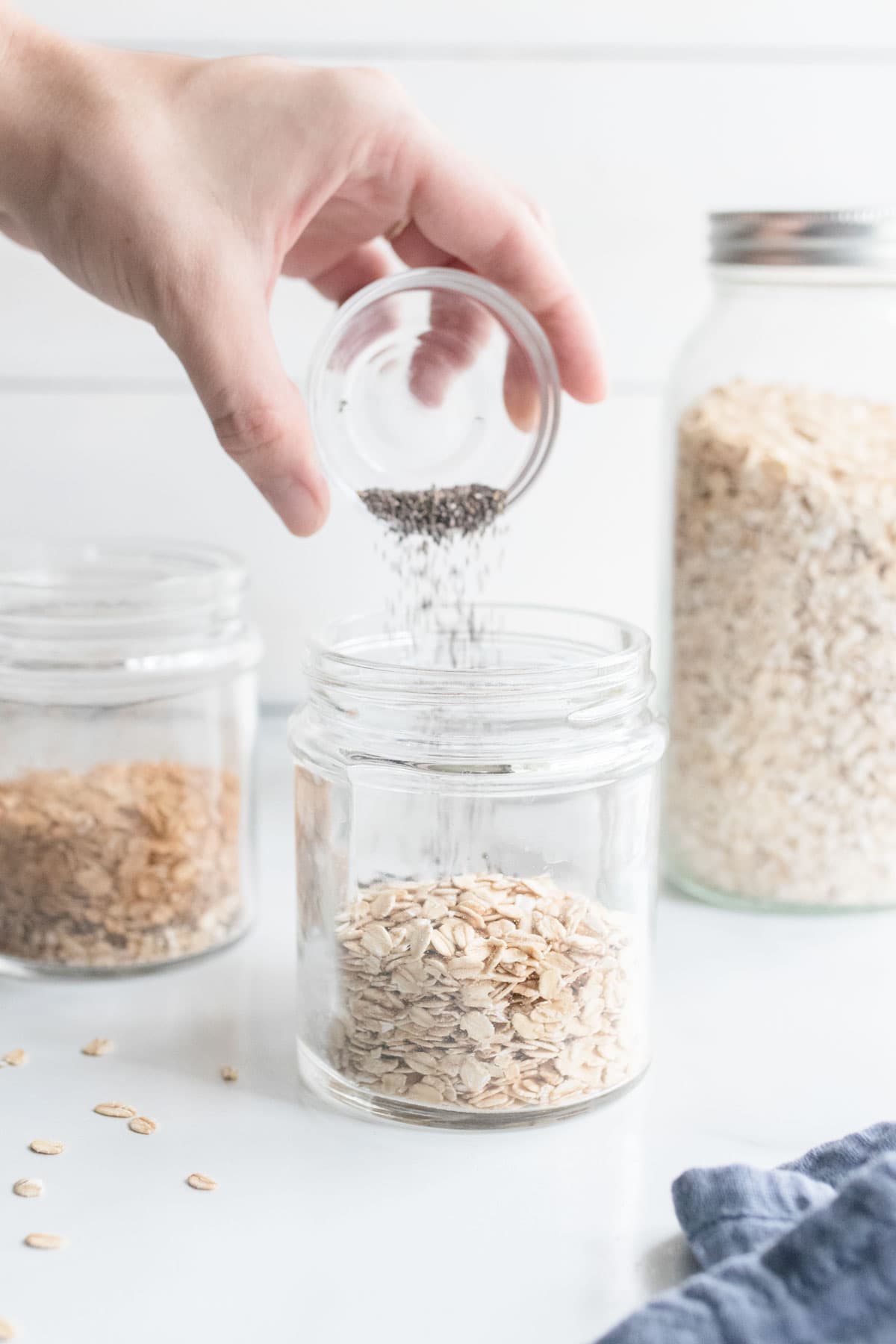 Flaxseed in Overnight Oats
Adding flaxseed to your overnight oats can increase the fiber content and also add a boost for brain health, especially for those who experience migraine attacks. A diet high in omega-3 fatty acids has been shown to aid in reduction and severity.
Flaxseed contains protein, fiber and magnesium, which all benefit brain function. This is a great recipe to add it to! Chia seeds add similar properties as well.
How to Make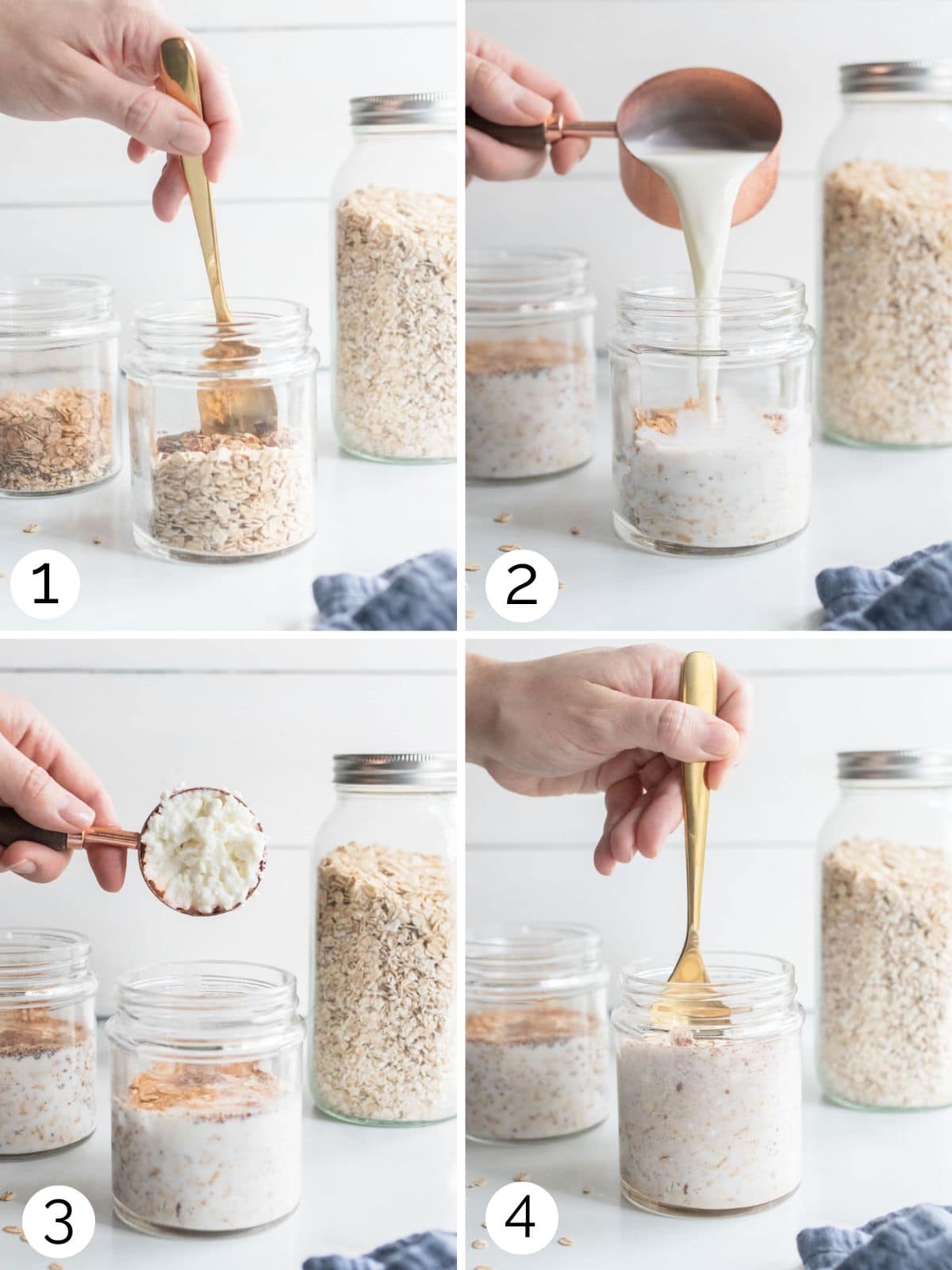 Step 1: Combine Ingredients
Add oats, cinnamon, and seeds to individual jars, or one big glass jar.
Step 2: Mix in milk
Mix in the milk, cottage cheese, and maple syrup, if using. Also add any seed butters here to stir in.
Step 3: Chill
Allow the cinnamon overnight oats to chill at least 2 hours, or overnight.
Step 4: Additions
This is the perfect time to add any additions to the top, from granola to seeds and even chopped apples, there are lots of ways you can mix up this recipe. To boost protein, consider adding a protein powder to the mix.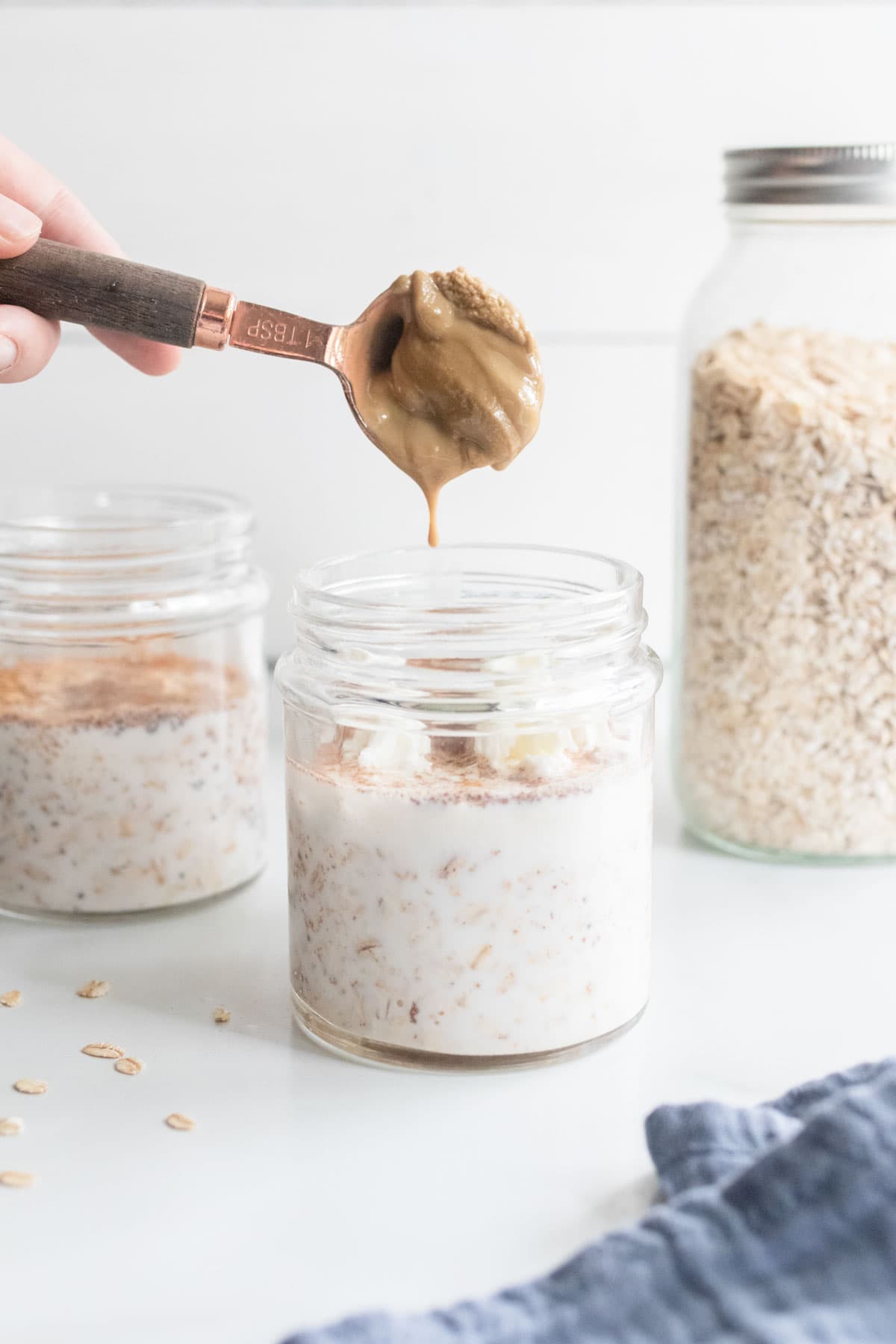 Recipe Tips
This recipe makes incredibly thick coconut overnight oats due to the cottage cheese. With the oats, you don't notice the texture, but you can also use whipped cottage cheese. A lot of recipes use too much liquid, which makes them mushy instead of creamy.
You must use rolled oats - not steel cut. Using those will produce a different texture.
Make these in one large bowl and then after chilling, spoon the oats into individual mason jars or storage containers for meal prep.
Low histamine? No problem. Replace the cinnamon with ¼-1/2 teaspoon of cardamom.
Toppings for Cinnamon Overnight Oats
Because this is such a simple overnight oat recipe, here are a few different toppings I like to add to spice it up.
Seeds - Pumpkin seeds or sunflower seeds, or any kind of nuts, if tolerated.
Granola - Buckwheat granola or nut-free.
Apples - Chopped honeycrisp apples are delicious!
Pumpkin - Stir in a spoonful for pumpkin spice oats.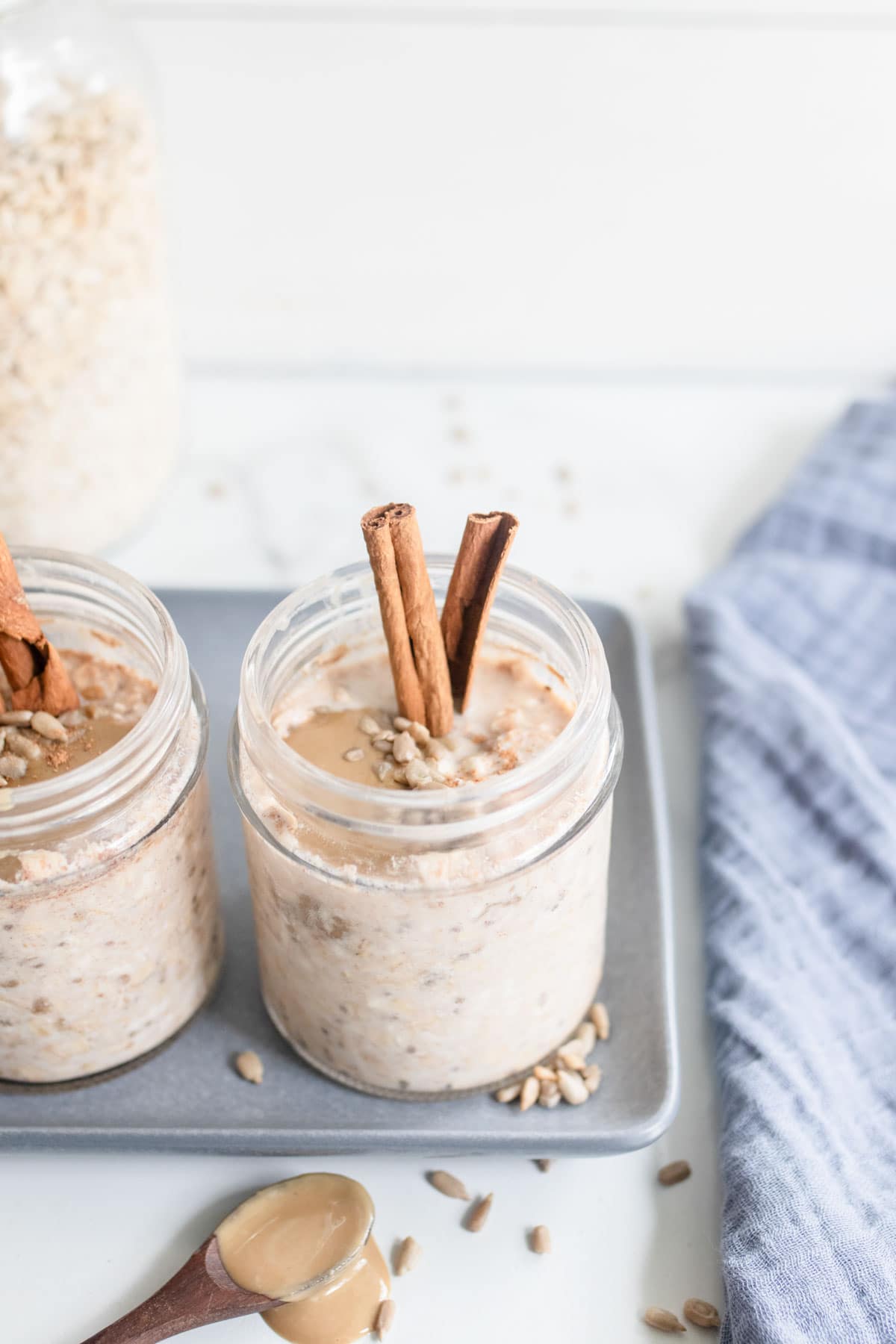 Frequently Asked Questions
Do oats raise blood sugar?
Yes, consuming oats with lots of sugar and no way to balance it will spike blood sugar. This is why we add healthy fats and protein to balance it - omitting the seeds and cottage cheese would leave this unbalanced.
How can I add more protein?
Mixing in your favorite protein powder would be great here, and it works well to do it with the dry ingredients, then stir in the milk. Sometimes protein powder can make overnight oats gritty, so go easy on how much you add if texture is important to you.
Why not use water with overnight oats?
Milk adds flavor and a creamy texture to the overnight oats. The cottage cheese also makes the texture thick and creamy versus runny and watery.
How can I make low sodium overnight oats?
If you cannot find a low sodium cottage cheese that will work for you, you can use yogurt (if tolerated) or simply omit the cottage cheese. The texture just won't be as thick.
Overnight Oats Recipes
If you love these cinnamon overnight oats, check out these recipes! All perfect for meal prep.
If you make this, tag me #thedizzycook or @thedizzycook on Facebook and Instagram. And if you love the recipe, please leave a review below! Follow along on my Pinterest for more great recipes.
Cinnamon Overnight Oats
A blend of simple overnight oats and cinnamon makes this a delicious and easy breakfast or snack.
Print
Pin
Rate
Ingredients
½

cup

old fashioned rolled oats

1

teaspoon

chia or flaxseed

½

cup

milk of choice

¼

cup

cottage cheese

½

teaspoon

cinnamon

1-2

teaspoons

maple syrup

1

tablespoon

Optional: sunbutter
Instructions
Add oats, cinnamon and seeds to jars. Add protein powder here, if using. Then add milk, cottage cheese and maple syrup, if desired. Mix till fully combined.

Cover the oats with a lid and place in the fridge for at least 2 hours or overnight. Top with any favorite toppings like granola, seeds, apples, etc.
Notes
This recipe can easily be doubled or tripled using the sliding bar to meal prep for the week. It will last up to 5 days in the refrigerator.
Great toppings include - more cottage cheese, seeds, nuts (if tolerated), chopped apples, and granola.
These cinnamon overnight oats are the perfect recipe for days you don't feel like cooking! Make sure to keep the cottage cheese in there for protein balance, or add in a favorite protein powder.
For gluten free, use certified gluten free old fashioned oats. For dairy free, use any dairy free milk you like and dairy free yogurt instead (if tolerated) or omit the cottage cheese entirely. For low sodium, use low sodium cottage cheese or omit. Consider replacing with protein powder.
Nutrition
Serving:
1
container
|
Calories:
258
kcal
|
Carbohydrates:
30
g
|
Protein:
13
g
|
Fat:
9
g
|
Saturated Fat:
2
g
|
Polyunsaturated Fat:
4
g
|
Monounsaturated Fat:
2
g
|
Cholesterol:
9
mg
|
Sodium:
193
mg
|
Potassium:
284
mg
|
Fiber:
6
g
|
Sugar:
2
g
|
Vitamin A:
322
IU
|
Vitamin C:
0.1
mg
|
Calcium:
230
mg
|
Iron:
3
mg