This guest post is courtesy of Jennifer Bragdon, "The Dizzy Baker", who I am thankful for each and every month! You can find all of her fun recipes and Vestibular Migraine tips here. I also encourage you to read her path to recovery. Jennifer is an administrator for one of my favorite migraine support groups, Migraine Strong, and a fellow vestibular migraine warrior. These muffins look absolutely perfect to have prepped and ready for Thanksgiving morning. That way when your father complains "I'm hungry!" from the couch while watching football, you can just chuck one of these at his head.
For more Thanksgiving recipes see the following and stay tuned for the rest of the week!
Homemade Green Bean Casserole
Allergy Friendly Pumpkin Pie Bites
Ricotta & Butternut Squash Toasts
Easy Pumpkin Sage Pasta
Pumpkin Cookies with Cream Cheese Frosting
Pumpkin spice seems to be the star of fall recipes and it hogs all the love and attention. I thought I'd shine a light on another festive flavor of the season – the cranberry! It's an under rated fall flavor, don't you agree? We most often see it paired with orange in muffins, but since that's a common migraine trigger (with the help of Alicia) I decided to pair it with pomegranate instead. And, you guys, it's a HUGE success. These muffins are light, fluffy, and packed with flavor while having just a hint of cinnamon. The burst of the tart cranberry as you bite into them is so stinking good. You must give this one a try. If you'd like a little more pomegranate flavor, try adding an optional pomegranate glaze as well. Just mix 1/2 cup confectioners sugar and 1 1/2 tablespoons pomegranate juice to drizzle on top of cool muffins.
In last month's post, I promised to include a few alternative/natural treatments for managing vestibular migraine. When I first met my neurotologist, he told me my goal in life was to calm down my hyper-responsive, hyper-sensitive Migraine brain. All of the treatments I mentioned last month worked well for me, but here are some other fun strategies to try as well.
The Calm App – Calm is a subscription based app that promotes relaxation through guided meditations, sleep stories, nature images and sounds. Meditations last 3 to 25 minutes and they have topics such as anxiety, sleep, mindful eating, self esteem, worry, kindness, gratitude and more. It's well worth the small subscription price in my opinion. There's even a free, limited version you can download to try it out.
Forest Bathing – This is a Japanese technique that involves sitting in the forest or surrounded by greenery. Spending time in nature can heighten your intuition, lower stress, increase the immune system, and boost your overall health. Finding a relaxing, natural space can also help you get in some much needed exercise. A recent Stanford study determined walking just 30 minutes in nature to be as effective as an SSRI in treating mild depression. So if Vestibular Migraine is getting you down, find your natural, happy space. I recently started walking 2 miles in nature every day and last month I had only one vestibular migraine attack – score one for Forest bathing!
Creative Experiences – Creative therapy works by helping you to slow down the mind, increase concentration and feel more present. Art induced mindfulness comes with proven health benefits for pain relief, anxiety and depression. Forms include music, art, dance, writing and baking. 😉
5, 6, 7 Breathing – Yep, I totally made that up and I love, love, triple love it! Deep breathing is a simple way to relax, reduce stress and calm down. To do it, inhale slowly for 5 seconds. Hold that breath for 6 seconds. Exhale slowly for 7 seconds. This is a great technique to help you fall asleep at night too.
Mindfulness – Mindfulness is getting lots of buzz lately in the Migraine community. Simple relaxation techniques can help reduce stress, increase calmness and even prevent migraine attacks. It is defined as paying attention in the moment without judgement. Mindfulness can help you slow down and become aware of your thoughts and feelings. This is important to keep us from dwelling on the past or worrying about the future.
Aromatherapy – You can help to improve your mood and physical wellbeing by using aromatic plants and essential oils. Typically, these scents are not triggering (like synthetic fragrance) for those with migraine. Oils can be used throughout the home in a diffuser or on targeted points on the body, like temples or wrists. I like to use them under my nose to help mask triggering fragrance I come across throughout the day. My favorite scents are peppermint, lavender and cinnamon. I love MigraSoothe roll on which is easy to find at most drug stores, Whole Foods and Amazon for around $7.
And since Thanksgiving is a time for reflection and expressing our gratitude, I can't go without saying how thankful I am for the opportunity to pop in each month to connect with each of you. Vestibular Migraine can be tough, but people with VM stick together and make it bearable. I'm grateful to have found a group of people who understand, without explanation, what it means to be diagnosed with this disease. I am grateful for all of the support and inspiration from VM-ers that live just on the other side of my keyboard. Wherever you may be this holiday season, know you are never alone. Happy Thanksgiving!
xo – Jennifer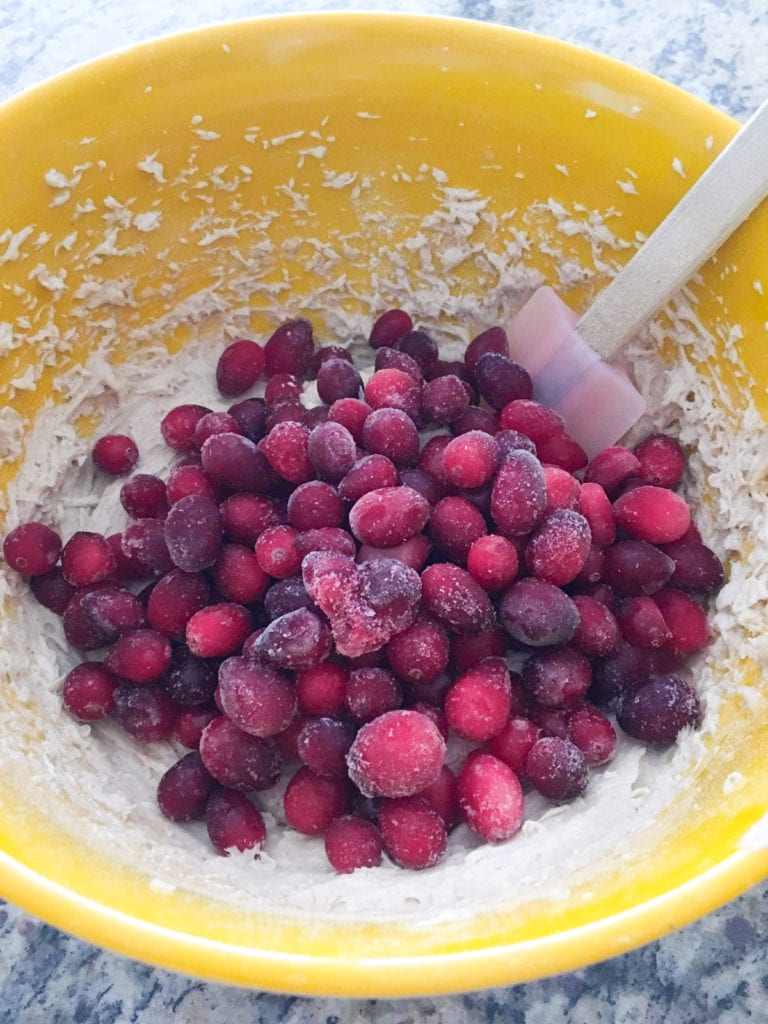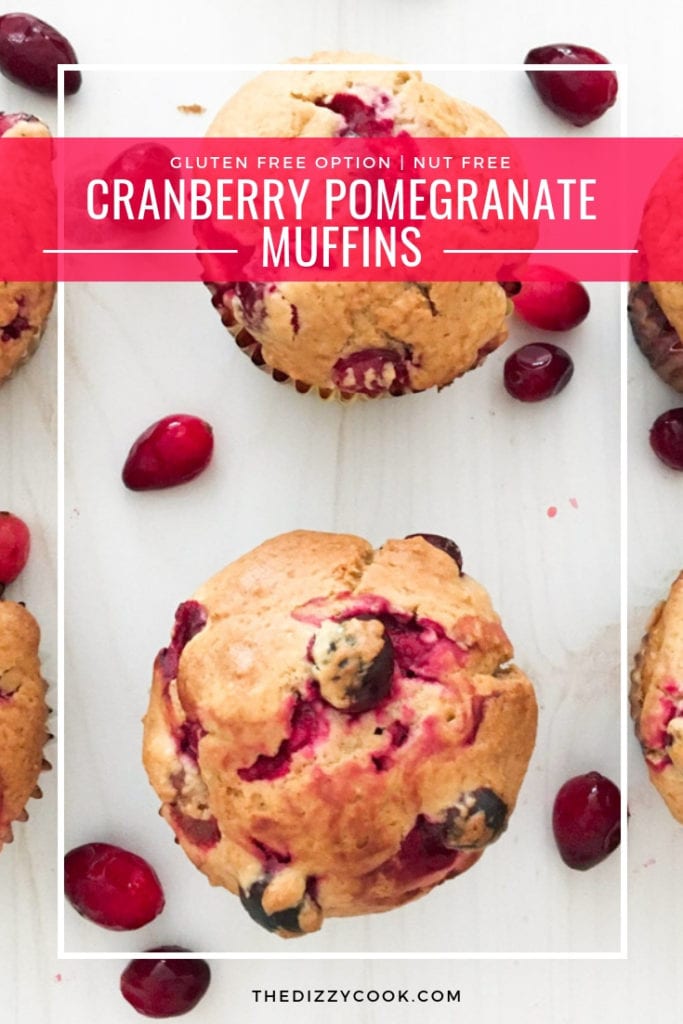 Cranberry Pomegranate Muffins
These muffins are great for a quick fall or holiday breakfast. Freeze them and reheat for later! Gluten free option available.
Print
Pin
Rate
Ingredients
4

oz (1/2 cup)

unsalted good butter like Kerrygold, softened

*To soften butter, place it on the counter an hour before baking

3/4

cup

organic cane sugar

2

large

eggs

1

tsp

vanilla

1/2

tsp

cinnamon

2

cups

all purpose flour

*For gluten free use 1 cup Arrowhead Mills organic oat flour & 1 cup Bob's Red Mill brown rice flour

2

tsp

baking powder

1/2

tsp

sea salt

7

tbsp

whole milk (this is nearly 1/2 cup)

1

tbsp

pomegranate juice

2

cups

frozen cranberries (do not thaw)
Instructions
Take your butter out of the fridge about an hour or so before starting the recipe. Preheat oven to 375. Line 12 well muffin pan with paper baking cups and set aside.

Combine dry ingredients and stir. Add butter, eggs, vanilla & milk and mix on low just until combined. Once thoroughly combined add cranberries and hand stir. The key to fluffy muffins is not to over mix.

Fill each lined muffin cup with batter all the way to the top. Sprinkle with sugar for a crunchy muffin top.

Bake for 40 minutes. Check with toothpick to be sure center is cooked through. Cool 20 minutes before serving.