These stuffing balls are perfect for a holiday side dish as everyone gets their own serving! They are one of my most popular recipes with readers because they are simply so delicious. I promise these will become one Thanksgiving recipe you'll come back to year after year.
No fussing with large casserole dishes or dealing with dried out turkey stuffing, these vegetarian stuffing balls are easy to make ahead. And even without sausage, they're not lacking in flavor! They compliment other dishes without being overpowering.
The best part about these stuffing balls is they're so easy to make ahead. I'll prep these 2 days before Thanksgiving or Christmas and just warm them in the oven before serving. One less dish you have to make the day of? Awesome!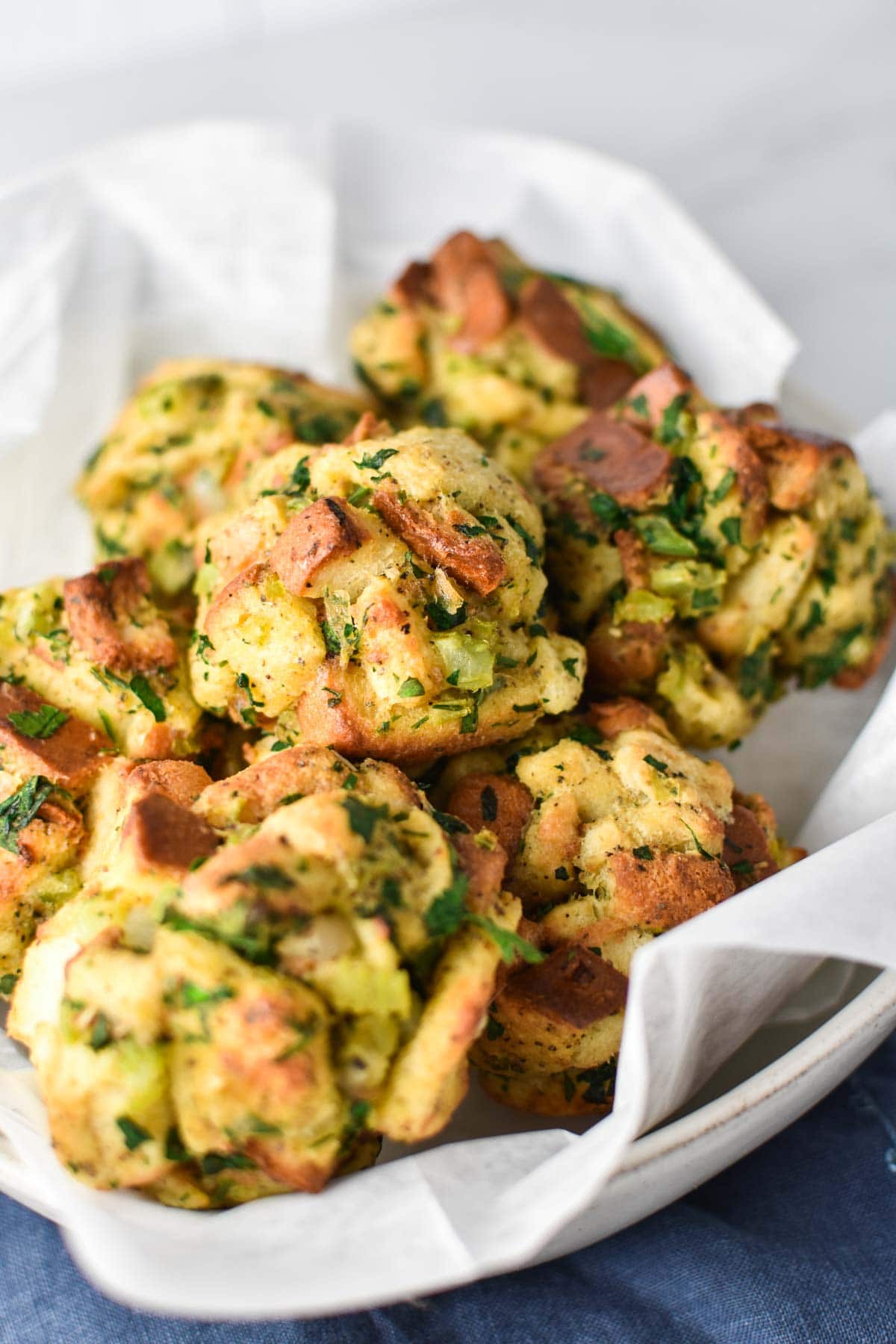 Jump to:
The Best Vegetarian Stuffing
Isn't it great how some recipes are so nostalgic that the second you take a bite, it just transports you back to a certain memory? The second I tasted these stuffing balls, it brought me back to holidays at my grandmas. This is a family recipe that we have almost every holiday.
They're easy to make, packed with flavor, and the bread gets kinda crunchy on the outside but soft on the inside. Every year my aunt makes these if we visit for Christmas and I couldn't help but take two...or five. I'm not sure of her exact recipe, but I'm pretty sure it's adapted from an old Taste of Home cookbook or magazine.
Now I love to make them for my family at Thanksgiving (and they are ALWAYS a top request), and they're so perfect for a Friendsgiving. The best part is as a vegetarian stuffing they are still really light, making them the perfect side dish.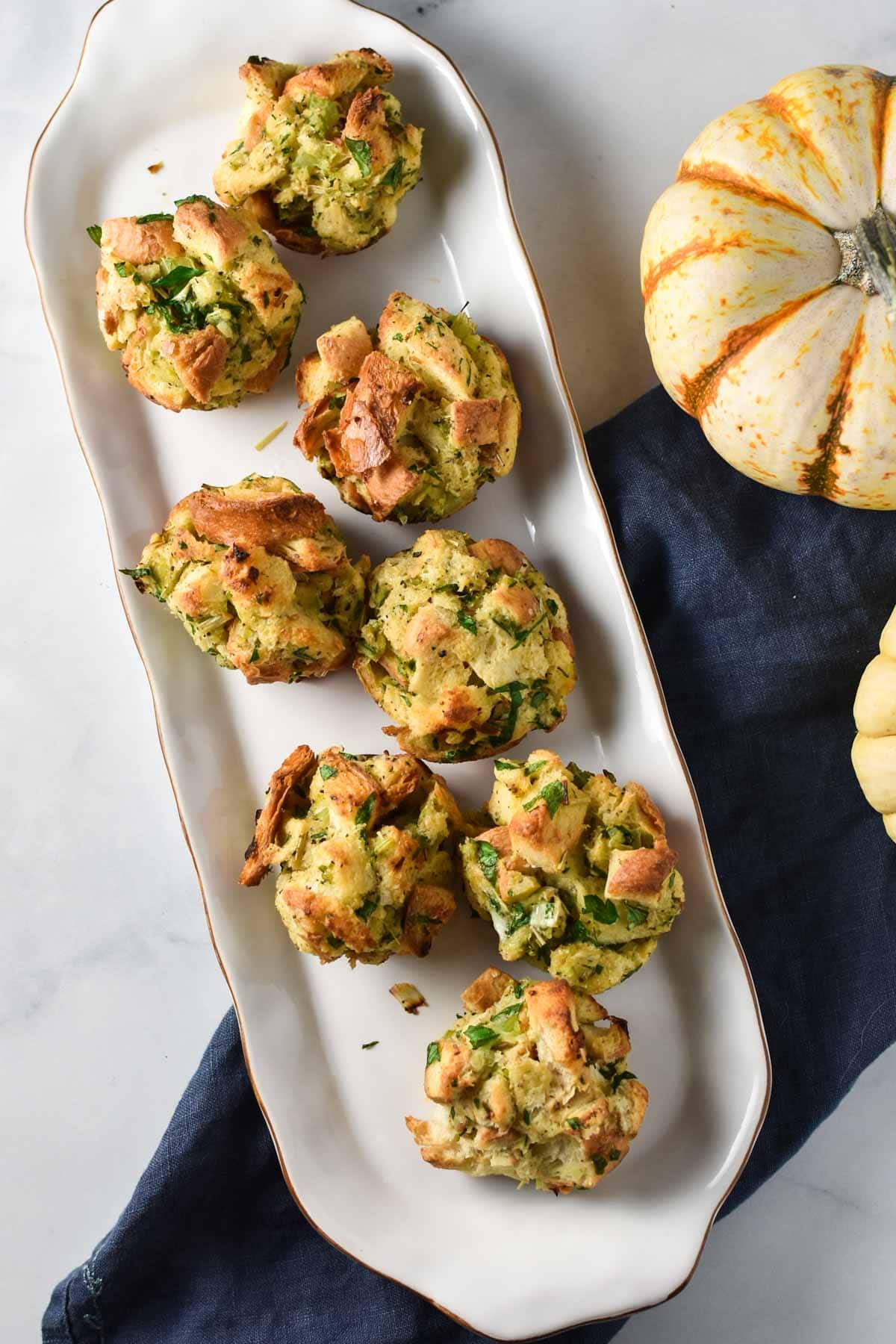 Why You'll Love Stuffing Balls
If I didn't already sell these in the intro, let me give you a few reasons why you shouldn't miss out on this stuffing recipe.
How to Prep Stuffing Balls for a Crowd
This recipe makes 8 balls and in my experience, it is never enough. I try to plan for at least 2 balls per person. And since I love some leftover, I almost always double the recipe.
This recipe can easily be doubled, tripled, quadrupled to fit the party you're serving. If you adjust your mouse or finger to the "8" under servings, you can adjust the recipe to however many balls you need to make.
Best Bread for Stuffing
Old bread is best for making stuffing. This means bread that's a little stale on the outside, but still soft. The term that's typically used is "day old bread" but it can actually be 2-3 days old and still be fine for this recipe. If you buy bread fresh and forget about this, there's a way to dry it out quickly.
Preheat the oven to 200 degrees Fahrenheit and place bread cubes on a baking sheet, spread out so there's space in between them. Bake for around 20 minutes, or until bread is just dried out on the outside, but soft overall. You don't want croutons.
I prefer to use white bread for this recipe just so the other flavors shine through the most, but any favorite bread will work. Sometimes I find with stronger flavored breads like dark whole wheat, the flavors just don't pair as well. A lighter wheat would be my suggestion if you want to use wheat bread.
Ingredients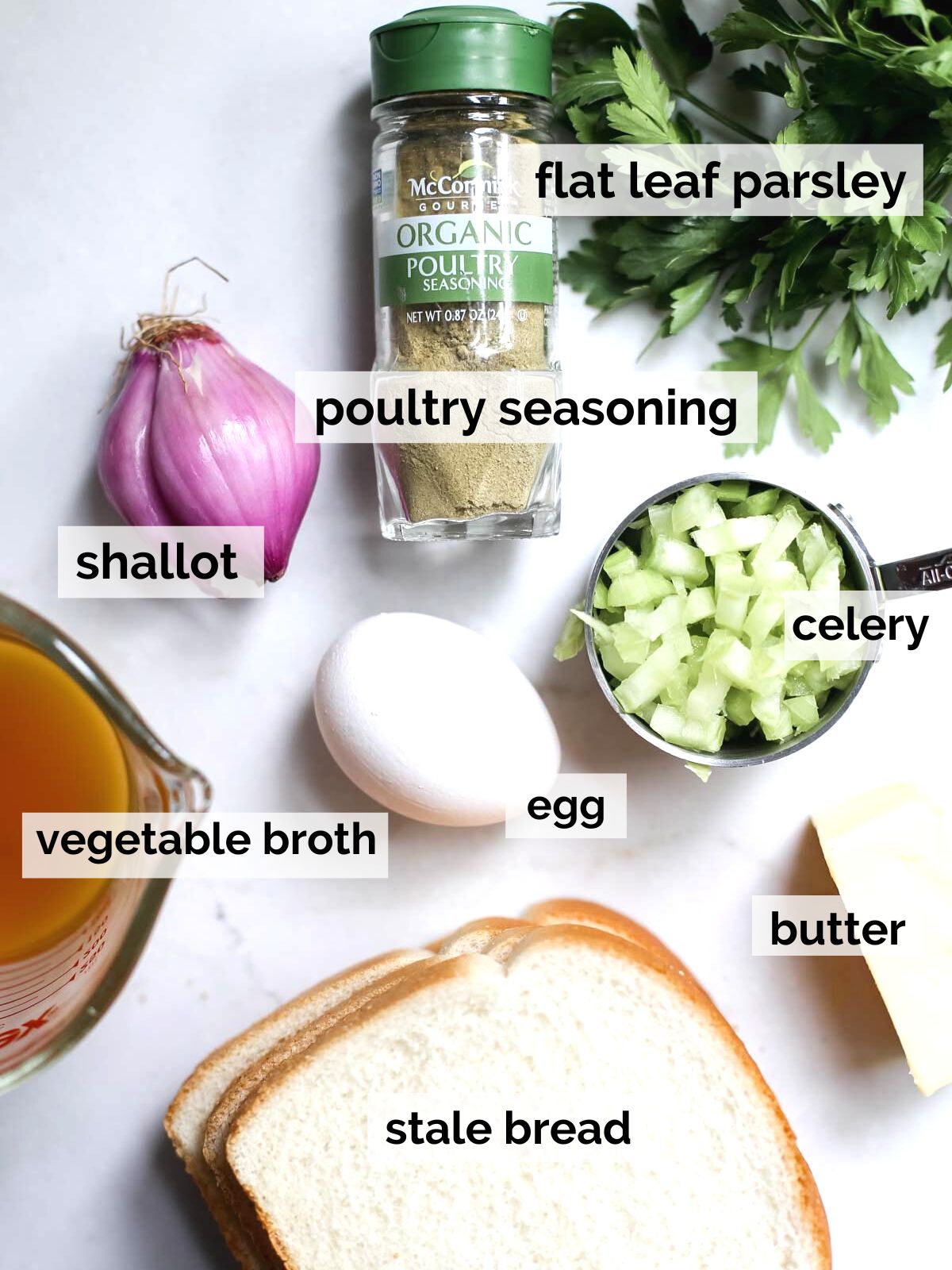 How to Make
Step 1: Prepare the vegetables
Preheat oven to 400 degrees Fahrenheit and prepare a large baking sheet with parchment paper. In a large sauté pan, melt butter over medium heat and add chopped celery and shallots. Stir occasionally till fragrant and softened, about 2-3 minutes. Turn off the heat and allow everything to cool. It can be warm, you just don't want it to be too hot it cooks the egg.
Step 2: Mix in the bread
In a large bowl, whisk together the egg, poultry seasoning, chopped parsley, broth, salt and pepper. Then add in the cooled butter mixture. Stir in the cubed bread, and I find it easier to just mix this all by hand. Make sure to combine everything evenly, getting the bread well-coated with the butter mixture.
Step 3: Form the balls
Grab a handful of the bread mixture and form it into a roughly 2 ½ inch ball with your palms. If mixture seems too moist, add more bread cubes. If it is too dry and not holding together well, add more broth and really mix it together more so the bread becomes moist, which will help the balls hold together. Pack it tightly and place either on a baking sheet or into a muffin tin.
Step 4: Bake
Bake at 400 degrees F for 20 minutes or until lightly browned all over and crunchy on the outside. Serve warm or allow to cool and pack in an airtight container for storage.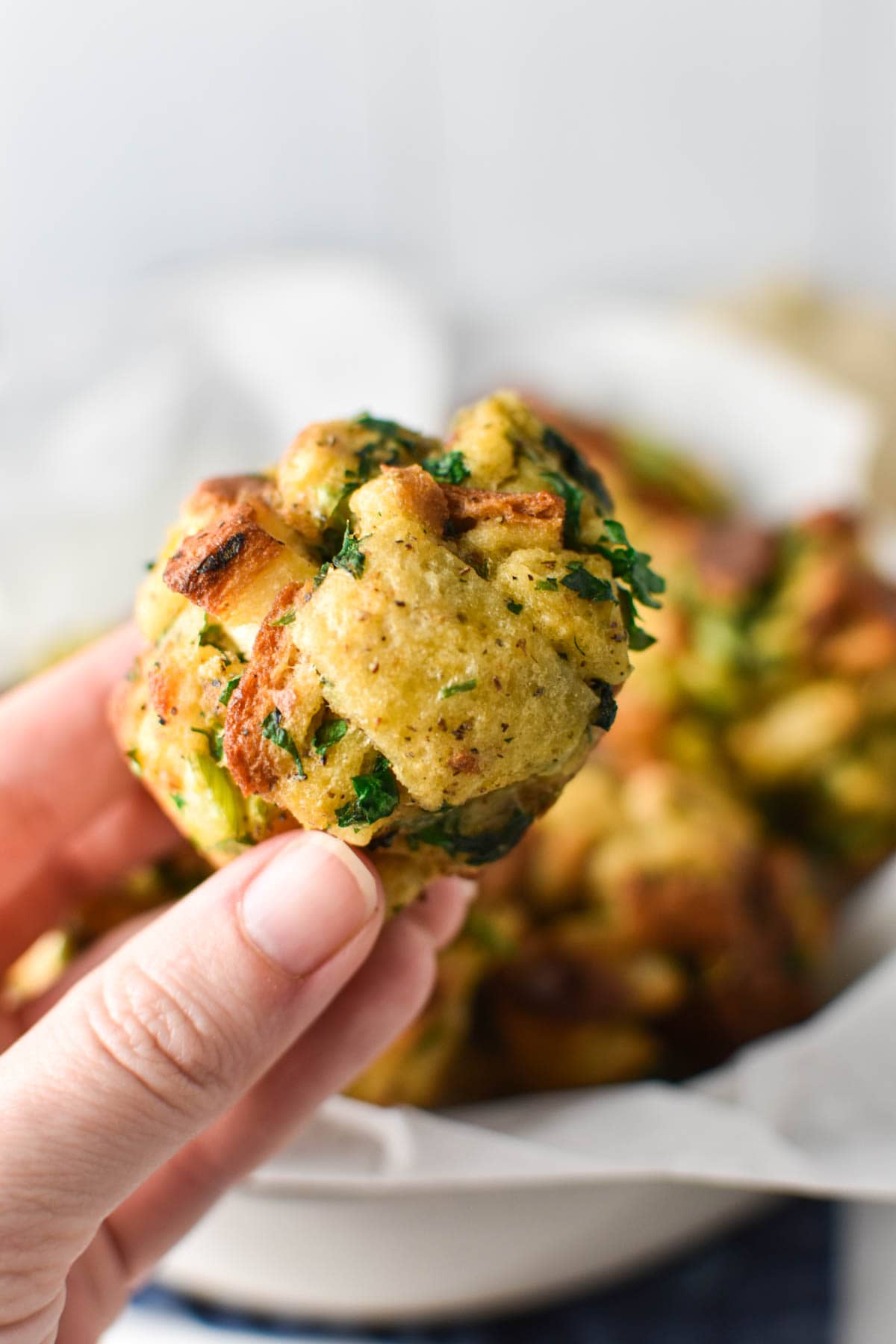 Storage Tips
Because stuffing is a popular Thanksgiving and Christmas dinner recipe, you may need to prep them ahead so you're not having to cook them the day of the big dinner. These are the perfect stuffing recipe to prep!
You can actually cook these until they're just light brown, but go a little bit lower on the cook time. Allow them to cool and store in an airtight container in the refrigerator for 2-3 days or freeze.
Stuffing balls will keep well in the freezer for up to 3 months.
How to Reheat
From fresh - Preheat oven to 350 degrees F and cover stuffing balls with foil. Bake for 5 minutes until warmed through. If you want them more crispy, bake them uncovered.
From frozen - Preheat oven to 350 degrees F and cover stuffing balls with foil. Bake for 15 minutes until warmed through, checking at about 12 minutes. Uncover for the last 3 minutes of baking to allow them to crisp on the outside.
Expert Tips
What to Serve with Stuffing Balls
These are perfect for Thanksgiving or Christmas, or just a nice Sunday meal. Here are a few of my fall and winter favorites to pair with them!
Frequently Asked Questions
Can I use gluten free bread for stuffing?
Yes, these will work with gluten free bread. Rudi's will probably be the best gluten free option that you can find, except for local bakeries.
How do I keep stuffing balls from fall apart?
Having a good binder will make all the difference. So you will need an egg or an egg substitute as well as some liquid to moisten the bread. When you form the balls, really press everything together tightly with a firm hand. A few cubes may fall off, but overall it should stay together.
Can you make stuffing the day before?
Stuffing is the best side dish that you can prep ahead because it stores very well and these stuffing balls actually freeze great! See my expert tips for storage and reheating above.
How many balls should I plan for per person?
I always plan for 2 balls per person, just in case. Technically the serving should be one, but everyone loves these so much that I find they usually go for seconds.
How do I make stuffing vegan?
For egg free stuffing balls, try using a flax egg! Mix 1 tablespoon of flax seed meal with 2.5 tablespoon of water and allow to sit for 5 minutes.
Holiday Side Dishes
If you're a fan of these vegetarian stuffing balls, you may enjoy these other delicious vegetarian side dishes. And don't miss my migraine diet Thanksgiving recipe round up!
If you make this, tag me #thedizzycook or @thedizzycook on Facebook and Instagram. And if you love the recipe, please leave a review below! Follow along on my Pinterest for more great recipes.
Stuffing Balls
Easy to make and store, this stuffing ball recipe is an old family favorite. Using leftover bread, you make individual balls that are flavored with vegetables and lots of spices for a great vegetarian stuffing
Print
Pin
Rate
Ingredients
¼

cup

butter

½

cup

celery, chopped

⅓

cup

shallots

1

large egg

1

teaspoon

poultry seasoning

½

cup

fresh Italian flat leaf parsley, chopped

⅓

cup

vegetable or chicken broth

½

teaspoon

kosher salt

½

teaspoon

fresh pepper

6

cups

day-old white or wheat bread cut into ½ inch cubes (about 6-7 slices)
Instructions
Preheat oven to 400 degrees Fahrenheit and prepare a large baking sheet with parchment paper or use a greased muffin tin. In a large sauté pan, melt butter over medium heat. Add in chopped celery and shallots. Stir about 2-3 minutes until softened. Turn off heat and allow it to cool for a few minutes.

In a large bowl, whisk together egg, poultry seasoning, parsley, broth, salt and pepper, then add butter mixture. Add bread cubes and use your hands to mash it all together. If mixture seems too moist, add more bread. If it seems too dry, add more broth. Pack the stuffing mixture tightly in your hands and form into roughly 2-½ inch balls - they should hold together well if you have enough moisture.

Place balls on the prepared baking sheet and bake at 400°F for 20 minutes until lightly browned and crunchy on the outside. Store in the fridge for 2-3 days or in a freezer safe container for up to 2-3 months.
Notes
IMPORTANT - Some poultry seasoning contains salt. If yours does, you will need to decrease the amount added for kosher salt. Start with ¼ teaspoon.
Leeks can be substituted for shallots in the same amount.
For egg free, use an egg substitute like a flax egg.
For dairy free, use olive oil or Earth Balance pressed oil in place of the butter. Ghee also works.
If your bread is fresh, just dry it out a bit in the oven by placing in for 2-3 minutes at 350 degrees F. You don't want it toasted, just a little crusty/dry on the outside.
Onion-free poultry seasoning can be found with McCormick brand and Central Market brand.
For recommended broth or stock, see my chicken stock recipe or the vegetable broth from my cookbook (which is what I used).
See post for reheating instructions.
Nutrition
Serving:
2
balls
|
Calories:
155
kcal
|
Carbohydrates:
18
g
|
Protein:
4
g
|
Fat:
7
g
|
Saturated Fat:
4
g
|
Cholesterol:
36
mg
|
Sodium:
90
mg
|
Potassium:
99
mg
|
Fiber:
1
g
|
Sugar:
2
g
|
Vitamin A:
620
IU
|
Vitamin C:
6
mg
|
Calcium:
105
mg
|
Iron:
2
mg