Migraine diet Thanksgiving recipes can be tough to find. Most use broths or canned soups that are loaded with MSG, aged cheeses, and other additives. But have no fear, I'm here to make these holidays so much easier on your and your family with my favorite migraine diet holiday recipes.
Let Go of the Idea of "Entertaining"
Part of holiday related anxiety for people living with migraine disease is the social commitments and expectations involved with having people over. We've been trained to believe we must have a clean house, a multi-course meal, and the perfect, crisp napkins for everyone to be shown a great time. What we tend to forget is that these holidays like Thanksgiving and Christmas are truly about giving thanks and the recognizing the gift of being loved by friends and family.
Alison Roman recently had an article in the New York Times about how it's not about "entertaining", which has a connotation of us putting on a show for others. But it's truly about enjoying one another's company. And enjoying someone's company sounds A LOT easier than entertaining.
Now if you're one of those people who takes great joy in the perfect place setting and showing off your cooking, please go all out. This is your time to shine! However, if you're dreading the plans you have and are hoping people cancel, I urge you to re-evaluate the way you are looking at this event. Perhaps these guests are someone who checked in on you while you were going through doctors appointments. Maybe at some point they sent you flowers to let you know they were thinking of you. Finding little things to be grateful for can change your whole perspective. Suddenly these events become a little less of a chore, and more of a way to appreciate others for what they've meant to you during very difficult times.
Cooking with Migraine or Vestibular Disorders
Physically it can be difficult for us to spend hours in the kitchen so here are some tips of mine that I've implemented over the years of living with vestibular migraine.
Remember that you're not entertaining. So only make what you're capable of without feeling overloaded. If that's burgers or an easy chicken recipe, so be it. Again the idea is to shift the focus on being thankful and spending time with the ones you love the most…even that's yourself!

If you do have a significant number of people coming over, don't be afraid to reach out for help. Send people any of the recipes from this website and ask them to bring it! That way they can be sure you're being accommodated and you're saving them from hours scrolling on Pinterest. Here are some other migraine friendly holiday recipes outside of Dizzy Cook.

Use a stool! I did this so often in the beginning of my chronic vestibular migraine days when it was tough to stand and cook. I also thought of all my movements in the kitchen as vestibular therapy. In my mind, it helped me to think of how these kinds of movements, like looking from one ingredient to the next, we're actually benefitting me in the long run.
The Dizzy Cook's Plan for Thanksgiving
This year we are traveling so much around the holidays. Between a trip to Disney World, a stop in Tampa to finally meet The Dizzy Baker (we haven't actually met in person yet!), and a last minute jaunt to England because we have felt so defeated in this fertility journey, it's going to be a quiet meal with my parents. As much as I'd love to see our extended family, knowing my (head's) limits helps guide some of these decisions.
In fact this year I'm debating making this roasted chicken or grilling steaks. Turkey just makes everyone tired. And it's kinda dry. I typically cover mine in a ton of gravy. I figure I might as well make someone I really enjoy!
However, if you're very religious about having turkey for holidays like the dad in A Christmas Story, I recommend Mary's Organic Turkeys. You can order it from the website. Whole Foods also has really good turkeys. You want to look for one that doesn't have injected or added broth. If you want to free up some oven space, my friend Carrie has a recipe for an instant pot turkey breast!
Honestly, my favorite parts of the holidays is the sides and the appetizers. Those are the real stars of the show. I'm also giving you a level of difficulty scale with each one so you won't be saying "Oh fudge!" with any of these. But not that word. The F dash dash dash word. The mother of all bad words!
…I'm a big Christmas Story fan if you can't tell. Without further ado, my favorite migraine diet Thanksgiving recipes!
Sides
Did you know Campbell's cream of mushroom soup is loaded with about 3 different names for MSG? Making you own sauce is actually easier than it seems, as is frying the crispy shallots. Still, there's a few steps to this recipe and I can understand being intimidated by frying things. My best advice is to get a splatter screen which prevents your house from smelling too much like fried food and protects you from any hot oil splats! The end results is creamy, crispy, and downright decadent, yet a lot healthier than your traditional recipe.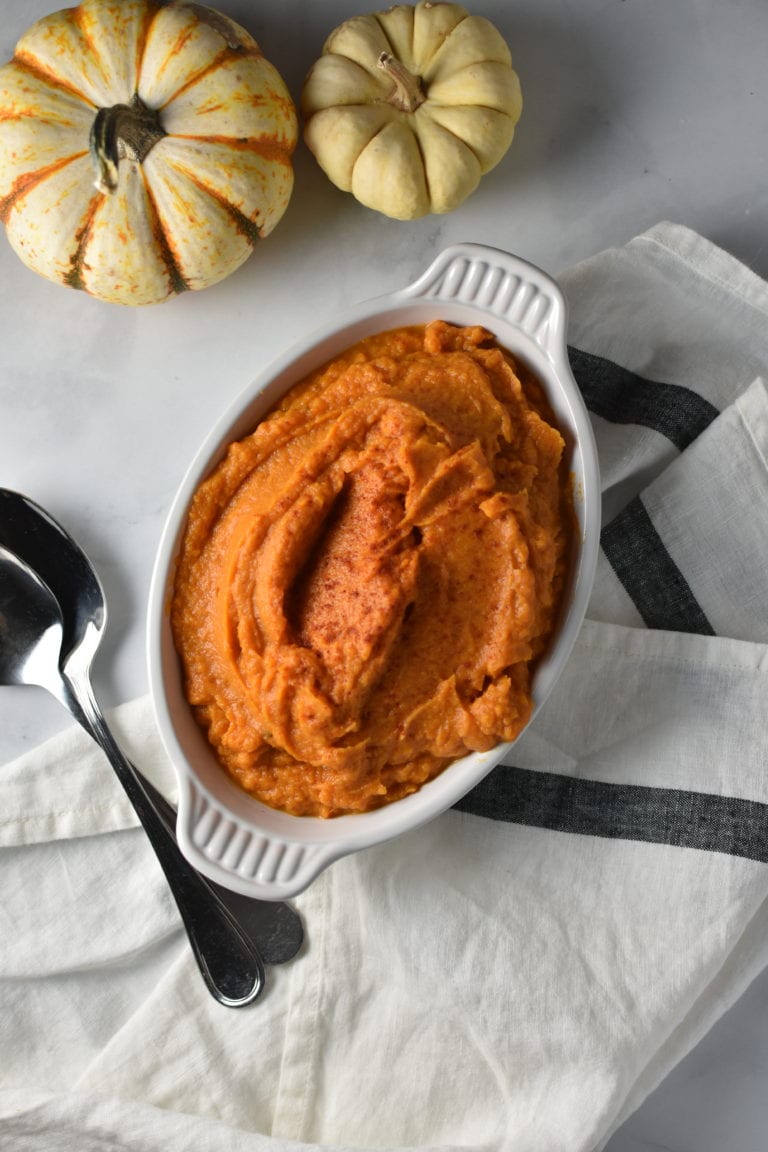 These are super easy to make. All you're doing is boiling some potatoes and adding spices. They're pretty difficult to screw up. And I love that these are a great way to mix up a normally boring recipe. The smoky flavor balances the sweetness well and they compliment turkey or any kind of grilled meat.
This is another fairly easy recipe to make. I rate it a little bit higher because there's more steps, like cooking the rice before layering everything together. Still, the sauce is very easy to make. Dump everything in a baking dish and you're good to go! Creamy yet healthy (hello, vegetables), this delicious side dish can easily be gluten free.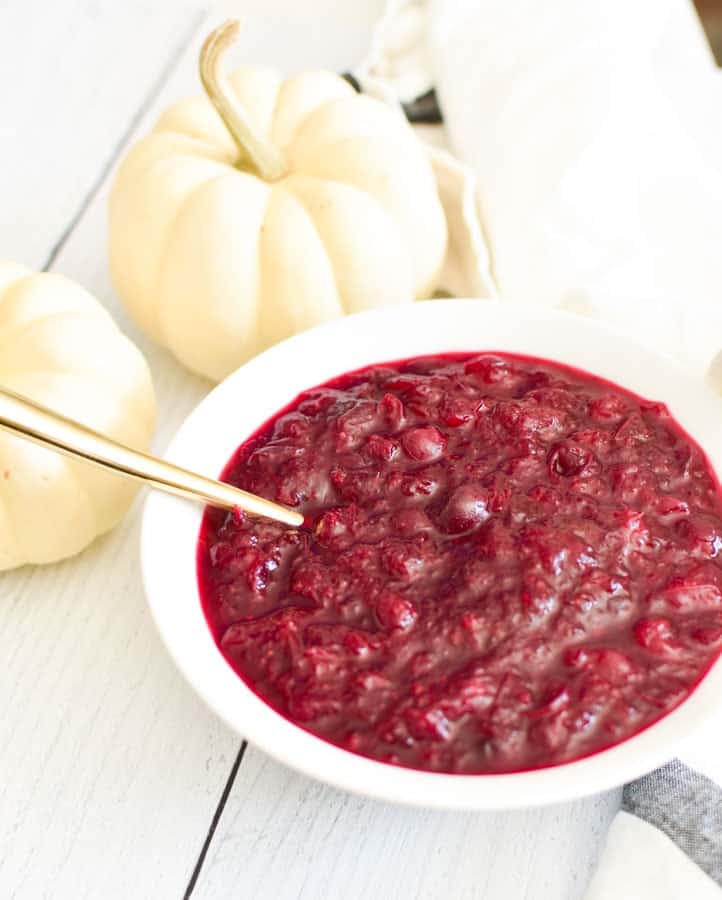 Cranberry Sauce (GF, Vegan) – Level of difficulty 0.000001
Seriously so simple, you can do this one with your eyes closed. Dump everything into a pot and simmer until finished. Also homemade cranberry sauce is so much better than anything you can find in a can (and way more migraine-friendly).
If you're set on having your traditional turkey, I highly recommend this vegetarian mushroom gravy. You can edit out the mushrooms if you're sensitive or make this totally vegan. It's really customizable to your needs. As written it's super delicious and you'll literally be topping other random side dishes with it and claiming you've created a new invention that surely will win the next Top Chef. We're ready for you Padma!
Stuffing Balls (GF, Egg-Free Option) – Level of Difficulty 5
I love these stuffing balls because they're the perfect portion size while also maintaining great moisture and flavor. For this recipe I give you tips for gluten and egg free options.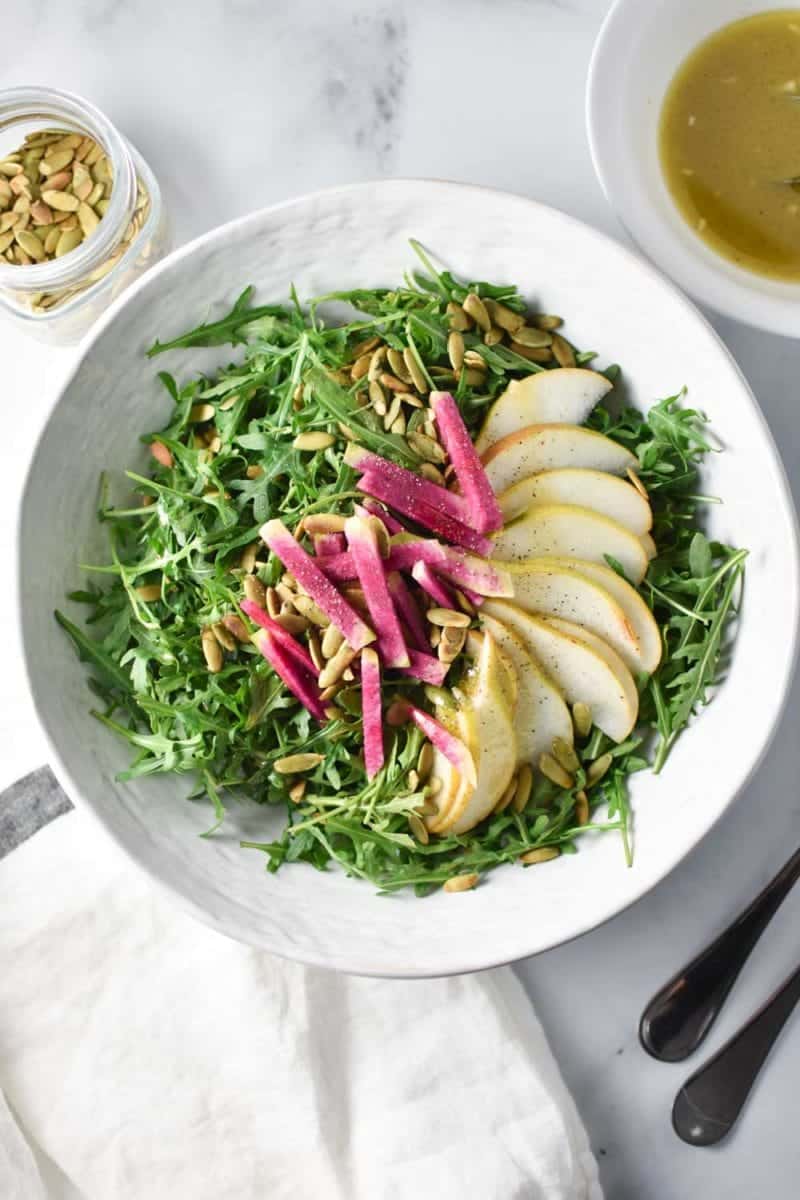 Right now pears are in season and usually on sale! This salad is easy to whip up quickly and very delicious. Maple vinaigrette pairs wonderfully with sweet pears, pepitas, and peppery arugula.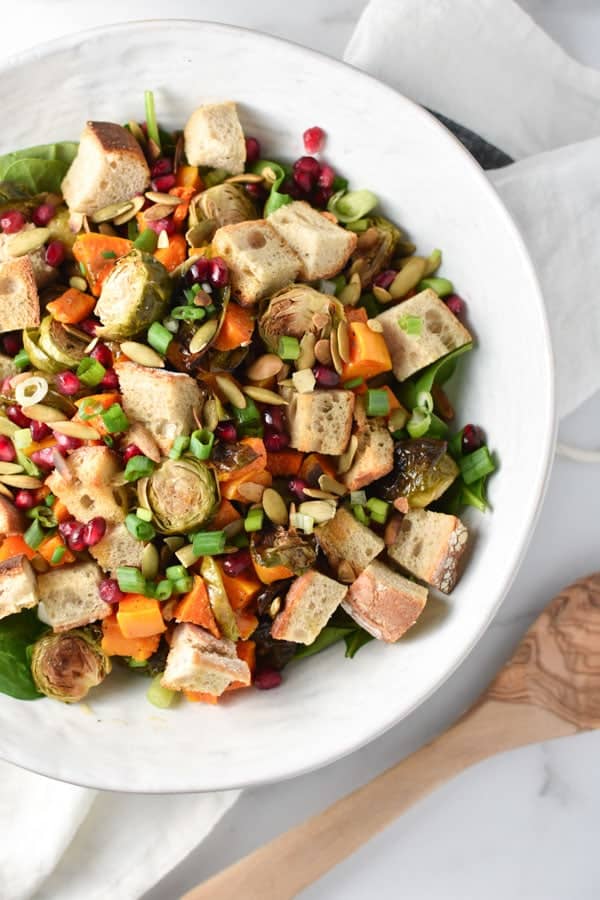 This salad requires you to roast some vegetables before tossing together, but it can be done 2 days ahead and stored in the fridge for a quick assembly. For those of you who hate brussels sprouts, feel free to edit them out.
Dessert
This pumpkin cheesecake is one of my favorite recipes on the site, however, I don't make it often because it is more time consuming. You have to bake the sunflower seed crust, then bake the filling, then make a homemade whipped cream. I will admit that it's still one of the easiest cheesecakes I've ever made because it doesn't require a water bath and any cracking will be nicely covered by the whipped cream. I urge you to give it a try if you're feeling ambitious as the sunflower seed crust is quite amazing.
These cookies aren't exactly hard to make, but do require a little more time since you're also making the cream cheese topping. The effort is definitely rewarded with a light pumpkin cookie that's not too sweet, and a decadent cream cheese frosting. We've made these for a few tailgates and they're always a hit.
If you have family members that seem to have all the food allergies in the world, this is the recipe for you. A seed crust is topped with a creamy pumpkin pie filling and then the bites are frozen. The only downside is you cannot leave them out too long or they'll soften/melt too much to be able to eat.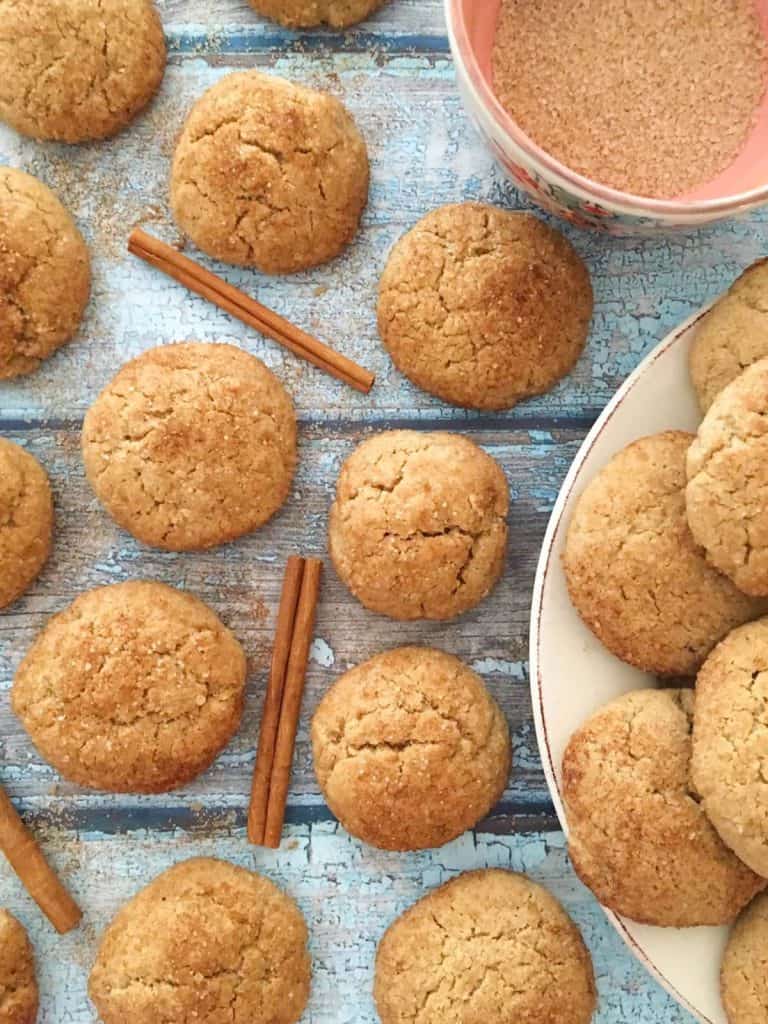 A really straightforward cookie recipe, these are so simple to make. Feel free to substitute the gluten free flours for regular all purpose.
Appetizers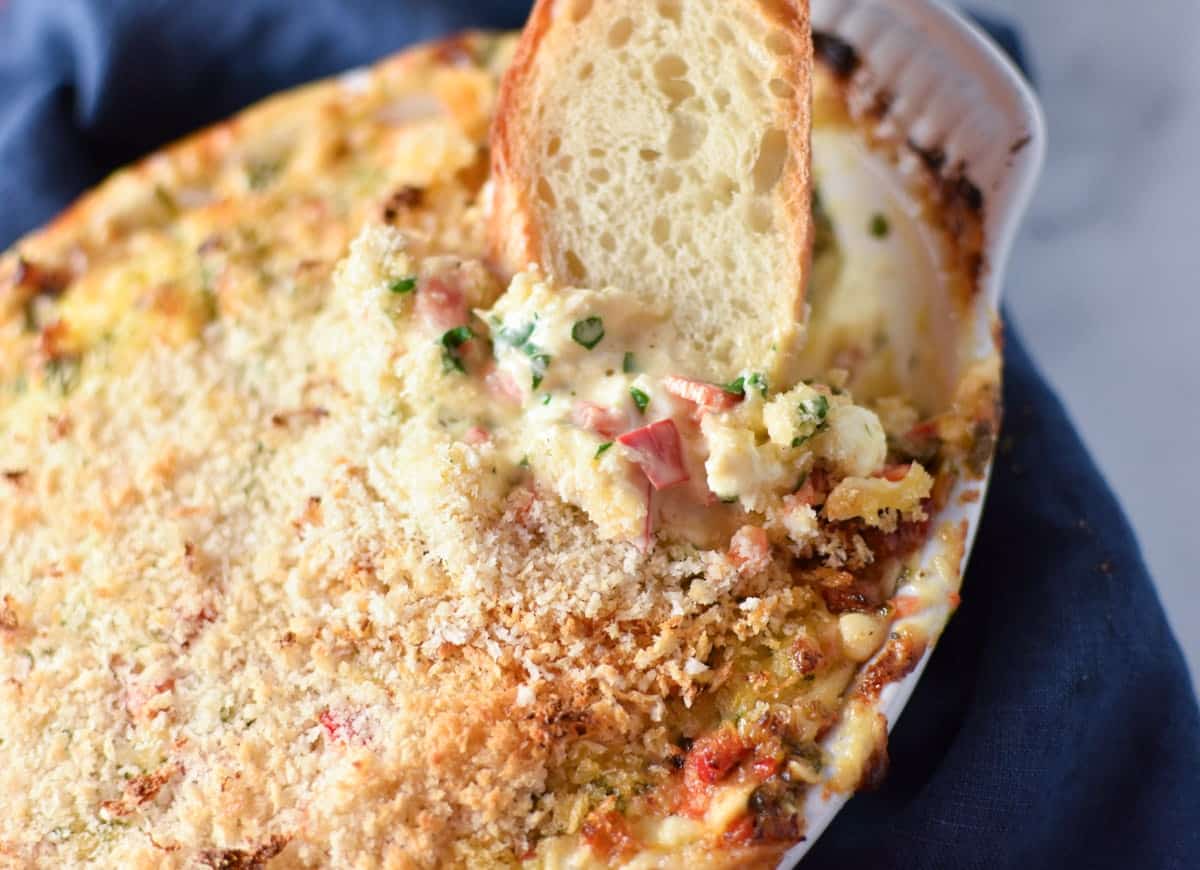 To DIE FOR!!! This is one of my favorite dips of all time. Lucious crab is mixed with cream cheese, green onion, and spices to create a warm and melty crab dip that even your non-migraine diet friends and family will love. You can make this one ahead of time and keep in the fridge till you're ready to bake.
I hope this gives you some good ideas to start with. And if you dislike them all, feel free to browse the archives or the Dizzy Cook Pinterest to find more migraine diet Thanksgiving recipes you may enjoy.