This vegetarian mushroom gravy may be without drippings, but it is decadent. Full of flavor from fresh thyme and mushrooms, I love it over turkey for Thanksgiving. It also pairs wonderfully with mashed potatoes, stuffing balls, roasted chicken, or simply grilled steaks.
An Easy Gravy without Drippings
So why would you make a vegetarian gravy if you're just serving it over meat? Well the easiest explanation is that you don't need to cook a turkey or chicken to have drippings leftover. Most often gravy recipes start out with the leftover drippings of turkey or chicken and then use that as a base. With this recipe, you can skip the step of actually cooking anything (or get a head start on the Thanksgiving gravy without waiting on the turkey!).
Our family starting frying turkeys at Thanksgiving and that left us without any drippings in the bottom of the pan. Therefore this dripping-less gravy was soon adopted and we never looked back.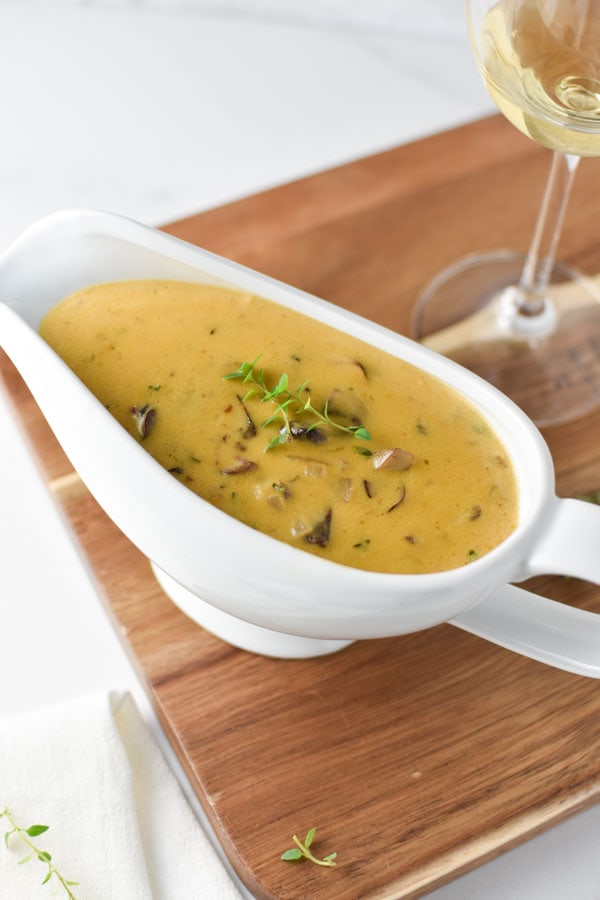 What If I Want to Use The Drippings, Alicia?
Let's say you just made a beautiful bird and find it absolutely sacrilegious to not use the drippings for your gravy. My suggestion would be to omit the butter and use the same amount of drippings instead. The world is your oyster. I, however, would not recommend using this gravy on oysters. That's probably the only thing this gravy wouldn't be good on.
Mushrooms and Migraines
Mushrooms are higher in natural glutamate making them an issue for some following a migraine diet. Often people find that they are incredibly sensitive to processed glutamate, like monosodium glutamate (or MSG), but can tolerate them in natural foods. Broccoli, corn, tomatoes, and grapes all have higher levels of natural glutamate as well. If you find you're sensitive to some of these foods, that could be the reason.
Still, it's not something to worry about unless you're actually noticing a pattern with attacks after consuming these items or if you're not making progress by following a migraine elimination diet, like Heal Your Headache. If you are sensitive to mushrooms, you can easily leave them out of this recipe and still have a delicious gravy.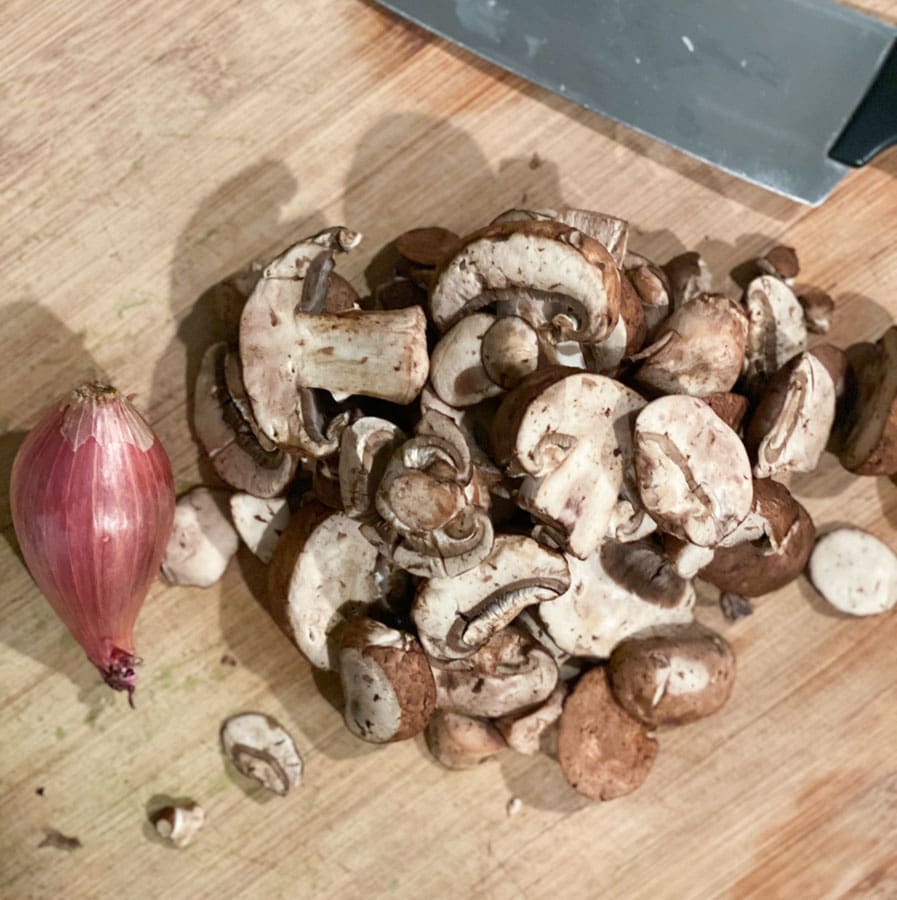 Gluten & Dairy Free
While we're on the subject, I have yet to try this recipe dairy free, but I'll give you some of my best thoughts. It's incredibly easy to make gluten free. All you have to do is substitute the all purpose flour for cornstarch. I often find this mixes better if you whisk a little bit of broth with with cornstarch ahead of time so it doesn't clump together in the pan.
For dairy free options, I would substitute olive oil for the butter (ghee or vegan butter if you can tolerate that) and either use coconut cream or Oatly oat milk for the cream substitute. These changes would even make a vegan option, if that floats your boat.
For vegetable broth, I will either make my own using this recipe without chicken or pick up a box of Trader Joe's Hearty Vegetable Broth. You can easily substitute chicken broth too if this recipe being vegetarian isn't important to you.
How to Store Leftover Vegetarian Gravy
This vegetarian mushroom gravy will keep for about 2 days at most, a few more if you're not following a migraine diet and if tyramine isn't an issue for you. If you want to make this recipe ahead and freeze it, I recommend cooking it up to the point you add the cream. Then cool the sauce and freeze it. When you defrost it, you can add the cream as it simmers.
Other Options for Gravy (Besides Turkey)
On top of these meatballs, which is kinda Swedish meatball-esque.
With this roasted chicken recipe...or really any simple baked chicken.
Alongside mashed potatoes or stuffing balls.
With grilled hamburgers or steak
On top of biscuits for breakfast!
Other Holiday Recipes:
Chipotle Mashed Sweet Potatoes
Homemade Green Bean Casserole
Allergy Friendly Pumpkin Pie Bites
Ricotta & Butternut Squash Toasts
Easy Pumpkin Sage Pasta
Pumpkin Cookies with Cream Cheese Frosting
Cranberry Pomegranate Muffins
Stuffing Balls
Vegetarian Mushroom Gravy (without drippings)
This vegetarian gravy can be made with or without drippings, making it an easy and quick holiday sauce that's full of flavor!
Print
Pin
Rate
Ingredients
3

tablespoons

butter

*see notes for DF

1

tablespoon

shallots, chopped

½

cup

fresh mushrooms, chopped

2

tablespoons

all purpose flour

*see notes for GF

2

cups

vegetable broth

¼

cup

heavy cream

1

tablespoon

white vinegar

1

tablespoon

fresh thyme leaves

kosher salt and pepper to taste
Instructions
In a medium saucepan, melt butter over medium heat and add shallots and mushrooms. Cook, stirring occasionally, till softened, about 2-3 minutes. Then sprinkle flour in evenly and stir till combined, about 1 minute.

Stir in the stock, still over medium heat, and bring to a simmer. Continue to simmer, stirring occasionally until thickened, about 4-5 minutes. Add the cream, vinegar, and fresh thyme leaves until combined. Bring back to a simmer about 2 minutes until the gravy is thickened and creamy. Add salt and pepper to taste. Serve warm.
Notes
For gluten free, use 2 tablespoons of cornstarch and whisk together with a little bit of broth before adding to the saucepan so it doesn't clump.
For dairy free, replace butter with ghee, olive oil, or vegan butter depending on what's best tolerated (vegan butter is not migraine-friendly). Use coconut cream or oatly instead of cream.
Omit mushrooms if they are a trigger for you.
Nutrition
Serving:
4
oz
|
Calories:
102
kcal
|
Carbohydrates:
4
g
|
Protein:
1
g
|
Fat:
9
g
|
Saturated Fat:
6
g
|
Cholesterol:
29
mg
|
Sodium:
368
mg
|
Potassium:
40
mg
|
Fiber:
1
g
|
Sugar:
1
g
|
Vitamin A:
543
IU
|
Vitamin C:
2
mg
|
Calcium:
13
mg
|
Iron:
1
mg