A refreshing start to a summer meal, this stuffed endive appetizer is filled with a light strawberry relish and goat cheese. Coated in a light vinaigrette and topped with green onion or chives, they're a healthy and elegant dish.
Endive appetizers are so easy to make and this recipe doesn't require an oven! In less than 15 minutes you can have a delightful cold appetizer.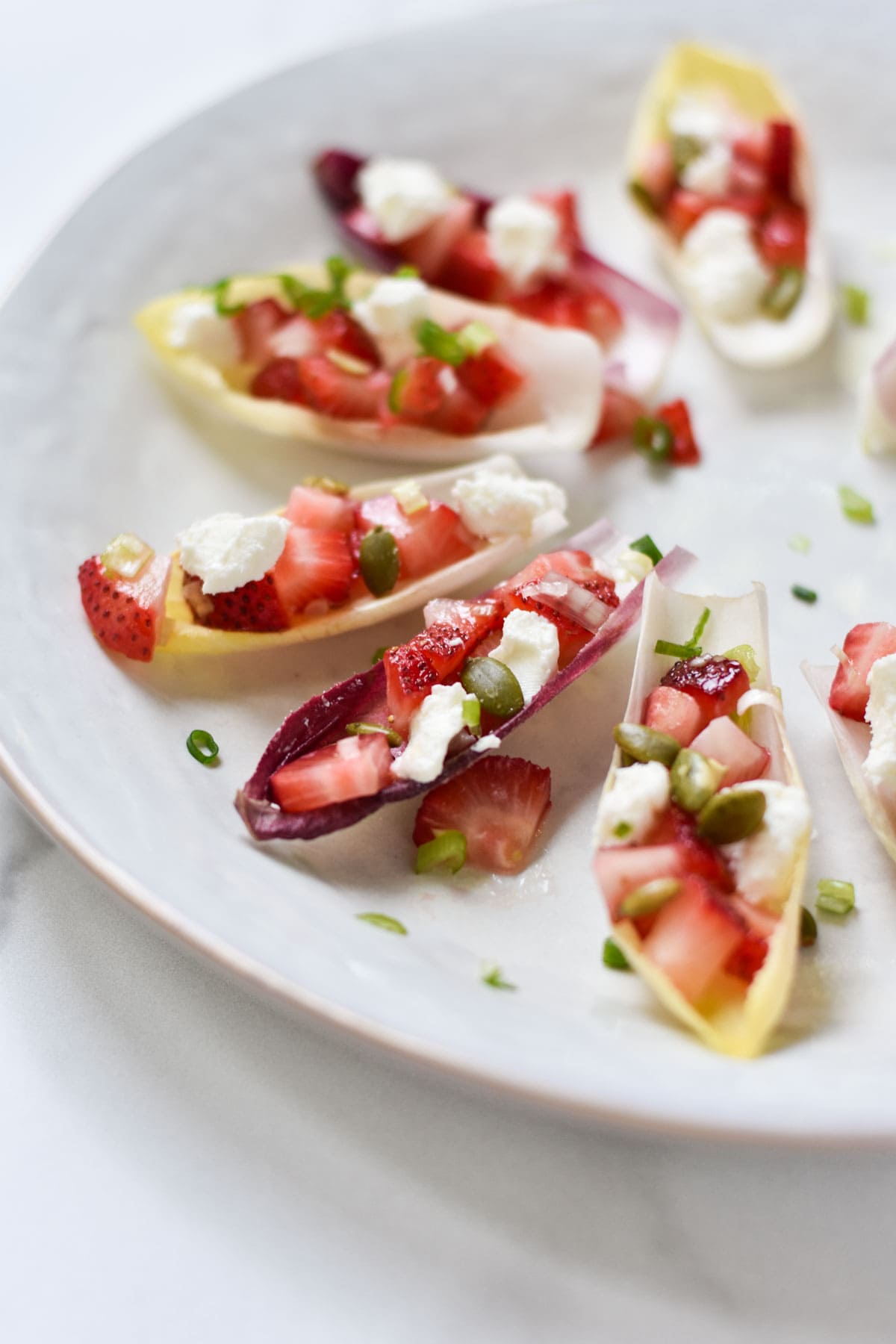 My celebrity chef crush is José Andrés. He is known for his humanitarian efforts, using food to help people in crisis, but he also has a great restaurant collection. If you've seen the documentary "El Bulli" about Ferran Adrià, you know it was one of the most sought after restaurants in the whole. José studied under Ferran at El Bulli, producing famous dishes like "liquid olives". One of my favorite restaurants of his is Jaleo, a Spanish tapas dining experience.
There's a dish at Jaleo called "Endibias con queso de cabra y naranjas"…it's basically endives, goat cheese, oranges, and almonds. It is refreshing, light, delicious. However, I find myself to be sensitive to almonds and oranges these days, so I wanted to capture the essence of that dish with ingredients I love.
An Endive Boat Appetizer
Sadly we don't use endive enough, but it's widely available and easy to use! It has a slightly bitter taste to it, and it's natural shape holds up well to dipping - or creating endive boats. This would make the perfect boat appetizer too - boats on a boat.
You'll love this recipe because:
The perfect cold appetizer - It's easy to make on hot days without turning on the oven,
It's packed with nutrients - Instead of using chips, you're getting the same crunch but also eating more vegetables!
Easy to make - This recipe looks elegant but it's really simple to whip up for a last minute party dish.
Customizable - This recipe is naturally gluten free, but can be dairy free! Either use your favorite dairy free cheese or leave it out entirely. The strawberry relish is so flavorful that you won't miss it too much.
Vegetarian - This is a great vegetarian or vegan appetizer, with just a few edits.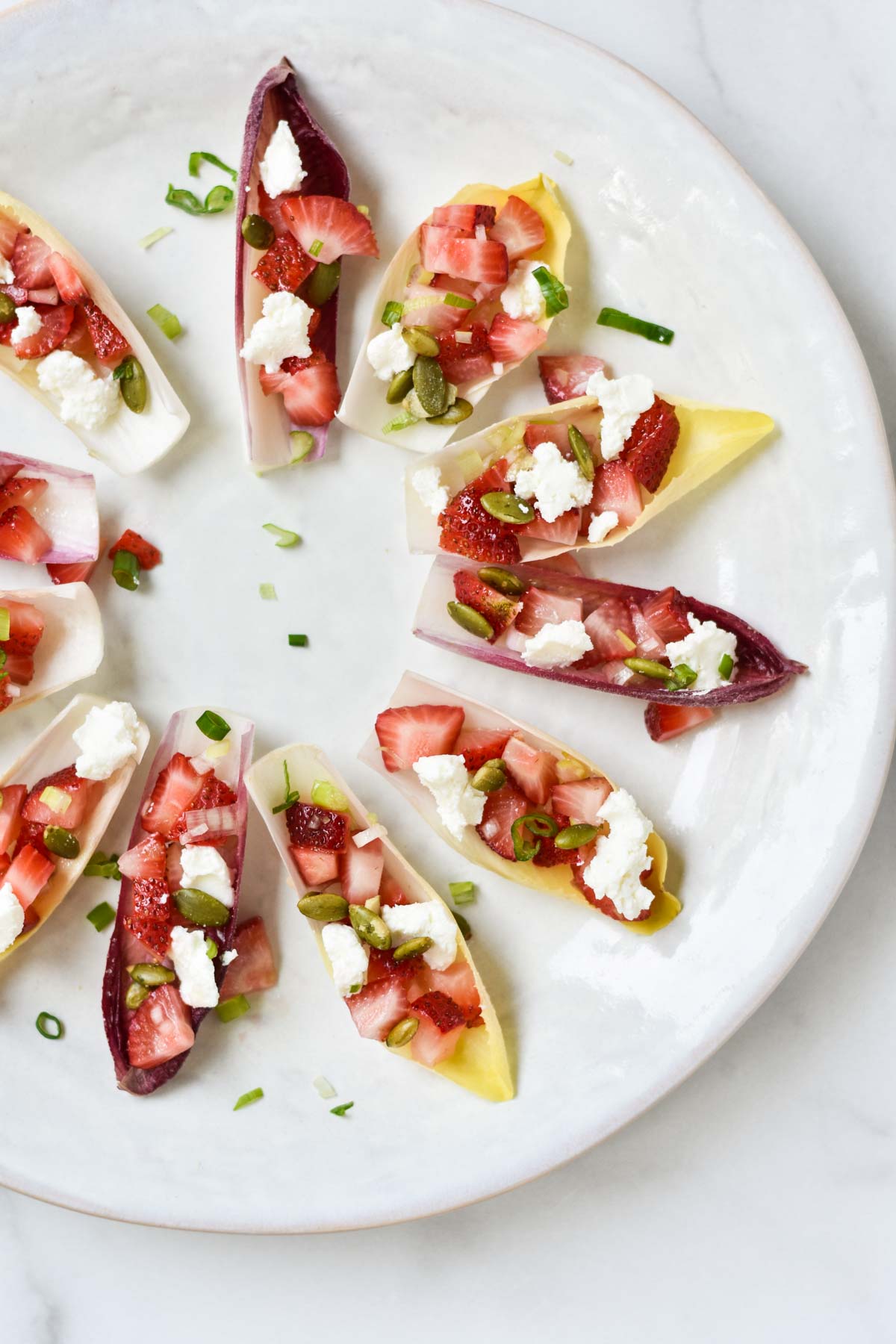 What is Endive?
Belgian endive is torpedo shaped leafy vegetable that when pulled apart creates small little "boats". It sometimes comes in a light yellow or purple color. The purple color tends to be slightly more bitter in flavor.
It's flavor is delicate, yet distinct. Often it's braised, or served with something a little bit sweeter to balance the bitterness.
Endive is high in fiber, potassium and folate!
Ingredients
The ingredients are very simple for this stuffed endive appetizer recipe.
Endive - I buy these at Trader Joe's in a package of three. It's really the best deal you can get!
Strawberries - These are perfect for summer, but they can also be substituted with blueberries, pomegranate seeds, or chopped apples.
Green onion - Sometimes I'll also used chopped fresh chives.
Pepitas (pumpkin seeds) - These provide a nice crunch and also make this a great nut-free recipe.
Extra virgin olive oil, vinegar (distilled white vinegar recommended for those on a migraine diet, otherwise white wine vinegar will also work), and salt and pepper are also needed.
How to Wash and Cut Endive
Endive can usually be found in the vegetable section around lettuce. They also sell it pre-packaged at Trader Joe's. All you have to do is trim the ends and carefully peel off each layer until it makes a "boat".
To wash endive - once the layers have been peeled, add to a colander and run under cool water. Use a towel to dry off each endive boat. Make sure you get all the dirt off, sometimes it lurks near the stem.
You can easily do this step ahead and place the endive boats wrapped in a damp paper towel, in a bag in the fridge. This will keep them crisp till you're ready to serve.
Step by Step Process
These endive canapés are so easy to make with just two steps!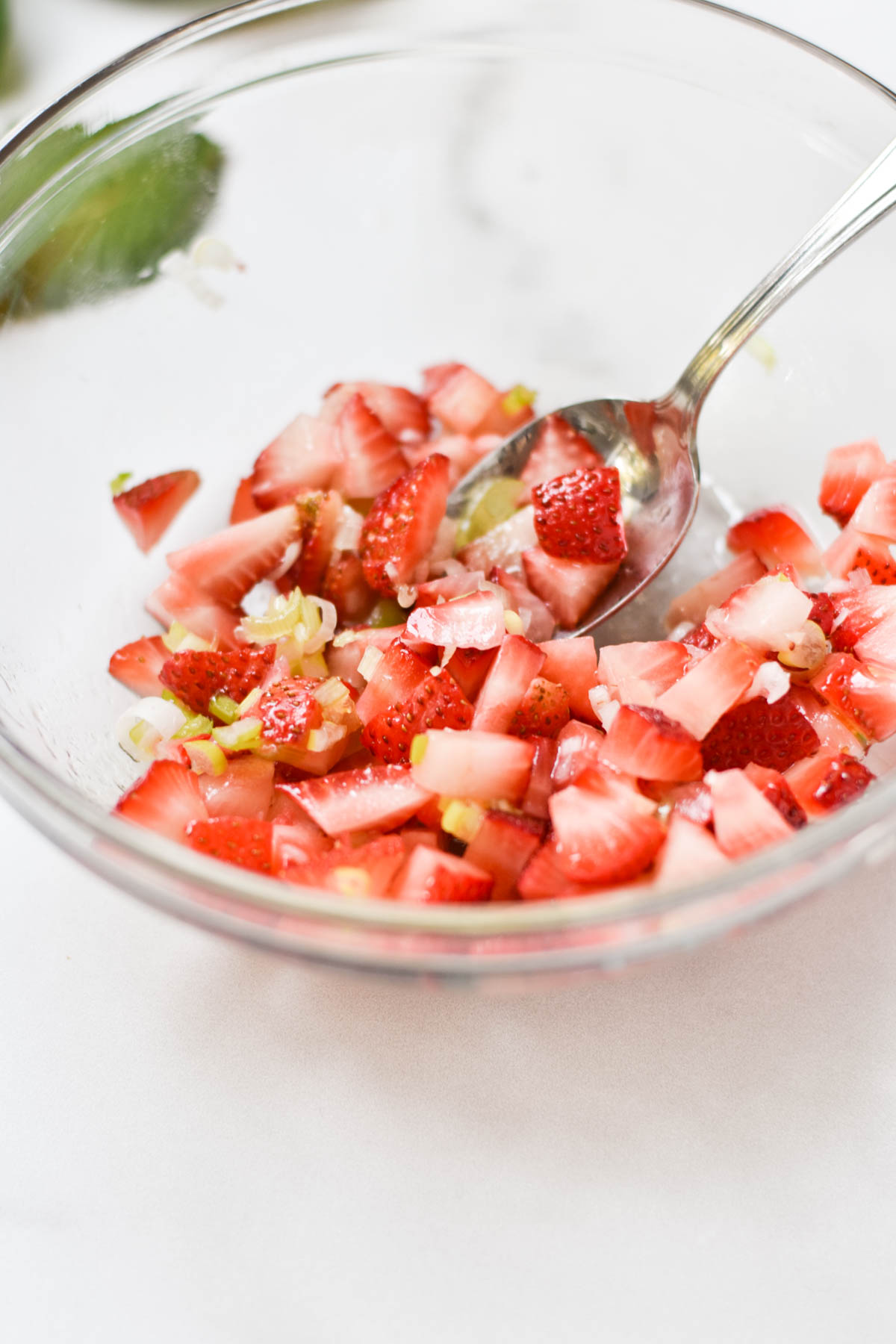 Step 1: Mix the strawberry relish
Add the olive oil and vinegar to a small bowl and whisk till combined thoroughly. Stir in chopped strawberries and green onion.
Step 2: Fill the endive boats
Carefully spoon the strawberry relish into each boat and then top with pepitas and crumbled goat cheese. Sprinkle with a pinch of salt and freshly cracked black pepper. Drizzle with extra olive oil for decoration.
Serving Suggestions
This endive appetizer pairs well with a light summer meal, but it could also be a NYE party appetizer if using pear or apples that are in season.
Winter appetizer - I recommend pairing with my Boursin Pasta recipe or Shrimp Stuffed Salmon.

Summer appetizer, I would recommend serving this with Shrimp Scampi (without wine), or with other tapas-style dishes like Grilled Bok Choy, Cream Cheese Toast, Grilled Italian Shrimp, and Artichoke Hummus.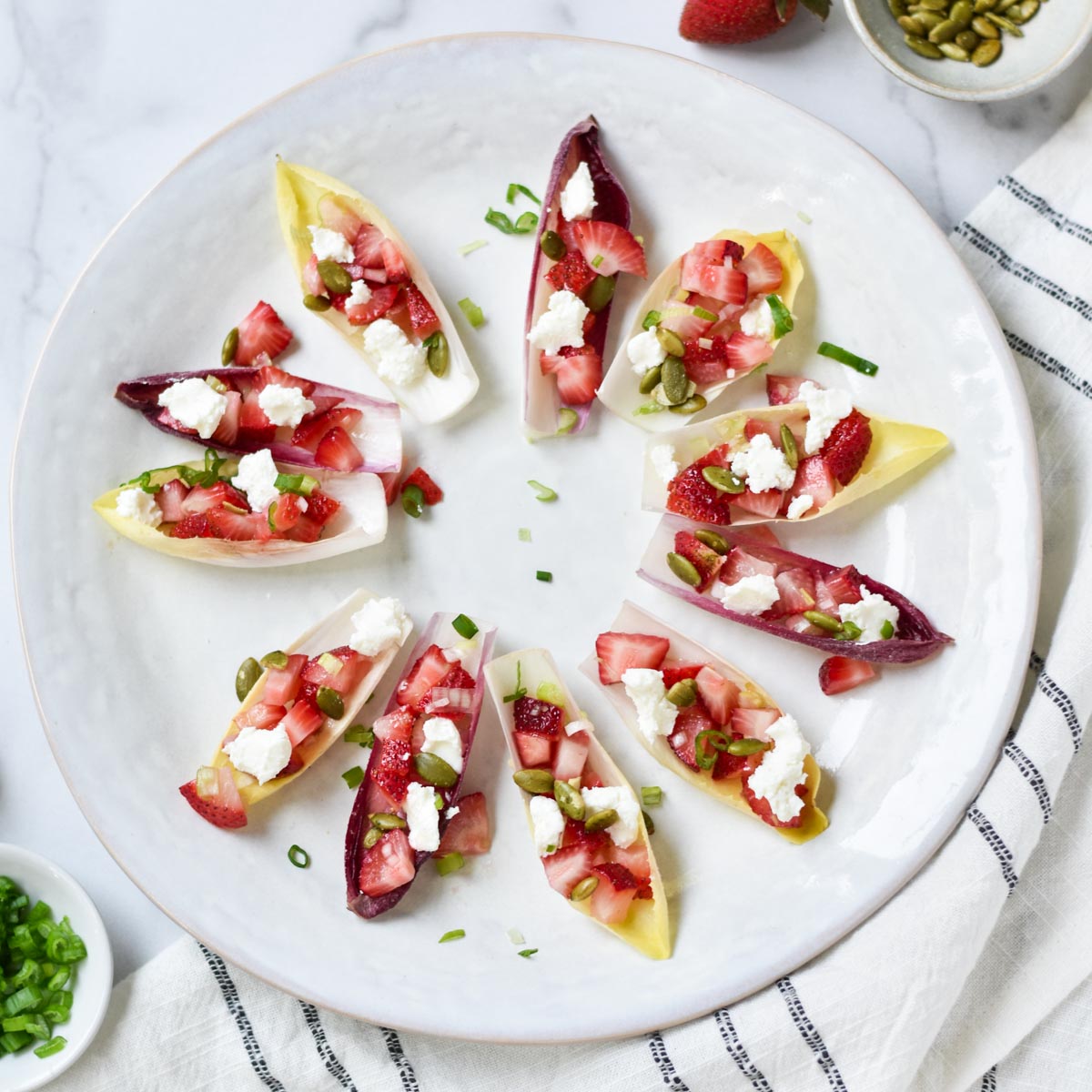 Storage Tips
If you're prepping these endive boats for a party, I would recommend washing and cutting the endive, then placing that in the fridge separately from the strawberry relish. Combine everything right before serving.
The strawberry relish can be made up to 1 day in advance and can be stored for up to 4 days, but it is best consumed right away. This recipe will not freeze well.
Cheese Pairing for a Strawberry Appetizer
If you're looking to make a spread along with the endive boats with goat cheese, I find that Boursin is your best bet. Boursin is basically a fresh cheese (cream cheese) mixed with herbs.
The garlic and herb flavor is my favorite, but you can also make your own at home by combining cream cheese with chives, garlic, and parsley. I like to set this up with some Trader Joe's water crackers and call it a day.
Also if you hate goat cheese, I would recommend substituting the goat cheese with Boursin black pepper flavor.
Vegetarian Appetizer Recipes
If you make this, tag me #thedizzycook or @thedizzycook on Facebook and Instagram. And if you love the recipe, please leave a review below! Follow along on my Pinterest for more great recipes.
PS - I spent this whole post fighting my autocorrect that wanted to keep changing Jaleo to "paleo". This is my life.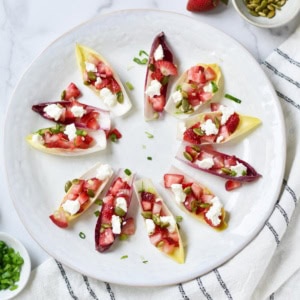 Endive Appetizer with Strawberry Relish
Inspired by Jaleo by José Andrés that uses oranges and almonds, this recipe combines strawberries with a light vinaigrette and pepitas for a nut-free, gluten free vegetarian appetizer!
Print
Pin
Rate
Ingredients
1

cup

strawberries, chopped

½

teaspoons

white distilled vinegar (or white wine vinegar)

1 ½

teaspoons

good quality extra virgin olive oil

2

Belgian endive

¼

cup

toasted pepitas/pumpkin seeds

1

tablespoon

chopped chives or green onions

2-3

oz

fresh goat cheese (chevre)
Instructions
Trim stem end of the endive and pull leaves apart carefully. Wash in cool water, dry, and set aside. In a bowl, mix together chopped strawberries, vinegar, and olive oil. Spoon strawberries into endive cups.

Add crumbled, fresh goat cheese and top with chopped chives or green onions and toasted pepitas. Finish with a small sprinkle of salt and freshly cracked black pepper. Cover and chill or serve immediately.
Notes
Endive boats are best served fresh. Prep the strawberry relish and endive separately, then combine before serving to keep things crisp.
Trader Joe's has the best deal on a 3 pack of Belgian endive.
Hate strawberries? If strawberries aren't in season, trade them out for chopped apples or pears, blueberries, or pomegranate seeds.
Goat cheese can be left out for a vegan/dairy free edit. And black pepper Boursin also makes a great substitute.
Nutrition
Calories:
24
kcal
|
Carbohydrates:
1
g
|
Protein:
1
g
|
Fat:
2
g
|
Saturated Fat:
1
g
|
Cholesterol:
2
mg
|
Sodium:
15
mg
|
Potassium:
41
mg
|
Fiber:
1
g
|
Sugar:
1
g
|
Vitamin A:
42
IU
|
Vitamin C:
6
mg
|
Calcium:
9
mg
|
Iron:
1
mg
This post was originally published April 19, 2018 and has been updated May 2022 with new instructions, photographs, and pairing suggestions.