I'm not a big horn tooter, but this is a recipe I am really proud of. I wasn't sure it was possible to top the I Like Pulled Pork and I Cannot Lie recipe, but I think this one takes the cake. Perhaps it's because my love for tacos and Mexican food knows no bounds.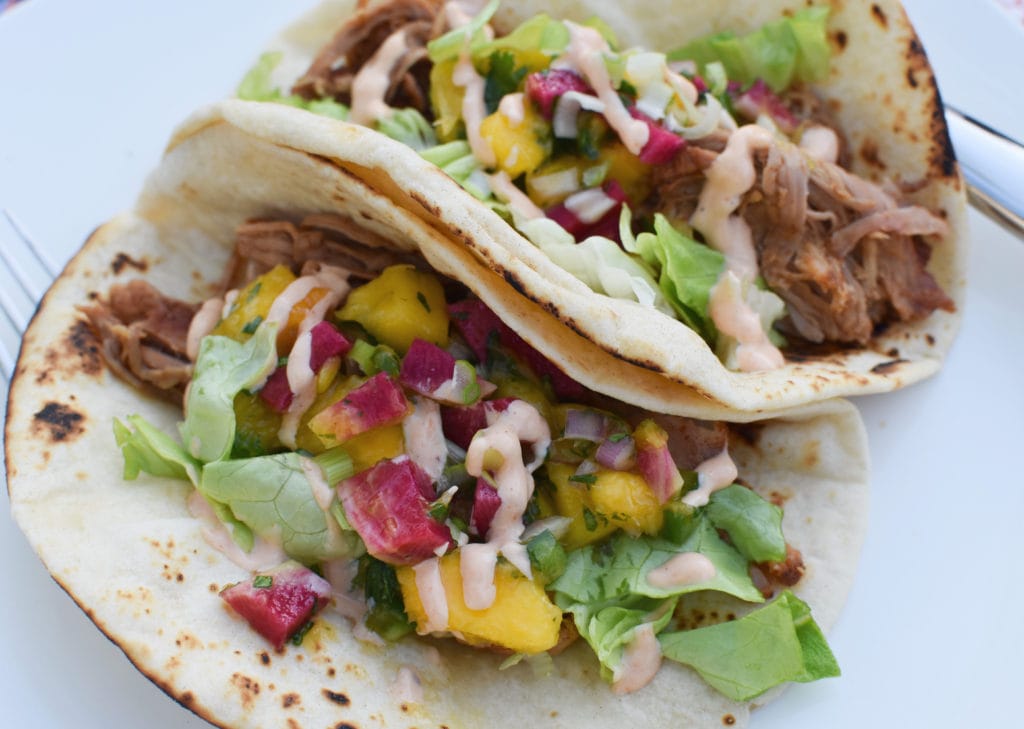 I can't say I'm a huge Instant Pot lover yet. I'm getting there slowly. I am extremely fond of the "sear" option and the fact that you can sear and cook in one pot. However, I do think a lot of the deep flavor that you get from that slow cooking is lost when you cook things so quickly. The positive to that side is if you are sensitive to tyramine build up, you obviously don't want your food simmering all day long. Plus it's really nice if you forget to put dinner on 8 hours in advance.
I've made this chipotle pulled pork a few times now, both in the instant pot and in the crock pot. I'll give you options for both below. If you're going to make this recipe it's very likely you'll have leftovers. I did as well. If you can't eat them within the next few days, just freeze them in individual ziploc bags so you can defrost them easily for meals. Anytime I make pulled pork (usually on a Sunday), I plan out a few meals I can use it with. The following night we had this pulled pork over roasted sweet potatoes with some spinach.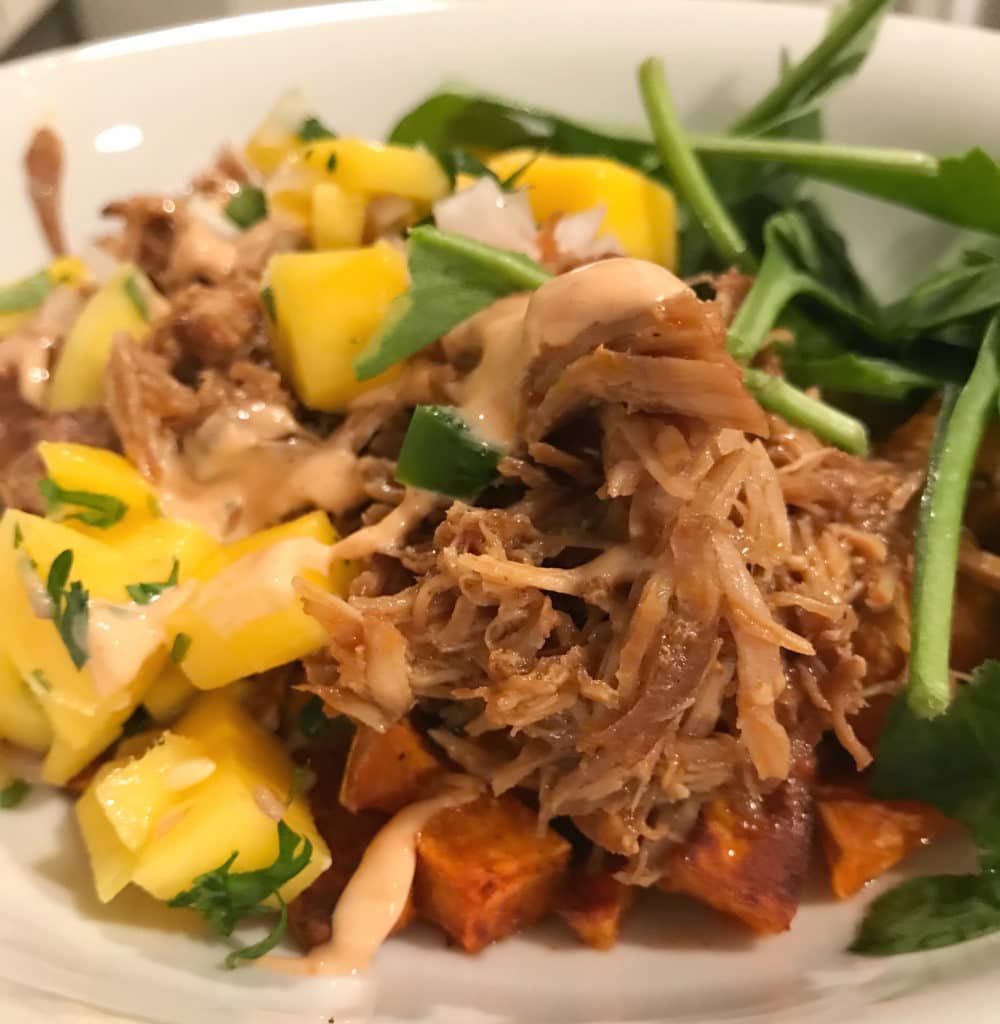 Chipotle chili powder can be found in many grocery stores. If you have an issue with items that are smoked, like smoked paprika, it would be better to use regular chili powder. The mango salsa adds that perfect light and sweet compliment to the smoky pulled pork. I top it with a little sriracha mayo. My favorite clean sriracha (UPDATE: Yellowbird is no longer clean, unfortunately. Try Shark Brand instead.) is Yellowbird Blue Agave. It's such a great recipe for spring, I hope you enjoy it as much as we do!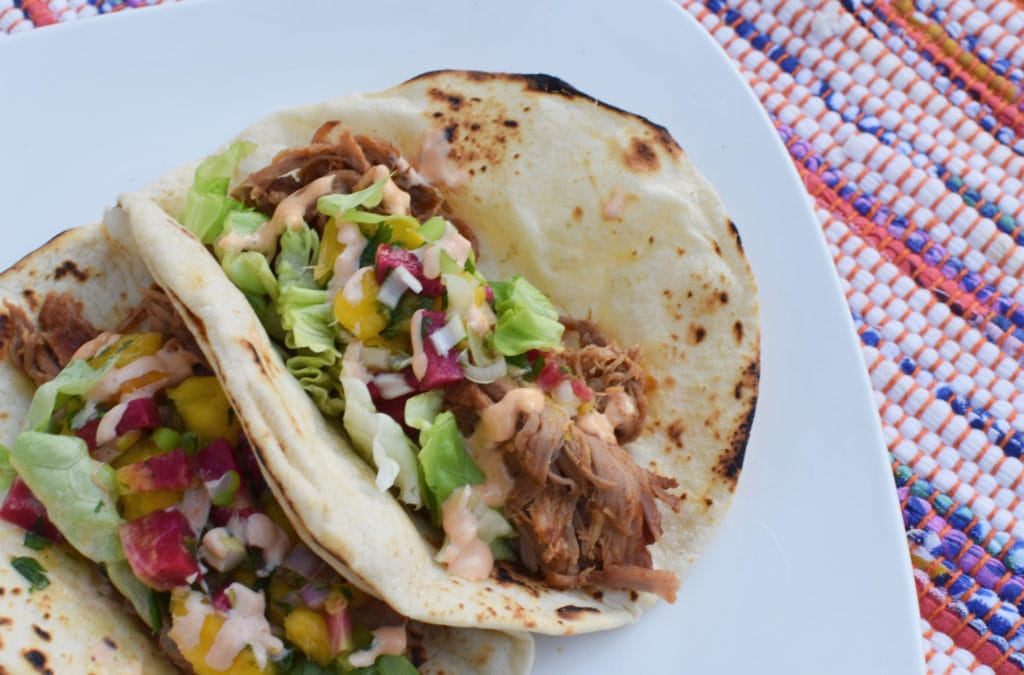 Here is the link so you can see all the size options for the instant pot. I've linked to the one I have on Amazon, the Duo Plus.
Instant Pot Mexican Pulled Pork Tacos
You can easily make this gluten free and/or paleo by subbing lettuce cups for a wrap. Bibb lettuce is my favorite to use. Clean tortillas can usually be found by Tortilla Land or at Whole Foods.
Print
Pin
Rate
Ingredients
Mexican Pulled Pork
3-4

lbs

boneless pork shoulder (or butt), excess fat trimmed

1

tbsp

olive oil

3

shallots, chopped

2

cloves

garlic chopped

1

tablespoon

chipotle chili powder

1.5

teaspoon

kosher salt

1

tablespoon

brown sugar (or honey)

½

teaspoon

paprika

2

cups

low sodium vegetable or chicken broth
Mango Salsa (serves 2-4 people)
1

large mango, de-seeded and chopped

¼

cup

fresh cilantro, chopped

¼

jalapeno, seeded and minced

1

small shallot, chopped

½

teaspoon

white vinegar

½

watermelon or red radish, chopped
Spicy Mayo
¼

cup

mayonnaise

2-3

teaspoon

sriracha
Tacos
4-6

tortillas

lettuce, chopped
Instructions
Cut the pork shoulder into 2-3 inch cubes and set aside. Make the rub with garlic, shallots, chili powder, salt, sugar or honey, and paprika. Toss the rub with the pork shoulder cubes and marinate (if you can) for at least an hour. I only did about 30 min, but I wish I would have let it sit longer.

Turn your instant pot to the "saute" option, add olive oil, and place a few pieces of the pork in to brown on both sides, about 2 minutes per side. Make sure to not burn the garlic or shallots. You will need to do this in batches, so place the cooked meat on a plate. Once all done, transfer all pieces to the instant pot and add the broth. Place the cover on top (it makes a fun noise), latch in place, and turn to close the venting knob to "sealed". Tip: The venting knob will not click! It seems lose...don't worry, as long as it's lined up with the sealed icon, you'll be fine. The little silver floating valve will eventually seal in place.

Turn the setting to "pressure cook". If you saute your pork ahead of time, it won't take as long to pressurize...maybe 10 minutes. I've had it take me up to 20 though. Once it's pressurized set the time for 50 minutes and walk away.

Meanwhile, make your mango salsa by combining all the ingredients and letting it chill. You can also mix together the mayo and sriracha to let that chill as well.
To Make In A Crock Pot
Skip the steps for cutting up and marinating the pulled pork. Throw in the shallots and garlic to the pot, add the pulled pork on top, then cover the meat with the spice mixture, pressing it in on all sides. Add only 1 cup of broth, cover, and either cook on high 6-8 hours (I find it usually only takes 6ish) or low 8-10.

Warm your tortillas in the oven or you can brown them a little over an open gas flame if you have a gas stove (about 30 secs per side over med heat). Add pulled pork, spicy mayo, lettuce, and mango salsa. Eat quickly before anyone steals it!
Notes
For mayo -

Sir Kensington's Organic (my fave), Primal Kitchen Avocado Oil are good options if you can't make your own.

My pulled pork still had a lot of liquid leftover. If that's the case for you, pull out the pulled pork pieces (you can shred them on a cutting board), and turn the instant pot back on to saute. The liquid should simmer about 10-15 minutes till it's nicely reduced. Keep an eye on it. Once simmered, you can return the shredded pulled pork back to it's juices.
Nutrition
Calories:
415
kcal
|
Carbohydrates:
17
g
|
Protein:
53
g
|
Fat:
14
g
|
Saturated Fat:
3
g
|
Polyunsaturated Fat:
3
g
|
Monounsaturated Fat:
6
g
|
Trans Fat:
1
g
|
Cholesterol:
138
mg
|
Sodium:
970
mg
|
Potassium:
981
mg
|
Fiber:
2
g
|
Sugar:
5
g
|
Vitamin A:
487
IU
|
Vitamin C:
2
mg
|
Calcium:
51
mg
|
Iron:
3
mg