This Strawberry Basil Chicken is the perfect end of summer meal. Fresh strawberries are mixed with basil, mozzarella, and olive oil and placed on top of marinated grilled chicken for a healthy and refreshing meal.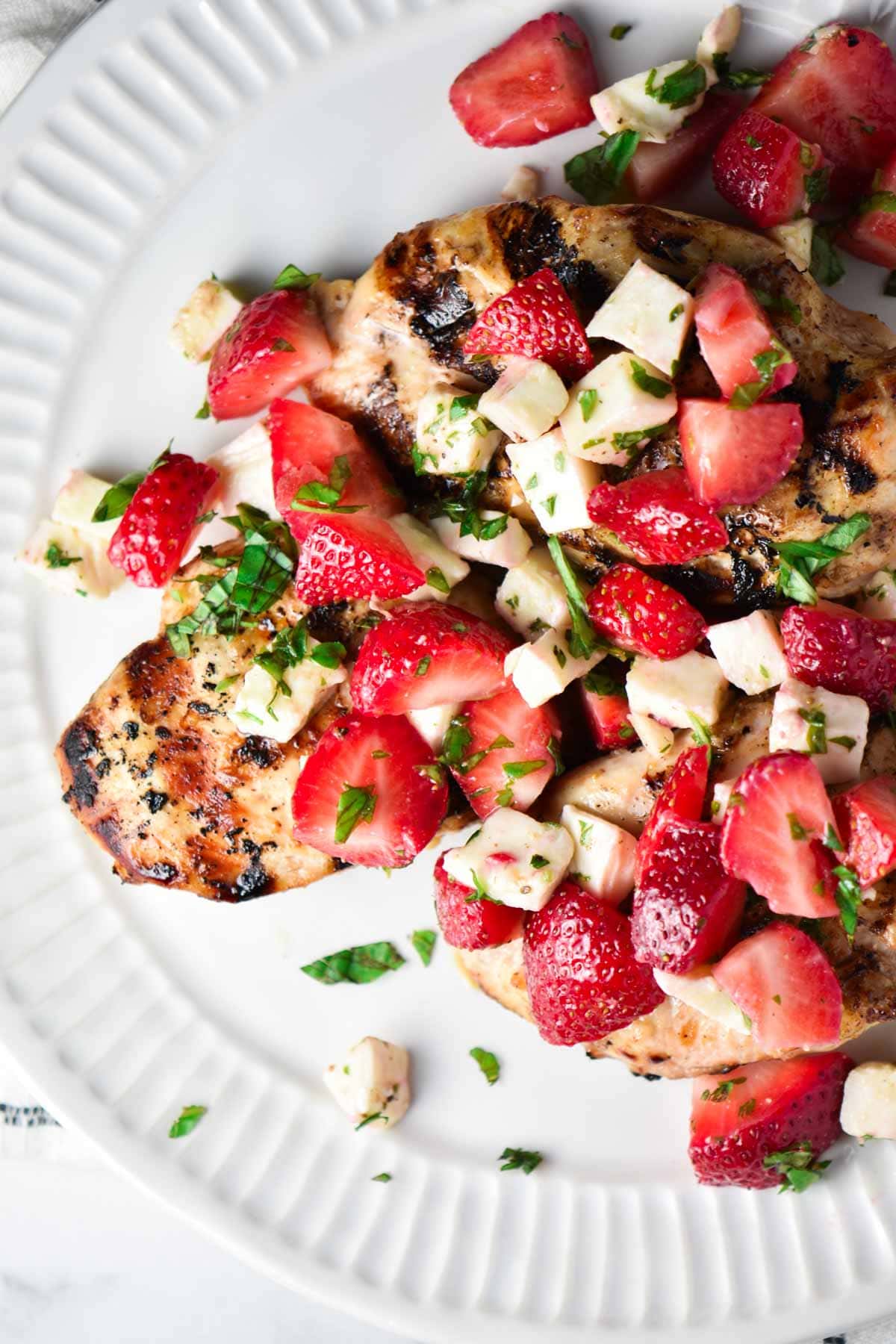 You'll love this recipe because:
It's quick. Just remember to marinate the chicken in the morning, pop on the grill in the evening, and quickly mix together this strawberry basil topping.
It's healthy. The grilled chicken pairs perfectly with fresh strawberries and mozzarella helps to balance the flavors. Strawberries are a great source of vitamin C and mozzarella is a cheese lower in sodium that's also a good probiotic.
Gluten free friendly and migraine diet friendly! It would also fit a low carb diet and a Meniere's diet for low sodium.
Ingredients
Strawberries - I love using fresh strawberries for this recipe. Just remove the green tops and cut into small pieces, like a salsa. Frozen would not work for this recipe.
Boneless, Skinless Chicken Breasts - Sometimes the thin cut chicken breasts are easier to grill with less uneven parts. I also recommend getting "air chilled" as this type of chicken doesn't soak up extra moisture when being processed. It will taste and cook better.
Basil - Fresh basil is a must. You can buy this in large packages at most grocery stores where the fresh herbs are located, but I find the best deal is usually at Trader Joe's.
Mozzarella - Again, fresh is key here. You want it to be in a "ball" form and not pre-shredded or in a cube.
Olive Oil - I use extra virgin olive oil in both the strawberry topping and as a marinade. If you have a very nice olive oil you save for dipping bread or bruschetta, the strawberry basil mixture would be a great place to use it. For the marinade, I just use my bulk greek Trader Joe's brand.
Garlic - This simple marinade just has a few ingredients, so garlic is an important one to bring the flavor. Simply mince and add it to the olive oil and vinegar or lemon mixture.
Distilled white vinegar or lemon juice - For those following a migraine elimination diet, use distilled white vinegar in the marinade. For those who are not sensitive to citrus, use lemon juice.
How to Make
Start with the marinade. Simply whisk together olive oil, the acid, and garlic, with salt and pepper. Place the chicken breasts inside and marinate for at least an hour, up to 12 hours. I don't like to marinate longer than 12 hours as sometimes the texture of chicken, depending on the thickness, can become mushy. However, as long as you don't go past 24 hours, you should be ok.
Preheat the grill to 400 degrees F/medium heat. Use the same for a grill pan. Cook on both sides, about 8 minutes each side, flipping halfway through. Use a meat thermometer to check the internal temperature. Chicken should register 165 degrees F.
Place the chicken on a cutting board or plate and cover loosely with foil. Meanwhile stir together the chopped strawberries, basil, mozzarella, and olive oil. Sprinkle with kosher salt and pepper to taste.
Plate a chicken breast and top with the strawberry basil mixture. Serve warm.
Recipe Tips and Modifications
Use air chilled chicken for the best flavor and the easiest to grill (no retained moisture).
Do not marinate longer than 24 hours to avoid the meat getting mushy.
If tolerated, a splash of balsamic vinegar is really nice in the strawberries.
If sensitive to histamine, use distilled white vinegar for the marinade, and cherries or chopped peaches instead of strawberries.
For a dairy free alternative, omit the mozzarella and add the same amount of strawberries + an extra tablespoon of basil.
Use fresh everything - fresh fruit, fresh mozzarella.
Side Dishes for Strawberry Basil Chicken
Here are some side dishes that I love with this strawberry basil chicken recipe!
More Grilled Chicken Recipes
For more grilled chicken recipes check out these posts.
If you make any of my recipes, don't forget to tag me #thedizzycook or @thedizzycook on Facebook and Instagram. And please leave a review below!
Strawberry Basil Chicken
This strawberry basil chicken recipe is easy and healthy for a 30 minute meal that's perfect for weeknight dinners or summer cookouts.
Print
Pin
Rate
Ingredients
Chicken Marinade
1½

pounds

boneless, skinless chicken breasts (about 4 breasts)

2

tablespoons

olive oil

1

tablespoon

distilled white vinegar or lemon juice (see note)

2

garlic cloves, minced

¼

teaspoon

kosher salt and pepper
Strawberry Basil Topping
1

cup

strawberries, chopped small

¾

cup

mozzarella cheese, cubed

2

teaspoons

good quality olive oil

2

tablespoons

chopped basil

kosher salt and fresh cracked black pepper to taste
Instructions
In a ziplock bag or glass container, mix together the marinade of olive oil, acid, garlic, and salt and pepper. Place the chicken inside, rub around in the marinade, and allow it to sit from 1 hour up to 24 hours at the most (12 is ideal).

Preheat the grill to 400 degrees or grill pan to medium heat. Remove the chicken from the marinade and shake off any excess. Place on the grill and cook for 8 minutes. Turn and cook another 8 minutes, or until cooked through (no pink and registering 165 degrees F on a meat thermometer). Remove chicken breasts from the grill and cover with foil till ready to serve.

Meanwhile mix together chopped strawberries, mozzarella, olive oil, basil, and adjust seasonings to taste. Place on top of grilled chicken and serve.
Notes
For a migraine elimination diet, you must use distilled vinegar for the marinade. For all others or those who can tolerate citrus, lemon juice is ideal.
Nutrition
Calories:
289
kcal
|
Carbohydrates:
4
g
|
Protein:
41
g
|
Fat:
11
g
|
Saturated Fat:
4
g
|
Polyunsaturated Fat:
1
g
|
Monounsaturated Fat:
4
g
|
Trans Fat:
1
g
|
Cholesterol:
125
mg
|
Sodium:
330
mg
|
Potassium:
713
mg
|
Fiber:
1
g
|
Sugar:
2
g
|
Vitamin A:
250
IU
|
Vitamin C:
25
mg
|
Calcium:
125
mg
|
Iron:
1
mg