If you're anything like me, you scroll past any recipe that requires you to do something overnight. My aunt, who is a real chef that studied at Le Cordon Bleu, loves to make Yotam Ottolenghi's hummus from the Jerusalem Cookbook. She always insisted I should soak and cook dried chickpeas because they were "so much better", but never really explained why that extra effort was worth it over buying canned chickpeas. After experimenting for myself (and saying a few swear words), I'm here to tell you why they are different.
Before I get too far into this, I want to say that chickpeas, AKA garbanzo beans, are legumes and many legumes (like peanuts) are listed as migraine triggers. That being said, they are still allowed on the Heal Your Headache diet and are not called out as being a trigger. I would just say to not be afraid of them, but be aware of how eating chickpeas might make you feel.
Dried chickpeas can be made 2 ways. The first is soaking them overnight, rinsing them, then boiling them in water for 2 hours. This is supposedly the best way to do it, especially if you have digestive issues with chickpeas and beans. Mark Bittman says you can still cook them without pre-soaking following one of these directions. Perhaps if you're really sensitive to tyramine, one of the quick cooking options would be best. You'll want to make sure you don't soak your chickpeas for more than 10-12 hours as they will ferment the longer they are in the water. I did this my first time around because I didn't get around to cooking them, and you could actually smell the fermentation. It was really bad.
I can 100% say that using dried chickpeas over canned produces a noticeably creamier texture. The falafels held together much better, the hummus spread like butter, the taste felt elevated and more complex…which really stinks because I was hoping for the easy way out. For falafels I have to say it's definitely worth it, but if you're just making hummus I'll give you a secret I learned from Smitten Kitchen. If you take your canned chickpeas, rinse them, and then squeeze them lightly between your thumb and forefinger till the little, thin skin pops off, you'll still get a really smooth hummus. But popping off the skins from each chickpea is also a pain, so pick your battles. I find if I put some music on, it can become a little therapeutic.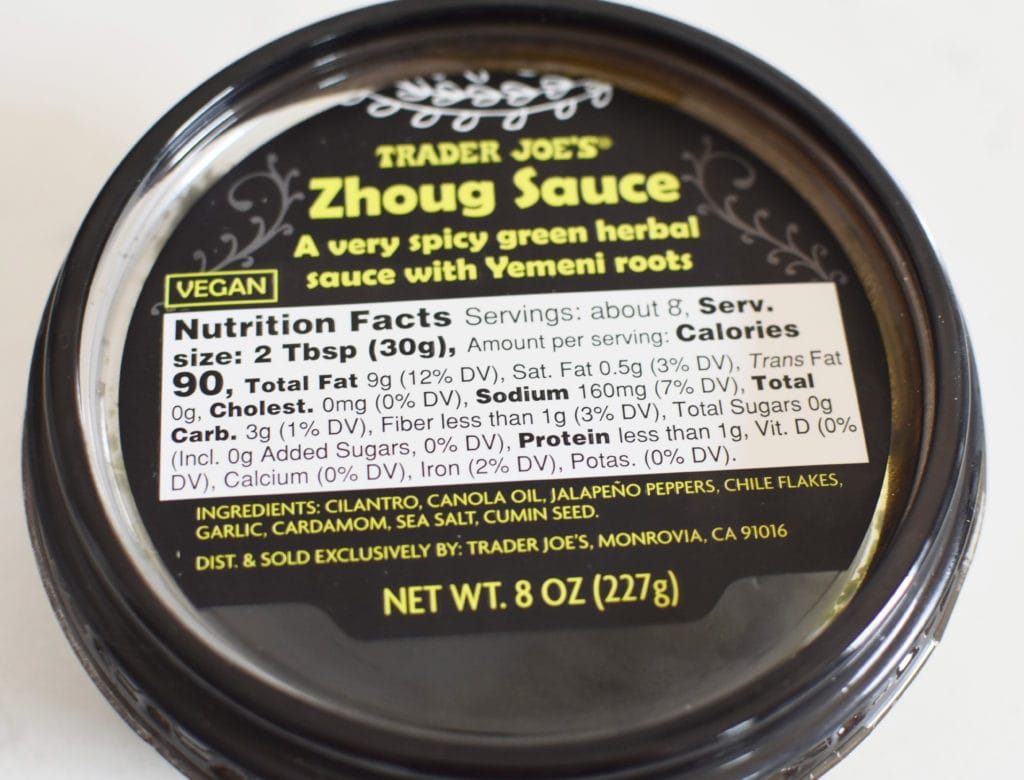 Let me also introduce you to my new Trader Joe's obsession-
Zhoug Sauce.
I actually bought this first and then tried to think of what the heck I could make to use this sauce on. With just cilantro, oil, jalapeños, garlic, cardamom,chili flakes, salt, and cumin, this is the perfect pre-bought spread for those on a migraine diet. It's like a spicy cilantro pesto! After I tried it with the falafels, I realized you could put this on pretty much anything. It would make a really easy "chimichurri" for steak or a flavorful topping on grilled chicken. Just make sure you're ok with the spice level before slathering it on everything.
Perhaps you can notice a difference here in the texture of the falafels. The first one if made with canned chickpeas and the second is with dried and soaked chickpeas. Crazy, huh?
Vegan Falafels with Zhoug Sauce
HYH- safe Zhoug Sauce can be found at Trader Joe's
Ingredients
Falafels
12

oz

dried chickpeas soaked overnight and simmered for 2 hours or use one of the quick cooking methods above

I used Bob's Red Mill Dried Chickpeas

1

large shallot or 2 small, chopped

2

tbsp

fresh chopped cilantro

2

tbsp

fresh chopped parsley

1

tsp

kosher salt

1/2

tsp

dried red pepper flakes (or 1/4 tsp cayenne)

3-4

garlic cloves, peeled & chopped

1

tsp

baking powder

1/4

tsp

ground coriander

4-5

tbsp

all purpose flour

Can be gluten free. I used Trader Joe's All Purpose Gluten Free

Optional: 1/8

tsp

ground turmeric

4

tbsp

grapeseed oil or any high heat oil

4-6

butter lettuce wraps

pomegranate seeds

sunflower shoots for garnish

1

container

Trader Joe's Zhoug Sauce
Instructions
You can begin by soaking your dried chickpeas overnight in the fridge, then draining and rinsing them thoroughly. Place them in a large pot and bring to a boil. Cover and simmer for 2 hours. Another option is to quick cook them without soaking, using the instructions in the link above.

Once cooked, drain and dry your chickpeas. Place the chickpeas and the shallots in a large food processor and pulse 2-3x. Add cilantro, parsley, spices, salt, and garlic. Process it till just blended/combined, scraping down the sides. Be careful to not over-process and puree the ingredients.

Sprinkle in the baking powder and 3 tablespoons of flour and pulse. Add more flour if needed, the dough should not be too sticky on your hands and form into a small ball.

Put the chickpea "dough" ball in a small bowl and refrigerate for at least 30 min to an hour. The longer it's in the fridge, the easier it will be to work with. Form into balls around 1-1/2".

Heat a large sauté pan with oil over medium high heat. Make sure there's enough oil to cover the bottom of the pan. Once the oil is hot, test one ball to see if it falls apart. If it does, try adding more flour to the mixture. Add the falafel balls in just a few at a time. Work in batches so you don't overcrowd your pan. They will take only 2-3 minutes per side to brown.

Transfer cooked falafels to a plate lined with a paper towel to drain the oil. Place on lettuce leaves and top with pomegranate seeds, greens, and Zhoug sauce.