I had goals this week. Real goals like lots of thoughtful posts, new pinterest pins, and beautiful instagram pictures. And those goals have all been shot to hell. Between staying an extra day in Phoenix, repairing every item that has broken in our house (we finally have heat!), and discovering a giant nail in my tire today I feel like I'm living in a much less glamorous HGTV show. Where are Chip and Jo when you need them?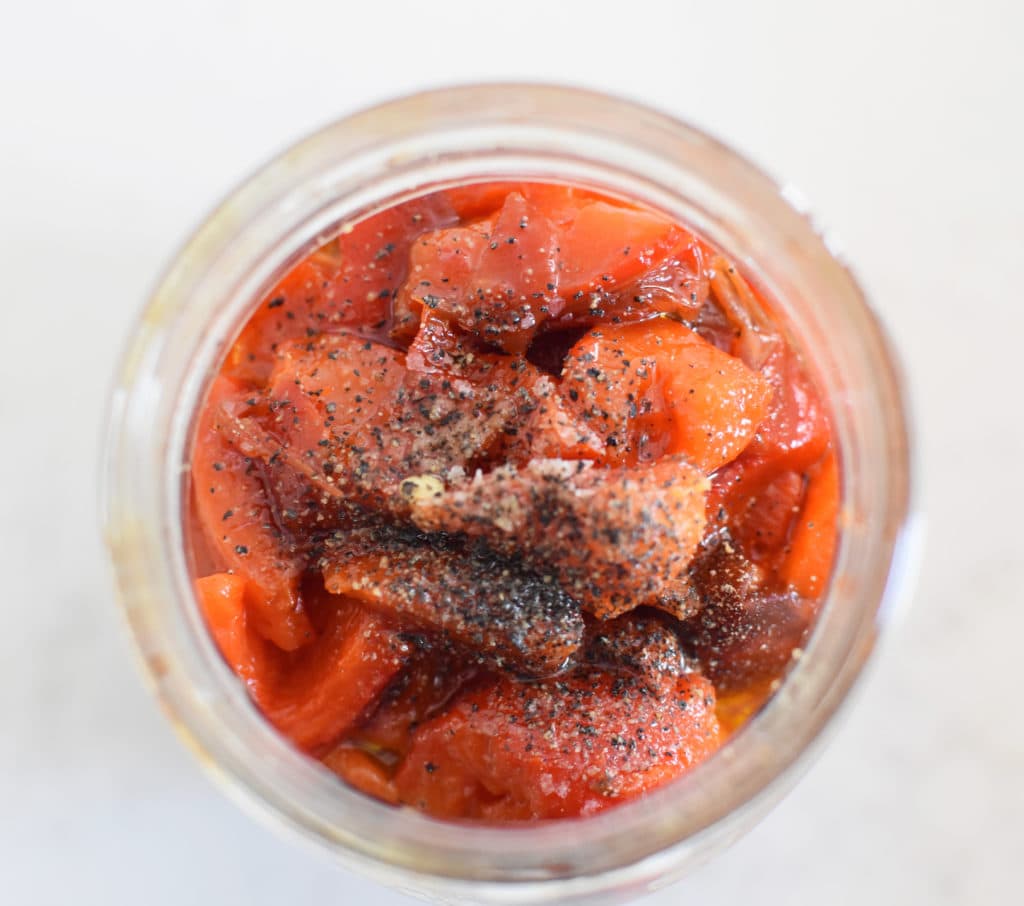 In my haste to pick up groceries so we had something to eat this week, I came home with a bag of organic red peppers from Trader Joe's. I was originally thinking fajitas, but as lunch rolled around I thought of a vegetarian sandwich I had over our weekend in Phoenix. I wondered how hard it would be to roast your own red peppers. I put them on a pan with a good covering of olive oil and stuck them in the 500 degree oven. I only had to flip them twice and the end result was wonderfully sweet and fresh roasted red peppers. Everyone knows that making your own stuff is way better, but I couldn't figure out why I had never tried this before. The taste difference is insane! These are way better (and better for you) than the kind that come out of a can or a bottle, which usually contain migraine trigger preservatives.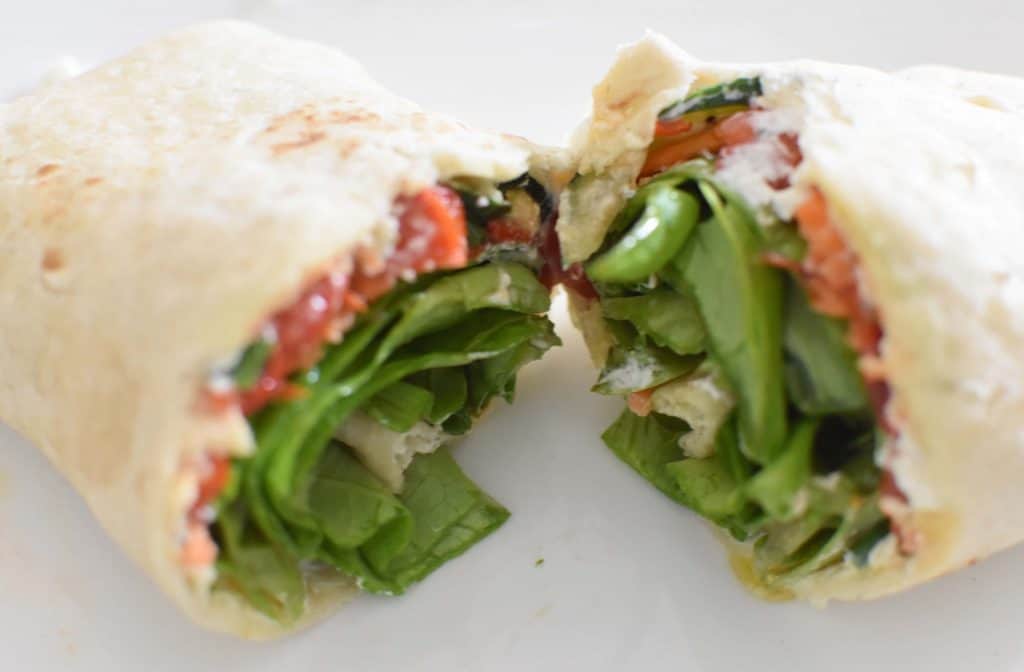 I placed my unused red peppers in a mason jar with some salt, pepper, and a little bit of olive oil for easy storage. They're definitely worth a try for this easy wrap. If you are avoiding any kind of wrap or bread, you can easily make this an all veggie wrap. You can follow this recipe for blanching your collard green leaf to easily roll everything together.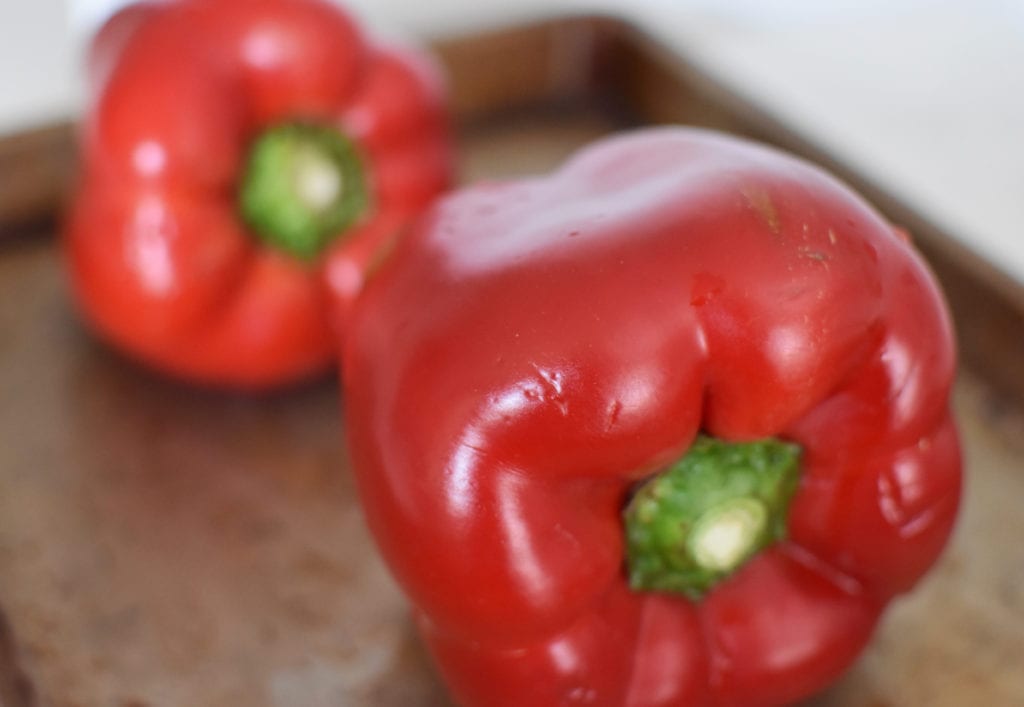 If you lay your red peppers on their sides and turn them every 10 minutes, they'll get a nice char all around.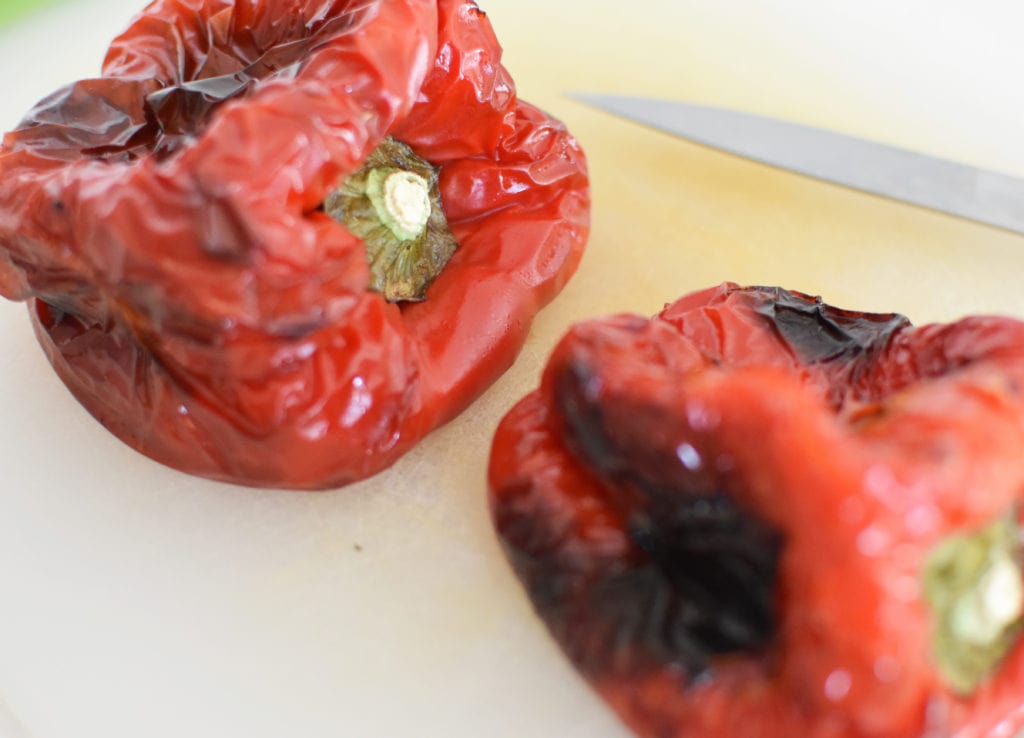 I thought this would be super messy, but it's easy to cut out the seeds once roasted. Just trim around the top of the stem in a circle and lift the membrane with the seeds out.
Homemade Roasted Red Peppers
Adapted from Ina Garten's Red Peppers with Basil Oil. These would be very easy to add to hummus or fancy up with a few different spices.
Print
Pin
Rate
Ingredients
2-3

tablespoon

extra virgin olive oil

2

organic red bell peppers, cleaned

kosher salt and pepper
Instructions
Preheat oven to 500 degrees. Put a splash on olive oil on a baking sheet and place the whole red peppers on top. Rub them with some of the olive oil from the baking sheet.

Bake for 10 minutes, turn the red pepper to a new side. Bake another 10 minutes and turn to another new side. Bake a final 10 minutes - 30 minutes total. Checking them every 10 minutes allows you to pull them out early too if they're getting too charred.

Remove from oven and allow to cool. Once cool, cut around the top stem and remove the seeds. Slice into small strips or chop...whatever floats your boat!

Add red peppers and any juices to a mason jar and top with olive oil until covered. Sprinkle with salt and pepper. Good for up to a week, but if sensitive with tyramine use within 2-3 days at the most.
Ingredients
1

tortilla, bread, or collard green wrap - gluten free, HYH safe, whatever you like!

cream cheese of your choice

I used Arla

green onion or chives, chopped

homemade roasted red peppers

cucumber slices

sprinkle of dried oregano

lettuce
Instructions
Lay out the wrap or bread of choice, spread with cream cheese, and sprinkle about ⅛ teaspoon dried oregano on top. Add green onion, cucumber, lettuce, and roasted red peppers. Wrap it up, pray it doesn't break and that it looks prettier than mine did. Enjoy!