This cold zucchini soup is so refreshing for summer. Mixed with a little bit of cream and lots of herbs, it's flavorful and easy.
What is a Bouquet Garni
Following the Heal Your Headache diet has allowed me to get creative with my cooking. Before I used a lot of citrus or sauces with additives and hidden MSG, but now I had to turn to fresh spices and herbs I never used previously to add flavor. Over our trip to France I noticed fresh herbs were a common theme throughout the cooking, and the flavor it brought to our dishes was incredible.
Bouquet garni, French for "garnished bouquet" is a collection of herbs tied together with string. It's used to flavor stocks, soups, and casseroles, then discarded before the meal is served. There's no set recipe for a bouquet garni, it's just a collection of your favorite herbs all tied together. It could look something like rosemary, basil, savory, and tarragon or thyme, parsley, rosemary, and chervil...whatever you like or have on hand!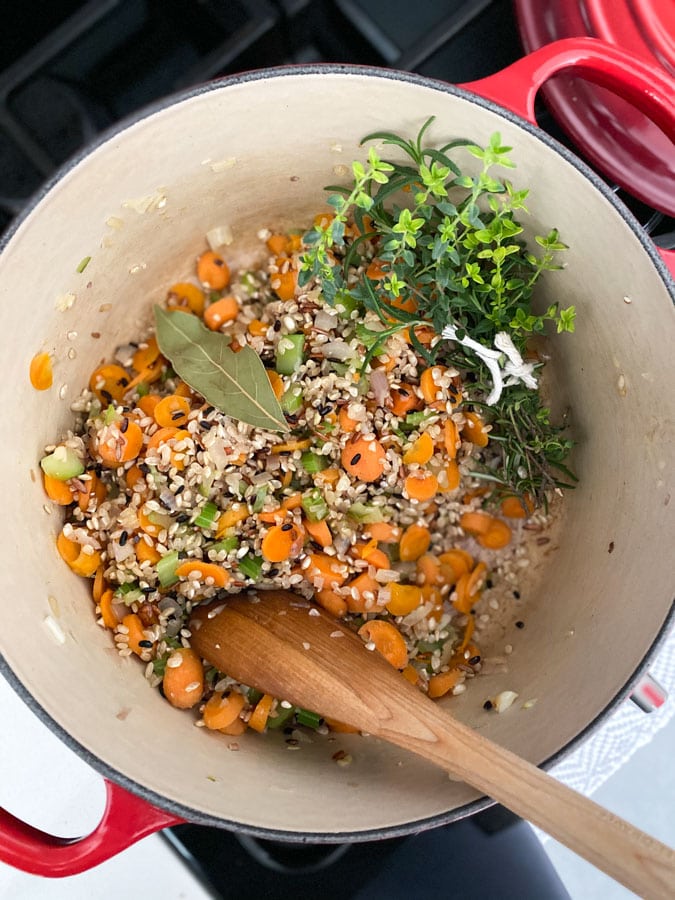 This particular photo is from my chicken and rice soup, but shows you how the herbs are tied together.
Herb Flavors for Soup
If you've never used fresh herbs before, here are some flavor profiles you might be interested in.
Rosemary - a strong, woody flavor that tastes and smells a bit like pine.
Thyme - another strong, woody flavor that complements poultry very well. It can also come in other flavors, like lemon thyme, which has a hint of citrus.
Basil - sweet, peppery, with a hint of an anise (licorice) flavor.
Sage - an earthy flavor that smells of eucalyptus and some pine, but a little lighter than rosemary. It's often used in sausages and stuffings, as well as with lamb.
Marjoram - similar to oregano but less spicy and more sweet. It's a lighter alternative to oregano.
Oregano - spicy, pungent, and "musty", this herb is found in a lot of strong flavored cooking, like Greek. It's wonderful on lamb.
Sumac - a Middle Eastern spice that has a tart flavor. It's great for hummus when you can't add lemon.
Fennel - sweet with a licorice flavor. Is wonderful for homemade sausage.
Savory - often used in bouquet garni, this herb is peppery and similar to thyme.
Bay Leaf - yes, they do serve a purpose. It adds a woody and slightly minty flavor to dishes once simmered. It provides some complexity to a broth that's heavy with garlic and shallots or leeks.
Dill - a lighter flavor similar to fennel or celery that compliments fish and other fresh dishes very well.
Tarragon - a bittersweet flavor that has notes of anise (licorice). It goes well with chicken, especially chicken salad.
Chives - these come in other flavors like garlic and onion. I like them all! I use onion often for a flavor replacement that's HYH safe.
Some of these are fairly common, but I encourage you to pick up a spice or herb you've never tried before next time you go to the store. It may open up some exciting options for you!
This chilled zucchini soup was also inspired by an overabundance of this popular summer vegetable (I tend to get a little overzealous at the farmers market). Make your bouquet garni with whatever herbs you'd like! I had parsley, bay leaf, and thyme on hand so that's what I went with.
Other Recipe Tips
My favorite ways to cook this cold zucchini soup is using my Le Creuset pot, which is one of my favorite investments. I've even seen them on sale in Costco or at Tuesday Morning every once in a while. If it's a little out of your price range, I've heard really good things about Lodge Cast Iron dutch ovens.
A really good blender is also necessary for a super creamy yet light texture. I love my Vitamix, and you can find refurbished ones for a really good price. I have yet to find another brand that really competes with Vitamix, but if you have one you love, let me know!
Summer Recipes
This chilled soup would be great paired with one of these summer recipes:
Updated on July 30th, 2020 with new photos and some additional text.
Cold Zucchini Soup with Fresh Herbs
A wonderful starter or a light summer meal, this creamy vegetable soup has major flavor that's highlighted with fresh herbs. It's best served as a light appetizer or with crusty bread.
Print
Pin
Rate
Ingredients
2

tablespoons

butter or ghee

3

shallots, roughly chopped

3

garlic cloves, peeled and rough chopped

1.5

pounds

fresh zucchini, washed and cubed into ½ inch pieces

1

teaspoon

dried thyme

1

bouquet garni - a handful of herbs that you enjoy

*I used fresh parsley, a bay leaf, and a few sprigs of lemon thyme all tied together with twine

½

cup

organic heavy cream

32

oz (4 cups)

vegetable broth

fresh dill and chives for garnish
Instructions
In a very large, heavy bottomed pot or dutch oven, melt the butter over medium heat and add the shallots. Sautéing for 1-2 minutes, while stirring. Add the garlic and sauté another minute or two until fragrant and soft.

Add the zucchini to the pot and continue cooking on medium heat till softened, about 4-5 minutes. Then add the stock, bouquet garni, dried thyme. Bring the soup to a low simmer (not boiling) for 15 minutes. No need to cover the pot.

After 15 minutes, remove the bouquet garni and add ½ cup of heavy cream. Stir until combined and remove from heat. Allow the soup to cool for a little bit and then place all the contents into a high speed blender. You'll have to do this in batches depending on the size of your blender. Blend until smooth.

You can either stick the whole blender in the fridge or place into a large bowl. Allow the soup to chill for at least 2 hours, if not more. The flavors will become much stronger the longer it sits.

I like to serve this as an appetizer, but it also makes a wonderful light meal. The garnish of dill and chives are definitely necessary!! Soup will keep 3-4 days.
Notes
If following a migraine diet, watch for carrageenan in the heavy cream.
For dairy free/vegan, use coconut cream or your favorite dairy free creamer (if tested) and olive oil instead of butter.
To make this vegetarian, use vegetable broth (recipe in my cookbook).
Serve as a delicious summer appetizer or with crusty bread. This would be lovely with grilled seafood and a strawberry salad.
Nutrition
Calories:
139
kcal
|
Carbohydrates:
8
g
|
Protein:
2
g
|
Fat:
12
g
|
Saturated Fat:
7
g
|
Cholesterol:
37
mg
|
Sodium:
656
mg
|
Potassium:
353
mg
|
Fiber:
2
g
|
Sugar:
5
g
|
Vitamin A:
957
IU
|
Vitamin C:
21
mg
|
Calcium:
39
mg
|
Iron:
1
mg