This super simple recipe for Crockpot Pesto Chicken only requires two ingredients - pesto and chicken. For this recipe you can use a favorite store-bought pesto or make your own at home.
Crockpot pesto chicken is one of those recipes you save for busy weeknights or days you don't feel like cooking. I don't think I've ever come across a recipe that requires such minimal effort. The chicken infuses with the garlic and herbs as it cooks, and the sauce leftover is flavorful.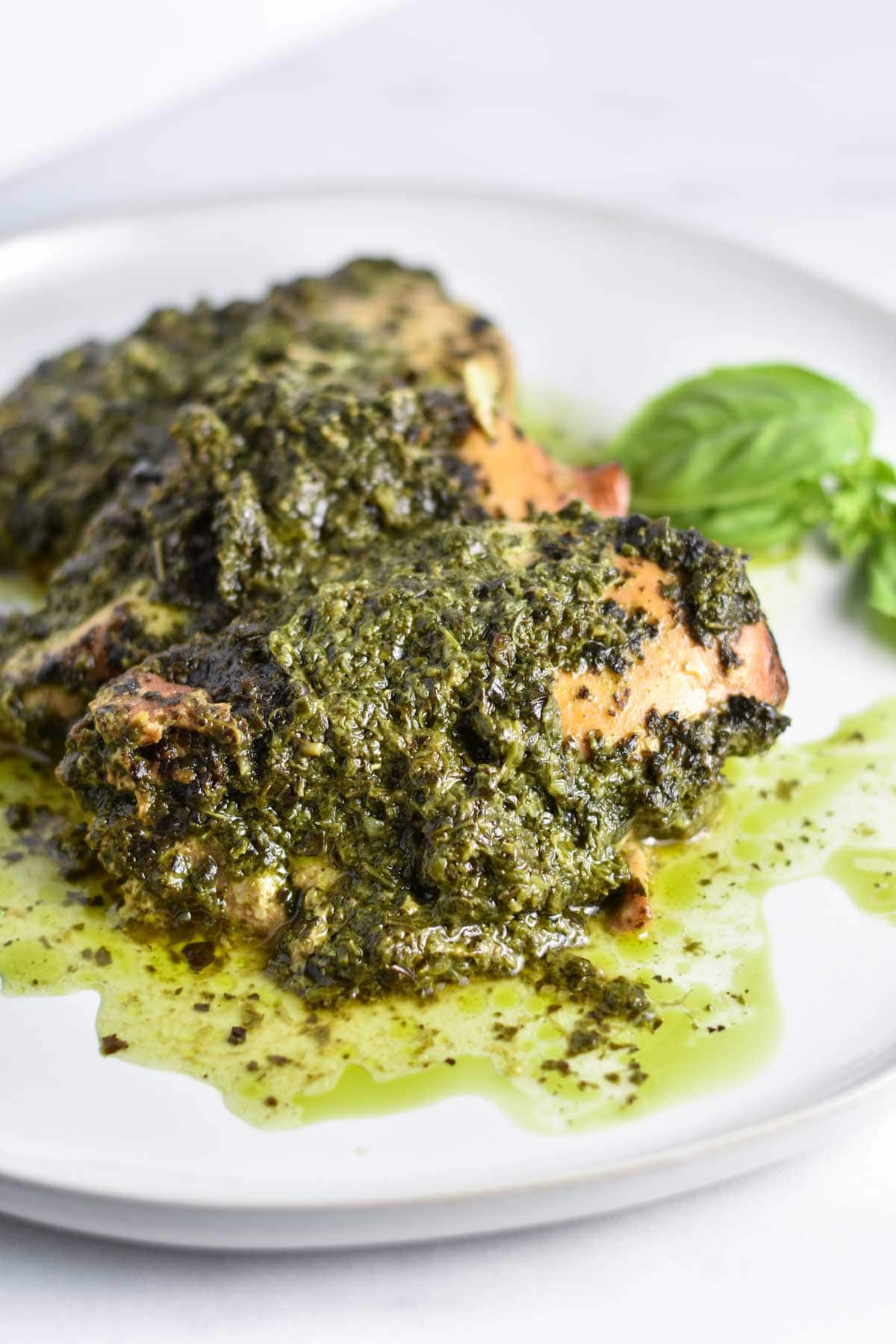 Serve this alongside pasta tossed with the leftover sauce, mashed potatoes, or roasted mashed cauliflower for a low carb option.
Jump to:
Pesto Chicken in the Crockpot
A few months ago I polled my audience to see what kind of recipes they wanted more of and easy crockpot recipes were the number one most requested. I knew I wanted to create a chicken and pesto combination, but every recipe I searched for had cheesy pasta added to it. What about a simple crockpot pesto chicken recipe that you could pair with anything?
The great thing about this pesto chicken recipe is you can set it and not think about it. The total hands on time for prep can take you 2 minutes, if you use store-bought pesto, or no more than 10 if you use homemade pesto.
You'll love this recipe because:
Great for busy weeknights - It's super easy to make on really tough weeks.
Affordable - With just two ingredients, this recipe is budget-friendly.
Low carb - This recipe is keto-friendly and low carb, especially if you serve it with mashed or riced cauliflower!
Healthy - Protein, healthy fats and greens combine for a well-rounded meal. The way I have made it is also dairy-free friendly and gluten free.
Slow Cooker Options
Crockpot is just a brand name for a slow cooker, but there are many different types that can be good! They also come in a range of prices and can be incredibly affordable.
Just a few tips:
Do not use the slow cooker setting on the instant pot pressure cooker unless you're extremely familiar with it. The instant pot slow cooker function is NOT the same as a crockpot. It only heats from the bottom versus heating from all sides. Therefore many people are disappointed in the results this function gives them. I have not made this recipe in the instant pot yet, so give me your feedback if you try it!
Slow cookers heat differently. The first few times you use it, you'll know if yours cooks slow or fast. It's the same as an oven, some run a little warm. Unfortunately unlike an oven, there's no way to check the temperature without making a few recipes.
I like the digital 6 quart crockpot which is what I used for this recipe. It runs about $80. They make a non-digital crockpot option for about $40. And if you're just feeding two people, you can choose a smaller 2-3 quart one that will only set you back about $15.
Ingredients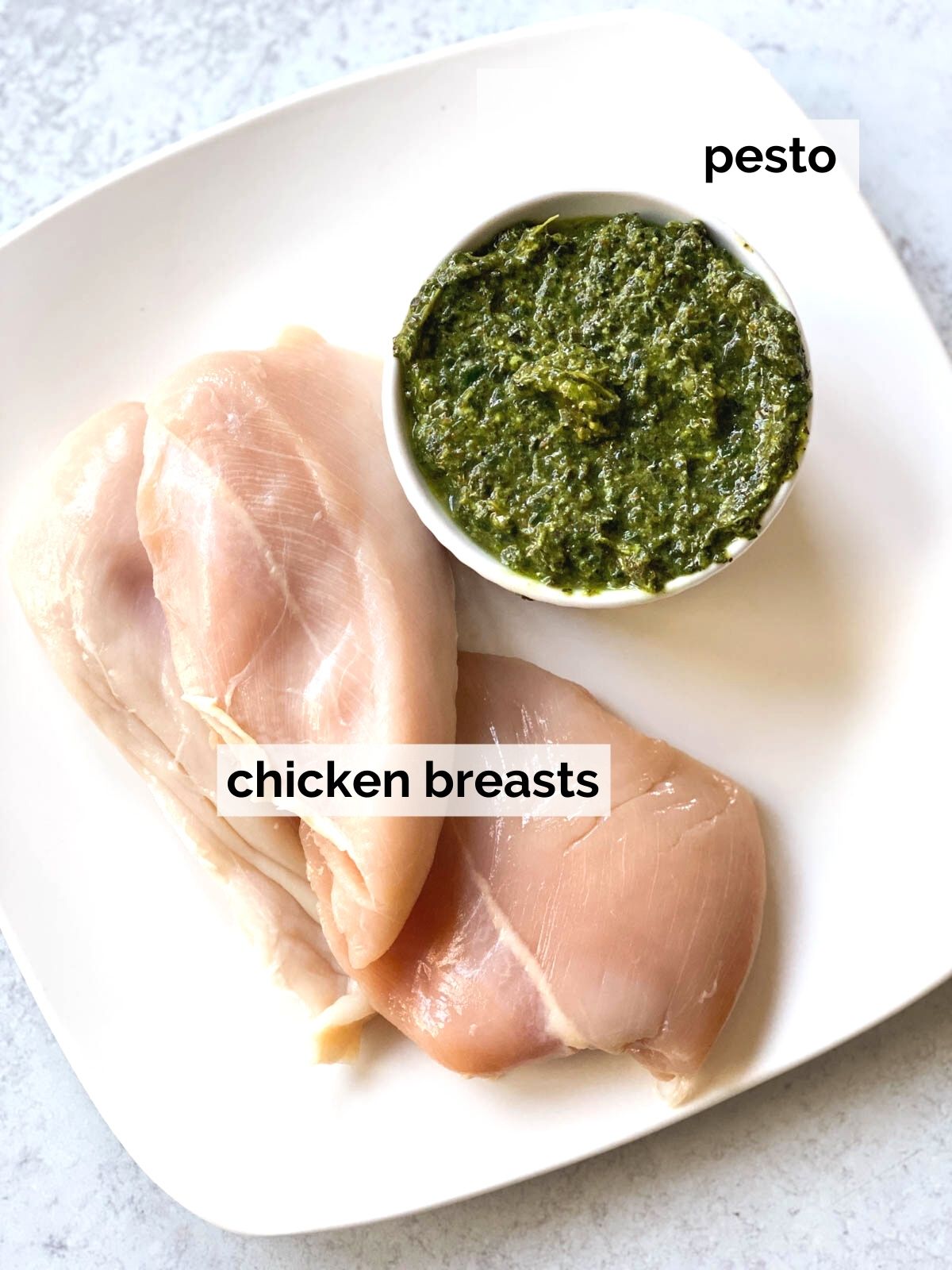 Only two ingredients are needed for this crockpot pesto chicken!
Chicken - I used boneless, skinless chicken breasts that were about 1 ½ inches thick. You can also use bone-in chicken breasts but they will take a bit longer to cook. Chicken thighs will work as well. For boneless chicken thighs, I find these cook much quicker than bone-in.
Pesto - Homemade or store-bought will work for this recipe. For those following a migraine diet, it can be tricky to locate one without parmesan cheese. Sometimes I like to use Le Grand, which can be found at Whole Foods. But for those who are citrus-sensitive, you will need to do a homemade version.
I have a really simple homemade pesto with sunflower seeds recipe you will love with this chicken! Or you can use the recipe for Pepita Pesto on page 76 in my cookbook The Dizzy Cook.
Step by Step Process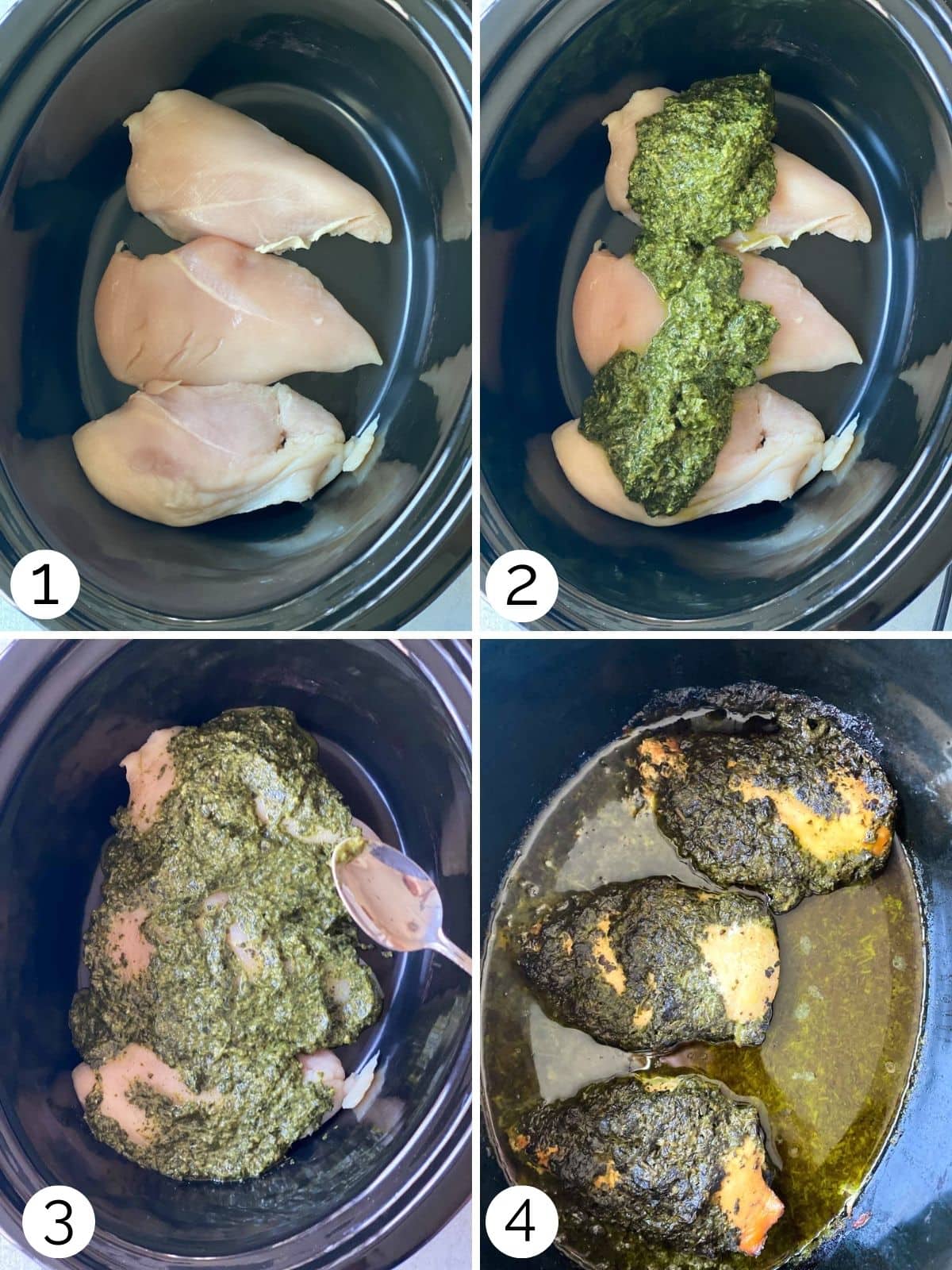 This recipe is one that doesn't require much skill!
Step 1: Place the chicken in the slow cooker.
Steps 2-3: Cover the chicken completely with pesto, spreading around the bottom and sides.
Step 4: Place the lid on the slow cooker and cook for 5-6 hours on low heat, or about 2-3 on high heat.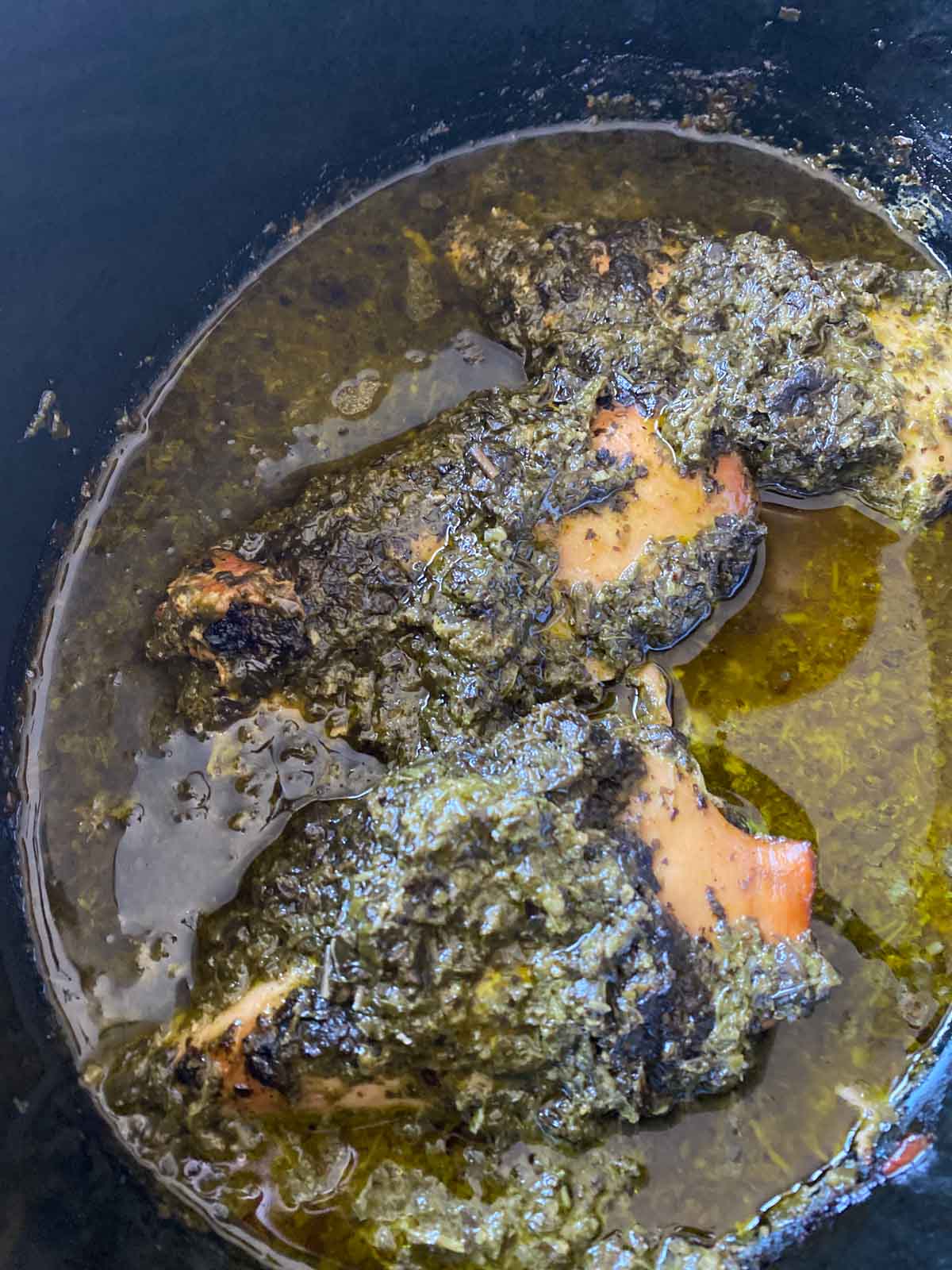 Cooking Tips
Low heat - I highly recommend cooking the pesto chicken on low heat, which will produce a more tender chicken. On high heat, it does tend to get a bit rubbery. However, I have fully enjoyed both ways for dinner. Sometimes just having dinner on the table is the best thing.
Cooking time will vary texture - The longer this cooks, the more easily shredded it will be. This recipe is also very good as tender, shredded chicken over rice. But if you want to serve it as a whole chicken, go with the shorter cooking time and check it. Chicken should be cooked to 165 degrees Fahrenheit to be safe to consume.
Pesto may darken - As the pesto cooks, the bright green color will dull quite a bit, or even become dark. Basil oxidizes as it's exposed to heat and air, but this doesn't affect the flavor! It will still be delicious and not "burnt".
How to Serve
This pesto chicken is best served with something to soak up the sauce. I have a few of my favorite suggestions below.
For low carb - Creamy Roasted Mashed Cauliflower
Something quick - Trader Joe's microwavable brown rice packets
For something cozy - Mashed potatoes or serve with pre-cooked pasta.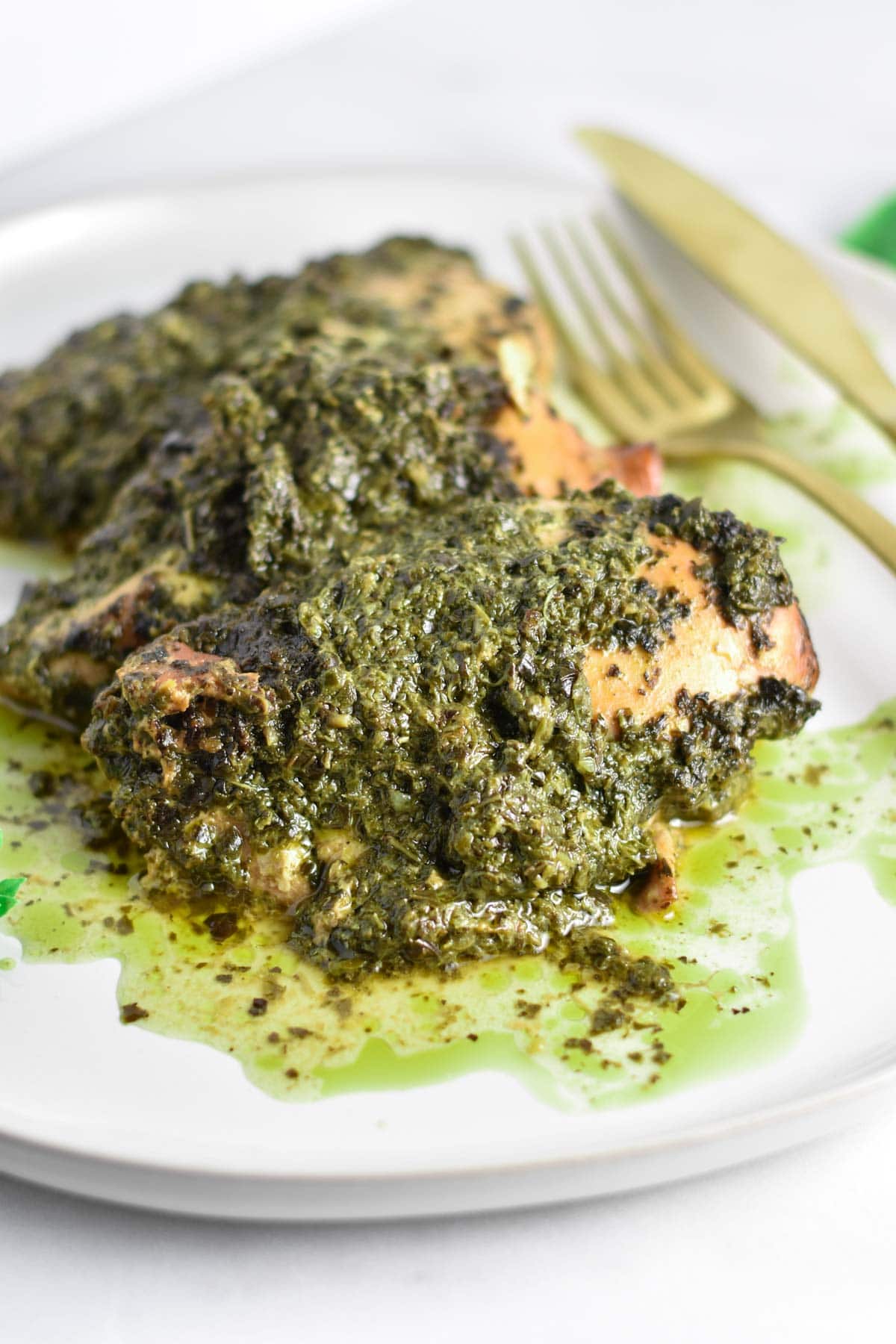 Frequently Asked Questions
Can I use chicken thighs?
You can use boneless, skinless chicken breasts or thighs for this pesto chicken recipe. I find chicken breasts that are thicker take a bit longer to cook than boneless chicken thighs, which take about 2 hours on low in my slow cooker.
Does this need liquid? Won't it dry out?
The pesto provides all the liquid needed and as the chicken cooks, it will release juices. If the chicken dries out it is because it was either cooked too long or at too high of a heat. Using too high of heat can also sometimes make the chicken breast rubbery. This is why low heat and slower cooking is the best way to go. The first time making this, check the chicken after 2 hours to just see if it's drying out. If there's still liquid in the bottom, you're fine. If not, add ¼ cup of vegetable broth, or enough to just coat the bottom of the crockpot.
How do I make this into a pasta?
To make a chicken pesto pasta, simply pre-cook the pasta according to package directions. Stir the pasta into the sauce in the crockpot after the chicken has finished cooking.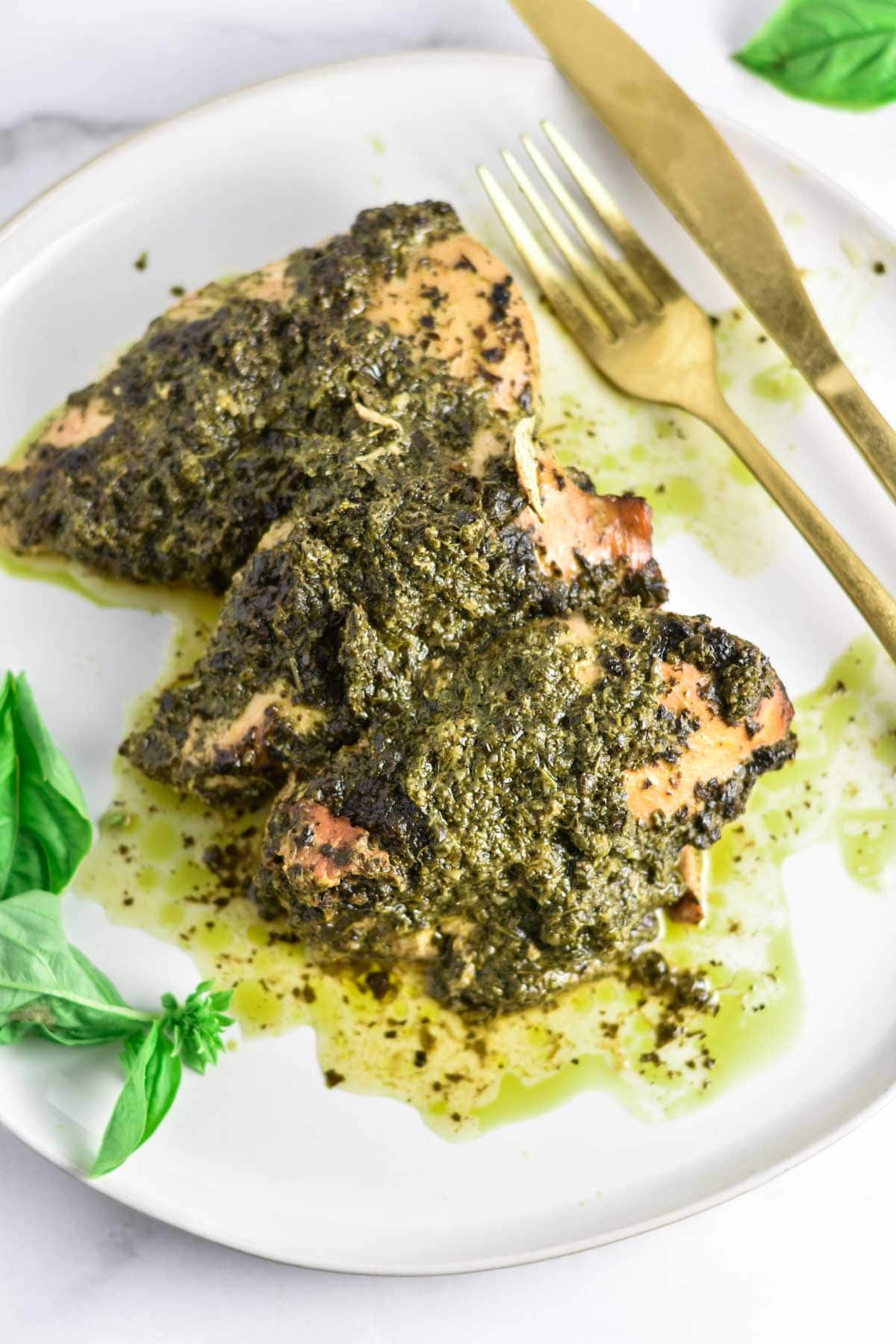 Crockpot Recipes
For more recipes that can be made in a crockpot or slow cooker, check out these posts.
If you make this, tag me #thedizzycook or @thedizzycook on Facebook and Instagram. And if you love the recipe, please leave a review below! Follow along on my Pinterest for more great recipes.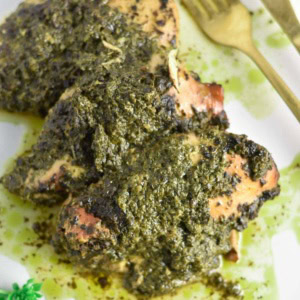 Crockpot Pesto Chicken
This pesto chicken made easy in the slow cooker has just two main ingredients, although if you have a homemade pesto you love, you can use here. A healthy and delicious dinner for busy weeknights.
Print
Pin
Rate
Equipment
1 Slow Cooker

See post for details on which ones work best.
Ingredients
2

pounds

boneless, skinless chicken breasts

1

cup

pesto (homemade or store-bought)

kosher salt and black pepper
Instructions
Add the chicken breasts to the slow cooker. Season with kosher salt and black pepper. Cover with pesto, spreading it all around the chicken. Place the lid on top.

Cook chicken on low heat for about 4-5 hours, or until fully cooked through. If using boneless chicken thighs, these typically cook in about 2 hours on low heat, depending on thickness.

Remove the chicken from the slow cooker and top with basil sauce. Some of the basil may darken from oxidation. This is ok and will taste fine! Serve with pasta, mashed cauliflower or potatoes.
Notes
The nutrition calculation uses my recipe for sunflower seed pesto. Good for those on a low-sodium diet!
The first time making this, check about 2 hours in to see if you still have enough liquid. If it looks dry, add ¼ cup of vegetable broth. For reference, I've never had to do this, but different slow cookers can cook differently. This is especially possible if you don't use as much chicken or pesto as the recipe calls for.
Nutrition
Calories:
229
kcal
|
Carbohydrates:
1
g
|
Protein:
39
g
|
Fat:
7
g
|
Saturated Fat:
1
g
|
Polyunsaturated Fat:
1
g
|
Monounsaturated Fat:
1
g
|
Trans Fat:
1
g
|
Cholesterol:
116
mg
|
Sodium:
4
mg
|
Potassium:
685
mg
|
Fiber:
1
g
|
Vitamin A:
107
IU
|
Vitamin C:
2
mg
|
Calcium:
12
mg
|
Iron:
1
mg