Pickled foods are usually on the "no" list for many migraine diets in an effort to avoid tyramine build up. But what if you could make your own pickles, reducing tyramine build up and avoiding additives like Yellow #5? I would tell you that quick pickling is really not as difficult as it sounds and you'll wonder why you haven't been doing it all along.
In an effort to shop local more often (inspired by this trip), I've been visiting our farmers market on Sundays. Although the one in Dallas can be hit or miss, I like the more limited selection because I know I'm getting what's truly in season. This led me to buy way more kirby cucumbers than I actually needed.
"Kirby" cucumbers are basically fun sized cucumbers. They're smaller, fatter, and don't have a waxy coating on the skin. Not having a waxy coating is what makes them perfect to pickle, as they'll retain a nice crunch to it. They're typically the kind of cucumber you'll spot at BBQ places with legit BBQ. Or hipster burger places, that works too.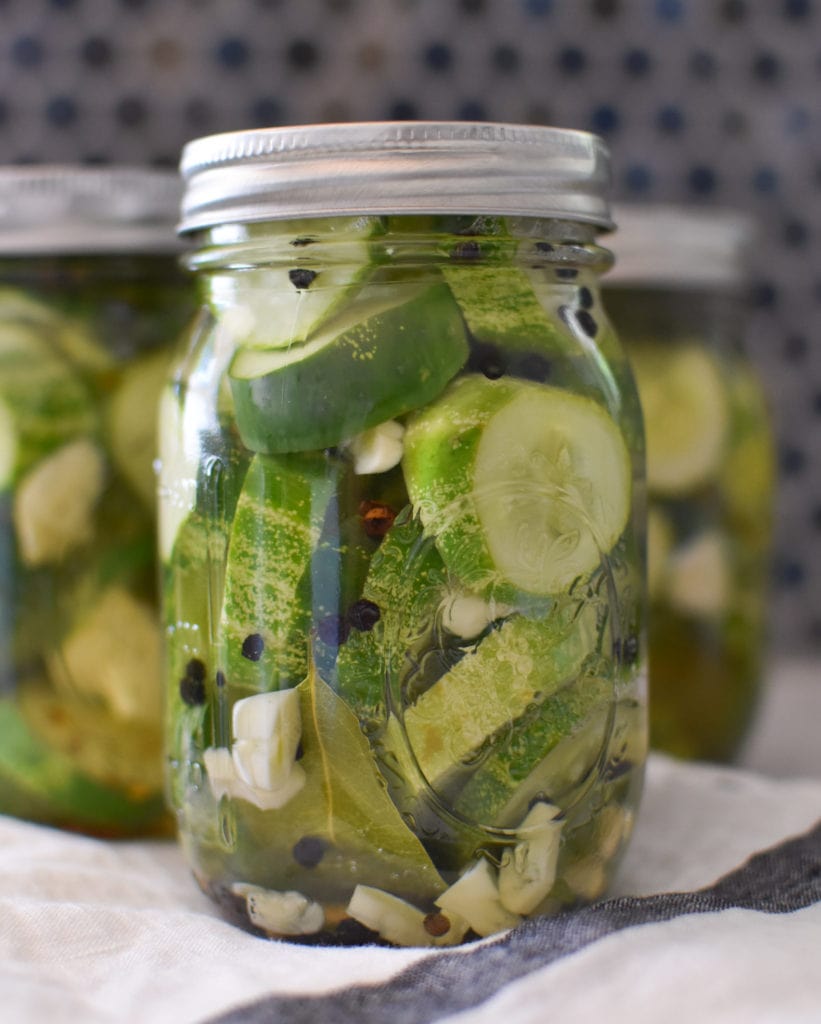 I tried a few different variations of pickles, including one with basil and bay leaves, but this dill version was the ultimate favorite with my family. We ate them with burgers one night and I've also used them in a tuna salad (recipe coming!) as well as potato salad. They're so easy to travel with and would be perfect for family vacations or road trips. If you're very sensitive to tyramine, I suggest making half of this batch and consuming within a few days. It's really not hard to do because they're so delicious. Otherwise, these can keep up to 2 weeks in the fridge. This amount made 3 jars for me, but it truly depends on the size of your Kirby's. These have A LOT less sugar in them than the store-bought brands or even other recipes I've seen, so keep that in mind.
Speaking of BBQ, we're headed down to Austin this weekend to celebrate something I am very excited to tell you about in a few weeks. Surprisingly, my husband and I have never taken a trip to Austin together so please let me know your recommendations! Of course I'm making him stop at the famous Magnolia Market, where he can make cheesy jokes and I'll roll my eyes at him a la Chip and Jo. Actually with us, it's more like the other way around.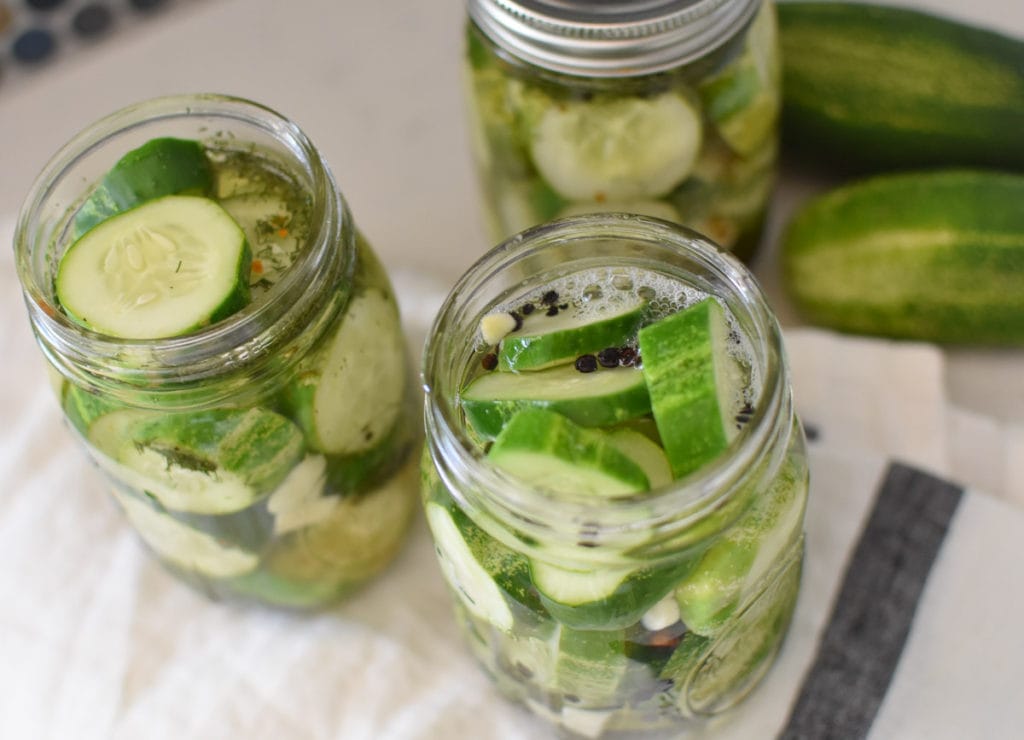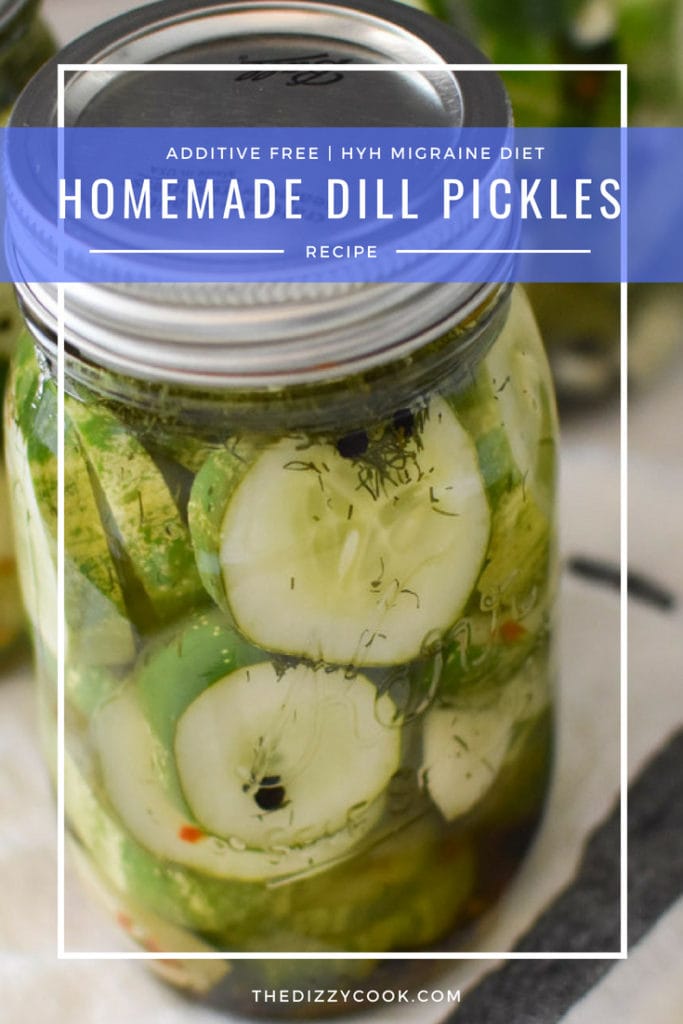 Homemade Dill Pickles
This recipe works best with the clean, kirby dill pickles (small and unwaxed). It does get more spicy over time, so if you prefer low heat, go easy on the pepper or just leave it out.
Print
Pin
Rate
Ingredients
4-5

or 1lb

kirby cucumbers, washed and dried

*See post for details on kirby cucumbers

1 ½

tsp

dried dill

1

cup

distilled white vinegar

1

cup

water

1

tsp

white sugar

½-1

tbsp

kosher salt

4

small cloves of garlic, sliced

¼-1/2

tsp

red pepper flakes

*this will increase the spicy level over time. Leave out if you don't like a little heat!

3-4

14oz mason jars
Instructions
Combine the vinegar, water, salt, and sugar in a small saucepan, and bring to a gentle simmer over medium heat, until the sugar and salt are dissolved. Allow the mixture to cool.

Cut your kirby cucumbers into ¼ to ½ inch pieces (I like mine thicker as they have more crunch) and place them in the mason jars with garlic cloves, dill, and pepper (if using). I personally like to split up the ingredients in each jar, but if you want you can add these to the cooled vinegar/water mixture you had simmered and pour it all in at once.

Pour the vinegar/water mixture on top of the cucumbers until the jar is full. Place the lid back on the jar and shake everything around. Put in the fridge for at least a day and keep up to 2 weeks*. I've tried these after 1 hour and they're pretty good, but a full day will give you more flavor.

*see post note about tyramine