If you've been purchasing your angel food cake in your grocery store baked goods department or making it out of a box, I think you're going to be pleasantly surprised when you try your first bite of homemade angel food cake. I will admit that many people shy away from this recipe because it can be tough and if you don't follow the directions properly, your cake will deflate. But I'm going to give you lots of tips so that won't happen and you will have a light and fluffy cake every time. Are you excited? I'm excited, so let's go!
Tips for the Perfect Angel Food Cake
Set your carton of eggs out on the counter for about 20 minutes before baking to let them warm up. You're looking for room temperature eggs. They should not be cold.

You can't get any yolk in your egg whites. None at all.

If you do, start over.

Separate one egg white from its yolk at a time by having a 3rd bowl to crack your egg over. Then transfer one at a time from your small bowl into a large bowl. Remember you can't get any yolk into your egg whites, and separating one at a time will prevent having to throw away a whole bunch of eggs. When I made my cake I broke the yolk of my very last egg dropping yolk into my egg white. If I didn't transfer them one at a time I would have had to throw away 12 eggs!

Use a glass or metal bowl to whip your egg whites. They whip easier in these types of bowls rather than in a plastic bowl…don't ask me why.

You must use cake flour. Cake flour is more finely ground, and it's cut with cornstarch which is going to give your cake the light and airy texture you're looking for. Don't try to create your own cake flour substitute, just buy the cake flour. It's a lovely flour to have on hand for many other recipes.

I used this one.

Do not grease your tube pan. No grease at all, or your cake won't rise.

You must use a two-piece tube pan. Because we haven't greased our pan, we're going to use a knife to cut the cake out of the pan. Any other pan is going to make it tough to remove the cake once it's fully cooled at the end.

Angel food cake must hang upside down to cool so your cake won't deflate. I purchased this awesome tube pan with feet so that I don't have to do any crazy balancing acts with my hot pan. You just turn it over onto your counter right when it comes out of the oven. Don't worry, your cake won't fall out. Gently turn it upside down with confidence.

The cake must cool completely before removing it from the pan.

Slice your cake with a serrated knife to avoid squishing it as you cut.
Can Baking Help with Pain Relief?
If you're in the Migraine Strong group, you may have heard us mention that creative experiences like painting, art, music, and baking take up so much room in your brain that it's difficult to feel pain while you're engaging in them. We often recommended creative experiences as a great pain relieving strategy. I'm here to tell you that IT WORKS! I had so much fun making this cake, but I was concentrating so hard on following all of the rules this bossy heavenly cake requires, I didn't realize I was in the midst of a migraine attack. The minute I sat down to relax after putting the cake in the oven I felt intense head pain. Honestly, I couldn't believe I didn't feel or notice the attack coming on while I was baking. If you're struggling with chronic pain and need a reprieve, give this strategy a try. You have nothing to lose because either way at the end you're going to have a light, yummy cake to share with friends and family. If I can help you, please reach out anytime. Enjoy!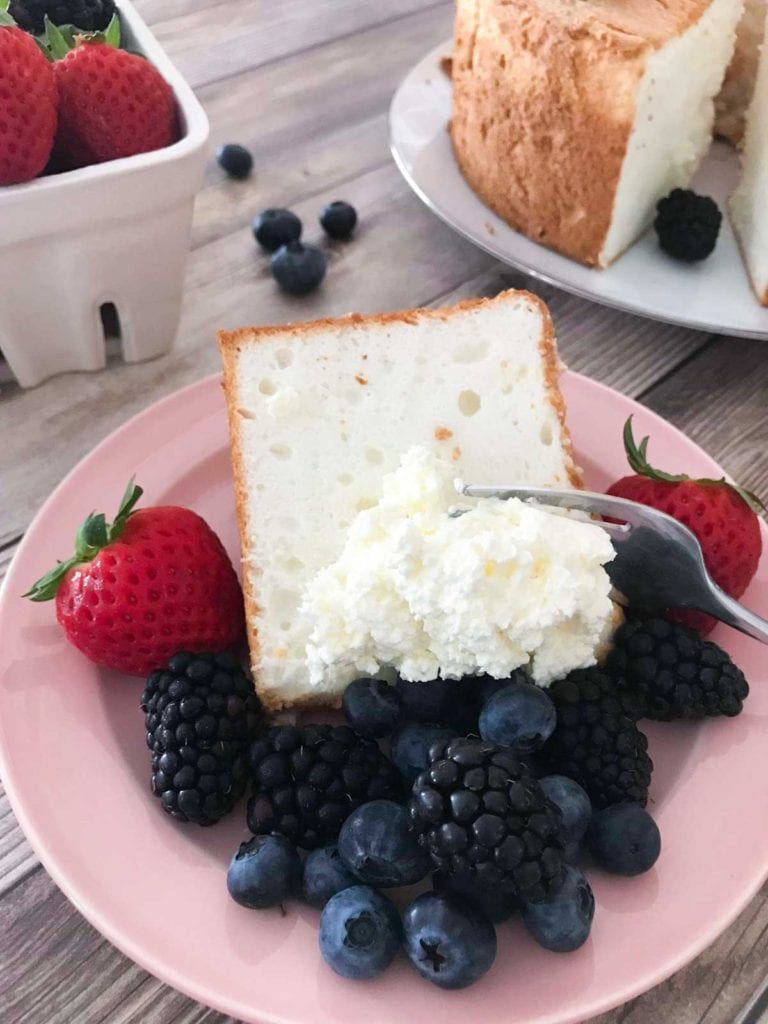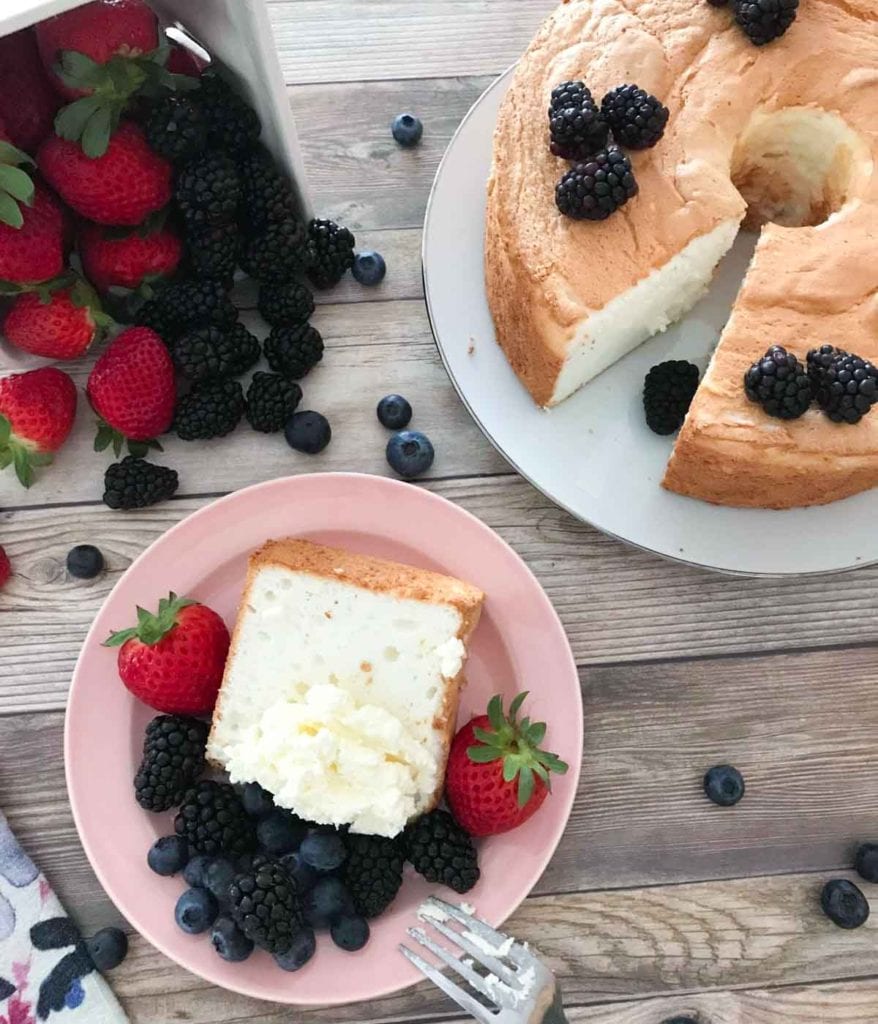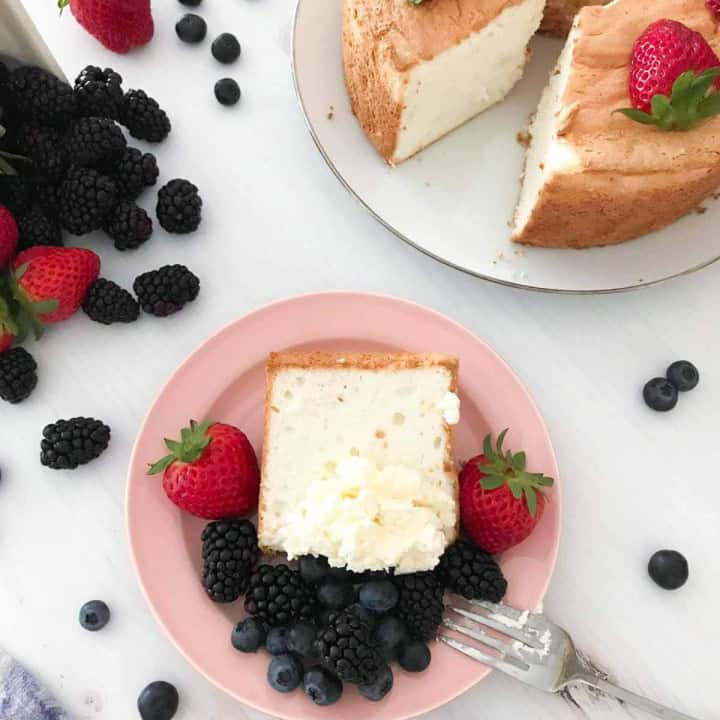 Angel Food Cake
Light and fluffy, this angel food cake is the dessert dreams are made of!
Print
Pin
Rate
Ingredients
1

cup

cake flour

* You must use cake flour!

3

cups

powdered sugar, divided into 1.5 cup portions

12

egg whites

1.5

teaspoons

cream of tartar

¼

teaspoon

salt

1

teaspoon

vanilla extract
Fresh whipped cream and berries
Instructions
In a medium mixing bowl sift together 1 cup cake flour with 1 ½ cups powdered sugar. Set aside. Preheat oven to 350 degees F.

In a large mixing bowl beat together egg whites, salt, cream of tartar and vanilla. (About one minute). Once the egg whites get foamy slowly add 1 ½ cups powdered sugar. No more than a ¼ cup at time. Once combined mix until the egg whites get a nice glossy finish and form stiff peaks when you lift your mixer. This will take a few minutes.

Grab your rubber spatula and gently fold your flour & powdered sugar mixture into your egg whites about a quarter of the mixture at a time. Be gentle during this process as you want to keep the air in your egg whites.

Scrape the mixture into an un-greased tube pan and bake at 350 degrees for 45 minutes.

Remove the cake from the oven and immediately turn it upside down onto the feet of the pan. Cool for 1 ½ hours.

Use a thin knife to cut around the edges and bottom of the pan. Gently drop the cake out of the pan onto a cake stand or plate. Top with freshly whipped whipping cream and berries.