A few weeks ago I was looking to make a new traditional crab cake recipe and thought it would be perfect with a little tartar or remoulade sauce. To my dismay, nearly every recipe included relish or pickles! As a lot of us know it's really difficult to find pickles without coloring, additives, or preservatives of some sort. Don't even get me started on the jarred tartar sauces out there. That's when I got the idea to make my own by just using fresh cucumber – super simple, right? This recipe for Whole30 tartar sauce is not only paleo, but also migraine-friendly.
Don't worry, the traditional crab cake recipe is coming and I'm thrilled to be able to make one that's migraine-safe by using a dumbed down version of Old Bay seasoning. But I'm easing back into this whole blog thing after I just cooked over 90 recipes in 4 weeks, ok?
My personal favorite mayo is Sir Kensingtons Organic, but Primal Kitchen is also another popular brand and a paleo option. You can also make your own. 
Questionable Capers
As for the capers, if you're on a migraine diet, these can be questionable since they're pickled flower buds and not exactly fresh. If you've tried olives and done well with them, you can typically find good capers that are just packed in just water and vinegar. Here's a post that explains a little more on that subject!
I like to use this sauce on grilled seafood or fish and even burgers. Enjoy!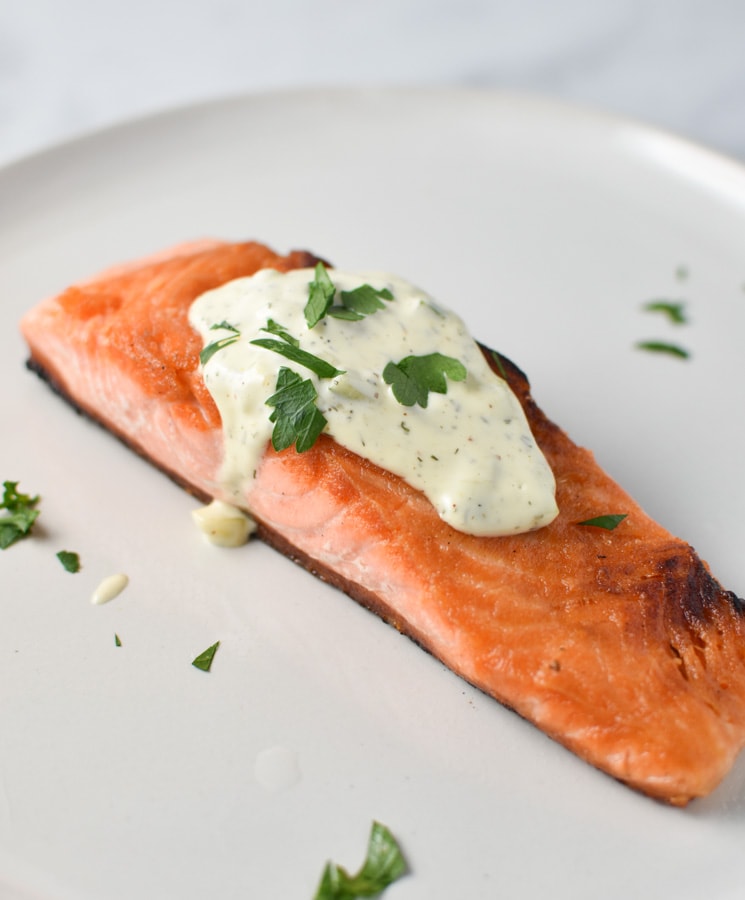 And don't miss it on these migraine-friendly Maryland Crab Cakes.
Whole30 Tartar Sauce
Made without pre-packaged dill pickles, this quick and easy recipe is perfect for those who are trying to avoid additives or MSG in their diet. Serve with grilled fish, seafood, or burgers. This recipe makes roughly 1/2 cup of tartar sauce.
Keyword:
Paleo, Tartar Sauce, Whole30
Ingredients
1/2

cup

mayonnaise

*see post for recommendations

1

tablespoon

distilled white vinegar

1/4

cup

finely chopped seedless cucumber

1

teaspoon

grainy mustard

*If you can't find a compliant brand, try 1/2 teaspoon mustard powder

1/2

teaspoon

dried dill

1

tablespoon

chopped capers (optional for migraine diets)

freshly cracked pepper and kosher salt to taste
Instructions
In a medium bowl, combine the chopped cucumber with distilled white vinegar. Let it sit for 10 minutes. Add other ingredients and stir to combine, tasting to see if it needs any seasonings. I personally always add pepper, but prefer it without salt unless you're not using capers. Place it back in the fridge and allow it to chill for at least 30 minutes for the flavors to combine.