This easy vegan mushroom ramen is a favorite quick meal that's light and refreshing with minimal ingredients. It is soy free and does not have fermented products, like miso, but still has a wonderful depth of flavor.
I haven't done a ramen recipe because I knew it could never live up to the traditional version with lots of layers of flavor. Ever since Casey and I visited Japan 5 years ago, right before my vestibular migraine began, the food there has stuck out in my mind as one of the best places to eat all our vacations. The amount of effort and skill that goes into everything they make is mind blowing.
Here in America, Japanese restaurants seem to have a menu filled with sushi, ramen, and hibachi, but there they do one thing and they do it to perfection. Just watch "Jiro Dreams of Sushi" and you'll get a glimpse of how seriously they take it. Needless to say, this dish isn't meant to be an insult or replacement for the perfection that is out there. It's just a quick meal for a busy weeknight that your average cook can make at home.
Ramen without Soy Sauce
The hardest part with creating a dish like ramen for people with migraine disorders is avoiding all the fermented items, like miso and mirin, or items high in glutamate like soy sauce or kombu. And of course we have to avoid the packaged versions as those definitely contain MSG in the packets.
I knew I had to get a fairly rich depth of flavor, but make it easy and quick. There are a few ways to do this that I concocted.
Start with a really good broth. This means homemade broth. I highly recommend the Vegetarian Broth from my cookbook on page 80, but this chicken stock will also work if you're not needing this to be totally vegan.
Use coconut aminos. They are the best substitute for soy sauce. If you you cannot tolerate coconut aminos, you can try the homemade soy sauce substitute (check within the post) as well. In this recipe, the savory flavors of sesame and the addition of salt help to balance the extra sweetness coconut aminos tend to have.
Tahini makes the best substitute for miso in this recipe. It gives it a depth of flavor plus a creaminess that you might miss. Although it's not the same, it definitely works here for those who can't tolerate fermented items (or just have this in their pantry).
The goal for this recipe was just to keep the ingredients to simple staples that are also ok for people who need to avoid MSG and fermented items.
Ramen Noodles
Ramen noodles can be wavy or straight and the basic ramen noodle is a wheat noodle. It's slightly chewy and contains wheat flour and kansui, which contains sodium and potassium carbonate. This you'll see as "mineral salts" in the ingredients. It's definitely a more hearty, filling noodle than what you ate in college.
You can find these at good grocery stores or World Market as well. I got the Hakubaku Organic Ramen Noodles.
If you wanted to make this gluten free, you could substitute rice noodles or Soba (buckwheat) noodles. Just make sure they're the 100% buckwheat and not mixed with wheat.
What Mushrooms to Use
For this mushroom ramen recipe, I just stuck with what I had in my fridge which was cremini. Button mushrooms and cremini mushrooms tend to be the most well-tolerated for people with migraine who are sensitive to glutamate. That being said, there are a few other varieties you can also use.
Portobello tend to be larger and have a more meaty texture, but baby bellas would work as well. So if you're looking for something with a hearty flavor, that may be your best option.
Shiitake are often used in Asian cooking and have an earthy flavor. They tend to be more difficult to find fresh, but I have located them at Trader Joe's before for a pretty good deal. Shiitake are also some of the highest in free glutamate so just something to be aware of depending on your sensitivity levels. I definitely wouldn't recommend using dried ones unless this isn't an issue for you.
Another type that would work well here would be Enoki, which have long thin stems and small bulbs.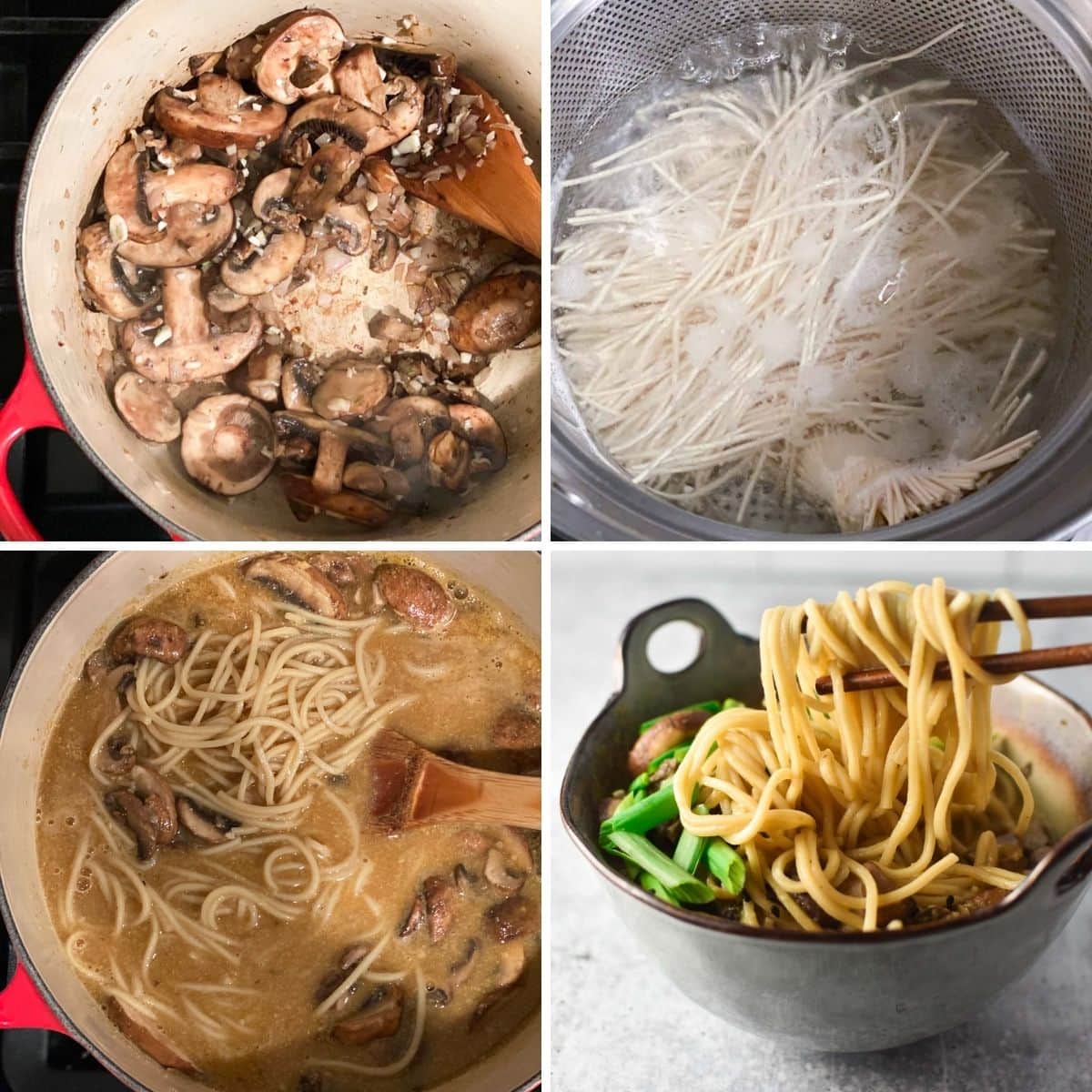 Toppings for Ramen
What I truly love about this mushroom ramen is it's pretty easy to whip up when you don't have much in your fridge or pantry. It's fast and easy. However, if you were looking to spruce it up a bit, you could definitely add a few things
Spinach
Baby Bok Choy
Tofu (if tolerated, but not in the elimination phase)
Sesame Seeds
Sriracha
Radish
Eggs
Shredded Carrots
I hope you guys love this easy and comforting recipe as much as we do!
Other Soup Recipes
For other delicious vegan or vegetarian soups like this mushroom ramen, check out these recipes.
Sweet Potato and Kale Stew
Lemongrass Ginger Soup (leave out shrimp)
Vegan Tortilla Soup
Instant Pot Butternut Squash Soup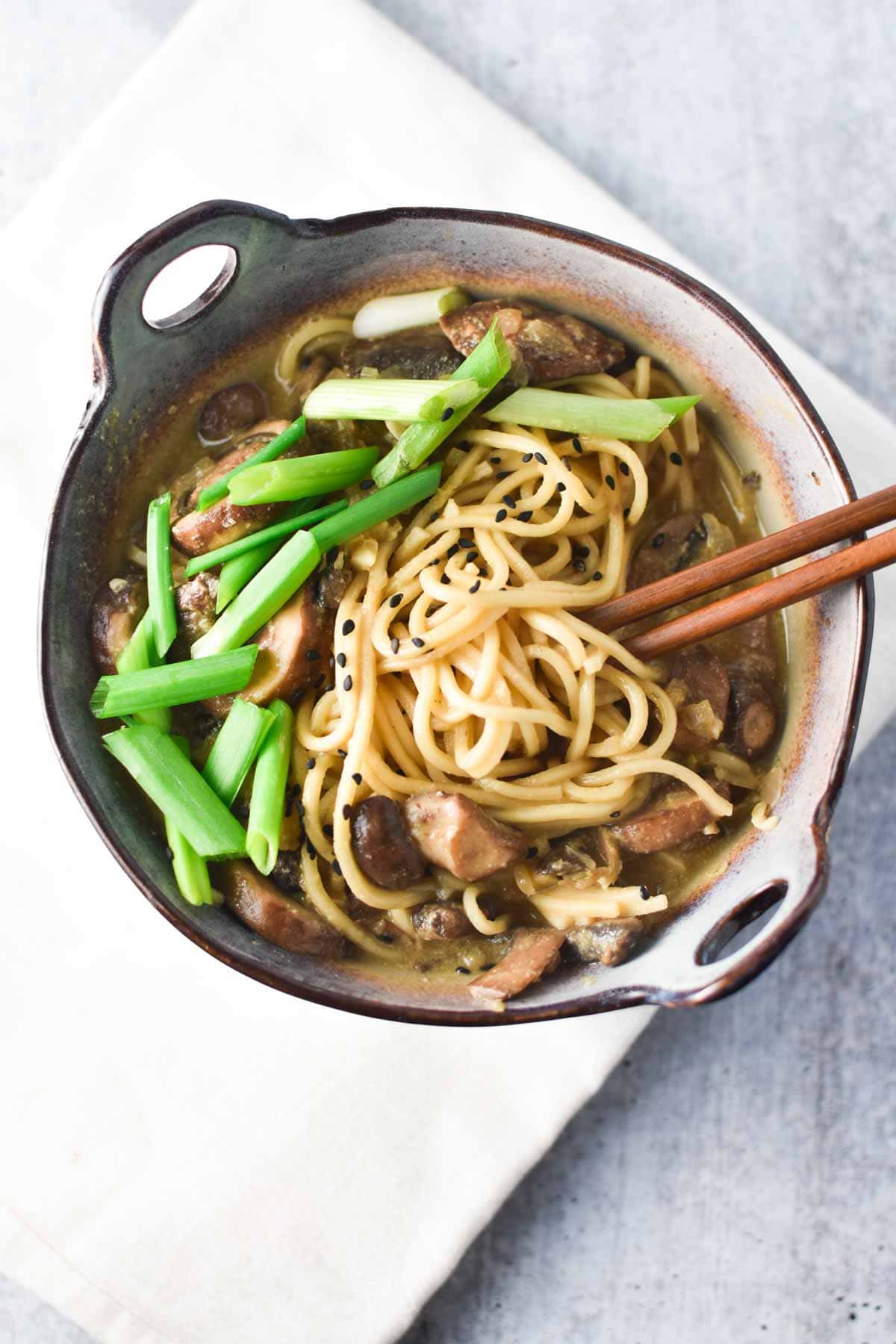 If you make this, tag me #thedizzycook or @thedizzycook on Facebook and Instagram. And if you love the recipe, please leave a review below! Follow along on my Pinterest for more great recipes.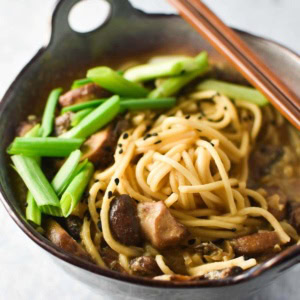 Soy Free Mushroom Ramen
This quick mushroom ramen recipe uses pantry ingredients to make an easy vegan soup that is also soy free.
Print
Pin
Rate
Ingredients
2

servings (about 8oz)

ramen noodles

1

tablespoon

toasted sesame oil

4

garlic cloves, minced

1

shallot, peeled and chopped

12

oz

fresh mushrooms, cremini or baby bellas recommended, sliced thin

½

teaspoon

kosher salt

2

tablespoons

coconut aminos

4

cups

vegetable broth

1½

tablespoons

tahini (sesame seed butter)

4

green onions, sliced

sriracha and sesame seeds for serving
Instructions
Cook ramen according to package directions, drain, and set aside. Meanwhile in a heavy, deep pot combine the sesame oil, garlic, and shallot over medium heat. Cook, stirring often, till softened - about 2 minutes. Add sliced mushrooms and ½ teaspoon kosher salt and cook till softened, another 3-4 minutes. Stir in coconut aminos. Pour in the vegetable broth and bring everything to a boil, then reduce heat to a simmer for about 5 minutes. Off the heat, stir in the tahini until mixed through and creamy. Taste and adjust any seasonings (add salt or some sriracha for spice).

Separate the noodles into two bowls and pour the mushroom broth over them. Top with sliced green onions and sriracha/sesame seeds as desired. See the post for more topping additions!
Nutrition
Calories:
214
kcal
|
Carbohydrates:
23
g
|
Protein:
10
g
|
Fat:
11
g
|
Saturated Fat:
2
g
|
Sodium:
960
mg
|
Potassium:
727
mg
|
Fiber:
5
g
|
Sugar:
7
g
|
Vitamin A:
248
IU
|
Vitamin C:
11
mg
|
Calcium:
54
mg
|
Iron:
2
mg