This lemongrass ginger soup is the perfect healthy soup for cold and flu season. Packed with pain-fighting ginger and filling spaghetti squash, it's a great Whole30 and migraine-friendly soup.
Lemongrass Ginger Soup
It's that lovely time of year when your coworkers and friends start dropping like flies - either to flu season or because they're starving on Whole 30. I thought we should take a break from heavier meals and switch to a warm and refreshing soup. This lemongrass shrimp soup with roasted spaghetti squash is broth based and the shrimp can easily be subbed for rotisserie chicken. Ginger, cilantro, and lemongrass add a clean and refreshing flavor that can settle any stomach - not to mention ginger is a highly effective migraine abortive. Dare I say this soup can cure a migraine? (Well, it probably can't, but it may help!)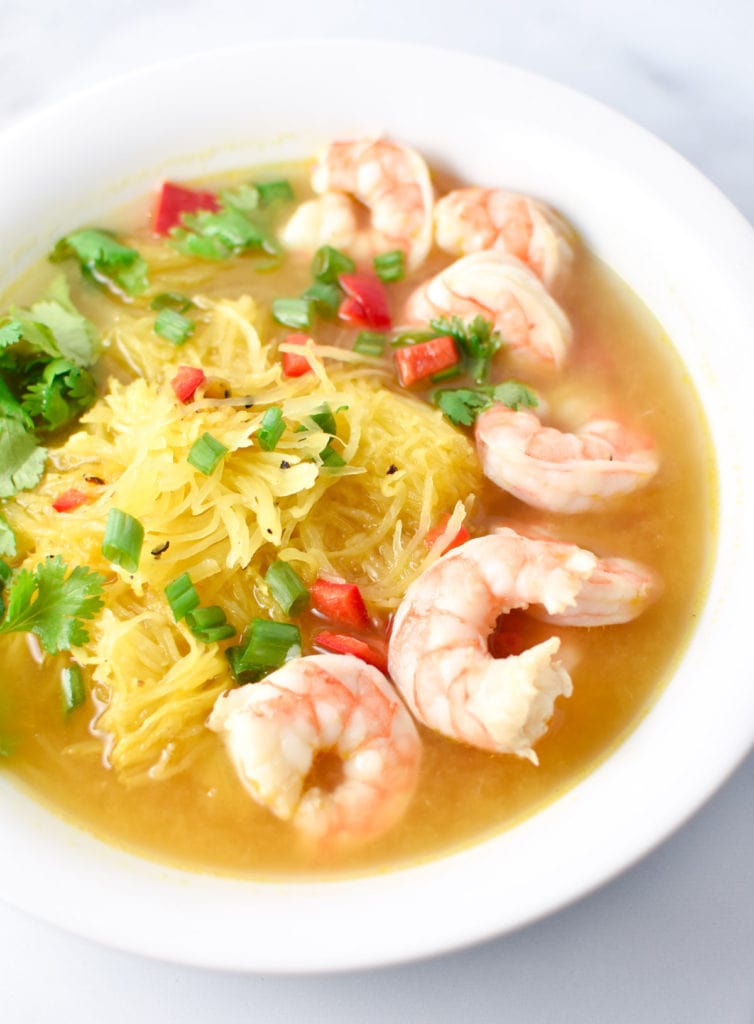 Ginger for Migraine
I first discovered ginger through one of my favorite migraine groups, Migraine Strong. It's where I met my vestibular migraine friend, Jennifer, and also where I learned a lot of things my doctors never told me. Often natural migraine treatments aren't well studied, but this surprising research from 2014 showed that ginger powder had similar abortive powder to sumatriptan, also known as Imitrex. Want to know how much these participants took? Just ⅛th of a teaspoon. The study showed that within 2 hours of headache onset, the pain reduced significantly. Plus with ginger, there's nothing to worry about as far as major side effects or rebound.
How to Make Lemongrass Ginger Broth
Most of my migraine friends love using this supplement, but I find if I don't take it in the morning with food that it gives me heartburn. Instead I stick with powdered ginger or just grate the fresh stuff into my food.
Lemongrass you can find at most grocery stores where the herbs are located. It comes in squeeze bottles, dried, or as whole, fresh stalks that look sort of like a yellowish, sturdy green onion. While citrus can be a migraine trigger on the Heal Your Headache diet, lemongrass is a safe substitute in recipes. It has antimicrobial and antioxidant properties, aiding in cold and flu relief.
Spaghetti Squash in Soup
If you're short on time, it's easy to replace the roasted spaghetti squash with your favorite pasta or farro. I think the hardest part about roasted spaghetti squash is cutting it in half! If yours is too challenging to cut, try poking a few holes in it with a fork (good stress relief) and popping it into the microwave for a minute or two in 30 second intervals. It should soften it up a bit to make it easier to cut through. Then simply scoop the seeds and pulp out of the middle and place it cut side down on your baking sheet to roast.
This is a recipe I tested out when I wanted to see if Whole 30 and Heal Your Headache were actually doable together. Like anything, it just takes a little creativity and a willingness to not be too picky with your food. So if you're looking for a healthy recipe for the new year, this one's for you! At least till the Super Bowl gets here…
Lemongrass Ginger Soup
This recipe for lemongrass ginger soup is packed full of migraine and anti-inflammatory fighting spices. It's easy to substitute rotisserie chicken for the shrimp and pasta or farro for the butternut squash. Recipe adapted from Bon Appetit.
Print
Pin
Rate
Ingredients
1

2-3lb

spaghetti squash, cut in half with seeds and pulp scooped out

1

lb

uncooked, peeled and deveined shrimp

* Get the tail off to make your life easier

2

stalks of lemongrass

3

garlic cloves, peeled and sliced

3

inch

ginger piece, peeled and sliced

2

tablespoon

ghee or olive oil

¼

cup

cilantro, chopped

2

green onions, chopped

6

cups

vegetable or chicken broth

* Try my HYH safe instant pot chicken broth!

kosher salt to taste
Instructions
Preheat oven to 400 degrees. Rub the cut halves of the spaghetti squash with olive oil and sprinkle with salt and pepper (see post if you have a tough time cutting in half). On a baking sheet, place the squash cut side down and roast for 50 minutes. Remove from oven and let cool, then run a fork up and down the squash to make the "spaghetti" strands.

Meanwhile, cut your lemongrass by trimming the stalky ends, then slicing in half, then into smaller 3 inch segments. Melt butter or olive oil in a large, heavy bottomed pot. Add garlic, cut lemongrass, and ginger. Saute over medium heat for about 2 minutes until fragrant.

Add broth and bring to a boil. Reduce heat and allow to simmer for 30 minutes. After 30 minutes, strain broth through a fine mesh sieve and place it back into the heavy bottom pot. Add the shrimp (or chicken) and let simmer for another 10 minutes.

Prepare a bowl with the scooped spaghetti squash, green onion, and cilantro. Pour the broth over the vegetables and serve immediately.
Notes
Use the side of a spoon to easily peel ginger! Just scrape against the skin to remove it.
Nutrition
Calories:
248
kcal
|
Carbohydrates:
7
g
|
Protein:
31
g
|
Fat:
11
g
|
Saturated Fat:
6
g
|
Cholesterol:
305
mg
|
Sodium:
990
mg
|
Potassium:
461
mg
|
Fiber:
1
g
|
Sugar:
1
g
|
Vitamin A:
127
IU
|
Vitamin C:
7
mg
|
Calcium:
187
mg
|
Iron:
3
mg