December of 2016 I found myself without a career and without purpose. All I had known for the past 9 years was fashion and product development, but I could not put myself first by giving everything to a full-time job in a toxic environment. I was on the right track to healing as far as supplements and medications, but was totally lost on what to do with myself. The counselor I was seeing suggested I write down a list of things I love to do, then create goals from that list. One of these goals was to find an exercise program I would actually enjoy going to...does such a thing exist?! Miraculously it did, but it definitely took putting myself in awkward situations (or positions) to find it.
I signed up for ClassPass, an app that allows you to try most studios a few times a month for a fixed price. I had previously done flow yoga, but found many of the upside down poses would irritate my symptoms to the point where the rest of the class was not enjoyable. Hot yoga? Forget it - that humidity might be the end of me! I enjoyed pilates, but unless you have an instructor that knows your issues, you can have a few of the same problems with vertigo. My favorite class was called The Ballet Burn, a cross-training program developed by Margot Martin that incorporates interval training and ballet techniques. It was hard...very hard. In fact I went directly home after class and put myself in an epsom salt bath. For the first time since leaving my job, I was challenged in a completely new way and I wanted more.
I realized after a few months of regularly going to Ballet Burn that my balance was greatly improving and any migraine attacks I had would only last a few hours when they would previously last for days. At the time I was also doing vestibular rehab therapy (VRT), a therapy designed to "re-train" your brain to accept movement without causing dizziness and vertigo, but I realized the balance required from my ballet classes were a fun way to incorporate extra vestibular therapy into my everyday life. I eventually got to a point where ballet classes were enough for me and I could actually do things like this....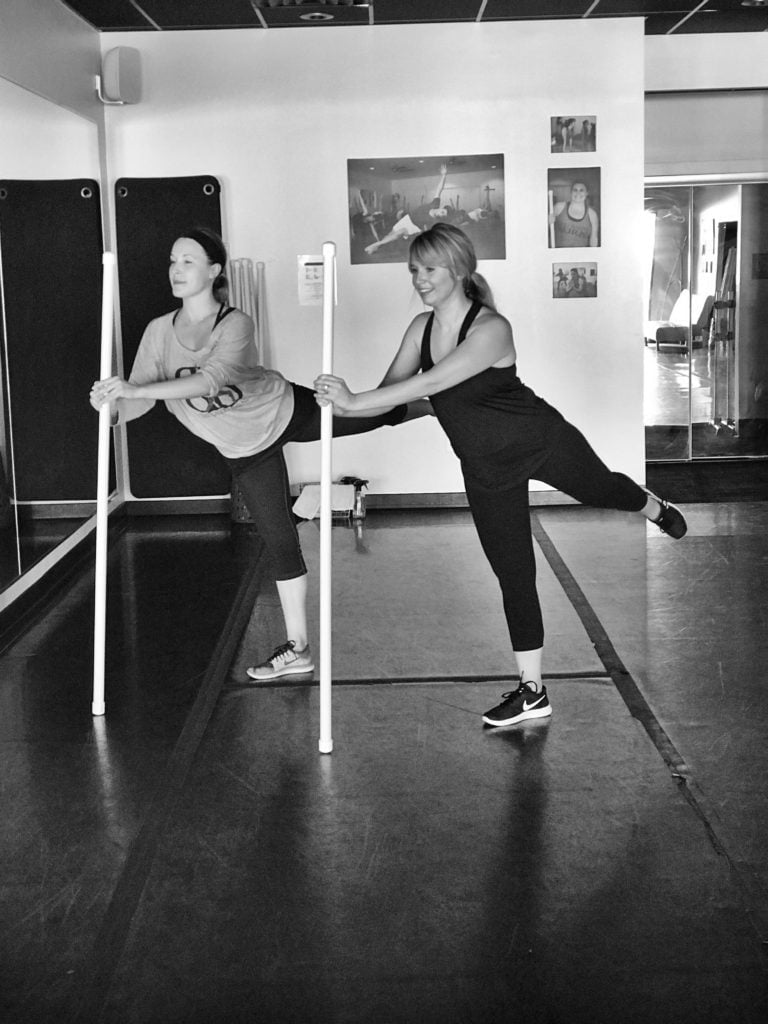 And THIS....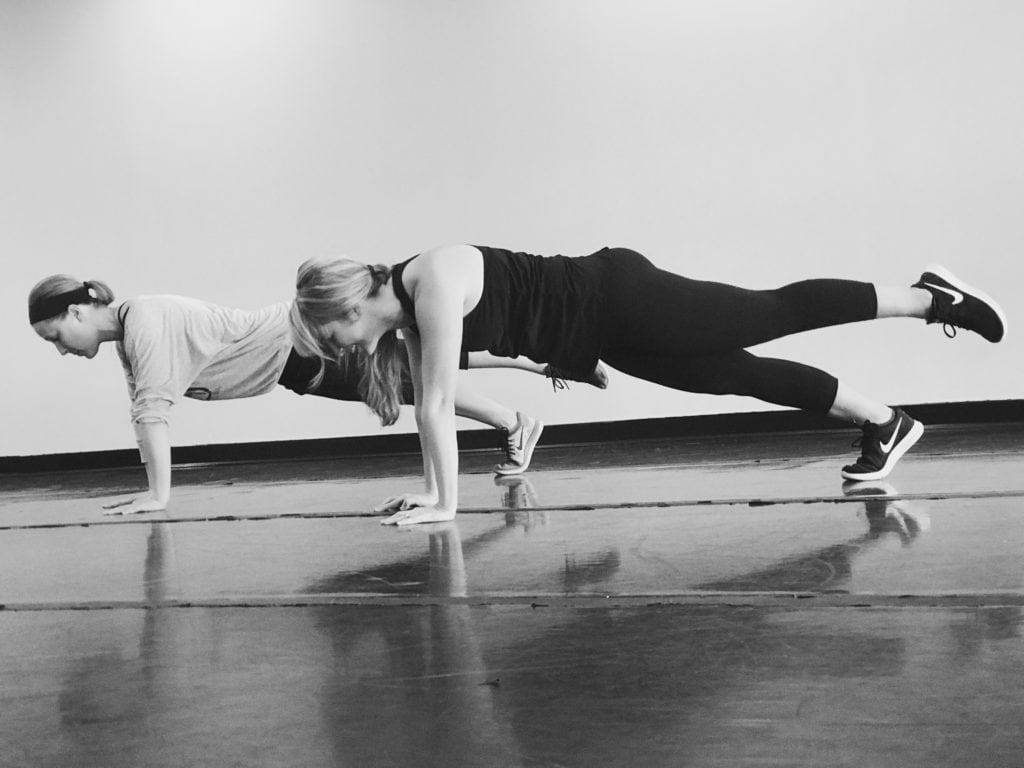 The things I do for this post.
One of the ways I stayed motived was through actively engaging in the community Margot has built with her studio. Everyone was friendly and encouraging, and Margot was always willing to help anyone who had questions. She would even email me to check in if I hadn't attended class for a week - talk about motivation! As a former professional ballerina and now a studio owner with thousands of visitors, I asked Margot a few questions to motivate and inspire those considering a new exercise endeavor.
If you could give advice to someone who has not exercised in a long time on how to feel comfortable starting a new program, what would it be?
Keep in mind that everyone is on some kind of journey. Whether its a marathon runner psyching themselves up for a long run or someone who has never worked out a day in their life looking to get fit, we all have our hurdles. I think in understanding each other's own struggles it somehow lessens are own or at the very least we suddenly don't feel so alone in the process. Starting anything new can be intimidating but once you commit and give it your all the rewards will come.
What are some ballet moves or techniques you can do at home that can help improve balance?
Improving balance can be like watching the grass grow. You may not see it right away but it does happen. Very simple things like brushing your teeth, folding laundry, or cooking while standing on one foot can be incredibly helpful for balance. Waiting in line at the grocery store? Notice how you are standing. Do you sit in one hip/leg more than the other? Is your pelvis neutral? Notice your core while you are driving. Is it supporting your spine? Grow your awareness around your tendencies and make subtle adjustments throughout the day to correct asymmetries. Balance is a total body experience, begin to notice it all.
What's the best way to stay encouraged to come to class, even if you might not feel great?
I believe there is power in endorphins. There is a release of endorphins during and after your workout. This creates a feeling of pleasure and overall happiness. If you are feeling down and unmotivated know that once you begin that workout those feeling will dissipate quickly. I also recommend getting to know the people around you. It can create such a fun sense of accountability as well as something to look forward to when you arrive to class. Catching up with new friends and creating relationships around a healthy activity could quite possibly be the best thing for your soul.
If you never tried ballet as a child, how do you recommend starting as an adult?
First and foremost…it is never too late. Beginning ballet classes as an adult can seem daunting but if you find the right teacher and environment you are certain to feel empowered. There is something magical about learning to move in a whole new way. Remember to be patient with yourself. Ballet is literally a different language and it does take time to process and retain all of the information. Most importantly enjoy yourself and have fun with the movements!
Never in a million years did I think I could complete 100 Ballet Burn classes when I started my first class at the beginning of 2017. I would encourage you to find a work out that you like to do, even if it's just a short walk. Although it may feel like a really slow start, over time you can build up to more intense exercises. Movement is not only good for people with vestibular migraine to retrain your brain, it's also really good for anyone with migraine as endorphins are a natural painkiller. Many studies have shown that consistent exercise can reduce the overall frequency and intensity of migraines. Make sure you are properly hydrated (my goal is 100oz a day) and have eaten enough to fuel your workout otherwise you could be subjecting yourself to a migraine anyway…and that would just be frustrating.
A big thank you to Margot Martin @The Ballet Burn. You are always supportive and inspiring.