Two years ago my Vestibular Migraine made me feel like I was on a boat all the time, constantly rocking and swaying. But last week I finally faced my fears and got on an actual boat. For someone with a vestibular disorder like Vestibular Migraine, even taking a vacation can seem daunting. Traveling by car, plane, or boat can be enough to trigger the symptoms of vertigo, ataxia, and dizziness. Then you factor in different altitudes, a disrupted sleep schedule, the inability to cook your own meals all the time. It's enough to make you not want to take a vacation at all! However, above all else, the desire to challenge yourself is something you never want to let go of.
Earlier this year I mentioned that we got $1600 in flight vouchers for giving up our seats on an overbooked flight. We decided to use that money to go back to Maui, where we attempted to vacation the year prior. At the time I was about 9 months into my diagnosis and my Vestibular Migraine was slightly improving every month, but daily dizziness was still a common occurrence.
I was smack in the middle of the Heal Your Headache diet, had just torn my meniscus which I needed surgery for, and came down with a cold on the plane. All of this culminated to a lot of laying around in our hotel room, staring at a beach that was a huge pain in the butt to even walk on. This year I wanted to test my boundaries on what I could handle, which included my biggest fear to date - getting on a boat.
Anxiety and Fear with Vestibular Disorders
From what I can tell, anyone with a Vestibular Disorder or Migraine Disorder has one great fear that plagues them. Whether it's traveling alone, getting on an airplane, going to a party - it seems to define who you are and what you plan your life around. I've tried to get past a lot of this by telling myself I don't want to miss out on life, but sometimes the fear is too great.
This trip, the desire to conquer my fear was too great. I trusted the incredible progress that I've fought for the past two years. I also put trust in the tools and knowledge I've learned along the way that have helped me get to 100% days. No one was more determined to see fishes and turtles than me!
We booked the sunrise snorkel which meant getting up at 5:00am and having very little time to consider backing out. I took along my sea bands, not sure if they would be helpful, but hoping they would provide me with a placebo effect at the very least. The waves were rough that day, but the snorkeling was still wonderful. Sadly, I referred to all of the fish by their Finding Nemo names when pointing them out to my husband. As in, "look at that Gil!" (Moorish Idol) and "there's Bubbles!" (Yellow Tang). We even got about 5 ft away from a Crush! That's a sea turtle in case you're the only person in the world who hasn't seen Nemo.
I knew it was a major victory when my husband started getting a little sick during our second snorkel stop. Although I wasn't feeling great, I also wasn't curled up in a ball on the side of the boat crying to get off…which is how I felt about two years prior without even being on a boat.
I Won't Be Defined By My Illness
As I looked back at pictures, one thing stood out to me: my sea bands. I hated that they were in my picture. That I even have to think about wearing them in the car or on a plane. I was letting that symbol of them remind myself that I have a vestibular disorder that may follow me around for the rest of my life.
What I failed to realize is that this illness doesn't define me at all - I define it. I am so much more than an illness, and I'm stronger because of it. I'm less fearful to little things that used to scare me - like hiking down rocky cliffs…or posting a picture of me without makeup for the world to see. And I take nothing, like a boat ride, for granted.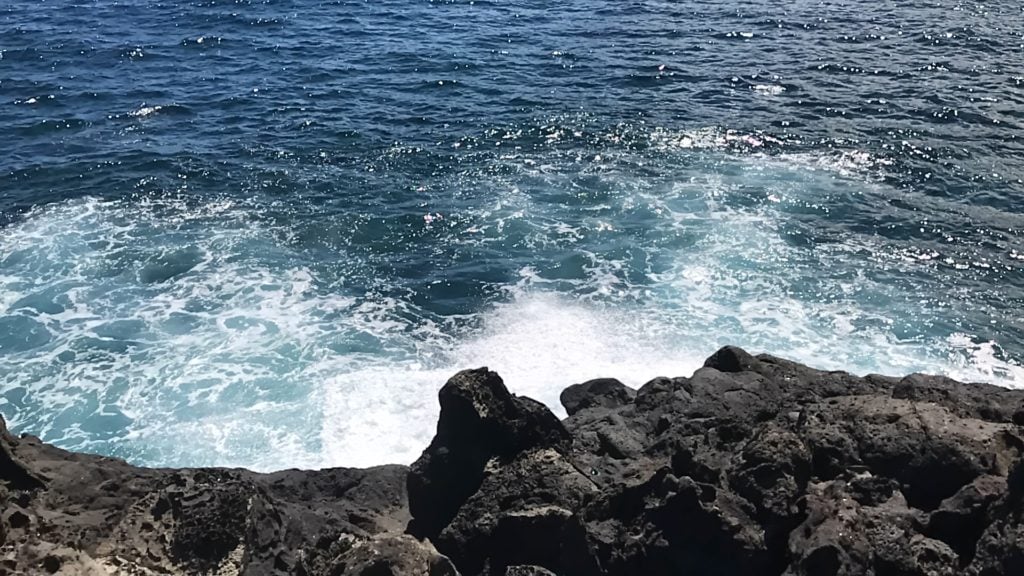 PS: I totally ate a ton of (not migraine safe) poke and it was awesome.
For my travel tips, don't miss this post!
Related Posts:
Vestibular Migraine Guide
5 Things I Wish Others Knew About Vestibular Migraine
Tips to Relieve A Vertigo Attack
Acute Medications for Vestibular Migraine Symptoms
Natural Treatments
Common Vestibular Migraine Triggers