This tuna pesto pasta is a 3 ingredient meal that is a delicious and refreshing idea for a summer pasta. Light and flavorful, this can be served warm for dinner or as a cold pasta salad for lunches.
Flavorful tuna packed in olive oil is high in protein and helps balance the pasta, with the pesto adding lots of greens and flavor. It would be great for a summer picnic lunch, paired with fresh fruit, a cheeseboard, and a mini turkey pesto sandwiches.
This tuna pesto pasta recipe will become a go to staple when you can't think of anything else to cook!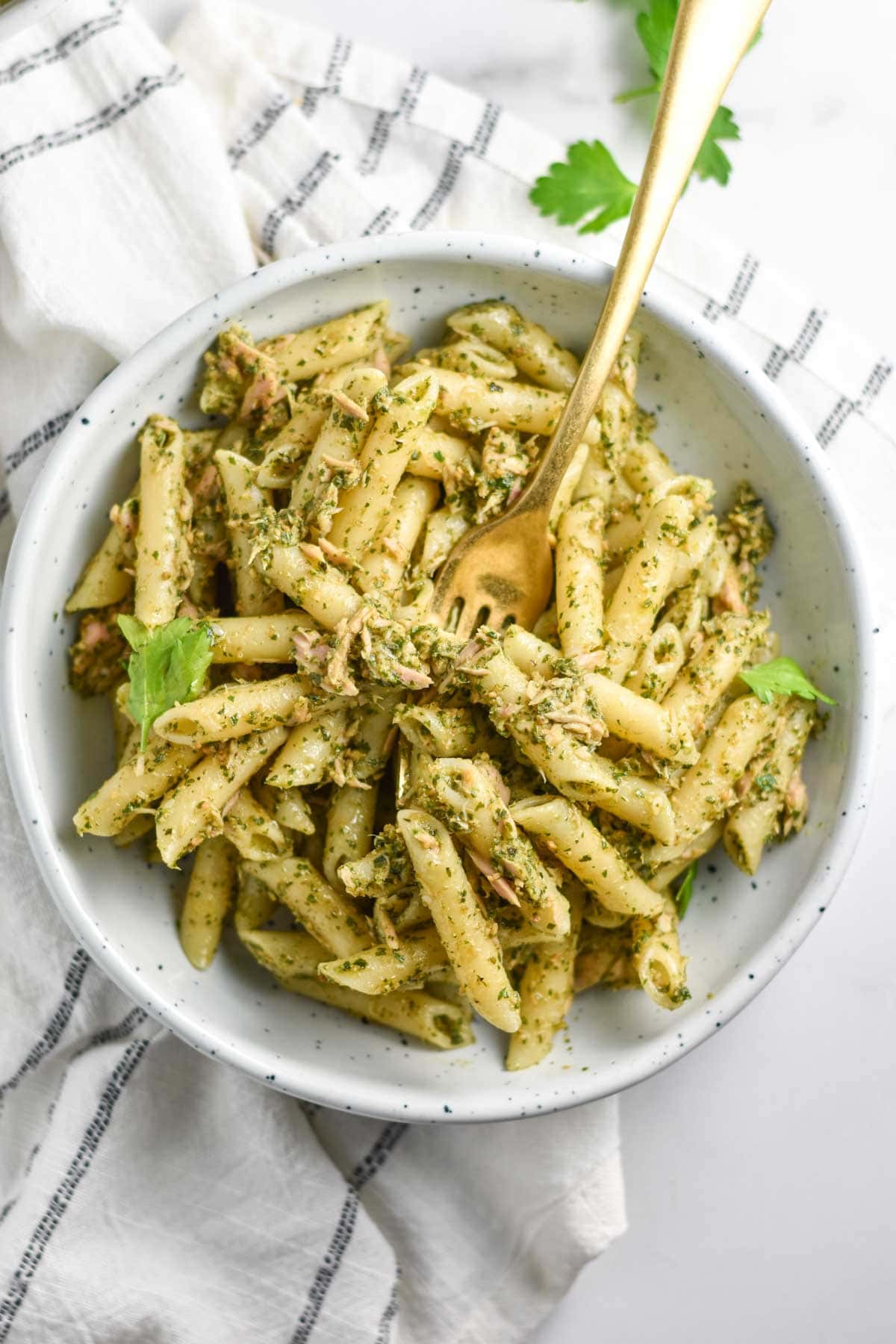 Jump to:
Tuna and Pesto
If you've never tried this combination before, you're really missing out! By using really good quality tuna, you'll feel like you're on the Italian coast eating this dish. It reminds me of my honeymoon there - lots of great fish, and simple pastas with bold and fresh flavors.
You'll love this recipe for a few reasons!
Meal prep - This recipe is ideal to meal prep ahead and use for lunches as a tuna pesto pasta salad. It tastes great warm or cold.
Minimal ingredients - If you have a favorite store-bought pesto you love, that makes this a very quick recipe. However, I usually whip up this pesto with sunflower seeds in less than 5 minutes before I make this dish.
Quick - Using canned tuna, this recipe only requires you to cook the pasta - that's it!
Healthy - With lots of protein from the tuna, you're getting a good meal with lots of greens and it's easy to make dairy and gluten free if you have those restrictions as well.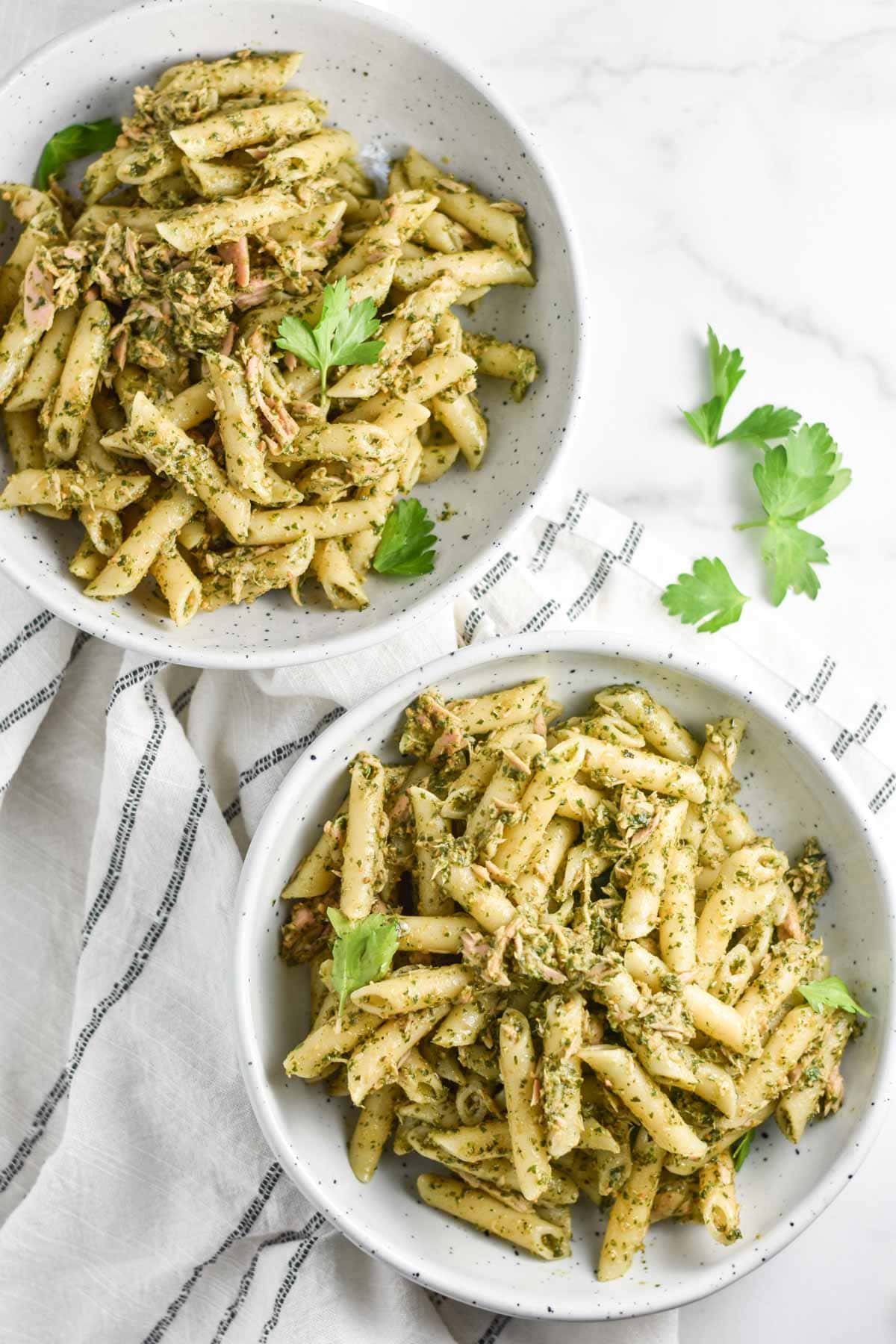 Which Canned Tuna is Best?
I would highly recommend choosing a tuna packed in olive oil for the best flavor for this dish. This is also widely available at many grocery stores. The only things you need to watch for are - a large amount of added sodium and any broths or flavorings. Just choose plain tuna packed in olive oil.
Skipjack, albacore, and yellowtail are the most common types that you'll see packaged. There's not one "best" type of tuna, but it can be important to look for "pole and line caught" or "troll caught".
Because the tuna is a highlight in this pasta, I went with a higher-quality brand like Tonnino, but it's not necessary to buy that brand specifically.
Ingredients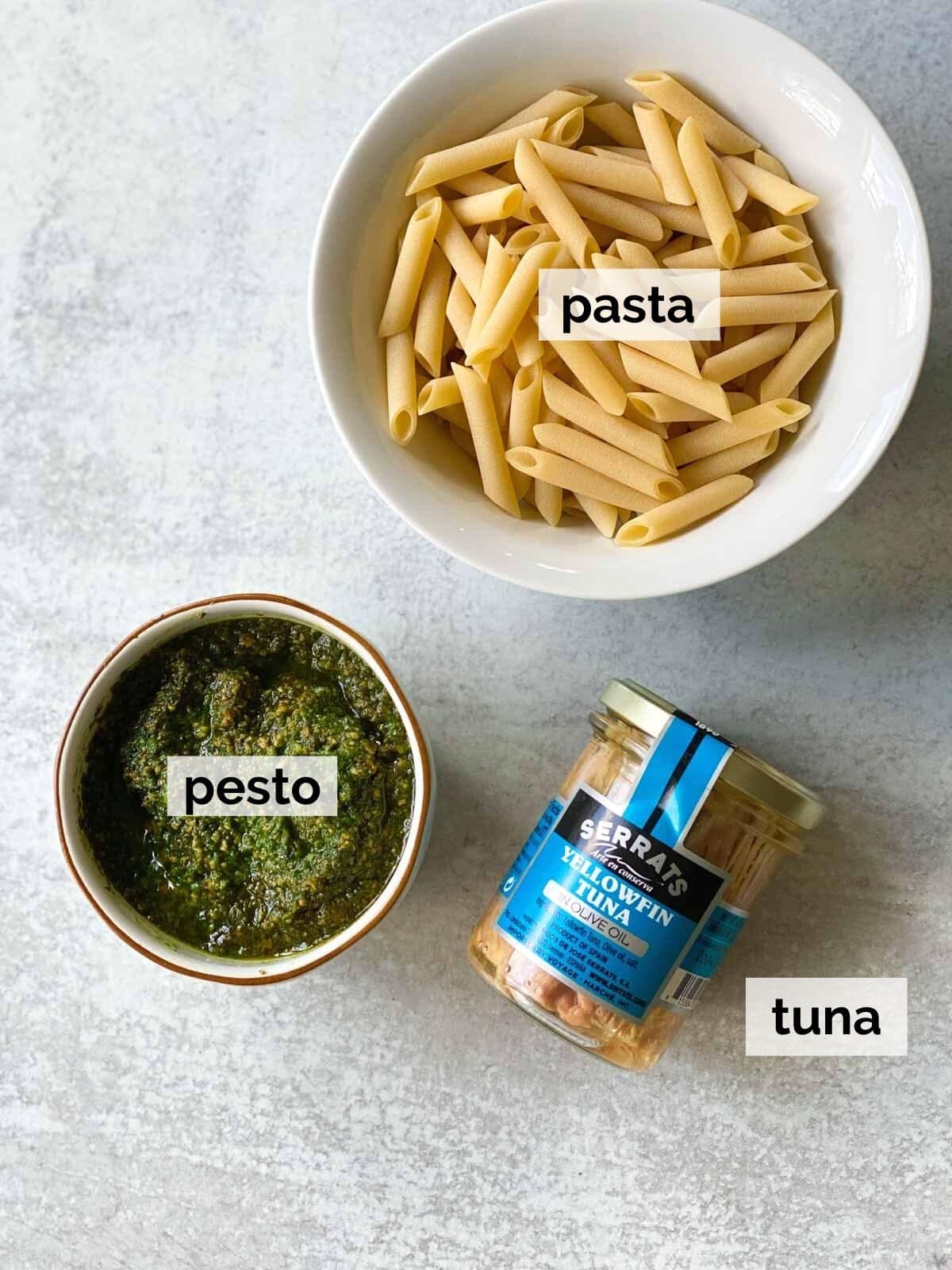 Three ingredients are all you need for this tuna pesto recipe.
Tuna - As stated before, I recommend one packed in olive oil, but both types will work in a pinch. Tonnino was the brand I chose, but Safe Catch and Wild Planet are other brands I like to use. I believe you can find Wild Planet at Costco.
Pasta - Choose any style pasta you like. I used penne here, but fusilli, spaghetti, or linguine are also great options. I recommend penne or fusilli if serving cold, pasta salad style.
Pesto - Homemade and store-bought will work for this recipe. For those following a migraine diet, it can be tricky to locate one without parmesan cheese. Sometimes I like to use Le Grand, which can be found at Whole Foods. But for those who are citrus-sensitive, you will need to do a homemade version, like this sunflower seed pesto.
How to Make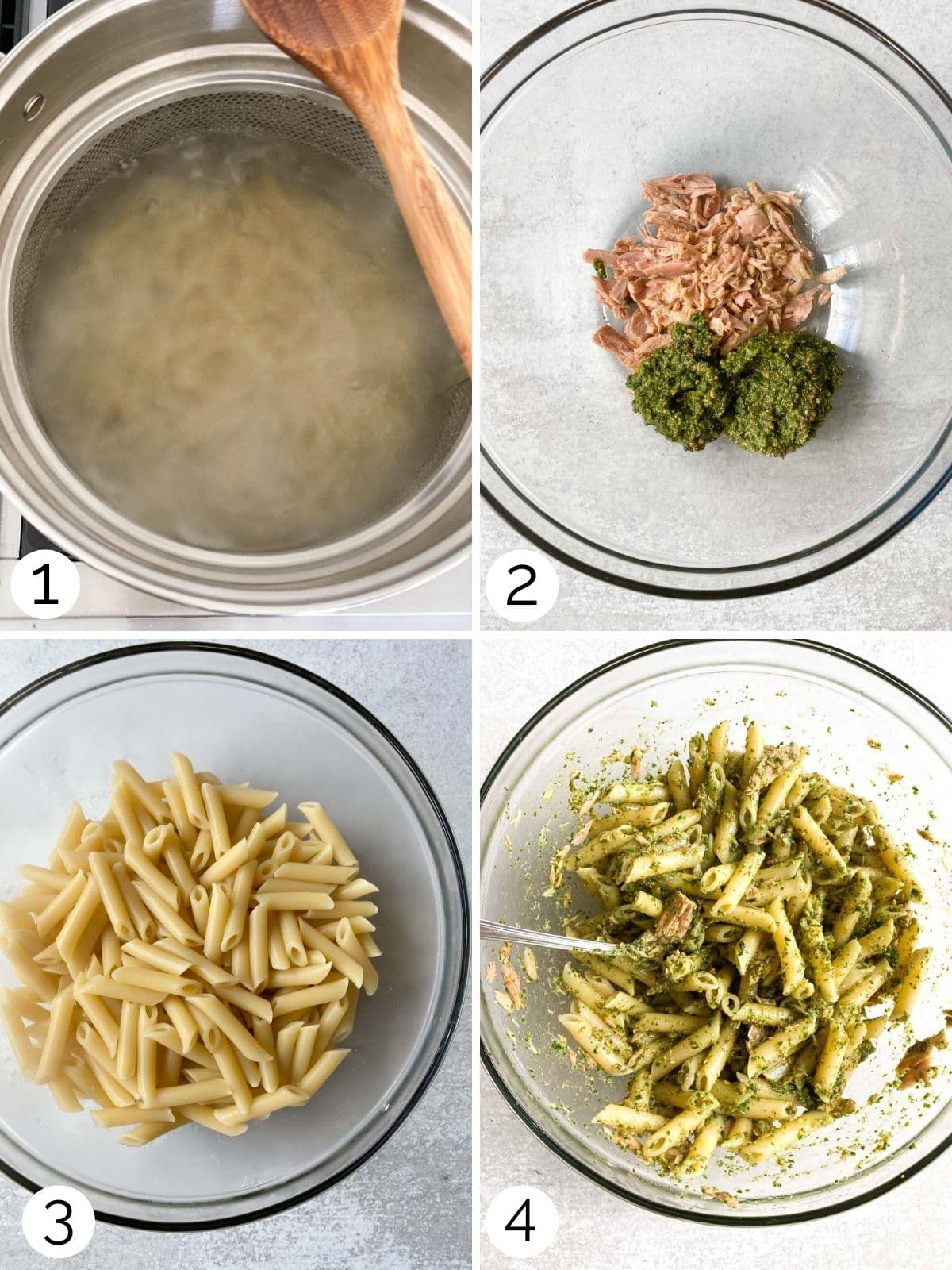 Step 1 - Cook the pasta. Bring a large pot of salted water to a boil over high heat and add your pasta of choice, cooking according to package directions.
Step 2 - Combine tuna and pesto. If making your own pesto, do it while the pasta is cooking. Then add the tuna and pesto to a large bowl.
Step 3 - Stir in the pasta and serve. Drain the pasta from the water and mix it into the pesto and tuna while it's warm. Either serve warm, or cover and place into the fridge to chill for a tuna pesto pasta salad (Picture 3 and 4).
If making you own homemade pesto, simply combine all the ingredients in a food processor and pulse till smooth.
Substitutions
For gluten free - Use a favorite gluten free pasta like Jovial.
For dairy free - Use a dairy free pesto like my sunflower seed pesto recipe or LeGrand.
Tuna replacements - I've substituted the tuna with salmon and it's very good! Any favorite fish or crab meat would mix well into this recipe.
Serving Suggestions
Tuna pesto pasta is great for road trips or camping! Just place it into an air tight container and pack into a cooler with ice. I love it for road trips because it gives you a good amount of protein and carbs for energy, but also keeps you full. Plus it can be eaten straight from the container.
Because this works well for on the go places, like picnics, I would serve this with fresh fruit like strawberries, blueberries, and melon. It would also be great with tiny balls of mozzarella.
For a luncheon, I would recommend serving with small chicken salad sandwiches.
Need to use up leftover pesto? Try my crockpot pesto chicken or pesto turkey sandwiches.
Storage Instructions
This recipe will keep well in the refrigerator, covered, up to 3-4 days.
I have not tested this by freezing it before, but I would recommend freezing the pesto separately, then making this the day of. It's quick and easy, so it would take you about the same time to defrost it well from frozen as it would to make from scratch.
To defrost pesto - place overnight in the fridge or in a container of warm water. Do not microwave it.
One thing to be mindful of is pesto can turn black and bitter if reheated on too high of heat. Therefore it's best to serve leftovers cold or at room temperature.
Frequently Asked Questions
Is tuna nice with pesto?
Yes! While tuna and pesto seem like an unlikely combination, we all know pesto as an Italian staple food, but tuna is actually very plentiful in Sicily and Southern Italy. Italian tuna is really delicious and high quality, known for being very tender and high quality. It mixes well with pasta and fresh herbs.
Should you drain canned tuna?
If packed in water, yes. Definitely drain it and you can even rinse it if it's packed with sodium to reduce the amount. I personally prefer to add my own seasoning to my tastes so this is just a better option overall. If using olive oil packed, I only recommend draining slightly to cut the overall calorie content and keep it from being overly oily.
Can I use tuna packed in water or oil?
Both will work for this recipe, just go with your preference. I personally used tuna packed in olive oil for recipe testing. A few favorite brands are mentioned in the ingredient list above.
What can I add to tuna pesto pasta?
For a more vibrant addition, I would recommend adding ½ cup of fresh cherry tomatoes. If you hate tuna, you can also use halibut, salmon, or cooked chicken as well.
Favorite Pasta Recipes
If you love this tuna pesto mix you'll love these other popular pasta recipes.
If you make this, tag me #thedizzycook or @thedizzycook on Facebook and Instagram. And if you love the recipe, please leave a review below! Follow along on my Pinterest for more great recipes.
Tuna Pesto Pasta
This quick and easy recipe is great served warm for dinner with crusty bread or cold as a pasta salad. Perfect for lunch, road trips, or an elegant meal at home.
Print
Pin
Rate
Ingredients
10-12

oz

pasta (linguine, fusilli, spaghetti, or penne recommended)

6.7

oz

canned or bottled tuna

¾

cup

pesto (homemade or store-bought)

¼

cup

leftover pasta water
Homemade Pesto
⅓

cup

rosted pepitas or sunflower seeds

1

clove

garlic

2

cups

spinach and arugula blend

1

cup

fresh basil leaves

⅓

cup

extra virgin olive oil

2

teaspoons

white vinegar

¼

teaspoon

kosher salt and black pepper to taste
Instructions
If using homemade pesto, all all ingredients to a food processor and blend till combined, seed particles should be even and small. Meanwhile bring a large pot of salted water to a boil and add pasta. Cook according to package directions, then drain, reserving about ¼ to ½ cup of the pasta water.

In a large bowl, combine pesto and tuna. Stir in warm pasta, and ¼ cup of the pasta water, till everything is fully coated with the tuna and pesto sauce. Taste and adjust any seasonings. Serve warm or cover and refrigerate to serve as a pasta salad.
Notes
For a more "saucy" pasta, add more pasta water as desired, about 1 tablespoon at a time.
Basil turns black with a lot of heat. It should be fine with the pasta and a little bit of water, but be mindful when reheating. Especially in the microwave. This is also why we toss the pesto in a bowl rather than on the stove.
To preserve the flavor and color, I recommend serving leftovers cold or at room temperature.
A squeeze of lemon is delicious, if tolerated!
Pesto recipe via my nut free pesto.
Nutrition
Calories:
233
kcal
|
Carbohydrates:
43
g
|
Protein:
8
g
|
Fat:
3
g
|
Saturated Fat:
1
g
|
Polyunsaturated Fat:
1
g
|
Monounsaturated Fat:
1
g
|
Sodium:
8
mg
|
Potassium:
140
mg
|
Fiber:
3
g
|
Sugar:
2
g
|
Vitamin A:
53
IU
|
Vitamin C:
1
mg
|
Calcium:
15
mg
|
Iron:
1
mg