This Salmon Broccoli Pasta is perfect for busy weeknight dinners. Baked in a single dish, roasted broccoli, salmon, and cheesy pasta combine for a family-friendly dish that's healthy and has minimal ingredients.
Inspired by my Baked Goat Cheese Pasta recipe, the salmon and broccoli bake together, along with the cream cheese, and it all is done at the same time. Meanwhile, the pasta is boiled separately while everything else is baked so you can use any pasta you like and they're both finished at the same time.
I absolutely love that this recipe bakes in one whole dish rather than having to cook the broccoli and salmon separately. It is the easiest recipe you'll find and it's a great salmon pasta without cream!
Pair this salmon and broccoli pasta bake with a big green salad like this Apple Fennel Salad or just serve on it's own! It really is a full meal in one dish with a balance of protein, carbs, and vegetables.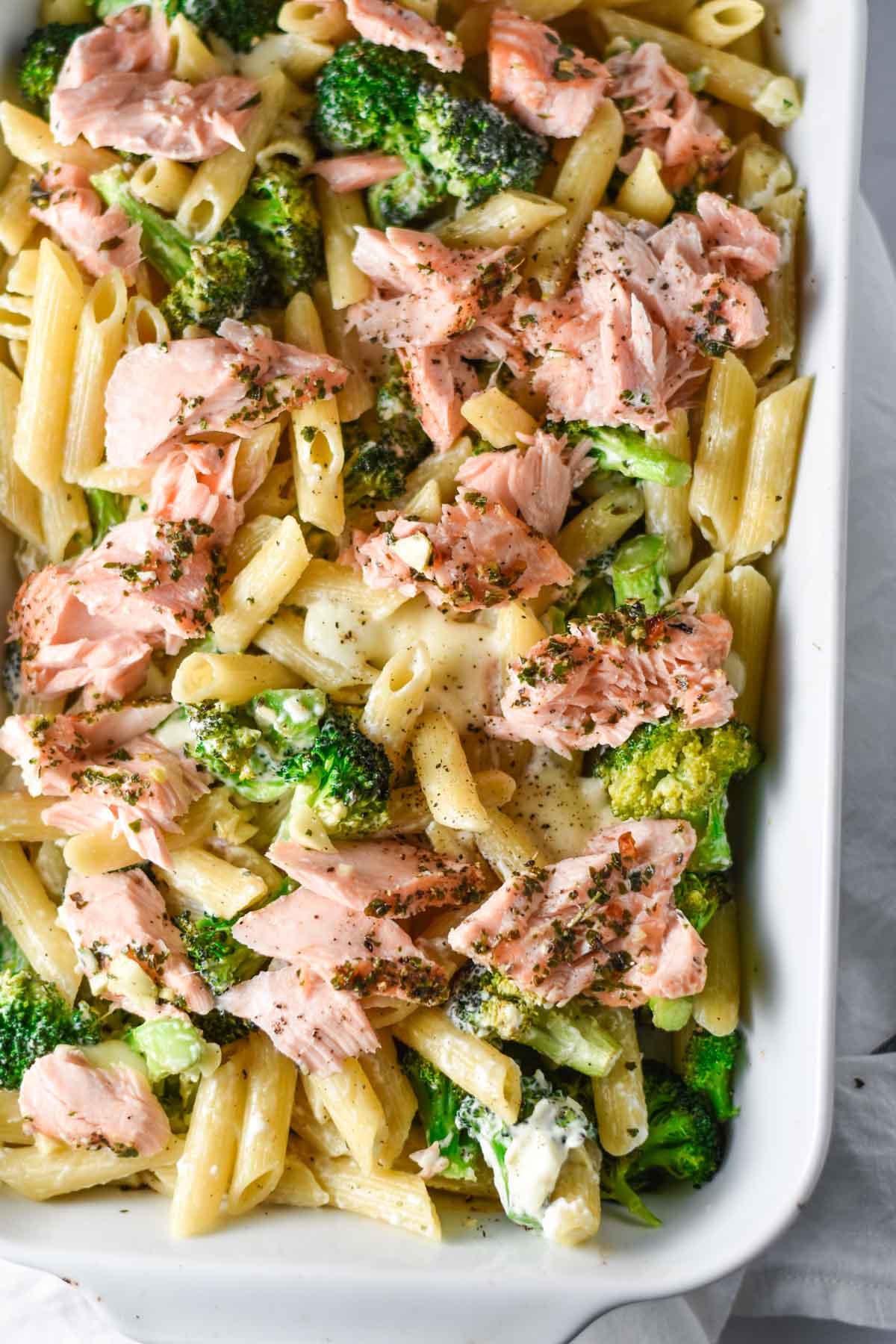 Jump to:
Salmon Broccoli Pasta Bake
As a pregnant mom of a toddler who is also managing a migraine disorder, my time is much more limited to make dinner than it used to me...and it's my job! I know many of you are in the same boat, so when I looked at recipes my readers love, simple pastas were the biggest hit.
But how do you make a pasta that has a good balance of protein, fat, and carbs, with lots of vegetables and omega-3's? Enter this salmon broccoli pasta!
You'll love this recipe because:
Minimal cooking - Everything bakes in one pan except the pasta. This allows you to choose whatever pasta you like and cook it perfectly.
Minimal dishes - With only a pan and a pot, you're doing a lot less dishes than searing the salmon separately, roasting the broccoli, and making the pasta.
Great brain food - Salmon is a great food for brain health with high Omega-3 fatty acids, while broccoli provides vitamin C and antioxidants.
Gluten free friendly - This dish is easy to make gluten free with a gluten free pasta.
Ingredients
Salmon - Any kind of salmon works for this recipe so go with what your tastes prefer. I recommend a piece that's fairly thick, at least over 1 ½ inches, and evenly cut. This way it cooks more evenly and will line up with the cooking times of the broccoli and cheese. My taste preference is for king salmon or Verlasso salmon. If you don't want to deal with skin after cooking, remove the skin before baking.
Pasta - I use penne or rotini, but really any pasta will work here. Cook according to the package directions. For gluten free, I prefer the Jovial brand.
Broccoli - I buy pre-cut broccoli florets in the bag just to make my life a little bit easier. But sometimes they're still very large florets! Break them apart with your fingers so they're in even, smaller pieces. This way they'll cook at the same times as the salmon without being underdone.
Cream Cheese - I recommend using a cream cheese without carrageenan or added live active cultures. Philadelphia, Organic Valley, Simple Truth are a few good brands that are widely available. I've also found store-brand options that are great too.
Garlic - Fresh, minced cloves.
Italian Seasoning - If following a migraine diet, I recommend an Italian seasoning without onion like McCormick or Simply Organic. I have re-introduced onion so I used Litehouse Italian Blend.
Extra Virgin Olive Oil
Equipment Needed
(At least) 9x13 baking dish will fit enough for 4 people. You will need a larger pan if doubling the recipe just because you want the broccoli to roast well and that requires it to have most of it in an even layer in the baking dish.
Large pot for pasta and a colander.
Step by Step Instructions
Step 1 - Prepare pasta and salmon, broccoli and cheese
Preheat oven to 425 degrees Fahrenheit. In a large baking dish, add olive oil to the bottom, then add broccoli florets and toss in the olive oil. Spread the broccoli to one side. Add cheese and salmon to the baking dish. If you don't want to have to remove the skin after cooking, remove it before by slicing with a sharp chefs knife. Season everything with salt, pepper, and Italian seasoning.
Meanwhile prepare a large pot and bring salted water to a boil.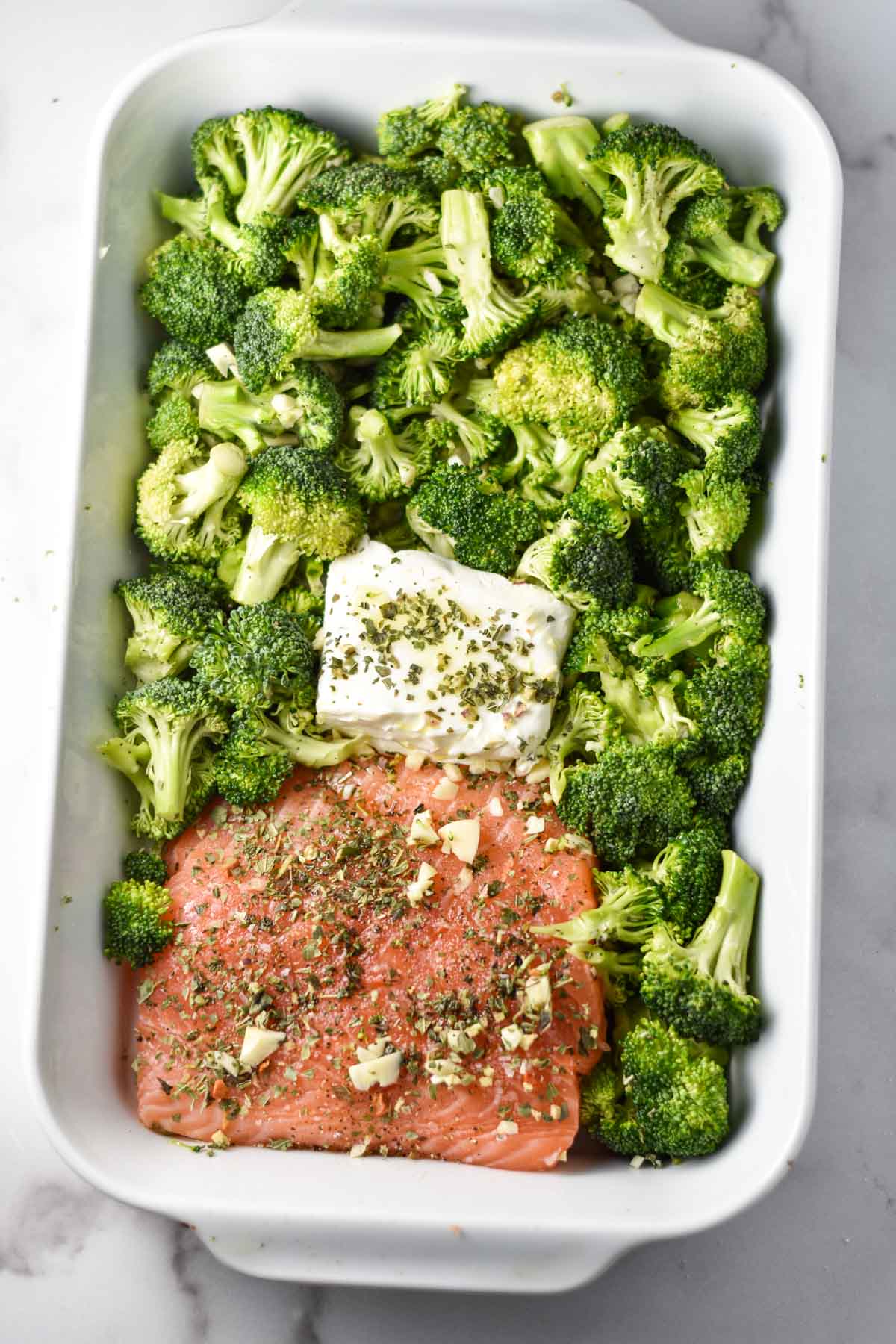 Step 2 - Bake the salmon and broccoli and boil pasta
Bake the salmon and broccoli for 15-17 minutes, or until salmon has cooked through and broccoli has softened. It should be getting a little bit of brown, crispy edges, but not overcooked. Remove from oven when salmon has cooked through and broccoli has softened.
Meanwhile boil the pasta according to package directions. Reserve at least 1 cup of pasta water while draining.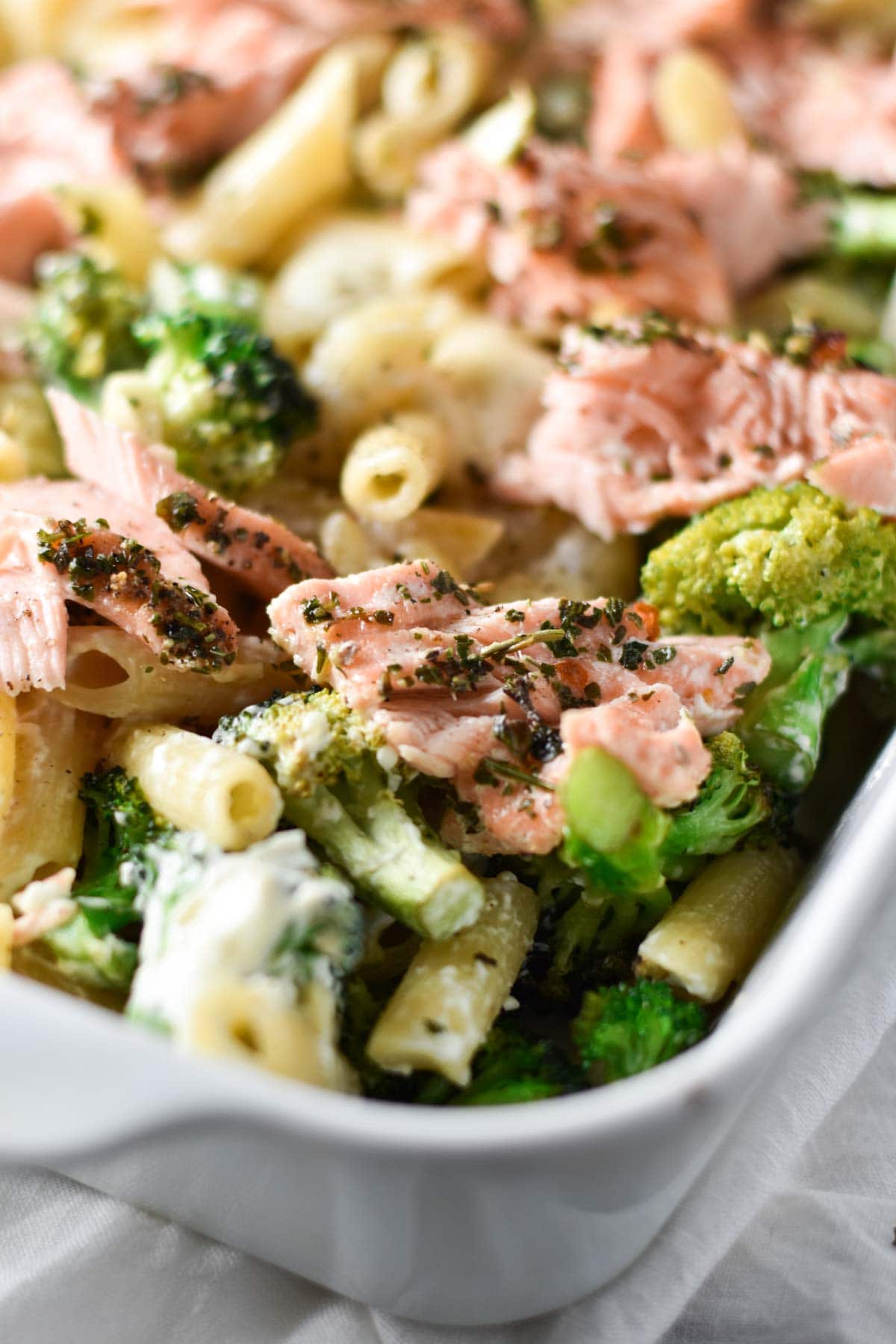 Step 3 - Combine the pasta and salmon bake
Remove the salmon from the baking dish (I find this is easier to mix in after you've stirred in the pasta, but if you don't care about how pretty it is you can leave it in). Add in pasta and mozzarella, and stir together with the cheese and broccoli until well-combined. Add about ¾ cup of pasta water, or enough to get a nice, creamy sauce.
The mozzarella should melt enough to be creamy and stringy. If it doesn't do this, place the pasta back in the oven for about 3-5 minutes, or until melted. Top with chunks of salmon and taste and adjust any seasonings.
Recipe Substitutions
Cream Cheese - To substitute the cream cheese, I recommend using Boursin cheese. If you do this and use a strongly flavored one (like garlic and herb), I would recommend using less Italian seasoning and garlic, unless you want so much flavor you don't taste the salmon.
Salmon - Other mild types of fish will work well here like halibut.
Vegetarian - Leave out the fish and add more broccoli or another type of vegetable that would roast well, like zucchini squash.
Gluten Free - Use a favorite gluten free pasta brand!
Dairy Free - Use your favorite dairy free cheese substitute (note: these are not recommended on a migraine diet due to MSG/glutamate content). I recommend Hemp Seed Cream Cheese.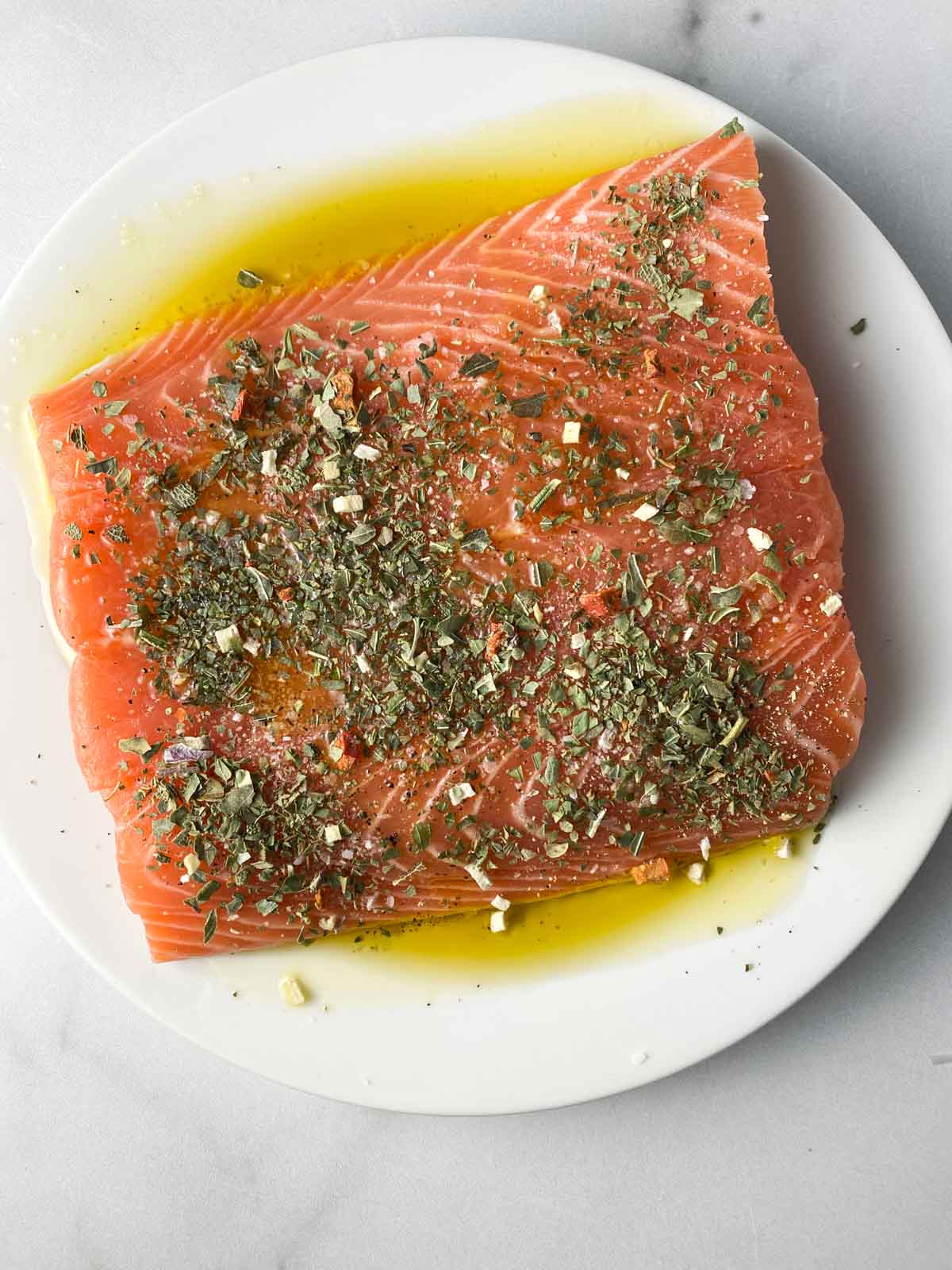 Expert Tips
Salmon Thickness - In order to give the broccoli enough time to cook, the thickness should be around 1 inch to 1.5 inches to cook in 15 minutes without being over-baked.
Broccoli Size - If you throw in very large chunks of broccoli florets, they won't cook at the same time as your salmon or will result in uneven cooking. Break them apart so they're roughly even in size and on the smaller size - like around ¾-1 inch.
Storage Instructions
This salmon broccoli pasta will store well in the fridge for up to 3 days in a sealed container. I don't recommend freezing, especially if the salmon has been previously frozen (which most are). While you definitely could do it, it will not have the best texture or flavor. For a better pasta to meal prep and freeze, I recommend my Lazy Lasagna.
Serving Suggestions
The recipe amounts as written served me (who is 35 weeks pregnant), my husband (who does a lot of crossfit and eats enough for 2-3 people), my mom (who doesn't eat much), and we had leftovers for one person to have another meal. So I'd say it feeds 4 people as a whole meal comfortably, although you may be able to get 5-6 servings if using smaller amounts.
Because this salmon and broccoli pasta is a whole meal, it really doesn't need a side dish. But here are a few recommendations.
Recipe FAQ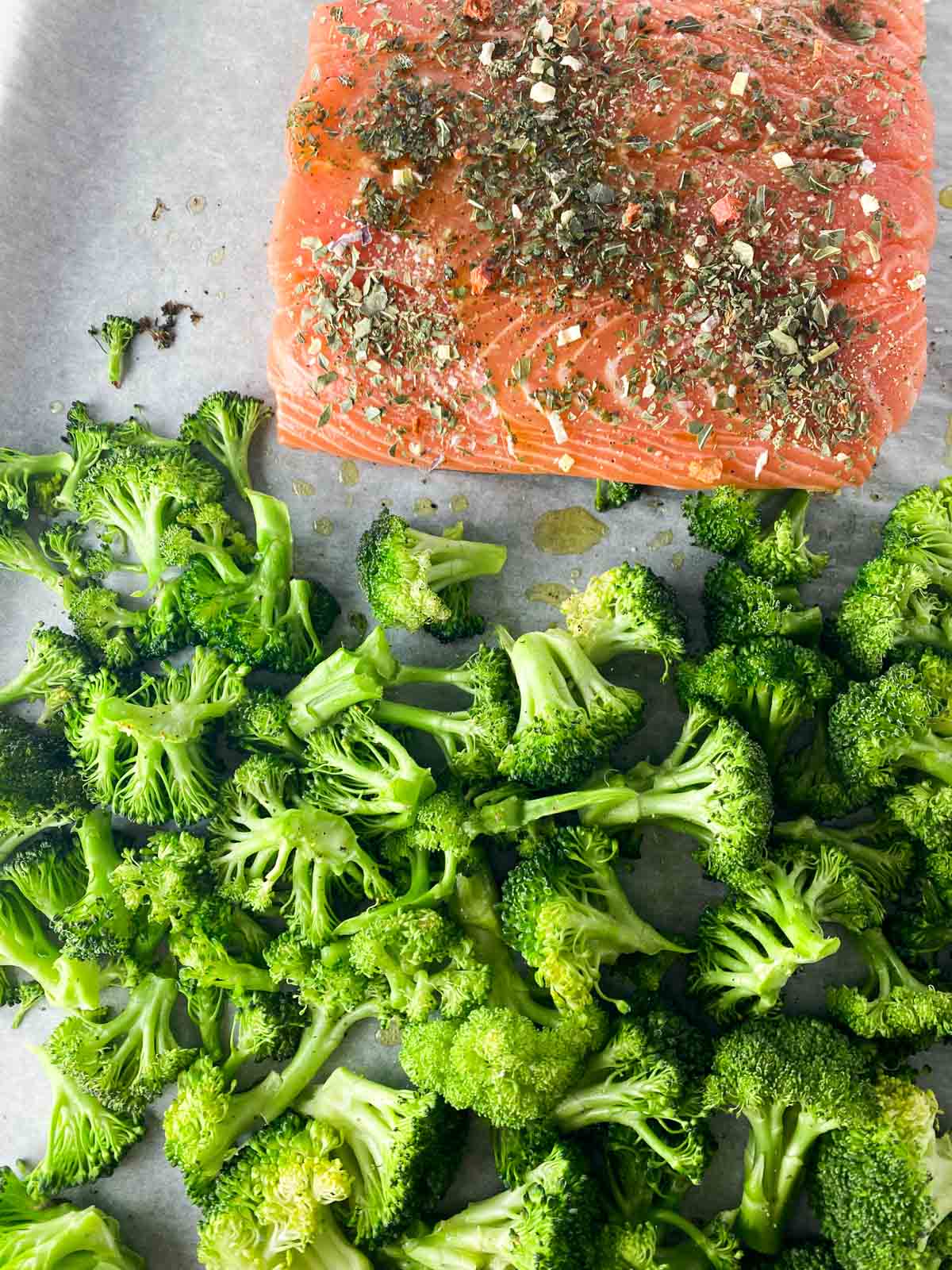 Can I cook the salmon separately?
If your baking dish isn't large enough you could pan sear or air fry the salmon instead. To air fry, preheat to 400 degrees F and fry for 9-11 minutes, depending on the size of the salmon fillet.
What kind of pasta goes with salmon?
Salmon is an extremely versatile fish that pairs well with all kinds of pasta, especially in a creamy sauce. If you're looking for more of a cream sauce instead of a lighter pasta, I recommend my Boursin pasta recipe and then adding cooked salmon and broccoli to it.
Why do you add pasta water?
The pasta water contains salt and starch, which helps to thicken the sauce since it's just made with cheese and juices from the roasting pan. This creates a creamy coating without a lot of extra ingredients or heavy cream.
Can I use a sheet pan instead?
Yes, I've made this salmon broccoli pasta on a sheet pan covered with parchment. The only downside is you have to transfer to a second dish or bowl to stir everything together. For this recipe, I was trying to cut down on the amount of dishes you have to use!
Salmon and Pasta Recipes
For more recipes like this creamy salmon and broccoli pasta, see these posts.
If you make this, tag me #thedizzycook or @thedizzycook on Facebook and Instagram. And if you love the recipe, please leave a review below! Follow along on my Pinterest for more great recipes.
Salmon and Broccoli Pasta
This creamy salmon and broccoli pasta is so easy to make with simple ingredients all baked in one dish. This recipe serves 4 people as a full meal.
Print
Pin
Rate
Equipment
1 9x13 (or larger) baking dish
Ingredients
10

oz

pasta like penne, rigatoni, or rotini

¼

cup

olive oil

12

oz

broccoli florets, torn to be roughly the same size

1

pound

salmon, center cut/even piece

4

oz

cream cheese

4

garlic cloves, minced

1

tablespoon

Italian seasoning

½-3/4

cup

reserved pasta water

2-3

oz

fresh mozzarella cheese

kosher salt and black pepper
Instructions
Preheat oven to 425 degrees Fahrenheit. Meanwhile, prepare a large pot with salted water and bring to a boil. In a 9x13 baking pan (or larger) add 2-3 tablespoons of olive oil and toss with the broccoli florets. Place them to one side. Add cream cheese to the center. Pat salmon dry and remove skin if you don't want to deal with it after cooking. Place on the edge of the baking sheet. Drizzle an extra 1-2 tablespoons of olive oil over the salmon and cream cheese. Sprinkle with Italian seasoning and garlic, tossing the garlic with the broccoli florets as well. Season everything with kosher salt and black pepper.

Bake the salmon and broccoli for about 15-17 minutes or until salmon has cooked through and broccoli has softened with a few crispy edges. Meanwhile cook pasta according to package directions. Drain, but leave behind at least 1 cup of reserved pasta water.

Remove salmon from the baking dish and set aside. Pour in about ½ cup of reserved pasta water and stir together the broccoli, cream cheese, and pasta till well combined. Tear apart pieces of mozzarella and stir them in. It should melt from the residual heat, but if not, return the baking dish to the oven for another 3 minutes.

Add more pasta water if needed to get the right texture. Taste and adjust any seasonings. Break up the salmon into bite sized pieces and sprinkle it on top of the pasta. Serve warm!
Notes
For migraine diet friendly - make sure you use an Italian seasoning without onion like Simply Organic (more suggestions in post). If onion is not an issue, I used Litehouse dried Italian seasoning. This is also fantastic with a squeeze of lemon, if lemon is tolerated.
Cream cheese can be substituted with Boursin or goat cheese. If you use garlic and herb Boursin, you may need to cut back on garlic and spices.
For gluten free, use your favorite gluten free pasta.
Nutrition
Calories:
466
kcal
|
Carbohydrates:
28
g
|
Protein:
34
g
|
Fat:
29
g
|
Saturated Fat:
8
g
|
Polyunsaturated Fat:
5
g
|
Monounsaturated Fat:
14
g
|
Cholesterol:
89
mg
|
Sodium:
274
mg
|
Potassium:
1091
mg
|
Fiber:
5
g
|
Sugar:
3
g
|
Vitamin A:
849
IU
|
Vitamin C:
77
mg
|
Calcium:
198
mg
|
Iron:
3
mg