These Healthy Sloppy Joes without ketchup will be a new family favorite! Made without added sugar and low in sodium, they've got a great southwestern flavor that will spice up this traditional weeknight recipe.
I've been obsessed with meal prep and easy to freeze recipes trying to prep for the arrival of our first baby, and one recipe that I've always wanted to make with my own spin is sloppy Joes!
Sloppy Joes are made with ketchup and added sugar, along with Worcestershire, I kept finding my recreation of this recipe to just be kind of…boring. That's when I decided it needed a little more spice and added a bit of a smoky, Texas flavor to it. Casey and I couldn't get enough! We make this almost weekly now and it's been a huge hit with the family.
Jump to:
What Makes These Sloppy Joes Healthy?
If you're making it from scratch, the traditional recipe for sloppy joes we grew up with packs quite a bit of added sugar between the ketchup and brown sugar. It's good, but I think the sugar is making up for a lack of real flavor that's missing from added spices. By making these sloppy joes without ketchup, you're saving yourself a little extra sugar and unnecessary additives.
You'll love this recipe because:
No added sugar - It only contains natural sugar, no added sugar.
Whole30 and Paleo - These healthy sloppy joes fit a multitude of diets including dairy free, gluten free, paleo, and Whole30.
MSG free - This recipe doesn't contain Worcestershire sauce, which is fermented and can be an issue for people with migraine. Along with onions and anchovies, those sensitive to glutamate would want to be cautious with "natural flavorings".
No added gums or high fructose corn syrup.
Low sodium - Much lower sodium compared to packet seasonings from McCormick or cans.
20 minute meal - A great recipe for weeknights, you can put these on potatoes instead of buns and mix it up.
Great for meal prep - This recipe will store for 2-3 days and freeze well!
The only major chopping in this recipe is for the garlic and shallots, otherwise everything is just dumped in one pan. All you have to do is measure!! So a shortcut of using a canned item may seem like it's saving you a lot of time, but really it's probably only saving about 5 minutes at the most.
Ingredients
The ingredients for these are pretty straightforward, but I'll go through them just to explain more about them.
Strained tomatoes - I used the Pomi brand, but this is basically just a tomato sauce that's a thick smooth liquid. It's smoother than crushed tomatoes, but thinner than tomato paste. And there are no added seasonings.
Coconut aminos - These replace the Worcestershire flavoring and are a great soy-free alternative. Naturally sweet, they do add a hint of sweetness without any added sugar.
Mustard - I used what I had on hand which was Annie's dijon mustard. However, you could use regular mustard or even mustard powder (just cut it down to 1-2 teaspoons).
Poblano - A Texas twist. Poblano is my substitute for green bell pepper, which is traditionally used in sloppy joes. I personally am just not a fan of green bell peppers and I love the added hint of spice that a poblano gives. They're MUCH more mild than a jalapeño, but add more heat than a sweet bell pepper.
Smoked paprika - This just takes these healthy sloppy joes to another level and adds that southwestern flavor. Trust me. You won't go back!
Ground beef - This recipe would also work with ground chicken or turkey, but I do like to use 85/15 ground beef for a boost in flavor. If you're trying to cut the calories, definitely go with the turkey, chicken, or a 90/10 beef option.
Step by Step Process
These healthy sloppy joes come together in just a few quick and easy steps. The whole recipe can be finished in under 20 minutes!
Step 1: Brown Ground Beef
Cook the ground beef, breaking up the beef into small pieces using a wood spoon or spatula. Once cooked through, drain any excess fat by carefully tipping the pan and scooping it up with a spoon to throw away.
Step 2: Add Shallots, Poblano, and Spices
Add the garlic, shallot, and poblano to the pan, stirring over medium heat till softened, another 5 minutes. Mix in strained tomatoes and the remaining ingredients. Bring to a low simmer over medium high heat.
Step 3: Simmer and Serve
Simmer the sloppy joe mixture for about 10 minutes till the peppers have softened and the flavors have combine. The liquid will reduce and the beef mixture become very thick! Spoon on top of warm buns.
Recipe Tips and Edits
These cook in about 20 minutes total. Simmer a total of 10 minutes until the sauce gets a little thick and you're done.
I serve these on regular burger buns (I recommend Martin's Buns from Target or a favorite local brand) or whole wheat burger buns from Whole Foods.
Make these little more healthy by putting the filling on top of baked russet or sweet potatoes, along with some chopped green onion.
Vegetarian - I personally haven't tried this, but if any of my vegetarian friends want to be adventurous, you could try subbing the meat for cauliflower rice. If you do, let me know how it goes!
Cutting carbs? Try on top of spaghetti squash as a "sauce" or zucchini boat style. These little changes would make them paleo and Whole30 compliant if that floats your boat.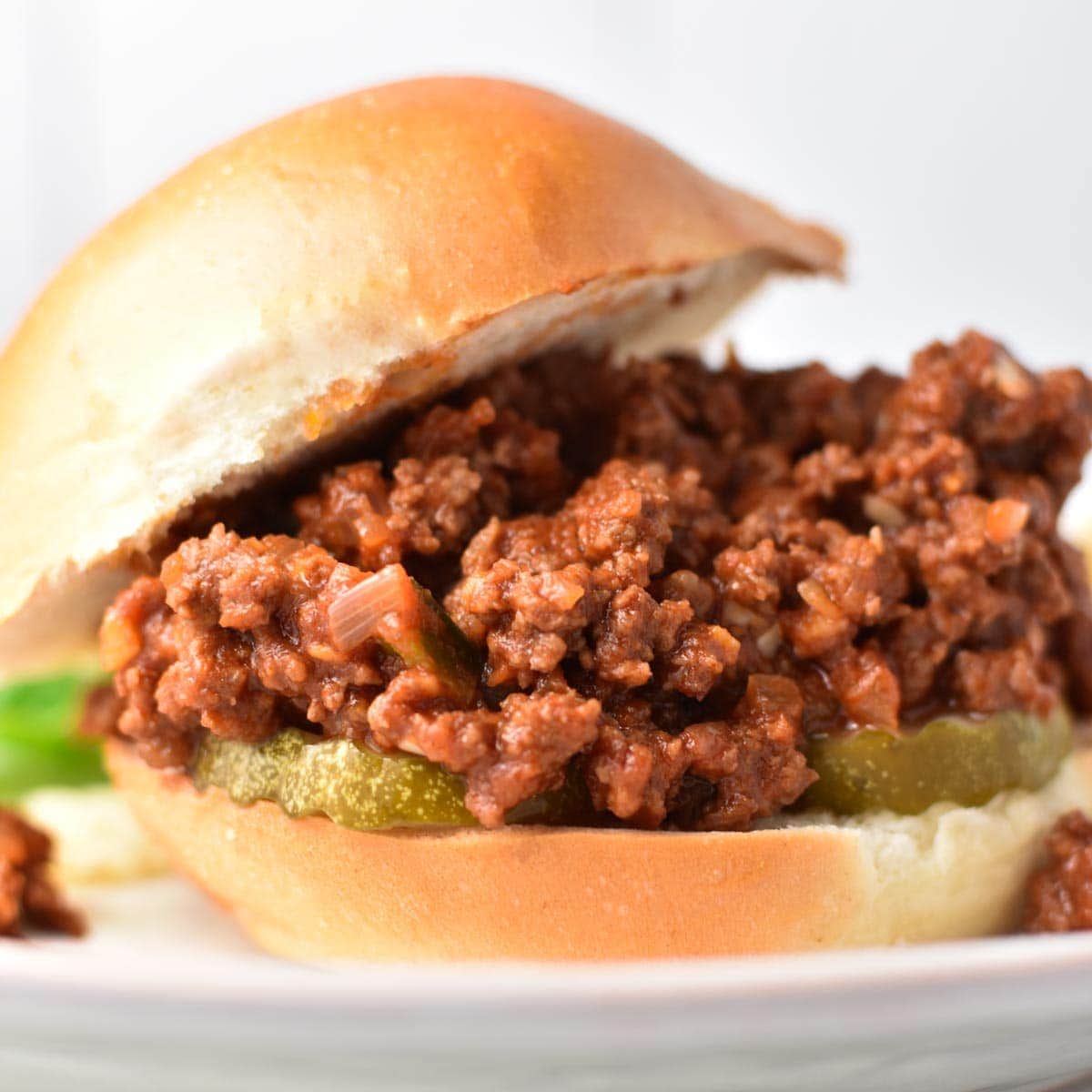 Healthy Sloppy Joe Toppings
Overall these don't need a lot of toppings because there is so much flavor in the meat, but here are a few ideas.
Pickles - could just be an odd pregnancy craving for me. I just find it super delicious. If you'd like to try it, I recommend these homemade pickles or Grillo's fresh pickles if you can find them. They have them at Costco too.
Healthy Coleslaw would also work well on top of these too!
Side Dishes for Sloppy Joes
For a weeknight dinner, we just paired these with a simple side salad and plain potato chips. If you want to get creative, I would recommend some of the following recipes.
Maui Kale Salad (pg86 from my cookbook)
Macaroni and Cheese (pg175 from my cookbook)
I hope you love these healthy sloppy joes as much as we do!
Frequently Asked Questions
Can you make sloppy joes without ketchup?
Yes! It is so easy to make sloppy joes without ketchup and this recipe is the perfect example. All you really need is strained tomatoes (a plain tomato puree) for the sauce, or you could substitute a nomato sauce as well. This also decreases the sugar content and omits more high fructose corn syrup.
Can I freeze leftovers?
Sloppy joe filling is super easy to freeze. Just allow the mixture to cool and transfer it to a ziplock bag so it can be frozen flat. This way it will defrost much faster. Either use one large bag or freeze into individual smaller bags for grab and go lunches or quick dinners. Defrost in the microwave or overnight in the fridge.
What's the difference between Manwich and homemade sloppy joes?
Homemade sloppy joes allow you to control the ingredients. Although this recipe may take 10 minutes longer than heating a can of Manwich, you're avoiding a much higher sodium content, high fructose corn syrup, and additional gums and flavorings. If you're sensitive to MSG, homemade healthy sloppy joes are a better option!
Easy Ground Beef Recipes
For more easy and healthy ground beef recipes, check out these posts! The Healthy Beef Enchiladas are a dairy free and lightened up version of traditional enchiladas with red sauce.
If you make any of my recipes, don't forget to tag me #thedizzycook or @thedizzycook on Facebook and Instagram. And please leave a review below!
Healthy Sloppy Joes (without Ketchup)
This healthy sloppy joe recipe has a southwestern flair with poblano and smoked paprika, making it a great update to this family favorite. Also great for low sodium diets, just adjust the salt to your taste.
Print
Pin
Rate
Ingredients
1

pound

ground beef

3

garlic cloves, minced

1

large shallot, chopped

½

cup

chopped poblano pepper*

½

teaspoon

kosher salt

1 ⅓

cups

strained tomatoes (plain tomato puree)

2

tablespoons

coconut aminos*

1

tablespoon

mustard (dijon also works)

1

tablespoon

distilled white vinegar

½

teaspoon

smoked paprika

4

Burger buns (or baked potatoes)
Instructions
In a large saute pan, cook ground beef over medium heat until cooked through, about 5-6 minutes. Drain any excess liquid/fat. Add minced garlic, shallots, and chopped poblano, cooking another 5 minutes until pepper has softened. Stir often so the garlic doesn't burn. Add salt, if desired, and strained tomatoes, coconut aminos, mustard, vinegar, and paprika along with ⅓ cup of water.

Bring to a simmer and allow it to simmer for 10 minutes, until the sauce has thickened. If it starts getting too thick, just add a little more water.
Notes
If you're sensitive to spicy food, consider cutting back on the amount of poblano pepper. Some are more spicy than others, but overall this pepper is very mild so ½ cup should yield a very light heat without burning your mouth.
If sensitive to sodium, adjust the amount of salt and check your coconut aminos for one that's lower.
I used Pomi brand strained tomatoes. These are just pureed tomatoes, like a thick tomato sauce with nothing added.
This recipe is great doubled or tripled for meal prep and freezes well.
Nutrition
Calories:
334
kcal
|
Carbohydrates:
10
g
|
Protein:
21
g
|
Fat:
23
g
|
Saturated Fat:
9
g
|
Trans Fat:
1
g
|
Cholesterol:
81
mg
|
Sodium:
550
mg
|
Potassium:
611
mg
|
Fiber:
2
g
|
Sugar:
5
g
|
Vitamin A:
366
IU
|
Vitamin C:
24
mg
|
Calcium:
57
mg
|
Iron:
3
mg