This recipe for Thai Chicken Lettuce Wraps is flavorful, quick, and healthy. Lemongrass, garlic, and sesame are combined for a soy-free Thai-inspired sauce that can be mixed with ground pork or chicken for a delicious low-carb meal. It is also gluten and dairy free.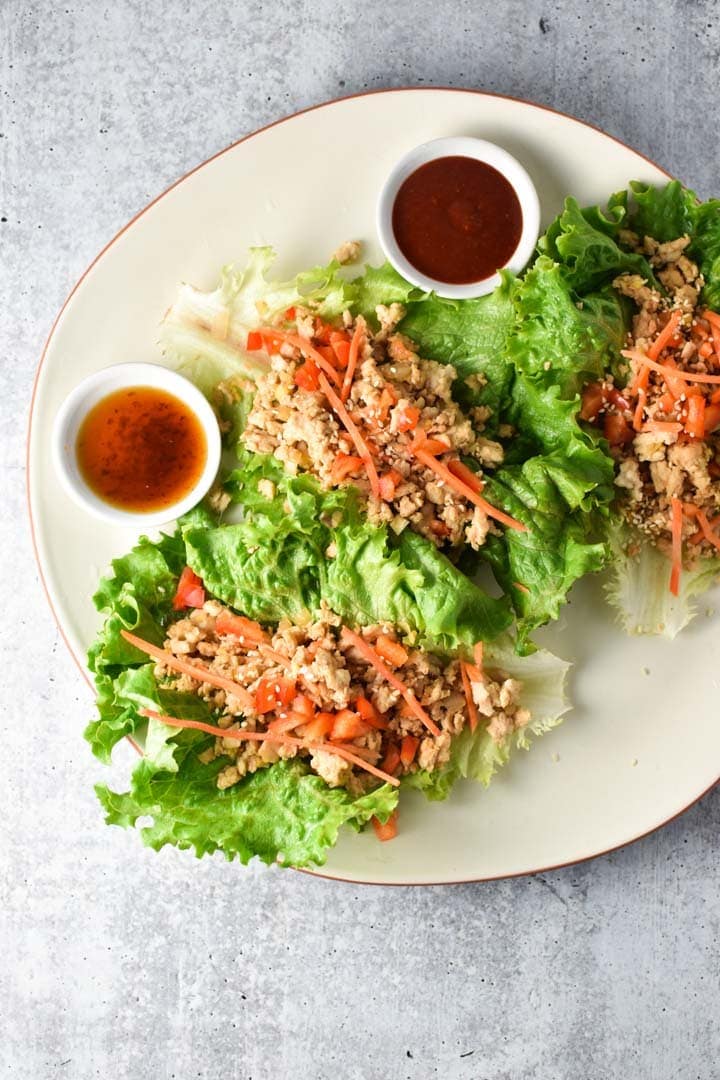 Soy-Free Chicken Lettuce Wraps
The inspiration for these came from a recipe I found in my husband's old Giada cookbook…of course, it was his as Giada is definitely not my jam. I consider myself more of an Ina girl. I mean, who would you rather have a nice, cozy dinner with – Ina or Giada? Giada looks like she might judge you for eating the pasta she made…but I digress.
Throughout all the Italian recipes, this dish stood out to me. It seemed like a quick, inexpensive weeknight meal that we could try out. I remember thinking the addition of lemongrass was really flavorful.
Is Soy a Migraine Trigger?
When I started a migraine elimination diet, it was tough to give up citrus and soy sauce. Both I've thankfully been able to reintroduce without issues, but they're very essential parts to cooking most dishes with Asian flavors. Some others aren't as lucky as I am and find soy to be triggering due to high levels of glutamate or sodium.
While it seemed pretty hopeless at the time, I found that there were other avenues to create meals that were just as good. Experimenting with coconut aminos and lemongrass seemed to be the best way to achieve these distinct flavors while still making a dish migraine-friendly.
This Thai chicken lettuce wrap recipe is perfect for anyone who may be new to the kitchen and want a recipe that doesn't require a ton of skill, but still has a lot of flavor.
What are Coconut Aminos Used For?
Coconut aminos are made from the sap of a coconut blossom, and not the actual coconut. Some brands are fermented, while others are not. So all in all, it would be best to choose a brand that isn't fermented. But people who do follow a migraine diet find that they can tolerate them fairly well. This is a fairly standard substitute for soy sauce, however coconut aminos are much sweeter and with lower sodium.
To achieve a similar soy sauce flavoring, I find that I require adding a little sesame oil to dishes, or other flavors to give it more depth. That depth is sometimes referred to as "umami", and it's common in items that contain MSG or items that can cause a reaction similar to MSG in people who are sensitive. A good example would be nutritional yeast, which has that depth of flavor similar to cheese, but is very high in glutamate.
How to Cut Lemongrass
Lemongrass is actually a stalk and is not a part of the citrus family at all. You can find it in the herb section as long, white and light green stalks. Because lemongrass has a thick woody stem, a lot of people tend to get confused on how to use it in recipes.
There are a few ways you can use it in cooking. The first is just to trim the lemongrass stalk and cut in half. I like to use it this way if I want to infuse flavor into something that needs to be boiled or simmered, like for a cocktail. You can smash it a little bit with the side of a thick knife to release some of the scent.
For this recipe, you want to mince it, but to do that you need to peel some of the thick outer layers. You'll start by chopping off about a 1/2 inch of the end piece at the bottom, and then a few inches up before the stalk turns a darker green. These upper, green parts can be reserved for soups, like this Ginger Lemongrass Soup or the Chicken Lemongrass Soup from my new cookbook.
I find it easiest to just slice it in half from here and peel off some of the really thick layers. The inner layers will be easiest to mince. Then you'll want to just run your knife through it a few time, mincing into very fine pieces.
I store my lemongrass in a cup of water in the fridge with other herbs. It can last about 2 weeks!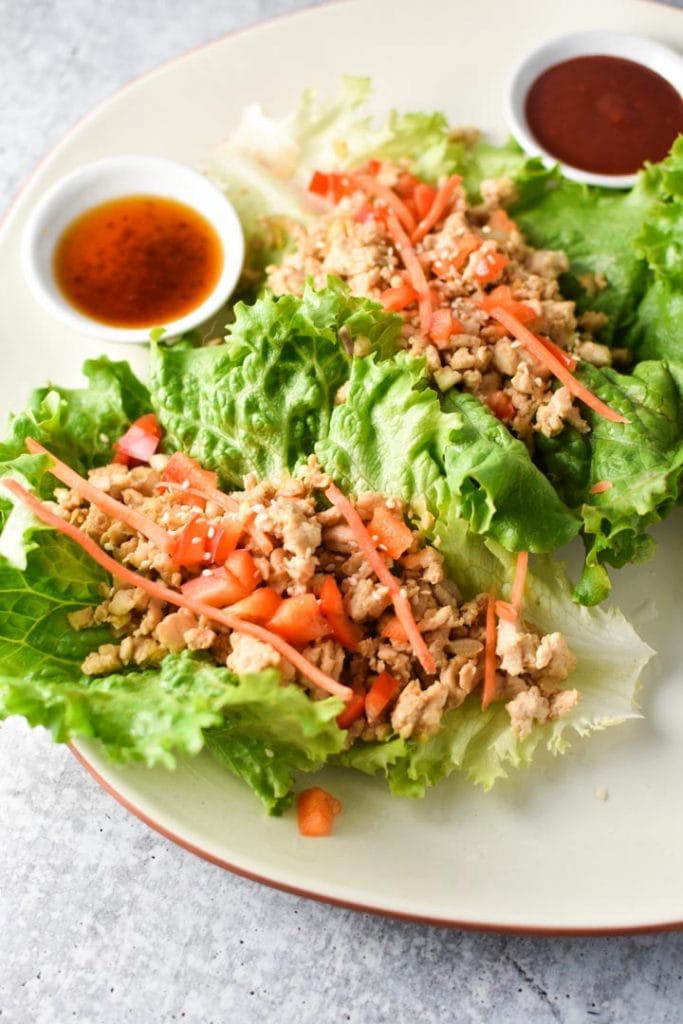 What Lettuce to Use for Lettuce Wraps
There are a few different types of lettuce you could use for lettuce wraps but my favorites are:
Romaine

Bibb (or Butter Lettuce)

Burger Lettuce – my local Central Market/HEB actually sells these packaged for wraps now
Of course you can go all "PF Changs" and use iceberg lettuce as a wrap, but I find it tears easily and isn't quite as filling as these other options.
Sides and Sauces
The nice thing about these chicken lettuce wraps is you're getting your greens in with protein. If you want to make this dish even more substantial, I would add brown rice or quinoa to the wrap as well. In fact, you may be able to replace the chicken with quinoa and use the same sauce for a vegetarian option. I haven't tested it out, but it seems like it would work.
One sauce I love on these is the Pretty Thai sauce, which you can order on Amazon or directly from their website, which I believe is a little less expensive.
For more Asian-inspired migraine-friendly dishes see these recipes:
Vegan Thai Noodle Salad
Vegetarian Fried Rice
Chicken Stir-Fry with Spicy Sesame Sauce
Sunbutter Soba Noodles
Banh-mi Inspired Burgers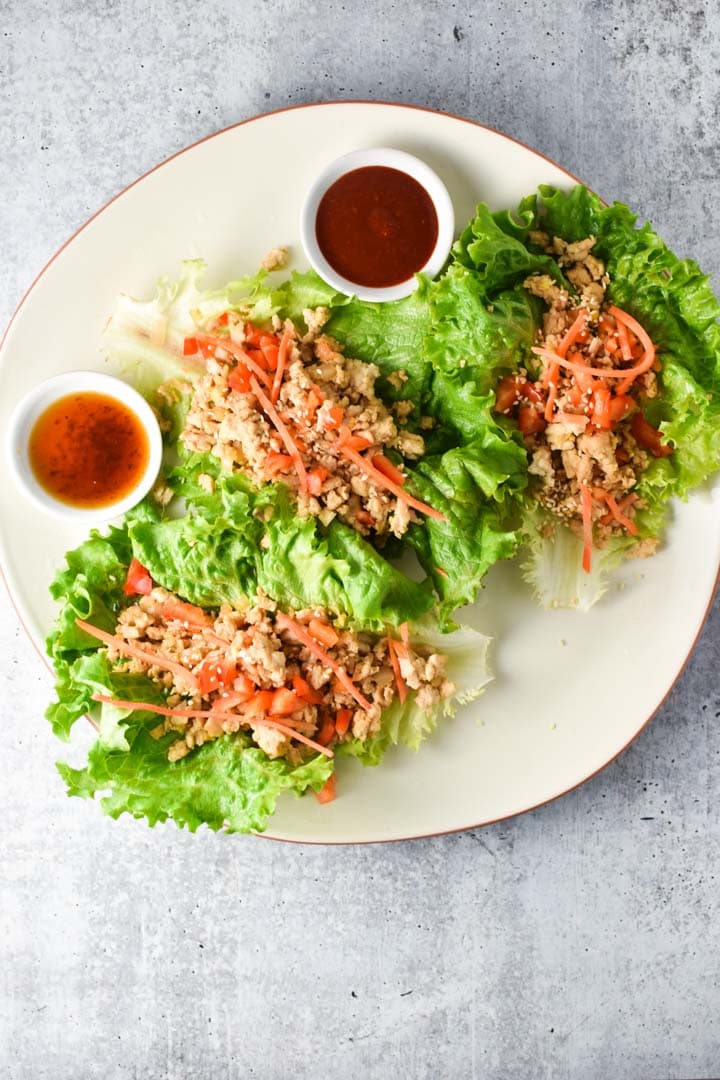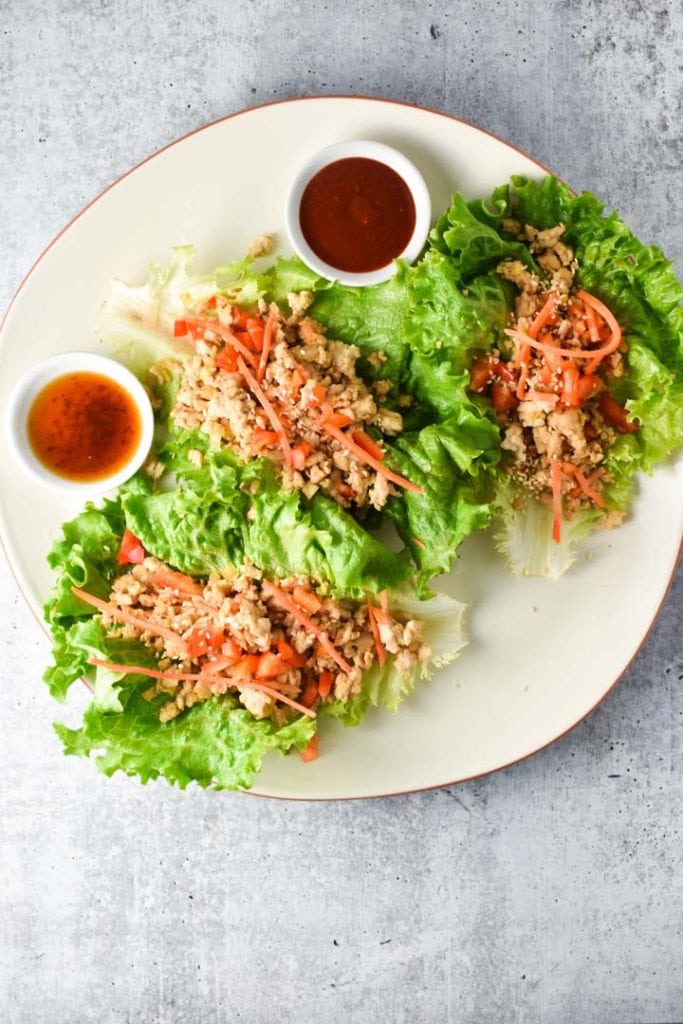 Thai Chicken Lettuce Wraps
Flavorful, quick, and healthy! Lemongrass, garlic, and sesame are combined for a soy-free Thai-inspired sauce that can be mixed with ground pork or chicken. A delicious low-carb meal that's migraine-friendly and MSG free.
Print
Pin
Rate
Ingredients
1.5

pounds

ground chicken

1

stalk

lemongrass

2-3

garlic cloves, minced

2

teaspoons

fresh ginger, minced or grated

1/4

cup

water

2

tablespoons

distilled white vinegar

3

tablespoons

coconut aminos

1

tablespoon

toasted sesame oil

2

teaspoons

honey

2

green onions, chopped

1/2

cup

shredded or matchstick carrots

1/2

cup

red pepper chopped

8

lettuce cups

salt and pepper to taste

sriracha and/or sweet chili sauce
Instructions
To chop the lemongrass, cut about 1/2 inch off the thick bottom stem and the top stem where it begins to turn a darker shade of green. Cut the piece in half and then peel off a few of the really thick outer layers. Run your (sharp) knife through the inner piece, chopping into very fine pieces, as small as possible. Set aside.

In a large pan, cook ground chicken over medium high heat until cooked through about 5-6 minutes. Meanwhile mix up your sauce by combining the chopped lemongrass, ginger, garlic, water, vinegar, coconut aminos, sesame oil, and honey. Taste and add salt as needed (I usually add about 1 teaspoon to start).

Add the sauce to the cooked ground chicken and bring to a simmer over medium high heat. Cook for about 2-3 minutes until the sauce thickens a bit and coats the chicken nicely. Remove from heat and taste to adjust any seasonings. Spoon the chicken mixture into the lettuce cups and top with chopped carrots, green onions (scallions), and pepper. You can also add toasted sesame seeds for flair.
Notes
For lettuce wraps, I prefer to use romaine or butter lettuce leaves over iceberg.
You can easily sub chicken for ground pork.
I really love using Pretty Thai's sweet chili sauce to top these off.
Nutrition
Calories:
325
kcal
|
Carbohydrates:
11
g
|
Protein:
31
g
|
Fat:
17
g
|
Saturated Fat:
4
g
|
Cholesterol:
146
mg
|
Sodium:
384
mg
|
Potassium:
1115
mg
|
Fiber:
1
g
|
Sugar:
5
g
|
Vitamin A:
6870
IU
|
Vitamin C:
35
mg
|
Calcium:
40
mg
|
Iron:
2
mg