Lazy Lasagna is a deconstructed lasagna bake, made with store-bought sauce, mozzarella and ricotta cheese, and whatever pasta you have on hand. It's easy and comforting without having to use a ton of ingredients. This is also a great lasagna without eggs!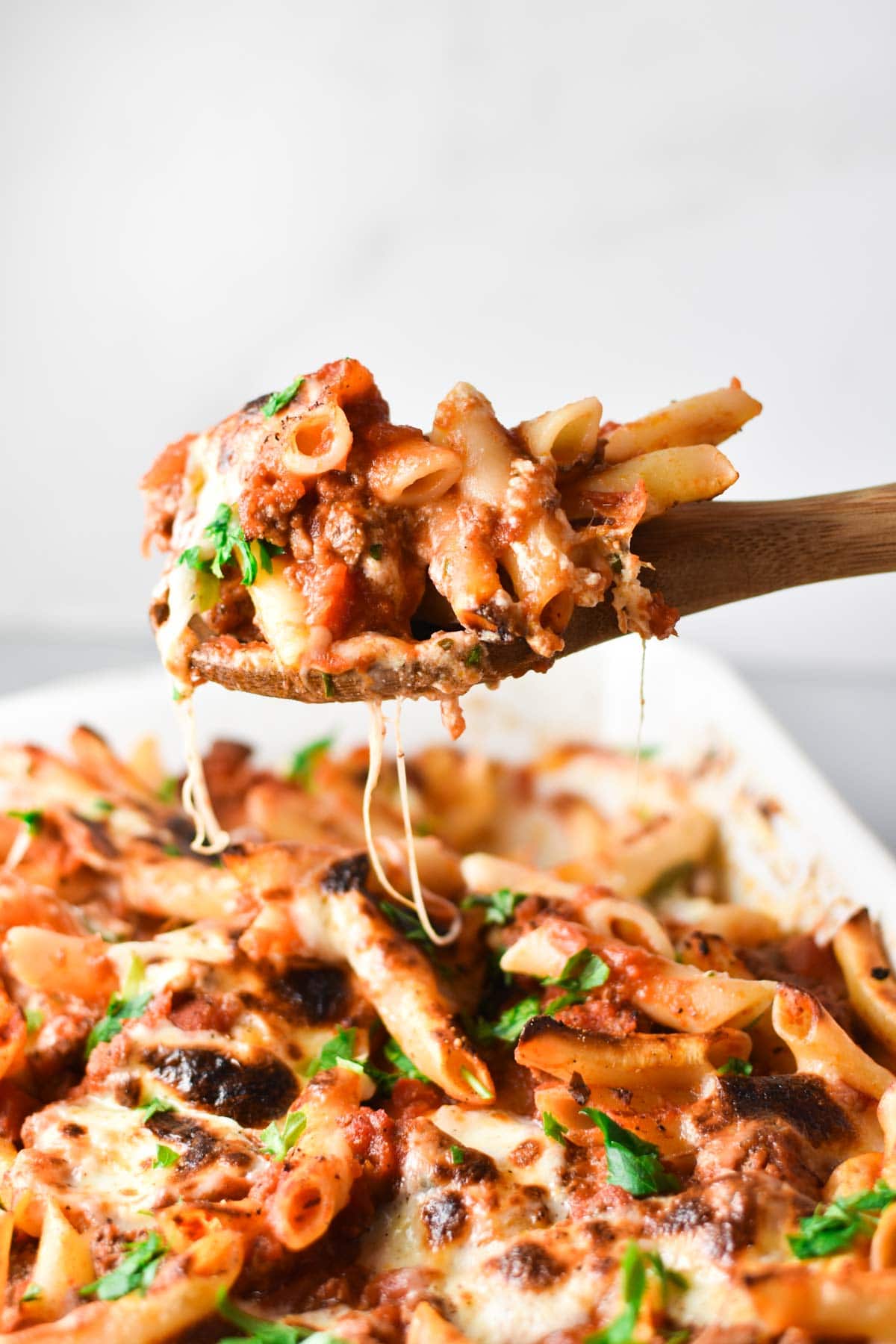 This recipe for lazy lasagna is actually inspired by my grandma. It never failed that when we visited, this was on the menu one night with her Celery Seed Dressing that's in my cookbook.
Apparently my grandma wasn't like other food blogger grandmas. She was a baker and always had a good nut roll or spritz cookies in the freezer, but she wasn't big on cooking. Would she ever slave away over a pot of long-simmered tomato sauce that was passed down from ancestor to ancestor? NO! She didn't have time for that! She had 6 kids!
This easy recipe has been passed down and has become a reader favorite. I promise you'll love it!
Why You'll Love This Easy Lasagna
It's a family favorite. Who doesn't like lasagna?
It's way easier to make than the traditional recipe.
Lazy lasagna makes a great gift for friends or family who have new babies, are dealing with illness, or any hardship.
This recipe freezes and reheats well.
There's no parmesan and no egg in this lasagna recipe!
Jump to:
Ingredients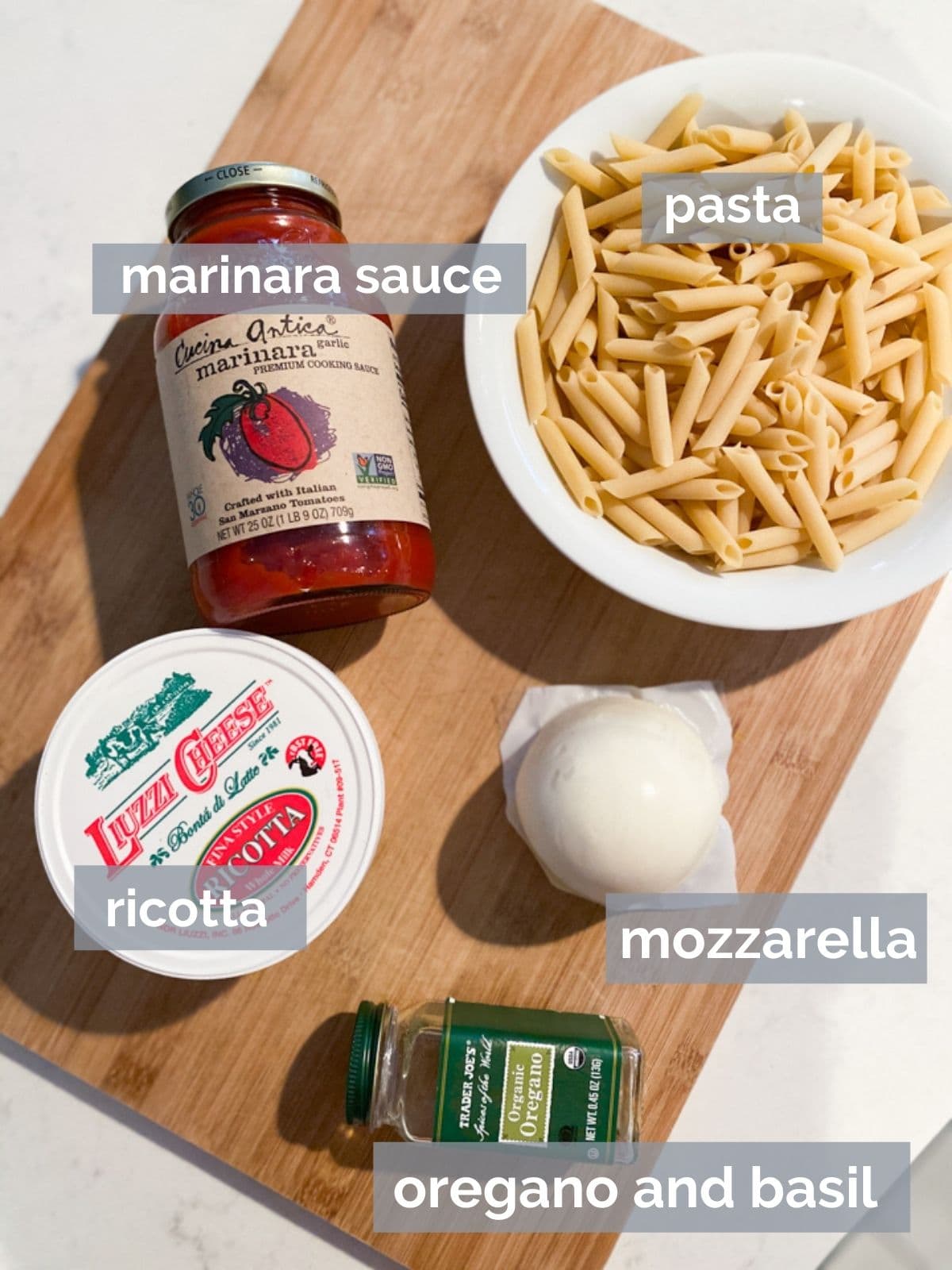 Pasta - Any pasta will work except smaller ones like macaroni. I went with penne here but sometimes I mix and match whatever is leftover. Rigatoni, ziti, fusilli, farfalle...these would all work.
Ground Beef - I just use a 90/10 or 85/15 mixture, but you can also leave this out for a vegetarian lasagna.
For Marinara Sauce I recommend any of the below, none of which contain onion.

Cucina Antica Garlic Marinara

,

Rao's Sensitive Marinara

,

Fody Marinara

, and

Sprouts Sensitive Marinara

.
Ricotta - Always go with the more expensive brand. You can totally taste the difference between a $5 package and a $2 package that justifies the increase in price. Some people find the texture to be gritty and I insist it's because they're buying inexpensive ricotta. A good ricotta is luscious and super creamy. I used Liuzzi Cheese in this, but Calabro is another good brand as well as BelGiosio. One without gums will work best in this recipe (and ricottas without gums are best for baking overall).
Mozzarella -

Fresh is best. I buy a big ball of it and grate it at home using a cheese grater, or just pull it apart in big pieces.
A lasagna without eggs? I've made this by leaving the egg out and putting an egg in. The egg does help to bind the cheese mixture a little bit more and coat the pasta, but it's truly not necessary. In this case, I think one less ingredient is nice and leaving it out doesn't change the flavor.
If you're one of those die-hard egg in lasagna people, go for it. But if you're just doing it to help the texture of ricotta, it really doesn't need it. It also helps the ricotta is layered in between the pasta, so it doesn't dry out like it would on top. Save the top layer of this lazy lasagna just for the mozzarella!
How to Make a Lazy Lasagna
Step 1: Cook the beef. Start by browning the ground beef and boiling the pasta (Picture 1). Add the marinara sauce to the ground beef. Then mix in the al dente pasta with the ground beef marinara mixture.
Step 2: Cook the pasta. Use the package directions to cook the pasta "al dente", which means it's softened but with a firmer bite to it. (Picture 2)
Step 3: Combine the cheese mixture. Mix together the ricotta, garlic, basil, and oregano. (Picture 3)
Step 4: Build the lasagna. In an oiled 9X13 inch pan, add ½ the pasta mixture. Then spread the ricotta mix over top. (Picture 4). Add the rest of the pasta on top of the ricotta, and place torn mozzarella on top. Cover with foil. If freezing for later, stop here. (See picture below).
Step 5: Bake! Bake at 375 degrees F for 20-25 minutes, then take the foil off and bake another 10 minutes till light brown on top.
Frequently Asked Questions
How do I make sure the lazy lasagna does not get mushy?
One thing that helps with the texture is to cook the pasta slightly al dente. And if you haven't heard of this before, it's really easy to do. Just pull out your pasta about 1-2 minutes before the "final time" posted on the package. The pasta should be a little firm, but still soft enough to chew.
Is lasagna really unhealthy?
This recipe comes in at 600 calories, which is definitely a little higher, but not as high as traditional lasagna which can be 800-1000+ calories per serving. It also has a good balance of protein at 35grams, which should help keep you fuller for longer. This lazy lasagna is also additive free using my tips for purchasing ricotta, mozzarella, and marinara sauce.
How do I prevent a watery lasagna?
A few tips can help make your lasagna bake less watery. 1. Drain the meat well, and you can even blot with a paper towel. 2. Use GOOD ricotta cheese, like the brands mentioned above. This will help a ton. 3. Fully drain the pasta before adding to the sauce.
Can I use any kind of pasta?
Pretty much any pasta will work for this recipe. I recommend rigatoni, fusilli, penne, or whatever you have on hand. I would just stay away from really small pasta like macaroni or orzo, or long strands like spaghetti or linguine.
How to Freeze
This lazy lasagna recipe is ideal for meal prepping. All you have to do is pre-cook the pasta, meat (if using), and layer the dish. Here are a few of my tips for freezing.
Cover the bottom of your baking dish with tin foil so you can easily lift the casserole out of the pan, once frozen, and transfer it to a bag or different storage container if needed.
If you'll consume fairly quickly, you can place saran wrap directly over the top of the casserole so it's touching the pasta. Then cover that with press and seal and freeze for up to 1 month.
To cook a frozen lazy lasagna, use the same baking times and temperatures as a base. Then add an additional 10-15 minutes.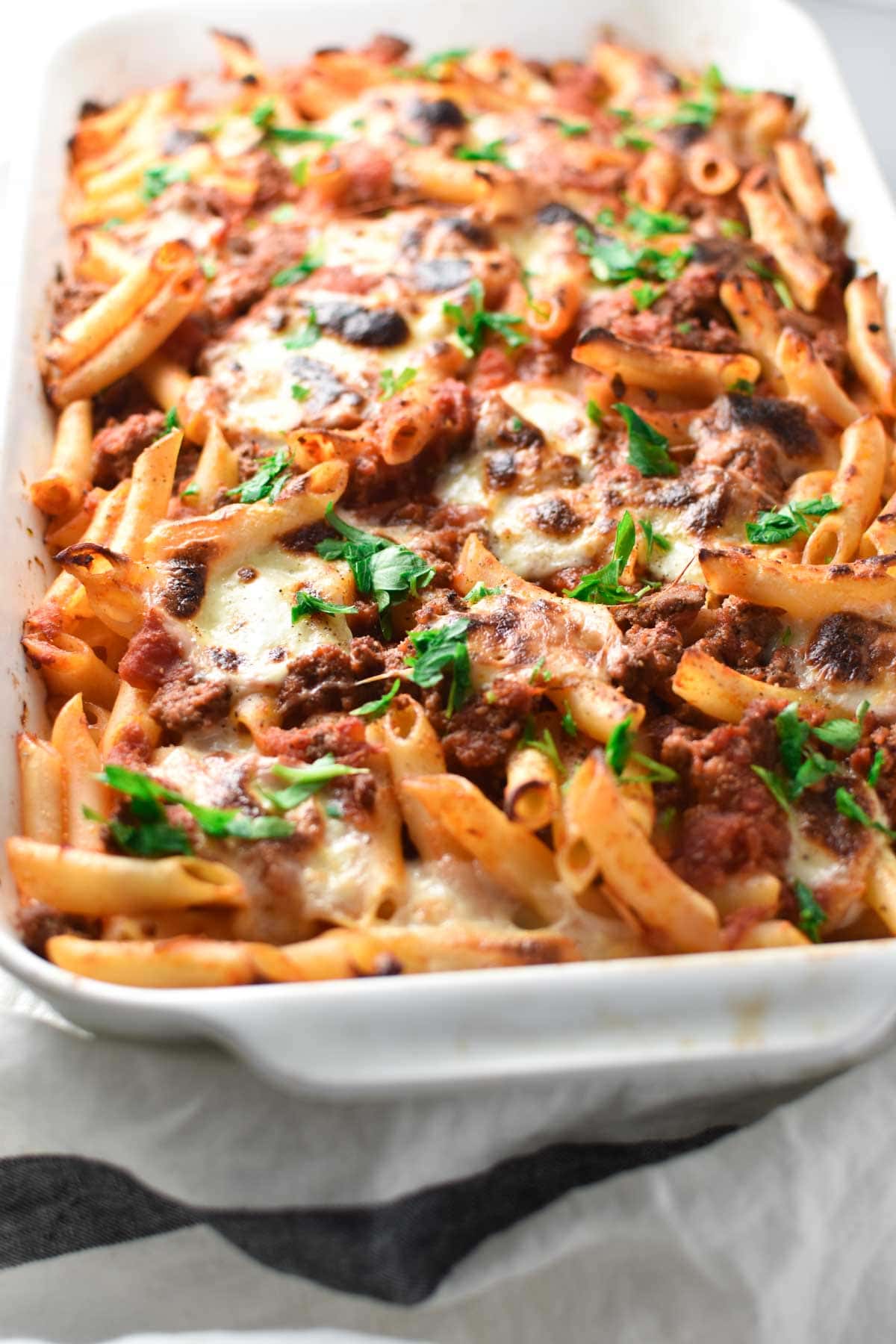 Pasta Recipes
For more pasta recipes like this easy lazy lasagna, see these other easy options.
If you make this, tag me #thedizzycook or @thedizzycook on Facebook and Instagram. And if you love the recipe, please leave a review below! Follow along on my Pinterest for more great recipes.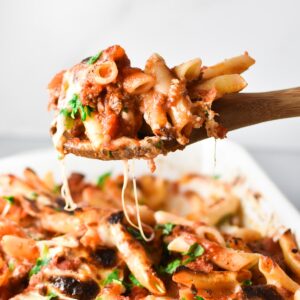 Lazy Lasagna
This lasagna bake takes all the best parts of lasagna (the gooey cheese, pasta, and sauce!) but saves you a little time and a lot of effort when it comes to layering. Can be made gluten free and vegetarian.
Print
Pin
Rate
Ingredients
12

oz

dried pasta (I used penne)

1

pound

ground beef

½

teaspoon

kosher salt

¼

teaspoon

black pepper

25

oz

marinara sauce

¼

cup

fresh basil

3

garlic cloves, minced

1

teaspoon

dried oregano

1

cup

ricotta cheese

8

oz

fresh mozzarella, torn or shredded

parsley for garnish

olive oil
Instructions
Preheat oven to 375 degrees F and prep a 9x13 inch pan, rubbing with a little bit of olive oil to coat it. Meanwhile boil water and cook pasta just 1-2 minutes short of package directions until al dente (firm, but cooked through). At the same time, brown ground beef in a large saute pan until cooked through, about 5-6 minutes, and drain if there is a lot of excess moisture. Add marinara sauce.

In a separate bowl, combine the basil, garlic, oregano with ricotta cheese until well mixed.

Drain pasta and toss with the marinara/beef mixture till coated. Layer ½ the pasta in the bottom of the pan. Then top with all of the ricotta/garlic/basil mixture. Spread the rest of the pasta over the top of the ricotta mixture, then dot with mozzarella tears all over the top (save 2 or 3 slices for a snack!!).

Cover with aluminum foil and bake at 375 for 20-25 minutes until warmed through and bubbling. Remove foil and bake uncovered for another 10 minutes until lightly browned on top. (If you want yours a little more brown like mine, you may have to broil for 1-2 minutes on high)

Remove from the oven and serve warm with a side salad!
Notes
Pastas that would work well here -Rigatoni,

Penne.

Fusilli, Cavatappi, Ziti
Feel free to make this gluten free
I go easy on the salt here for dietary accommodations, but feel free to taste the sauce and add more as needed
Nutrition
Calories:
619
kcal
|
Carbohydrates:
52
g
|
Protein:
35
g
|
Fat:
30
g
|
Saturated Fat:
14
g
|
Cholesterol:
104
mg
|
Sodium:
1139
mg
|
Potassium:
799
mg
|
Fiber:
4
g
|
Sugar:
7
g
|
Vitamin A:
1002
IU
|
Vitamin C:
9
mg
|
Calcium:
326
mg
|
Iron:
4
mg
This post was originally published April 9, 2020 and has been updated October 22, 2021 to include new recipe tips, details on why you'll love the recipe, freezing tips, and re-imagined images for clarity on how to cook.