The past few weeks I've been talking about an initiative from the Vestibular Disorder Association called Steps 2 Balance. The Vestibular Disorder Association (VEDA) is a non-profit organization whose mission is to provide support, education, and resources for vestibular disorders, including vestibular migraine or MAV (migraine associated vertigo). When I was first diagnosed with vestibular migraine, it felt like I was the only person in the world suffering with this illness. Through VEDA and other support groups, I was able to meet a lot of women who I now call friends with a similar journey to my own. It was then I realized that I wasn't so alone.
We all have different symptoms - some with straight up vertigo, others with ataxia, and quite a few with the occasional horrible, no good, very bad day containing all of the above. But we persevere, not only for our families but also for ourselves. Our first collective Steps 2 Balance goal was to work out 3 days a week to improve our vestibular system. Exercise and vestibular therapy (VRT) allows our brain to compensate for the damage done to our vestibular system, the system responsible for your balance. When your system is damaged, your brain is receiving confusing signals which results in dizziness, vertigo, feelings of imbalance. Part of the healing process involves exercises to retrain your body to accept movement, without causing the symptoms. For those who have difficulty returning to daily activities, vestibular therapy can help you regain your confidence and balance over time. When I say daily activities, I mean it can be a chore for some to walk outside to get the mail or to stand to do the dishes. Some must use canes to help them walk without falling over. This is no easy feat for any of us. It takes hard work and determination, but we're all proof it can be done.
I wanted to share a few pictures of our accomplishments with you.
Kayla
Kayla and I met through VEDA and became instant friends once we figured out we had the same diagnosis and saw the same neuro-otologist. You can read more on her story here. Her goal was to run her first official 5K since her vestibular migraine diagnosis. Not only did she crush it, but she also did it with heightened symptoms as a result of thunderstorms that came through that day. Her positivity and persistence in the face of adversity is such an inspiration!
Jennifer B.
You all know Jennifer B. from her wonderful gluten free, low sugar recipes she posts here as well as her amazing work with Migraine Strong! Jennifer's goal was to perform the vestibular exercises that help her the most. She does this by standing on a balance board and moving a ball around her with her foot. She also whipped up some gorgeous looking cookies that she'll be sharing very soon! Jennifer does all of this while working a full time job and being a moderator for Migraine Strong. She's basically wonder woman!
Jennifer B. #2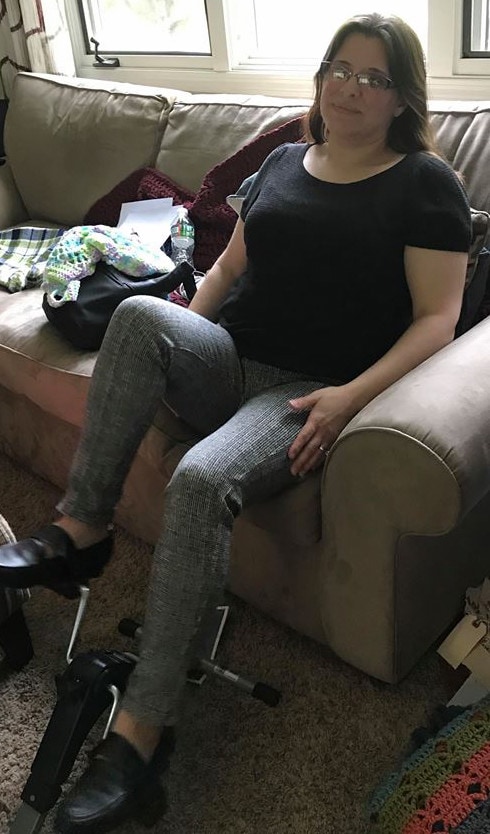 We have a lot of Jennifer's on the team! Jennifer went through several ENT's before she was properly diagnosed by a neuro-otologist. Her biggest reason for joining Steps2Balance was to spread awareness about vestibular conditions, as many in the medical field still do not know much, if anything, about them. Jennifer was able to do her exercises at home with a handy portable pedal exerciser. What I found really inspiring about Jennifer was that even though she had been having an extremely rough time with her symptoms, she kept up with using her new peddle bike and is even re-decorating a room in her house that she can use to try Tai Chi. Jennifer is proof that you can still benefit your vestibular system in the comfort of your own home, even when you're not feeling your best. PS: I love her socks here.
Gillian
Gillian nailed all aspects of Steps2Balance by keeping up with her exercises and cooking her migraine safe meals. She varied her workouts with reformer pilates and some mat work, all of which improve her vestibular system and balance. Her balance is impressive, even for those without vestibular issues! Gillian made salmon with roasted broccoli and this recipe for Texas chili.
Her story of how she got to this level of exercise is really inspiring and I admire her persistence. She says, "I'm go back and forth about getting out of my comfort zone. For so long my comfort zone was my apartment, a few blocks around my apartment and work after I had eye surgery that didn't work. I lost my depth perception and had problems navigating living in New York City. After that, if I just want to keep exercising the way I am, I'm cool with that. If someone invites me to something where I feel it's a safe space, I'll go. I'm going to go to Yoga in Bryant Park Thursday night. That's totally going to set off either my vertigo or my vision, but I'll be with friends who know and get that. And if I need help I can ask."
Jennifer N.
"In July of 2016, at age 47, I suddenly started having unexplained dizziness and vertigo symptoms.", Jennifer writes in her bio. "After multiple doctor's appointments, and tests, and suffering, and unexplained mystery sypmtoms, I was finally diagnosed with vestibular migraine. I'm now on a journey not only to cope with my disorder and the major lifestyle changes that come with it, but to educate those around me about what migrane really is--and how common it is--it's not just pain, people!!--and just how much it can impact one's life." Although she normally does a combination of spin or bootcamp style workouts, one of Jennifer's workouts for the week consisted of a band workout where she went up and down stairs using the band in different ways. She said she had a really bad, dizzy day, but managed to finish the workout.
I had to share her Heal Your Headache safe dinner with you as it looked amazing. She seared a steak and added whole roasted cauliflower, asparagus, and chimichurri. Here's a recipe for migraine safe chimichurri.
As for me, I got my 10 workouts in for the week! One of them had to be at home with my husband, who was thoroughly enjoying coaching me through a crossfit-style workout. I tried some new spin classes and even fit in a few recipes. I'll be honest, I didn't feel great that week, but it was so motivating to participate with all these amazing women. They really kept me going.
If there's one big takeaway from the week, I think it was that although we are all so different in our healing, our treatment plans, and the ways we work out, but we all just want to feel better at the end of the day. Even if you may not be able to crush bootcamp style workouts like Jennifer or run a 5K like Kayla, there's such a range of options that you can do to better yourself. The point is to not give up. Plus we all had to laugh that most of us felt our worst the week of Steps2Balance. Perhaps it was the increase in the exercise or just bad timing, but I'm still so honored to be a part of this group of women who accomplished their goals despite the adversity we face.
To donate to Steps 2 Balance and vestibular disorders, visit here.
Cover photo found on Pinteres