This Crustless Chicken Pot Pie recipe makes chicken pot pie seem easy and achievable for a weeknight. No dough rolling required, but still with a crispy breaded topping, this recipe has all the best creamy, comforting parts without the work.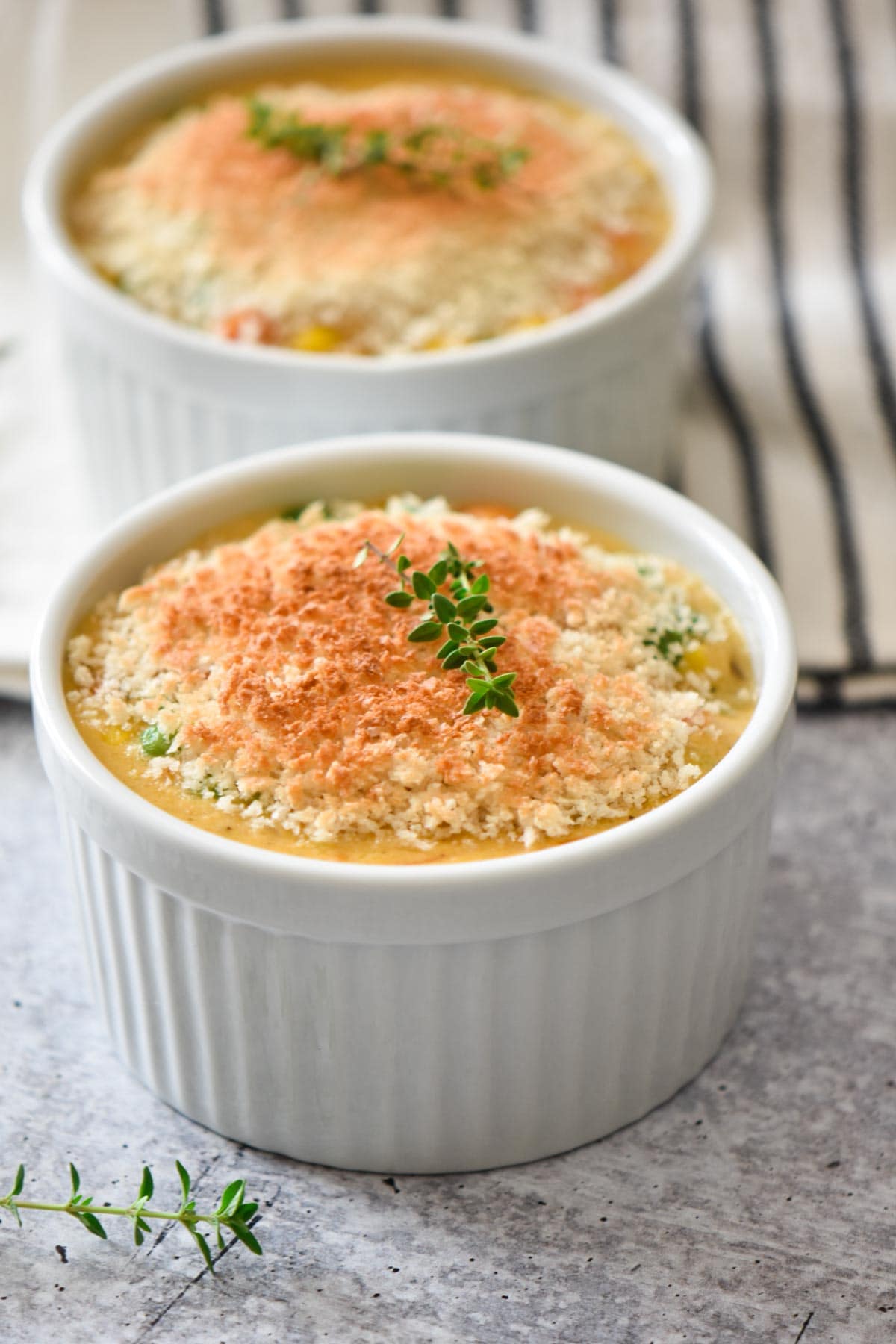 Chicken Pot Pie without Crust
I get requests from readers all the time for a chicken pot pie recipe that's also migraine diet friendly. The thing is, I love chicken pot pie. It's warm, cozy, comforting - perfect for cooler weather. But I never make it - why? Cause the idea of making a crust just seems overwhelming. I know that crusts are fairly easy to make overall, but it's the clean up that gets me every time. I already have to do dishes for a pan to cook everything in and now I have to clean up flour everywhere. Enter this crustless chicken pot pie recipe!!
But this needs some kind of topping otherwise it would just be creamy chicken soup. I nearly always have panko on hand, and I love that it took me two seconds to top these "pies" with a crispy topping. You'll love this recipe because:
This recipe takes under 30 minutes from start to finish making it the perfect weeknight meal. It's warm and delicious - the whole family will love it.
You can easily edit for gluten free, dairy free, and vegetarian diets.
It freezes and stores so well - perfect for meal prep.
This chicken pot pie without crust is easy for beginner cooks.
Have more time? Buy store-bought crust for a more traditional version.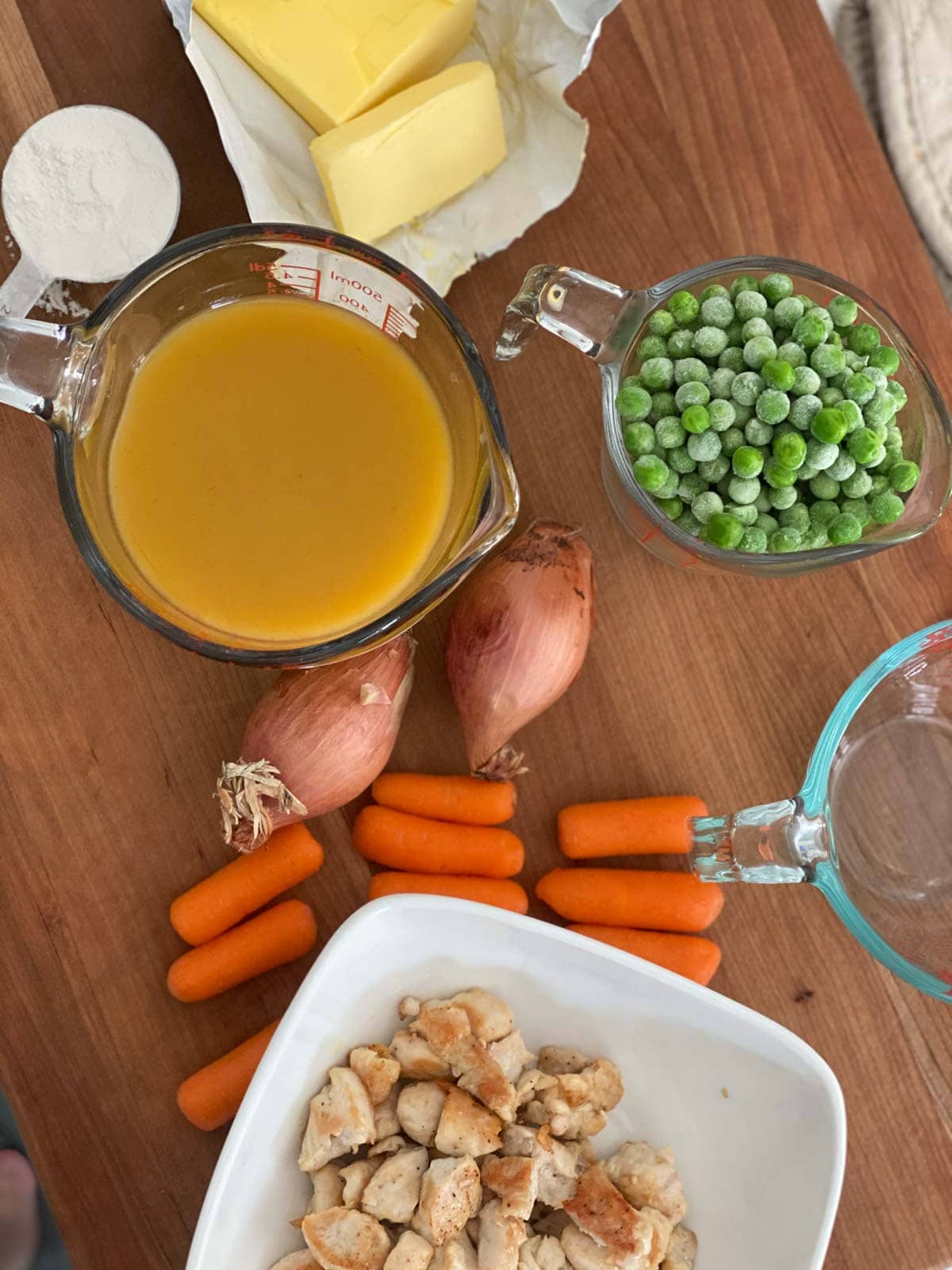 Ingredients
There is actually a really funny story behind the ingredients I chose for these pot pies. I asked my private Facebook group if they cared if celery was in the pot pie or if I could leave it out. This simple question launched into what I now like to refer to as The Great Celery debate. This post reached over 100 comments - some people having more hatred for celery than paying taxes or having to work on Christmas. Others praised celery as the vegetable that has come to save us all.
My personal opinion? It's one less thing! I wanted to make this recipe really approachable and I think part of that is using frozen vegetables that you don't have to worry about going bad. Especially during the fall and winter months.
Chicken - Cook either boneless skinless chicken breast or use pre-cooked rotisserie chicken to cut off one step.
Carrots, Peas, and Corn - You can use a frozen vegetable medley for this, or all fresh and chopped.
Shallots - I prefer to use shallots in this recipe as they have a softer flavor that lets the other ingredients shine.
Butter - For this recipe I used Kerrygold, which gives it a rich flavor. However, I've also made this with Earth Balance Pressed Oils for a dairy free substitute.
Milk - For this recipe I recommend whole milk, however, any milk will work. I like to use whole milk as it withstands higher heat without curdling, like reduced fat milk. Plus it's super rich and creamy. For dairy free, I recommend oat milk for the best texture and flavor.
Vegetable or Chicken Broth - Both work well here. I recommend low sodium or homemade broth.
Panko - Kikkoman and Trader Joe's are two brands I have used, but any panko will work for this recipe. For gluten free, use Aleia's or Jeff's Naturals.
How to Make
If using raw chicken, start by browning chicken in the same deep pan you intend to use for the whole dish. If using rotisserie chicken, skip this first step (picture 1).
Remove the chicken and add butter, shallots, and carrots, stirring frequently with a wood spoon while cooking over medium heat. Once carrots begin to soften, add corn and peas. If using a frozen vegetable medley, add them all at once (picture 2).
Mix the flour into the vegetables till everything is coated, then stir in the broth over medium heat. Stir frequently so the flour doesn't clump and everything is smooth. Then mix in milk as it begins to bubble and thicken (picture 3).
Stir frequently till the sauce has thickened and become creamy (picture 4).
Spoon into oven-safe ramekins or one large baking dish (pictured below). A gratin dish would work too. Top with panko and broil till light brown on top - about 1 minute.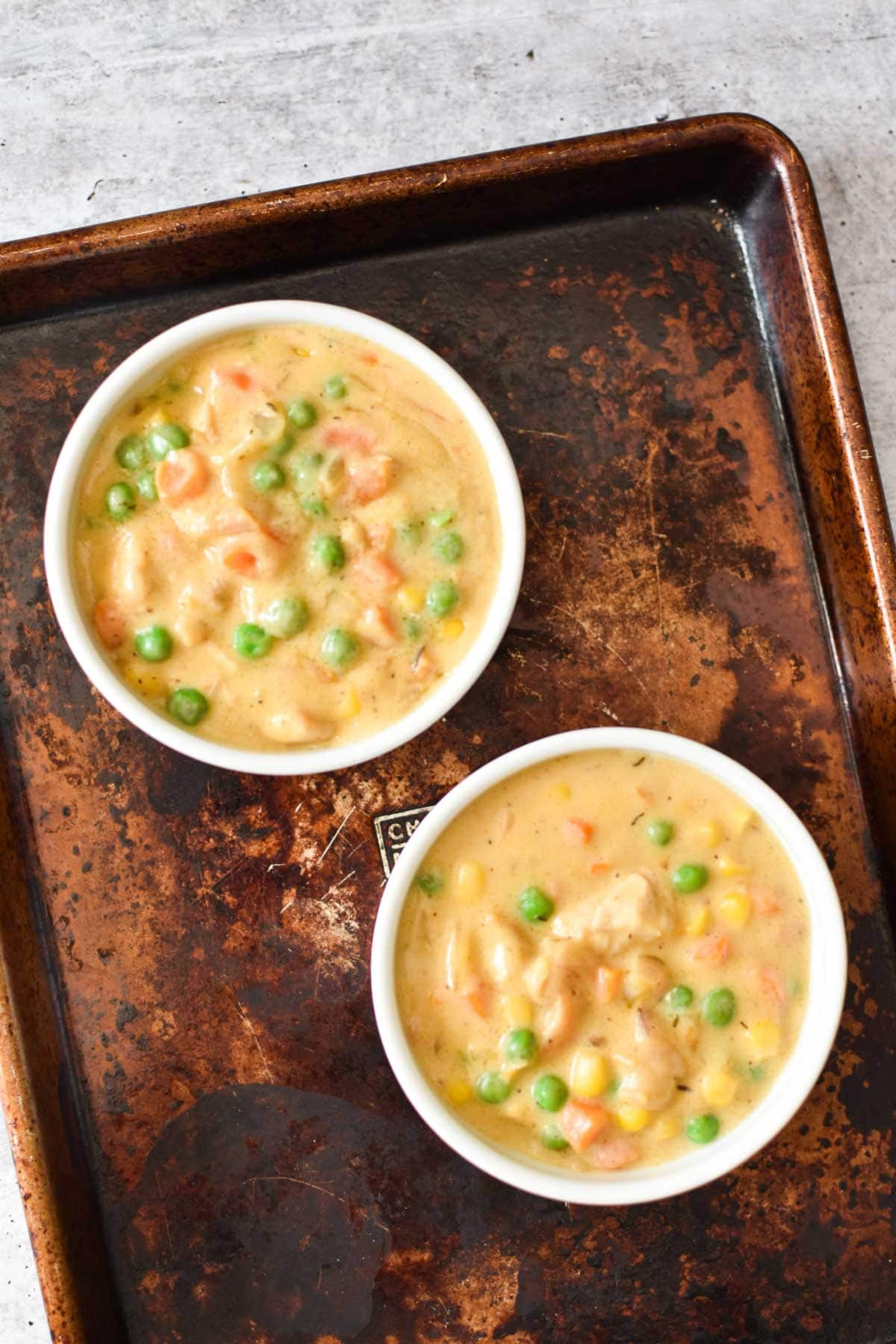 Recipe Edits
This chicken pot pie is really easy to make dairy-free, which is part of the reason I recipe tested milk instead of cream. Instead of using butter, I'd use a favorite oil.
Oatly oat milk would make a really great milk substitute as you need something nice and creamy and I think oat milk has the best texture. Full fat coconut milk could also be used, although I think that might affect the flavor a bit more.
To make this crustless chicken pot pie gluten free, all you need to do is substitute the flour and panko. Some ideas for the roux (a flour and butter mixture to thicken the sauce) is to use cornstarch, arrowroot powder, or your flavor gluten free flour. My favorite gluten free pankos are Aleia's and Jeff's Creations.
Finally to make this vegetarian, just add another cup of mixed vegetables and omit the chicken.
Storage and Freezing Tips
This recipe is perfect for meal prep and gets better everyday! Cover and store in individual containers or ramekins (for personal servings) in the refrigerator for up to 3 days.
To freeze, cook the recipe up till step 5 where you put the panko on top. Place in freezer bags, laying flat to save space, or freezer storage containers for up to 6 months. This is a great meal to make ahead to prep for a baby or to give when friends are going through a hard time.
To defrost quickly, place the freezer bag in warm water, which should take about 30 minutes to 1 hour to defrost. This can also be defrosted overnight in the fridge (this is the best way).
More Chicken Recipes
For more recipes like this delicious chicken pot pie without the crust, check out these recipes!
Creamy Rosemary Chicken
Honey Garlic Chicken
Air Fryer Chicken Tenders
Boursin Stuffed Chicken
Chicken and Rice Soup
If you make any of my recipes, don't forget to tag me #thedizzycook or @thedizzycook on Facebook and Instagram. And please leave a review below!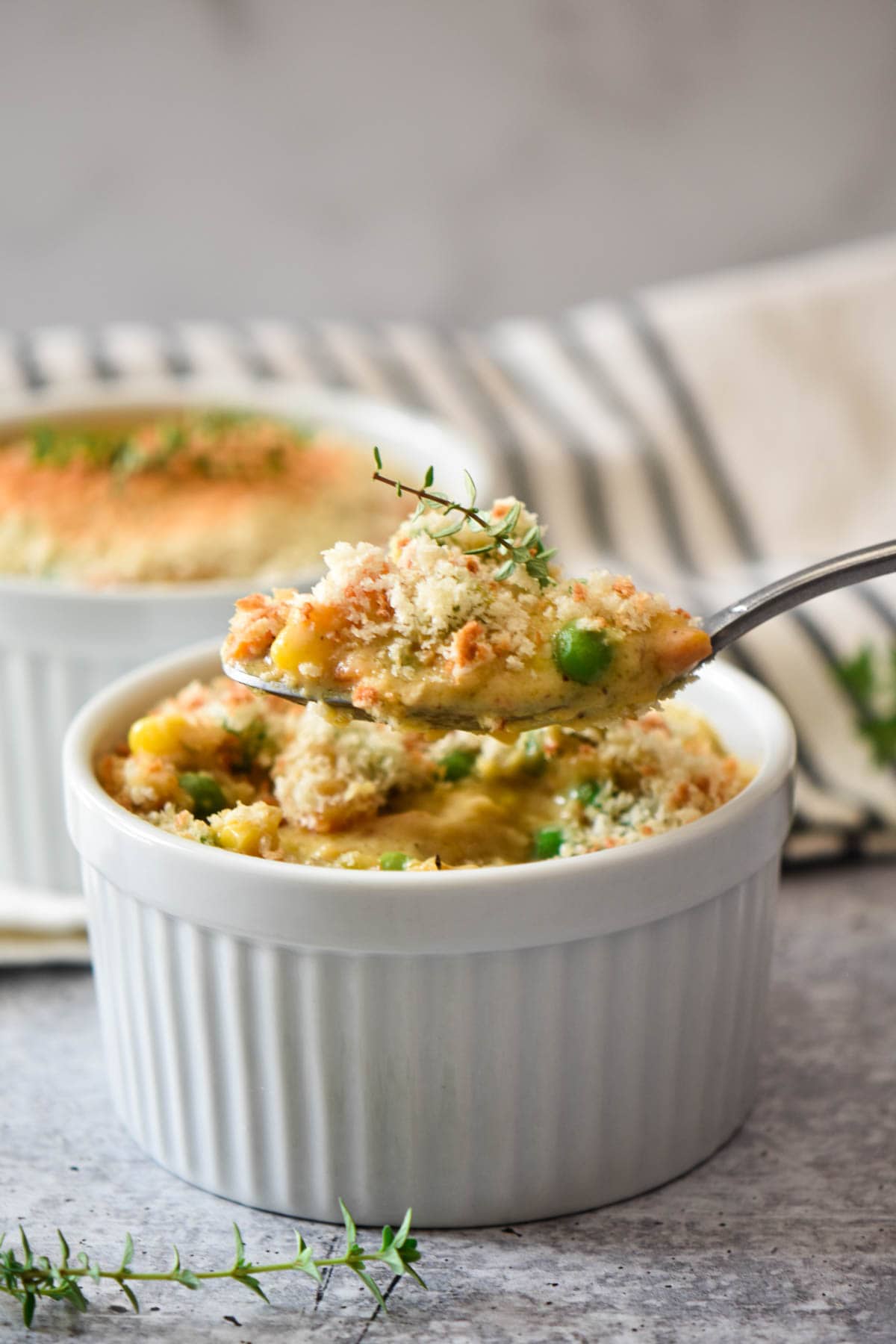 Crustless Chicken Pot Pie
All the creamy and comforting flavors of pot pie without the effort! Crispy panko coats these individual chicken pot pies for a cozy meal.
Print
Pin
Rate
Ingredients
1

pound

boneless chicken breast, cut into bite-sized pieces

2

teaspoon

olive oil

kosher salt and pepper

¼

cup

butter

2

tablespoons

all purpose flour

2

shallots, chopped

2

large carrots, chopped (about ¾ cup)

½

cup

frozen peas

½

cup

frozen corn

1

cup

whole milk

1 ¼

cups

vegetable or chicken broth

¼

teaspoon

dried thyme

½

cup

panko
Instructions
Cut chicken breast into bite sized pieces, season with kosher salt and pepper. Prepare a large, deep pan with a little bit of olive oil (2tsp or so) and cook chicken bites over medium heat for about 3 minutes on each side until browned and cooked through. Remove chicken bites from the pan and set aside.

In the same pan, add 1 tablespoon of butter, chopped shallots and carrots. Cook over medium-low heat until softened, about 5 minutes. Then add the peas and corn, as well as the rest of the butter. As the butter melts, mix in the 2 tablespoons of flour until all the veggies are coated.

Add broth and simmer (small bubbles, not a boil) for 1-2 minutes, stirring so the flour gets smooth and not clumpy. Stir in milk as it starts to thicken, then add thyme, and more salt and pepper if desired. Simmer for 8-10 minutes, stirring often, until the sauce is nice and thick, enough to coat a spoon. Add cooked chicken into the mixture.

Spoon chicken pot pie filling into individual, oven-safe ramekins. Top with panko and broil under high heat for about 1 minute until lightly browned. Serve warm.
Notes
Oatly oat milk would make a really great milk substitute as you need something nice and creamy and I think oat milk has the best texture. Full fat coconut milk could also be used, although I think that might affect the flavor a bit more.
For Gluten Free, I like Aleia's or Jeff's Gluten Free Panko, both linked in the post.
For low sodium and migraine-friendly, I recommend making your own stock from one of my recipes online or in my cookbook.
Nutrition
Calories:
380
kcal
|
Carbohydrates:
25
g
|
Protein:
31
g
|
Fat:
18
g
|
Saturated Fat:
9
g
|
Cholesterol:
109
mg
|
Sodium:
361
mg
|
Potassium:
822
mg
|
Fiber:
3
g
|
Sugar:
7
g
|
Vitamin A:
5721
IU
|
Vitamin C:
13
mg
|
Calcium:
114
mg
|
Iron:
2
mg
This post was originally published September 24, 2020 and was updated December 19, 2021 to include how to make, storage and freezing tips.